---
There's nothing like a global pandemic and months of lockdown to inspire a newfound appreciation of green space in the city.
Toronto's public green spaces have remained packed since the warmer temperatures rolled in, as countless stir-crazy city residents satisfy their craving for a fresh air fix and safe social interaction.
The benefits of green space are plentiful. Recently, a new study from Australia linked green space to lower levels of loneliness.
A study in the Journal of Epidemiology found that adults in neighbourhoods with at least 30% green space have a lower chance of becoming lonely compared to those with less than 10%. For those living alone, more green space cuts the odds of becoming lonely in half.
According to the authors, green spaces reduce loneliness by offering opportunities for solace and social reconnection and by supporting processes like stress relief. In the wake of an endless isolating lockdown , these findings are particularly relevant (and not surprising) to Toronto residents.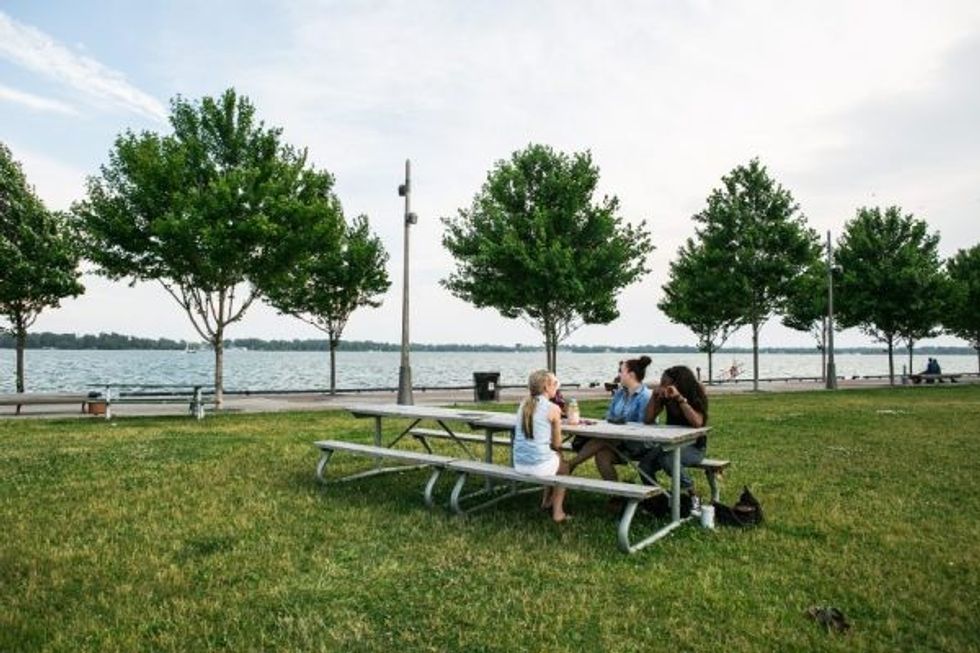 Sherbourne Common transformed an industrial area along the lake into a waterfront park that spans more than two city blocks in the Sherbourne Street and Lake Shore Blvd. area. The greenspace doubles as a neighbourhood stormwater treatment facility. (Photo courtesy of Waterfront Toronto)
Researchers assessed associations between residential green space and cumulative incidences of, and relief from, loneliness over four years, exploring contingencies by age, sex, disability, and cohabitation status.
The study used data from a survey of 6,766 adults in urban areas across Australia who were not lonely in 2013. Researchers assessed the correlation between the existence of green space within 1.6 km of a home at the start of the cumulative incidences of loneliness reported four years later, which was about 12%. They accounted for extraneous factors that could impact loneliness, like changes in age, income, employment, and disability.
Key findings reveal that achieving urban green space targets of 30% total area could lower the odds of cumulative incident loneliness by up to 26% among adults in general compared to those with less than 10% green space. Furthermore, this 30% urban-greening target may lower the odds of cumulative incident loneliness by 52% among adults who live alone.
As the study's authors highlight, loneliness is scientifically correlated to overall health and wellbeing – both physical and mental. Reducing loneliness can reduce the risk of depression, anxiety, heart disease, diabetes, inflammation, dementia, and death.
While many studies link nature to mental health, there has been little empirical research on green space and loneliness, until now. However, anecdotal evidence from Toronto and around the world shows that people have flocked to parks and green spaces to connect with others (if even at a distance).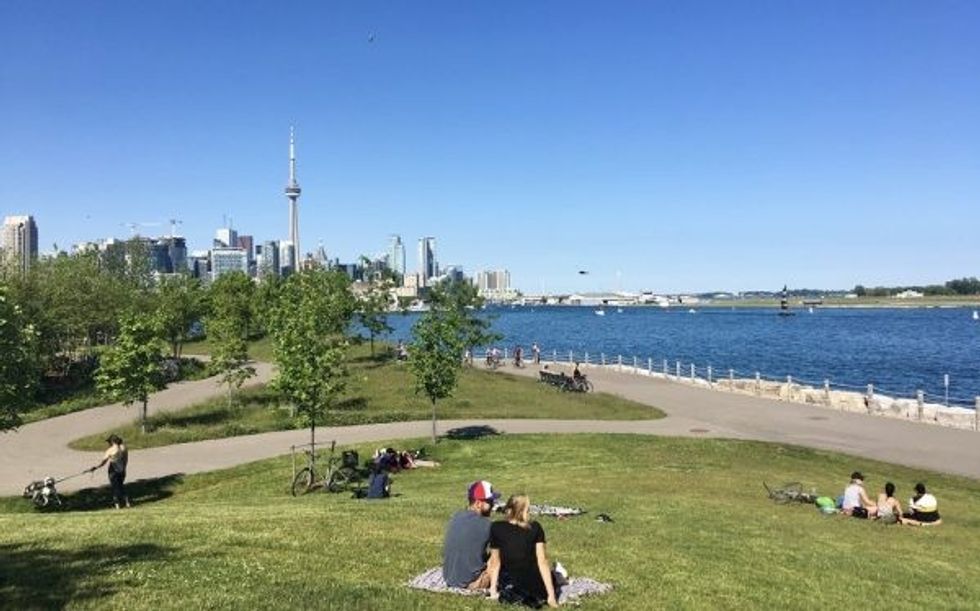 Shutterstock
So, how does Toronto fare in the ever-important green space department?
According to World Cities Culture Forum Report , Toronto ranks a relatively uninspiring 31st on a list of 41 major cities, with a total of 13% green space. Cities with the largest amount of green space on the list include Oslo (68%), Singapore (47%), and Sydney (46%).
With respect to green space, the World Health Organization (WHO) recommends a minimum of nine square metres per person, with the ideal amount falling at fifty square metres. In late 2020, data scientist Cheryl To of ThinkData Works crunched the numbers to see whether Toronto was as green as it should be.
As it turns out, Toronto does indeed offer enough green space per capita. "If we assume that green space is evenly distributed across all neighbourhoods, each person in Toronto enjoys approximately 44.33 square metres of green space," writes To. "However, if you have ever walked or driven around Toronto, an average doesn't represent things perfectly."
It's no surprise that not all parts of Toronto are equal in the green space department. While most residents enjoy the recommended 9.9 square metres of green space, there are pockets in Toronto that have more access to coveted green space than others. According to To, for people living in 12 of Toronto's 96 FSAs, green space is a scarcity.
Not surprisingly, these spaces are clustered in the downtown core.
While the city is only increasing in density with each new condo, access to green space is not only a nice idea in theory; it's a necessity. So, we need to continue our path of making more outdoor space available to city residents, whether through outdoor amenity spaces in new condo buildings, pop-up programs in unexpected spaces like ActiveTO, or even taking a page from New York City's book and building impressive parks over parts of the waterfront.
Parks