---
Lovers of public space and urban architecture have another reason to visit New York City once the pandemic subsides.
Seven years in the making, the anticipated Little Island public park on the Hudson River opened for visitors on May 21.
Made possible by a $260M donation by media mogul Barry Diller and his famous fashion designer wife Diane von Furstenberg through their Diller-von Furstenberg Family Foundation, the futuristic and greenery-filled space completely transforms the once dismal and uninspiring West Side of Manhattan.
It's name is deceiving: there's nothing remotely "little" about this eye-catching and pricy public space.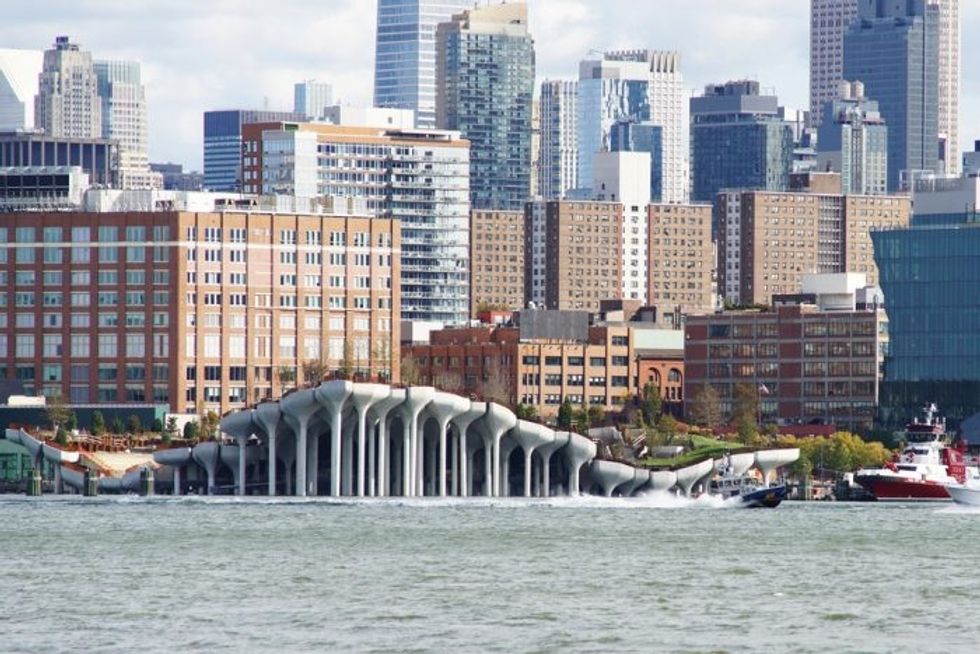 Designed by Thomas Heatherwick, the magnificent 2.4-acre public park sits on an island built on the pillars of the former Pier 54, all on top of more than 100 concrete pilings shaped like tulip petals. Each tulip's shape is unique and has a different weight load capacity to hold the soil, lawns, overlooks, and trees of the space. The park houses countless flowers, shrubs, trees, and grassy hills. It also features a 678-seat amphitheatre for breezy summer concerts.
The park offers a connection to nature that's facilitated by the abundant greenery and juxtaposed by stunning views of the sprawling city, making it a quick go-to photo spot and an inevitable tourist attraction once mass travel resumes.
Located inside Hudson River Park, it's connected to Manhattan's trendy Meatpacking District by a walkway.
The powerhouse couple behind the park is familiar with enhancing New York City's urban green spaces; they've donated millions of dollars to the cause already to celebrated spots like the Central Park Conservancy and the High Line. But the dollars directed to Little Island mark the largest donation to green space in the city.
The foundation will continue to donate an additional $120M for Little Island's upkeep and programming.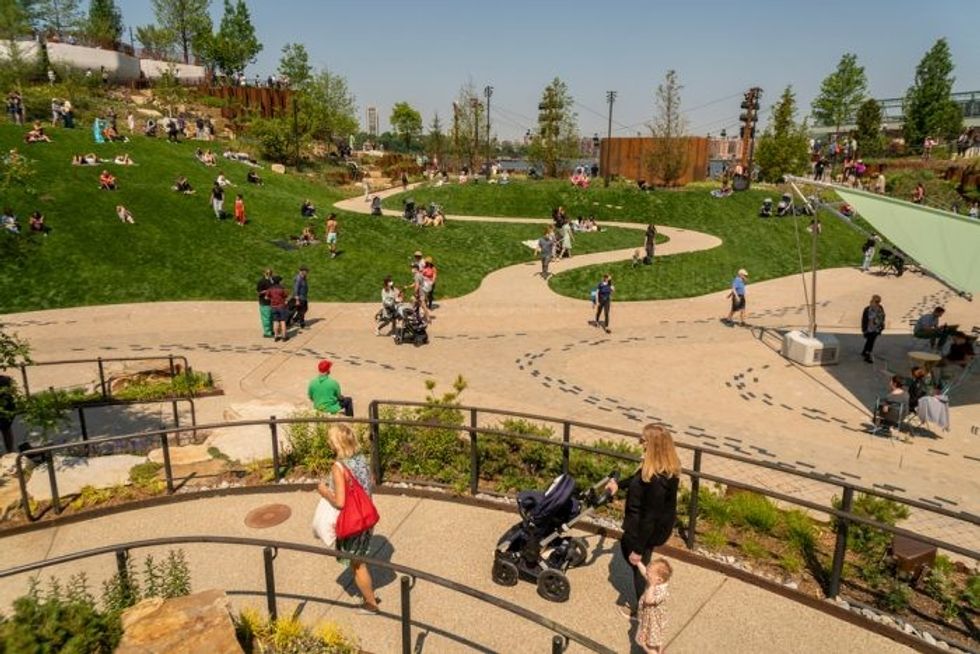 Shutterstock
Beginning in June, Little Island will host a season of programming to foster and support New York City-based artists. The majority of events will be free or low-cost. There will be performances and educational programming six days a week – ranging from local performers to special events with renowned New York City arts organizations – with offerings from music, dance, circus, spoken word and more.
Inevitably, there are some features of the new outdoor space that don't appeal to everyone. For starters, visiting the park after 12 pm requires a reservation be made in advance online. Furthermore, dogs, bikes, and scooters are all banned from the property.
Despite this, the easy-on-the-eyes park is undoubtedly a welcome addition as the city that once never slept comes back to life after lockdown. It may also serve as inspiration for Toronto when it comes to the future of our innovative green space. If the city is too dense in its condo-filled core to create more needed public green spaces, is there a time and place to expand over the lake?
Admittedly, New York City's newest park wouldn't have happened without the millions of private dollars. So, does any local billionaire couple feel like taking one for the team on this one?
(Just throwing it out there).
Parks