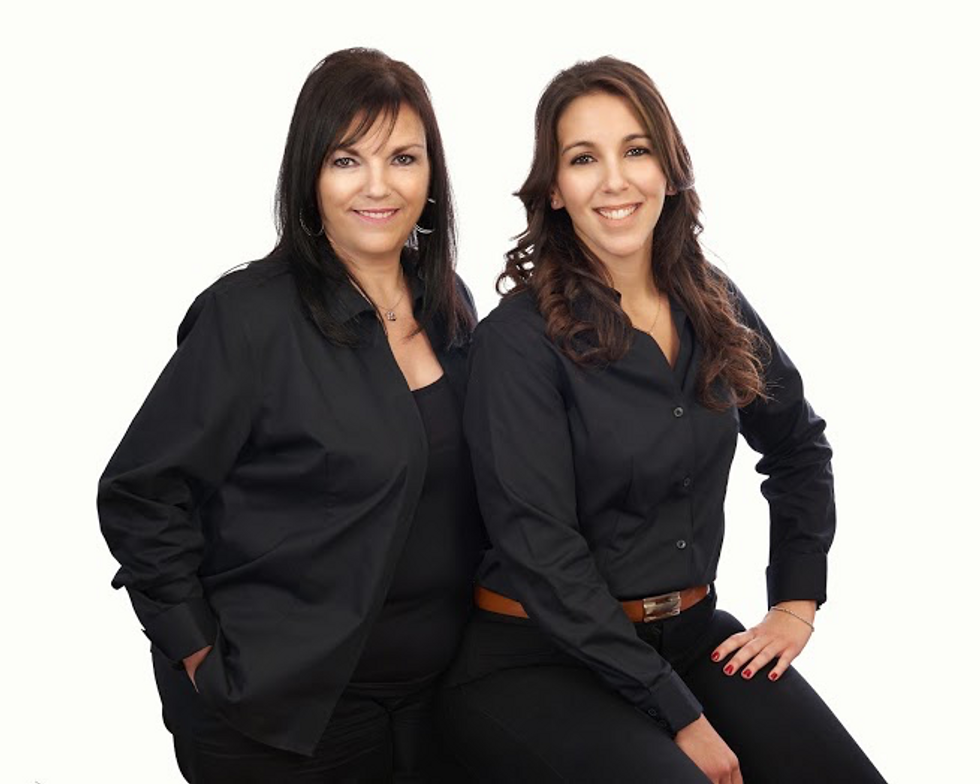 Mary Nacarato and her daughter Mandy Coz
This mother-daughter real estate team really, really cares (and it's not just the angelic music in their intro video that will make you think that).
---
Mary Nacarato and her daughter Mandy Coz from RE/MAX Premier prove their real value when they're no longer working for a paycheque — after closing.
While other agents may abdicate their relationship with their clients once the deal is done, Nacarato and Coz believe that the real work begins after the sale. It's through this belief they've fostered life-long friendships with their clients.
We got the scoop on how deep those friendships go, why Nacarato initially tried to talk her daughter out of the real estate business, and how their business partnership endures to this day.
How did you both get started in real estate?
Mary: I've been licenced 22 years and I was always involved in aspects of real estate right out of high school.
My family has a kitchen and bath retail showroom that is still going on in Etobicoke under the name of Marcon.
Then, I was working with my husband. He had a countertop manufacturing business, which he sold 23 years ago. It was an easy transition for me. I always worked with components of the home, so I always wanted to get involved in real estate. 
Mandy: I was actually in university taking psychology for my degree. I used to want to be a therapist and I wanted to really help people.
I was doing part-time work for my mom on the side — just helping her out — and all of the sudden, one day, I kind of was like, you know what? I don't really want to do [therapy] anymore. I kind of want to get into real estate.
She tried to talk me out of it, but basically, I just shifted and bought into this business and haven't looked back since. It will be nine years for me in December. 
So, Mary, what initially were your reservations about Mandy getting into real estate?
Real estate to me has always been an industry where people felt that we earned a lot for doing very little work and I just wanted to make Mandy understand that you really have to work for what you earn.
It's not easy. You can go months without getting a paycheque and you have to have a passion for it.
Yeah, you can get in when the going is good — I always say, a monkey could write up a sales agreement — but what about the tough times?
A lot of people don't understand that. I know there are over 50,000 agents on the Toronto Real Estate Board, but a high percentage of those are part-timers. And if you're going to do this full-time, you really need to understand what's involved, what you need and for me, working with certain ethics.
This is not something you do part-time and I just wanted her to understand that.
Then you both joined forces. What makes your business partnership viable? Not every mother and daughter would be able to work together.
Mandy: I think that we are strong where the other is, not necessarily weak, but could use more of a push sometimes. We push each other.
We're constantly growing, constantly trying to be the best version of ourselves. We're really motivated people. We write goals and we try and make sure our business goals align with each other along with our personal goals.
Mary is really good with baby boomers who are looking to downsize, whereas I work a lot with first-time buyers and Millennials.
Plus, because we work by referral our clients have become almost friends and family. They are inviting us to their weddings, their housewarmings and introducing us to their family.
It's all word of mouth, so we try and service them as best as we can. And it happens to work for us.
This couple had no luck with their initial real estate agent. Then Mary and Mandy stepped in. Soon after, they found their first home.
Mary, you mentioned that you approach real estate with certain ethics. So what else might differentiate you from other real estate teams?
In a nutshell, we really care.
The values that are there mean no deal is worth putting someone at risk or in jeopardy. And I always feel that if I wouldn't live in a certain house myself, then I would advise the client not to purchase the house.
It's not about that one deal for us, it's about working together in the future with the client.
We have a newsletter that goes out every quarter and it's called Beyond the Sale. Because a lot of times, you ask people and they can't even remember who sold them their house four years ago.
We like to be there. In touch. And to me, the work really starts after the closing. Up until that point, people feel that you're doing what you do because you're going to have a paycheque.
That's fair enough, but what do you do after the sale? I like to call our clients the day after and say, "Hey, is everything going well?" ... We'll eventually visit, but a lot of people don't call their clients because they feel they don't want to hear any bad news or if something is wrong with the house.
Mandy: It's doing the unexpected extras and just going above and beyond. 
Doing the right thing — even if it's the hard thing. A lot of people don't want to do that.
Now that you've been working together a while, what keeps you both continuing to go to work?
Mandy: It's always a new challenge. I think we're always growing and trying to be the best versions of ourselves, so I think it's always a challenge.
This is not a business where you know everything.
You're always going to be learning something. There are always rule changes or industry changes in the mortgage field or things you have to adjust to dealing with different markets.
For example, last year we had an anomaly year.
 It was crazy and its just kind of about changing with the times as you keep getting better and sharpening your skills.
This is what keeps us on our toes and that's what makes it exciting.
Given all the changes, with such a crazy year in 2017 and the new mortgage rules, what's your advice to clients now?
Mandy: I never talk someone out of buying real estate because I truly believe it's the best investment vehicle. 
Regardless of when they want to purchase, we just do what's right to guide them for what's right for their situation: whether they want to invest, purchase a home or downsize. We just try and give them all the information necessary to make an informed decision. 
It's also being patient, going through the process with them, holding their hand and just being there if they need a sounding board or to answer questions. I've heard a lot of complaints that agents don't listen to a client's needs and that's all we're here for.
We're the messengers. We're here to fulfill a need.
Mary: Every client is different.
We just had a referral sent to us where this seller has been on the market four times this past year with four different agents.
So, when we went to see them, it was like, "Okay, this is why your condo has not sold."
Whether they wanted to hear it or not, they needed to hear it because if I'm going to be the fifth agent and just do the same-old-same-old, I'd rather tell them, "No thank you," up front. Because we're going to get them the same results and they're going to have a fifth expired listing.
You go in and you tell them what they need to hear, even if it's not what they want to hear because they're not going to get $100,000 more, as they may have in March 2017, for their condo. 
Sometimes it's a fine line to walk, but you'd rather tell people upfront instead of disappointing them after they've been on the market with you for three months.
Industry Profiles