Real Estate News
These Are The Most Expensive Condos In Toronto Right Now
Gourmet restaurants. On-site spa facilities. Valet service. These are just some of the amenities available in Toronto's priciest condo buildings, which continue to be a hot attraction for affluent end users and investors alike.
According to a recent study by Zoocasa, units at both lower-end and luxury price points have remained in high demand, despite affordability challenges facing the 416. While the city's housing market continues to adjust to provincial policies and national mortgage rules – the most recent numbers reveal total sales fell 16 per cent and prices by 4.3 per cent over the course of 2018 – the condo segment continues to shine. Multi-family housing experienced the strongest price growth of all home types, with the average unit appreciating 8.7 per cent to $593,366.
Much of the demand has been driven by affordability factors; with the aforementioned mortgage stress test chopping home buying budgets by an estimated 10 per cent, buyers are flocking to housing in the most accessible price ranges, while higher-priced segments languish. In comparison to condos' strong growth, the value of an average detached home fell -7.1 per cent to a still steep $1,320,333.
However, while demand has been insatiable for affordable units – such Fort York, City Place, and Liberty Village condos for sale – luxury apartments have remained a hot commodity, according to the study, which identified the priciest buildings in the city.
The Priciest Buildings Per Square Foot
According to the calculations, luxury buildings enjoyed price appreciation as high as 28 per cent in 2018, proving they're still an attractive draw for upscale purchasers. To determine which buildings were most expensive, the study determined the average price per square foot based on dollar volume for the year, as well as the estimated total square feet sold, based on data sourced from the Toronto Real Estate Board. Only buildings with at least 10 transactions in 2018 were included.
Luxe Features In High Demand
Zoocasa Agent Doug Vukasovic, who specializes in condos for sale in downtown Toronto, says luxury buyers are drawn to unique features that typically aren't available in mid-priced units.
"Several factors set these buildings apart from others in Toronto, including access to five-star amenities like restaurants, notable spa facilities, housekeeping and valet services, and upgraded in-home finishes like high-grade pre-engineered floors and detailed millwork," he says. "Further, these units are typically larger than the average condo, and fewer suites per floor gives residents greater privacy."
He also notes that the benefits of living in world-renowned, branded, luxury properties draw in Toronto's affluent professionals, entrepreneurs, and investors, and that listings can be elusive. For example, buildings like 155 Cumberland Street, 118 Yorkville and Hazelton Avenue, all had fewer than 10 sales in 2018 due to short supply. (Due to too little sales data, these buildings were not included in the study.)
Check out the infographic below to see which condos clocked in as Toronto's most expensive in 2018: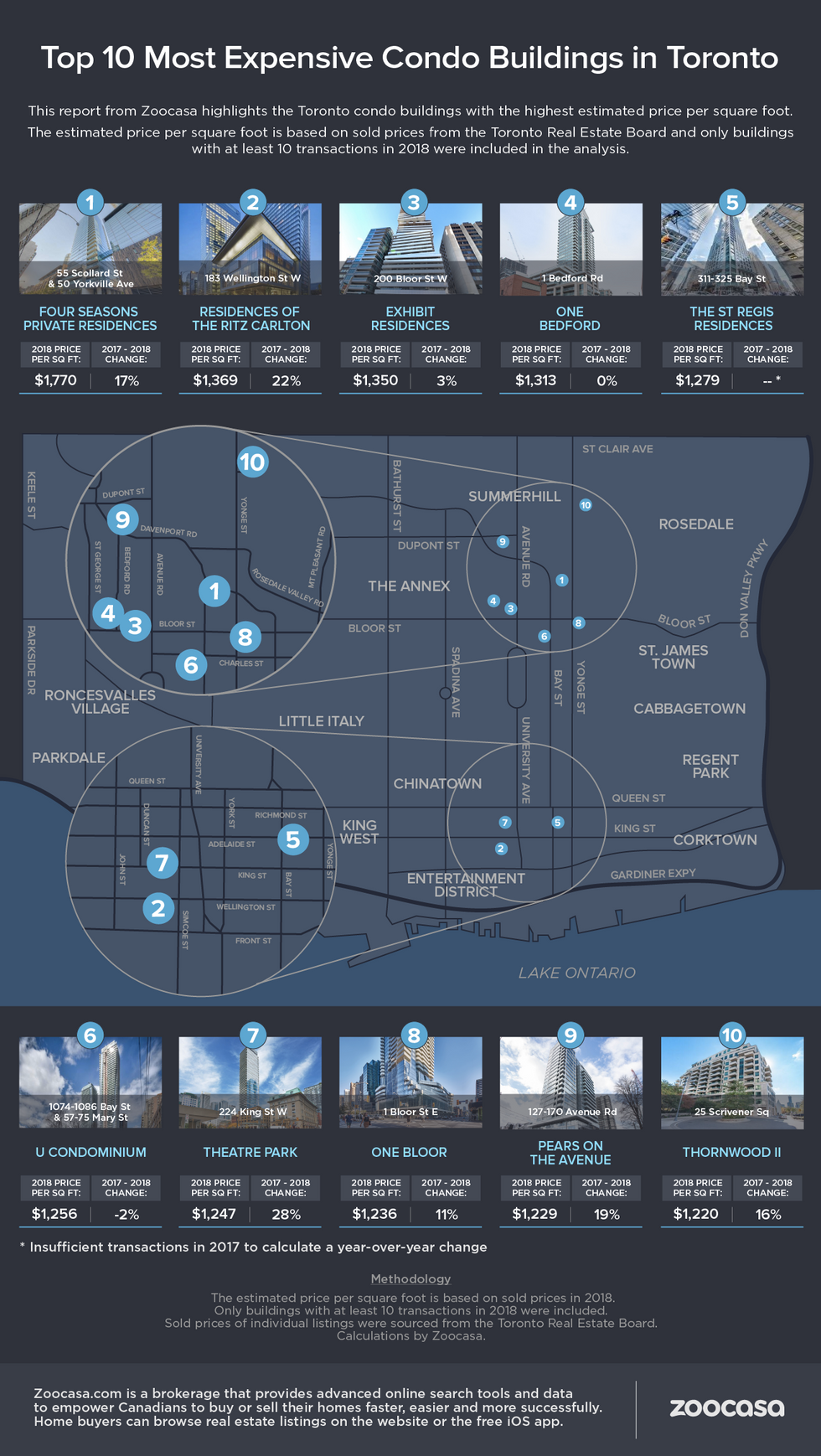 5 Most Expensive Toronto Condos by Square Foot
1 – Four Seasons Private Residences (Yorkville)
2018 sale volume:$33,977,000
square feet sold:19,200
Units sold:13
Price per square foot:$1,770 (+17% y-o-y)
Least expensive unit sold:$820,000
Most expensive unit sold:$4,995,000
2 – Residences at the Ritz-Carlton (Entertainment District)
2018 sale volume:$28,040,000
square feet sold:20,475
Units sold:11
Price per square foot:$1,369 (+22% y-o-y)
Least expensive unit sold:$1,425,000
Most expensive unit sold:$5,750,000
3 – Exhibit Residences (Yorkville)
2018 sale volume:$18,630,000
square feet sold:13,800
Units sold:16
Price per square foot:$1,350 (+3% y-o-y)
Least expensive unit sold:$580,000
Most expensive unit sold:$3,650,000
4 – One Bedford (Yorkville)
2018 sale volume:$18,443,000
square feet sold:14,500
Units sold:11
Price per square foot:$1,313 (+0% y-o-y)
Least expensive unit sold:$670,000
Most expensive unit sold:$3,400,000
5 – The St. Regis Residences (Old Toronto)
2018 sale volume:$36,007,500
square feet sold:28,150
Units sold:14
Price per square foot:$1,279 (+0% y-o-y)
Least expensive unit sold:$530,000
Most expensive unit sold:$7,900,000