The pandemic resulted in many changed minds on the lifestyle front, as countless Toronto residents packed up their belongings and relocated outside of the city core -- many, to larger and more attainable pastures. 
---
Some are still debating making the move. Helping with the decision-making process, real estate brokerage Zoocasa recently released a report of the most affordable spots in the Greater Toronto Area (GTA), broken down by home type.
"Given how popular work from home has been in the last few years, the option to choose home type first and city second is opening up to more buyers in Southern Ontario," writes author Rachel Rehkopf. 
A 2020 survey by Zoocasa revealed that the pandemic has led to 32% of Ontario buyers purchasing property in a location further away than they would have previously considered. As Rehkopf highlights, this was propelled by a newfound work-from-home culture, as well as home prices that climbed to record-breaking highs throughout the province. In the Toronto region, the average price of a detached home hit a hard-to-swallow $1,567,832 near the end of last year. 
Steep Home Prices Continue to Fuel Urban Flight
 If purchasing a home in the Toronto core was a stretch on the bank account before the pandemic, it became downright unattainable for many first-time buyers since the term "lockdown" became a staple in the collective vocabularies of Ontario residents. With no end in sight to the sky-high prices -- thanks, in part, to a dwindling amount of supply and relentless demand -- Zoocasa says that the relocation trend has continued.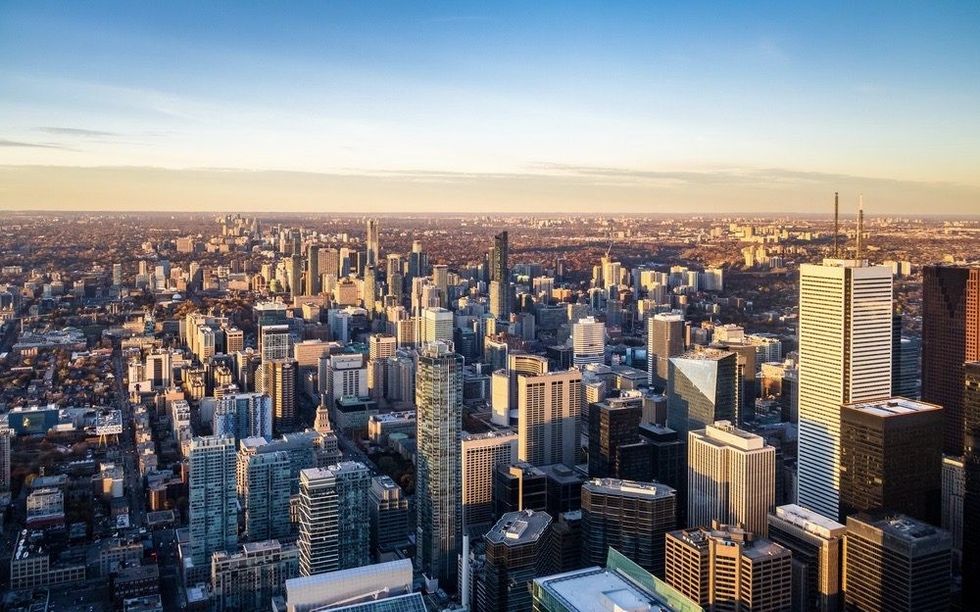 View of Toronto City from above - Toronto, Ontario, Canada
It's no secret that homes are more affordable the further you move outside of the Toronto core. It's always been that way. What's surprising is how quickly prices are rising in historically affordable regions. Nonetheless, it is still more affordable to attain your home of choice if you kiss the Toronto concrete goodbye in favour of the city outskirts.
"Buyers who have their eye on a certain type of home, whether that's a condo in the city centre or a townhome with a yard for their dog, can save big if they can be flexible on which city in the Toronto Region they'd like to make their purchase in," writes Rehkopf. 
Brock Tops Most Affordable Housing Market List
To make life a little easier in a dramatic market, Zoocasa has ranked the top five most affordable cities within the bounds of the Toronto Regional Real Estate Board (TRREB) to buy a detached home, semi, condo townhouse, and condo apartment based on November 2021 sales data.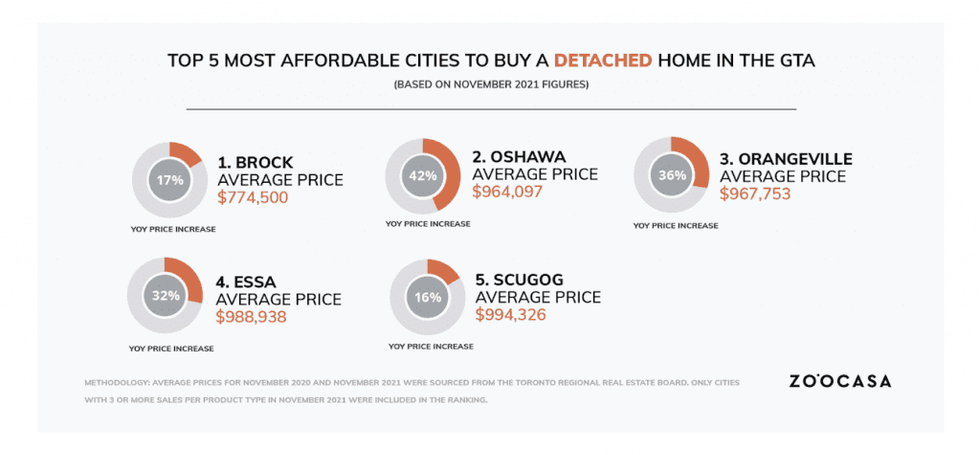 If you're in the market for a detached home, Brock is your most affordable option, according to Zoocasa. The small town in the north end of Durham township has a population of just over 11K and is home to detached homes with an average price of $774,500 -- half the price of the red-hot region's average.
"However, affordability comes with a proximity trade-off," writes Rehkopf. Brock is located in the Toronto Region's farthest north reaches, and nearly borders Lake Simcoe. "In good traffic conditions, you can reach Union Station by car in a little over an hour and a quarter, but Barrie and Peterborough are both closer cities -- meaning you likely won't want to commit to a daily, downtown Toronto commute if you're living here," she writes. 
For options closer to Toronto's core, the Zoocasa report highlights Orangeville and Oshawa as options better connected to the GTA. Although prices have climbed in both regions (especially Oshawa), it's still possible to find a detached home under $1M. For those partial to small-town living, Essa (near Barrie) and Scugog (near Port Perry) are other options on the list that round out Zoocasa's top five most affordable places to buy a detached home in the GTA region.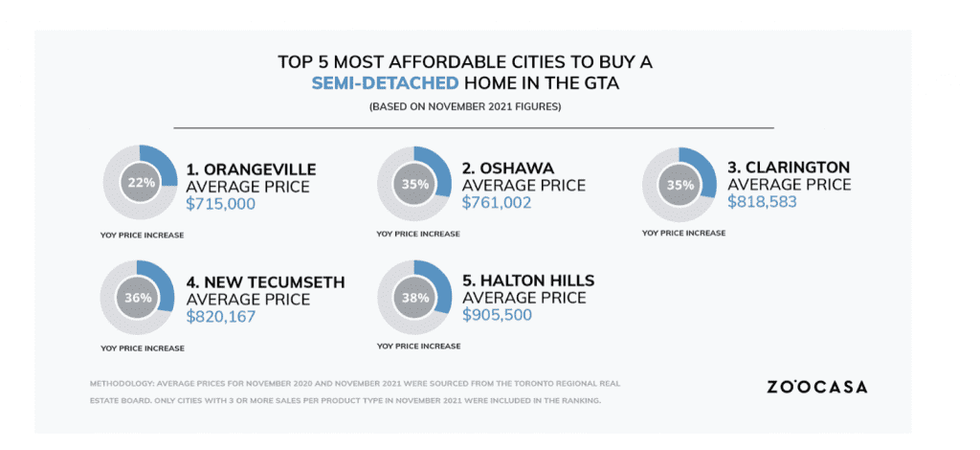 For the space of a detached home -- including a backyard -- but with a smaller price tag, a semi-detached house may make the most sense to some homebuyers. When looking at the most affordable places to buy in the GTA, Orangeville tops the list for semis, with the average coming in at $715,000 -- almost half a million dollars cheaper than TRREB's average for that same category. Like Brock, however, living in Orangeville will likely result in less-than-ideal commutes for those who work in Toronto. The community of 30K residents sits on the very outskirts of the GTA region.
"When it comes to commuting, under the right traffic conditions you can make it to Union Station by car in less than an hour. If your company is headquartered in Mississauga, Brampton, or Milton you'll find yourself well within commuting distance, especially if you're working in a hybrid arrangement," writes Rehkopf.
According to Zoocasa, Durham is another good region for semis. Average prices in the cities of Oshawa and Clarington were $761,002 and $818,583, respectively. Next on the list is Simcoe's New Tecumseth with an average price of $820,167, followed by Halton Hills, with an average price of $905,500.
Townhouses Still an Affordable Option
Another housing option to consider -- especially for families -- is the condo townhouse condo. "Regardless of your desired city, the average price in the Toronto Region is $826,475 for a condo townhome, which is well below the average price of all home types," writes Rehkopf. 
When looking for the most affordable cities to choose from in the townhouse condo hunt, Orangeville comes out on top again with an average price of $570,625 for this type of home. The rest of Zoocasa's more affordable options come from Durham Region, with the cities of Oshawa, Whitby, Clarington, and Pickering rounding out the remaining spots on the list.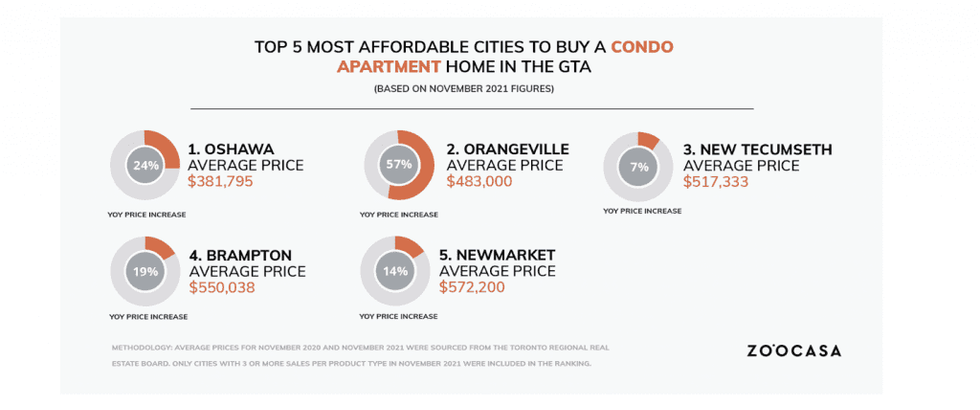 Condos are one of the most affordable home types on the market in the Toronto Region today, with the average price as of November hitting $711,933. "Within this category, you can find options with average prices under $400,000 if you consider moving to Oshawa, where the average price for a condo apartment was just $381,795 near the end of 2021," writes Rehkopf. 
Compared to some of the other cities that topped Zoocasa's list of affordability, Oshawa is notably larger -- with a population of 170,071 -- and is more connected. Toronto is accessible via car in 45 minutes in good traffic conditions, and -- removing traffic from the equation -- the region also connected to the core thanks to frequent GO Train service.
Other cities that top the list for the most affordable places to buy a condo apartment in the Toronto Region include Orangeville, New Tecumseth, Brampton, and Newmarket. 
So, despite the high housing prices that continue to bring would-be homeowners down, the good news is that being flexible on the location -- something that's more possible than ever -- can help them check more boxes off "nice to have" lists, turning today's Toronto apartment into tomorrow's forever house in a smaller city.
Real Estate News