Real Estate News
Montreal Has the Hottest Real Estate Market in Canada Right Now
If you thought Toronto's real estate market was on fire, it's time for a second take, because the market in Montreal is the hottest in all of Canada right now.
A newly-released annual report from CENTURY 21 Canada reveals that, following an early-spring decline due to the COVID-19 pandemic, sales numbers are bouncing back and house prices across the country are maintaining their strength. The study compared the price per square foot of properties sold between January 1 and June 30 of this year, compared to the same period last year.
In Toronto and Vancouver, unsurprisingly, prices remain high. But while regions across the country are seeing varied stories when it comes to their housing market fluctuations, Montreal stands out — there, prices have increased dramatically since 2019. While the numbers remain lower than Toronto and Vancouver, that housing market is proving to be the country's strongest right now.
In Quebec's largest city, prices have increased significantly since last year, particularly in the downtown detached house and townhouse markets. For example, the price of a detached house in Montreal's downtown and southwest rose 42.14% to $958 per square foot, while townhouses went up 44% to $768, and condos, 13.55% to $805. Comparatively, in Toronto and Vancouver, prices saw more modest increases or, in some cases, even declines.
READ: Palatial Montreal Estate Sets Highest Recorded Sale During Pandemic
"Even though real estate in Quebec was not considered an essential service, we have seen strong demand and a jump in prices in 2020," said Mohamad Al-Hajj, owner of CENTURY 21 Immo-Plus in Montreal.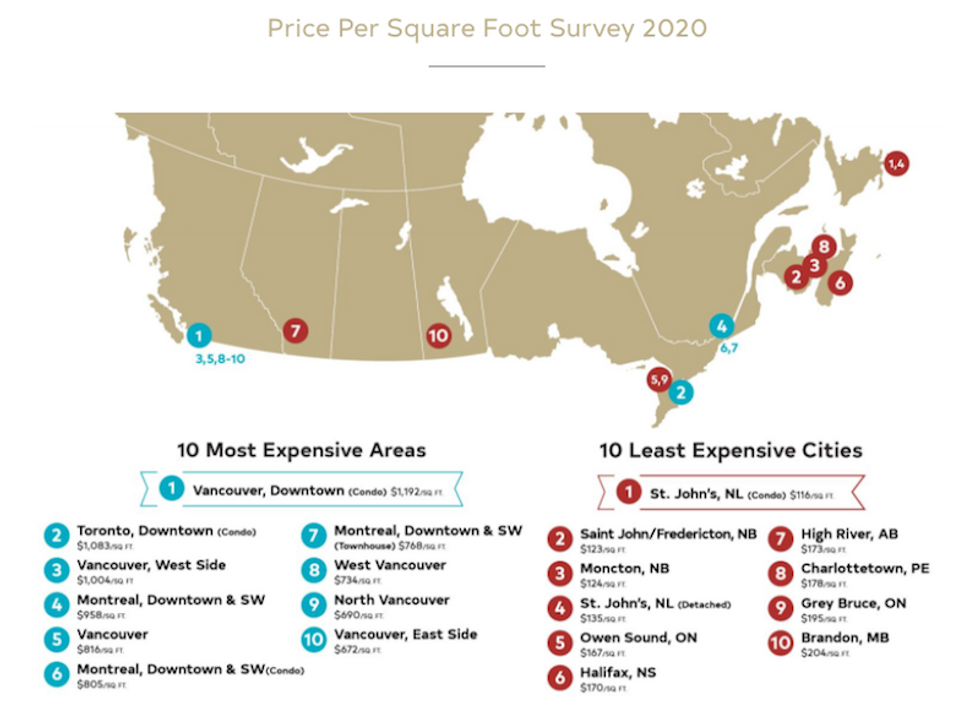 For those uninterested in moving further east (or taking up French), the shifts that have occurred in Ontario may be more intriguing. Here, prices have continued to increase in communities all across the province, but particularly in those just outside the GTA.
The biggest increase since last year has been seen in Newmarket, where prices for single family detached houses climbed 37.29%. Kitchener's semi-detached homes increased 17% to $399 per square foot, while Ottawa is also showing strength, with increases of about 20% — houses went up to $313 per square foot, while condos hit $577 per square foot.
Closer to home, condos in downtown Toronto increased 8.9% per square foot, surpassing $1K to reach $1,083. These condos remain the second most expensive in the country, following those in Vancouver. Hamilton, on the other hand, saw a modest decrease in price per square foot, highlighting that our neighbouring city is looking as alluring as ever.
"With a work from home option more realistic for some people, they're finding they can get a larger home if they move a bit further from Toronto," said Brian Rushton, Executive Vice-President of CENTURY 21 Canada. "Even if their commute is a little longer they're traveling to an office less often, which makes it more tolerable."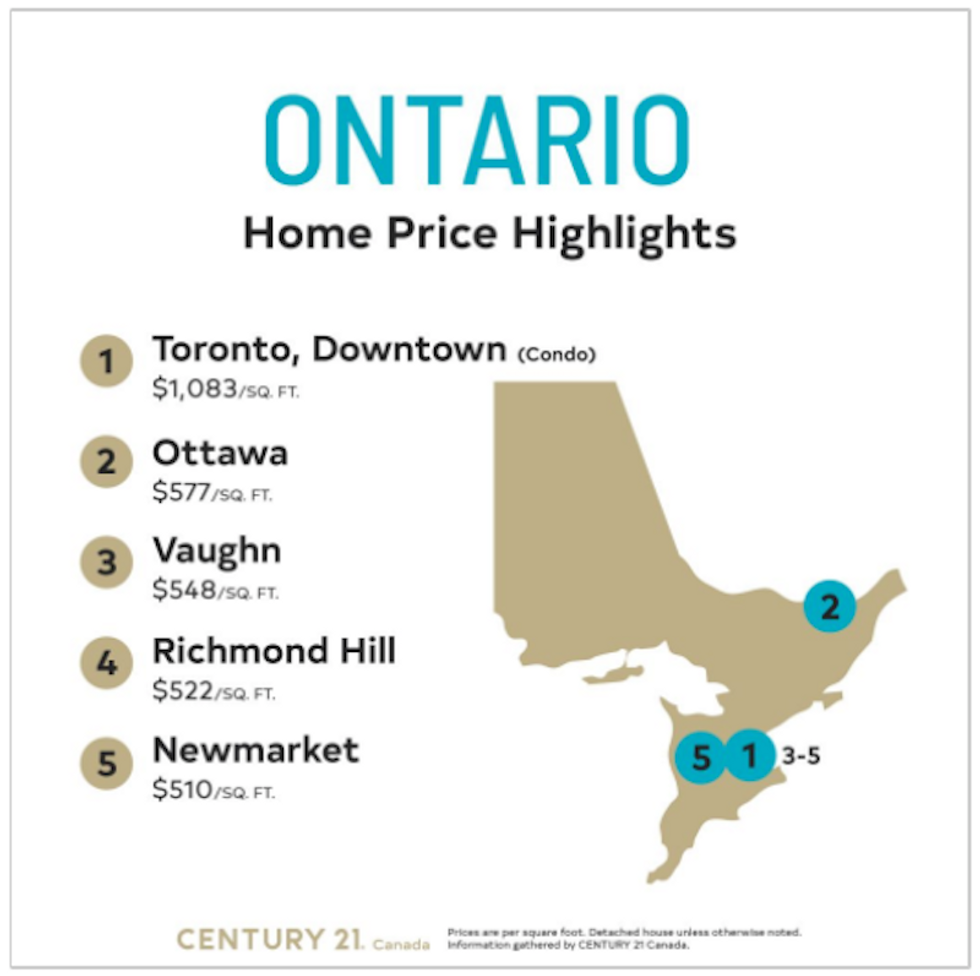 The COVID-19 pandemic impacted many sectors of Canada's economy, and real estate has not been an exception. Innovations, particularly those that allow for physical distancing and reduced contact, have been brought into the sphere; virtual tours are now quite popular, while Facebook Live open houses are encouraged alongside virtual home tours through EyeSpy360.
"When the pandemic took hold in Canada in mid-March, there was a lot of uncertainty about what would happen to real estate sales during the typically busy spring market," Rushton said.
"What we have seen is that after a dip in the number of sales early in the pandemic, the pace of sales has returned to near-normal levels as real estate agents and companies innovated new ways of doing things. The real estate industry has proved resilient through the past several months. And even further, prices have held steady as well."
This has been CENTURY 21 Canada's fourth year gathering data of this type, and ultimately, Rushton says the numbers continue to show real estate less as a national picture, and more so a snap of what's happening within local communities. Regardless of your location, he says, "buying a home is a great investment."