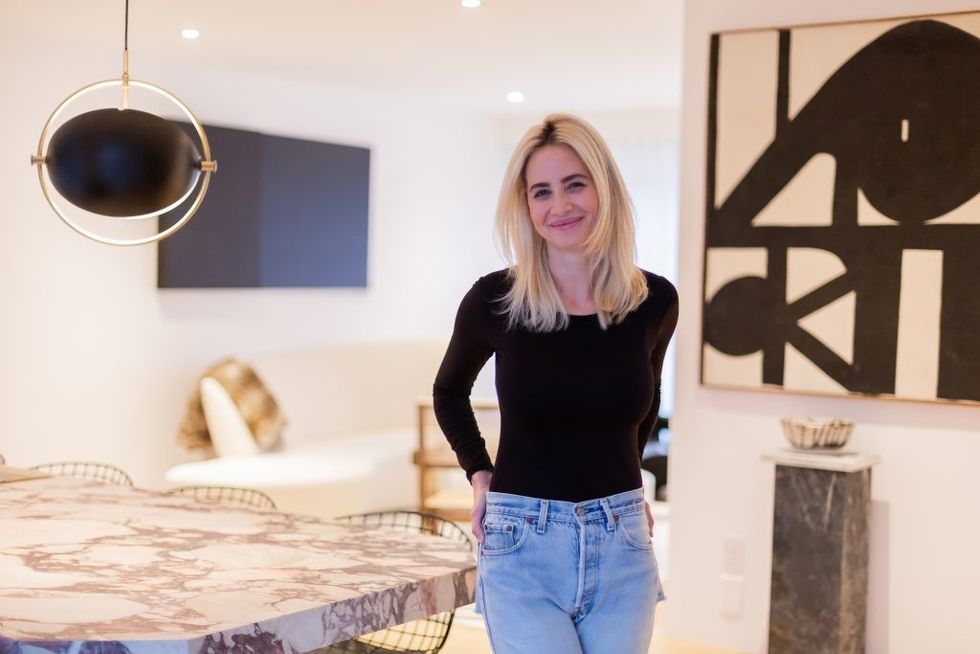 All photos courtesy of Joel Levy.
Grover the black Golden Doodle is three months old, silky-soft and goofy, just like his namesake Muppet.
---
He is the wiggly punctuation to the just-finished minimalist home renovation of interior designer Montana Labelle and her builder husband, Russell Gozlan of the Gozlan Group.
The couple are frequent collaborators on their clients' projects, but this is the first gut reno they've taken on in their own home since their marriage three years ago.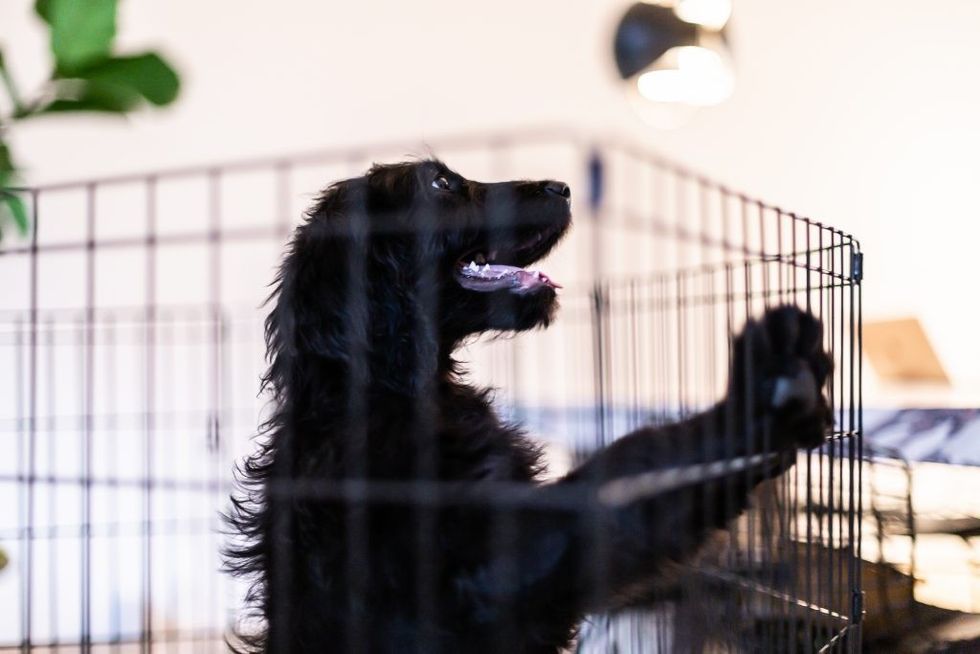 Incredibly, when you see how much work they did on the property, the project only took eight months. They kept the modern minimalist '70s façade, moving only one window over the staircase, but pretty much everything behind that is all new.
A three-story addition to the Avenue Road and St. Clair property pushed the back of the structure out by just 7 feet but resulted in much more practical living space.
First of all, it has turned the main living space, which is all open-concept save for a fireplace that defines the sitting area, into what feels like a perfect square. Symmetry is a hallmark of Labelle's style.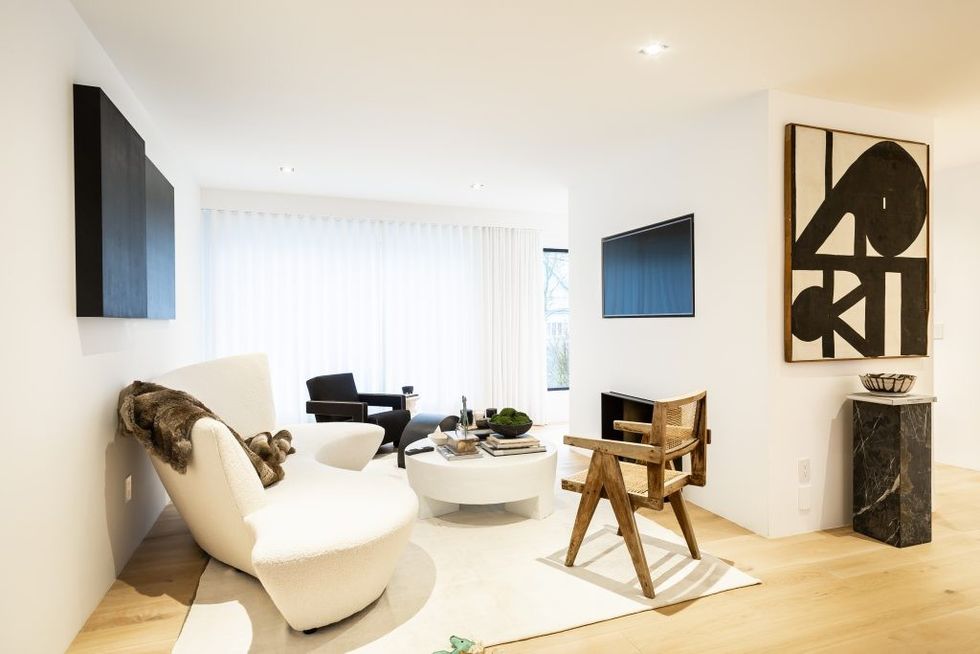 "A lot of people call my style cozy modern," says the petite blonde, dressed in one of her signature (also often black or white) outfits. Today that means a black sweater and artfully ripped vintage Levis.
"There is a minimalist aspect," she says, of her décor style, and it is consistent with her dress code, "but it is lived in and comfortable. Not so cold."
Labelle is well known for her love of black and white, but a closer look reveals a world of subtle gradations and a mix of textures and rich materials that bring her neutral palette to life.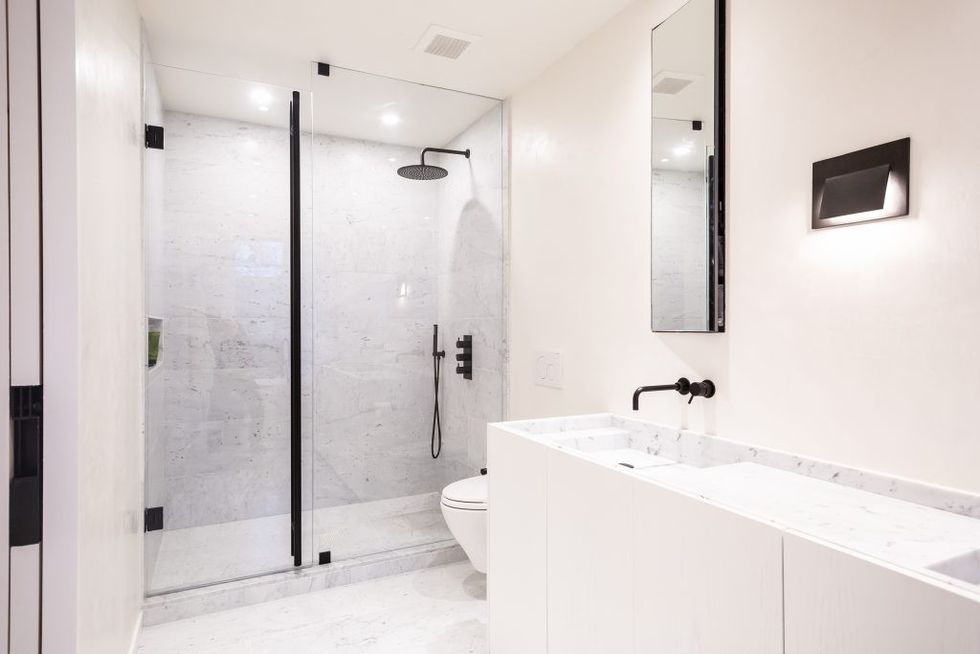 The walls on the main floor (and in the bedroom and master) are done in Venetian plaster, an elegant artisanal effect that brings life and depth to the walls.
Marble is another Labelle obsession, as seen in the custom recessed his and hers vanities in the master bath. (She almost apologizes for the gorgeous, matte black hardware in the space, "Everyone is doing black.")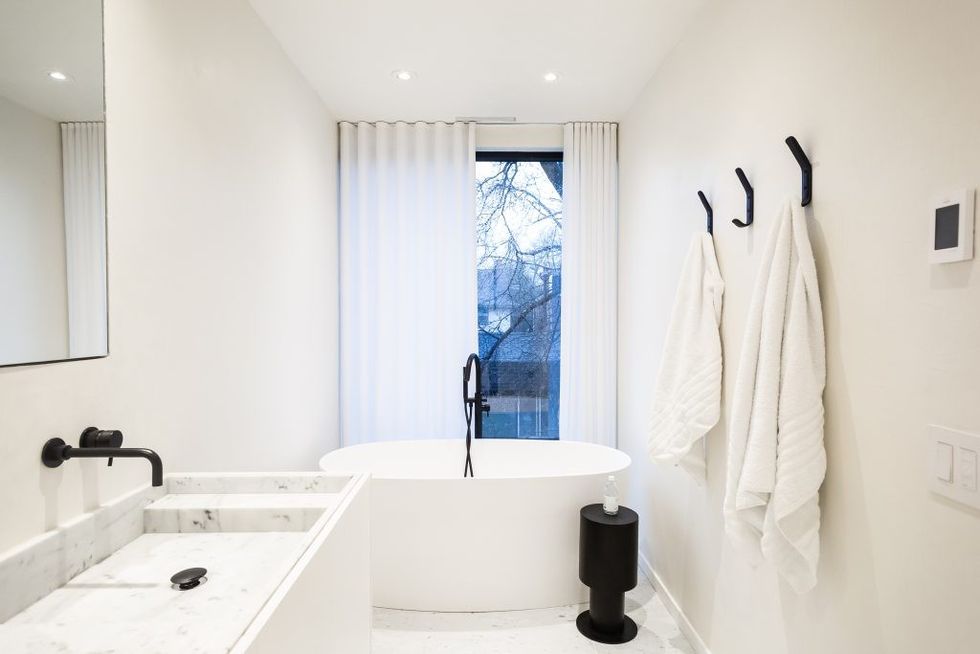 And there's that knockout dining table. It is actually made of two massive slabs of marble, which Labelle found long before they started this build.
"They were so great I just had to have them, even though I had no idea what I was going to do with them. I got them from CIOT Surplus, they had been in some fabricators' showroom since the '70s. I paid maybe $500 for them."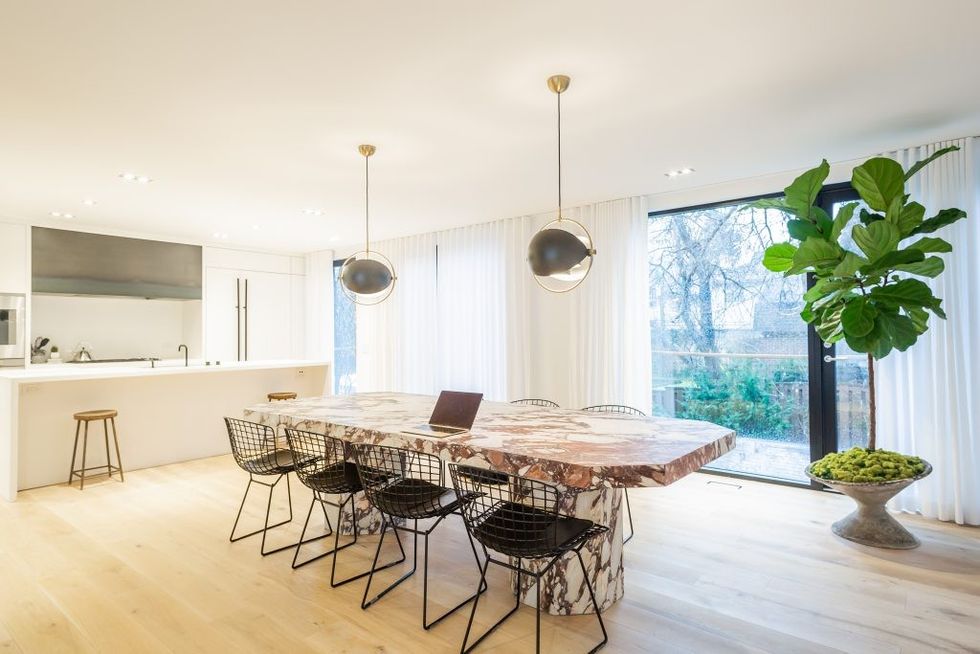 The dining chairs are Design Within Reach and are among the few things the couple brought with them from their last place.
The rich design of the found slabs makes the table, together with the pair of pendant fixtures from South Hill Home above it, the focal point of the room. She says she deliberately went simpler for contrast in the open kitchen with its Caesarstone counters.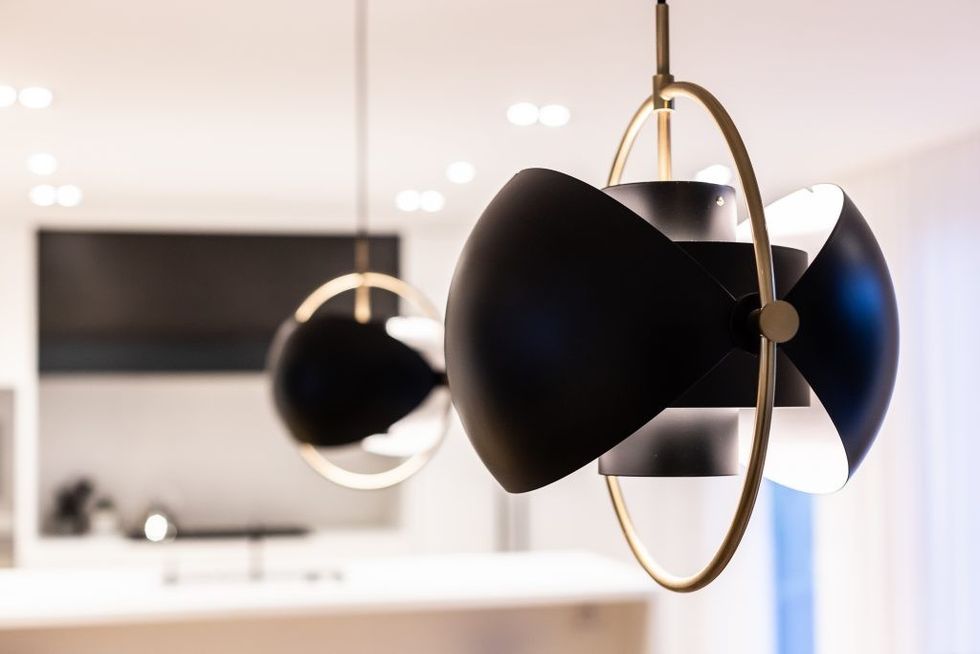 The kitchen itself is a feat of restraint—there is not a wooden spoon out of place, all the messier parts of life safely stowed behind the sleek floor-to-ceiling custom cabinetry.
"I often work at the dining room table," she says, to be near Grover and also because she finds the clean, open space soothing. "I work with so many 'things.' I'm in so many different client spaces. When I'm at home I want to strip it all back down."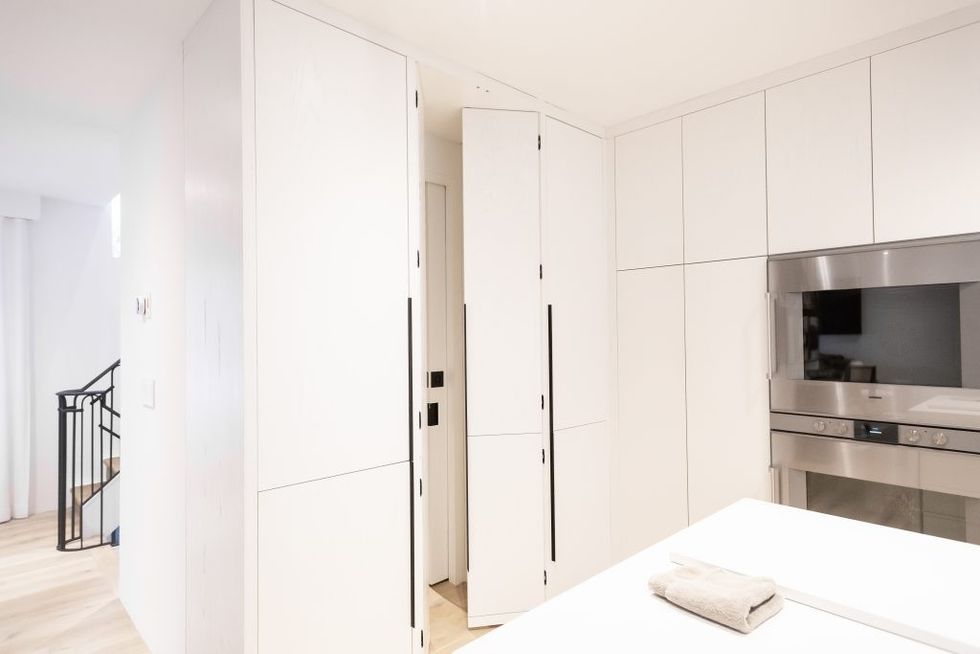 The few 'things' she does have are painstakingly chosen and are fine examples of the high-low, modern-vintage mix she uses in her clients' homes. Also incredibly, she had no budget on the project, because she adds, she is "naturally careful. And crafty," which I take to mean clever.
Labelle points to the large abstract black-and-white painting with a '70s vibe on side of the fireplace wall.
"That was $100, at Brimfield. I found that at the same time as the planter," she says, pointing to the one holding a gigantic fiddle leaf fig, a nod to the millennial plant trend.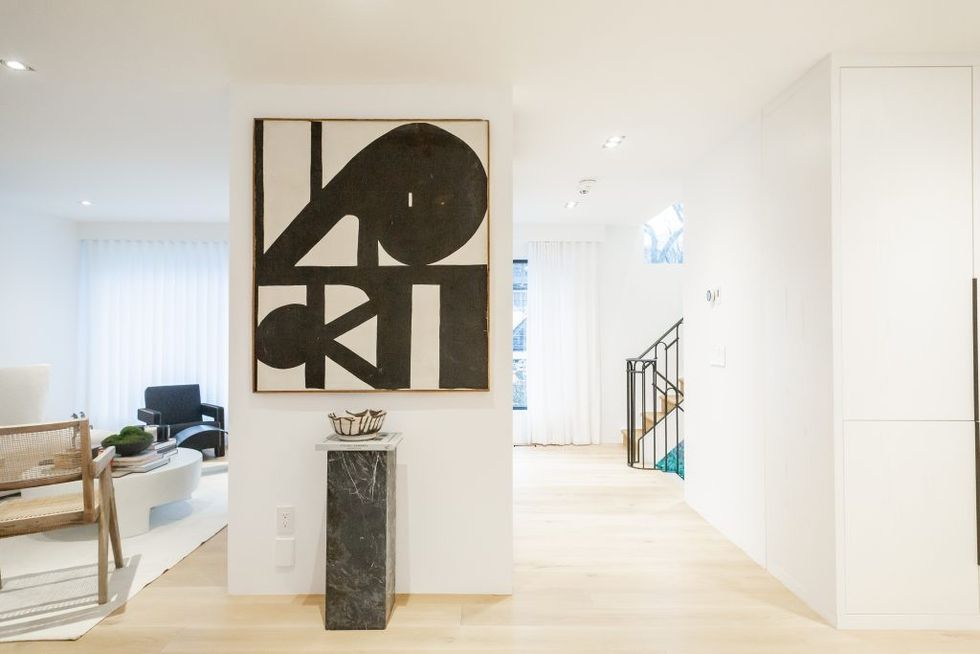 Brimfield Antique Market is a legendary flea, drawing design enthusiasts and professionals to Massachusetts thrice a summer. It is an annual pilgrimage Labelle makes with her Mom, the well-known Canadian stylist Karen Kwinter, a long-time fashion editor-at-large for Canadian Living.
Labelle grew up surrounded by fashion, and she says that has greatly influenced her design aesthetic.
It was Kwinter who nudged her into interior design. When she graduated from Western, Labelle knew she wanted to do something creative, but her mother warned the fashion business is in flux and said she thought design would be a more solid future.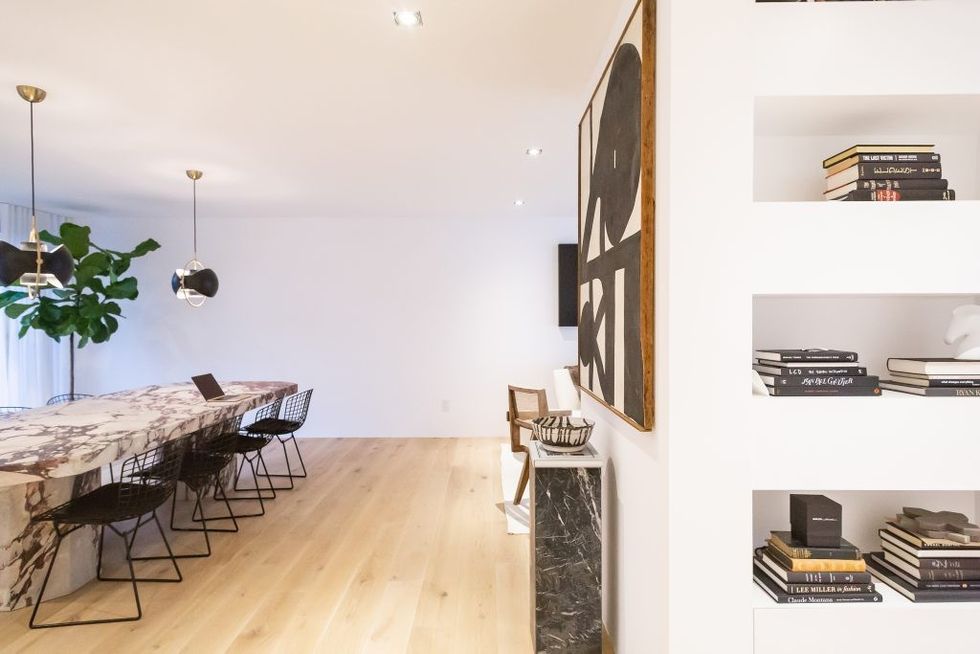 After earning her interior design degree from Parsons, The New School in New York, Labelle interned for Brian Gluckstein.
When she first struck out on her own, she says she was hired to execute other people's ideas. Her media savvy helped turn the tide, and as she became a face about town, "it took a few years, but people started to hire me for my own style."
Alongside the found treasures are a few, carefully curated classics. The sensuous '70s sofa, by Vladimir Kagan, can be found for oh, $30,000 on 1st Dibs; Labelle somehow nosed one out at Christie's for "about $1,000." Another find is the Pierre Jeanneret chair.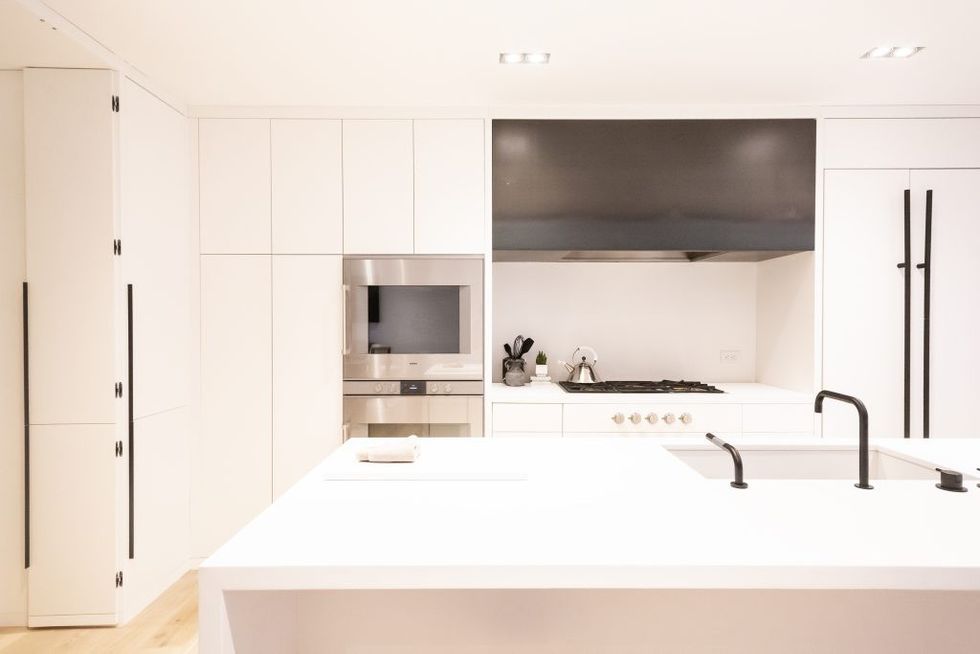 But ask her to share her biggest splurge and she nods at the Volo faucet in the kitchen, from Ginger's.
"It is the focus of that area… I went a little crazy there."
To compensate, Labelle proudly points to the floor-to-ceiling curtains that run the length of the rear glass wall.
"That fabric was $2 a yard, I grabbed it as Designer Fabric Outlet was going out of business."
I almost believe her when she says, "You can get the look…you really don't have to spend the money. It's easy."
But then again, if it really was easy, she would be out of business.
Industry Profiles