(All photos courtesy of Joel Levy)
---
Not just anybody gets asked by Goop—Gwyneth Paltrow's lifestyle empire—to lead a workout class at one of their much sought-after conferences. But then again, Amber Joliat isn't just anybody.
Joliat is the creator of Toronto's MISFITSTUDIO, an edgy, unconventional movement studio that blends modalities of Pilates, yoga and dance. The trendy studio has two locations in the city's west end and offers a variety of daily classes that are more about letting loose, untangling from within and moving to the music, than about erring on the side of perfection when it comes to posture and poses.
Joliat oozes infectious energy, and she lives her brand, too.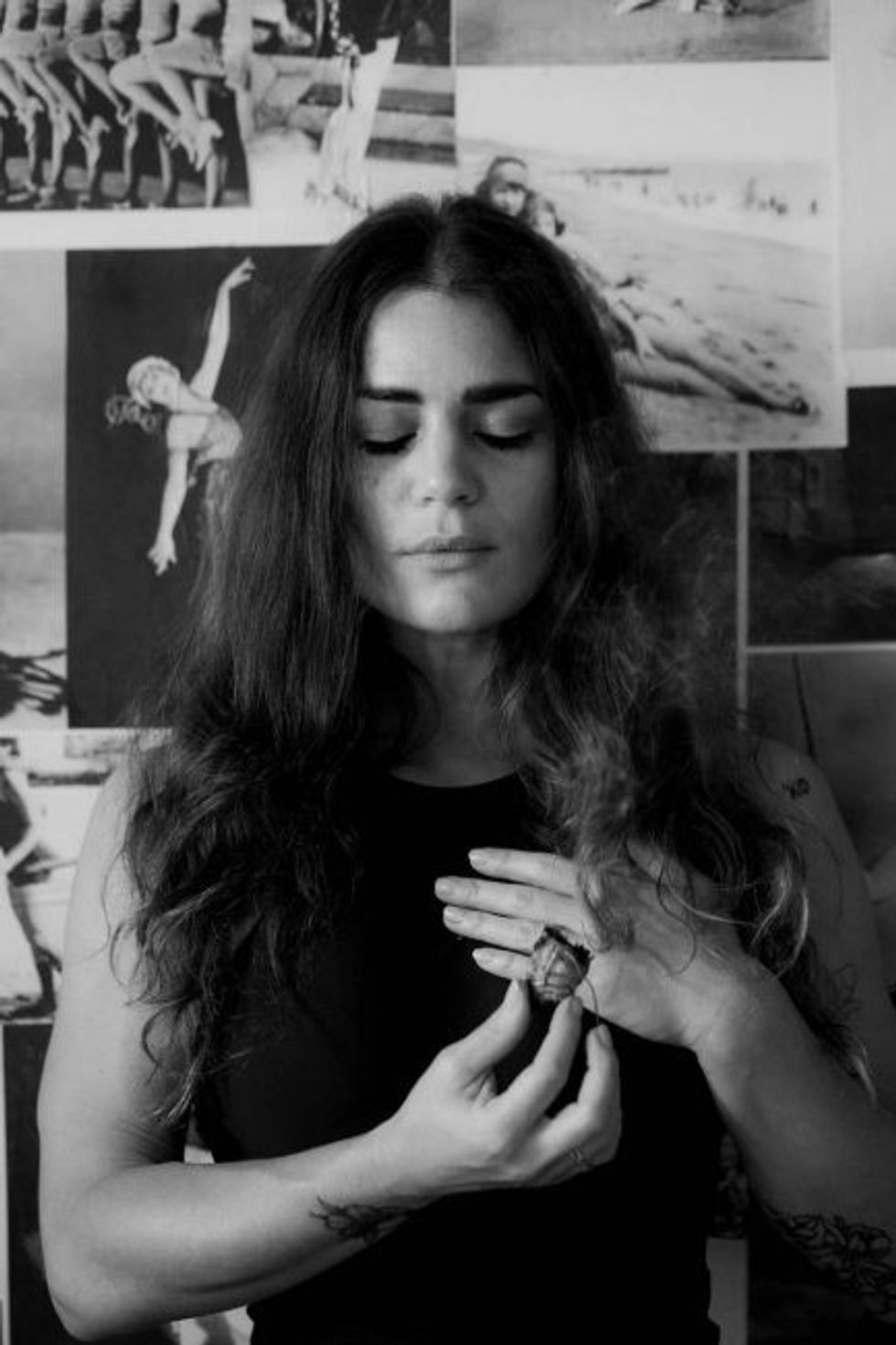 (Photo by Jessica Blaine Smith)
After seeing her eclectic home on the 'gram—a home she shares with her husband, Nik Timar—we asked for a private tour, and of course, she obliged. The couple's Parkdale loft is fit with personal touches, go-to spiritual elements and a long, wooden communal table that has acted as a centre piece for many parties, including their wedding in September of 2017.
After one year of dating, Timar and Joliat started talking about moving in together. She reached out to the property manager of the work/living loft space she had been living in to see if there was an available spot for two.
"They typically have a waitlist, and we thought that it would take some time. But as fate would have it, they had an available space a week later. We looked at this massive warehouse and knew it was right for us!" says Joliat.
As fans of Parkdale—Joliat lived in the west end for years—they loved how the location tailored to their needs (Close-by groceries! Antiques! Vintage! Lots of friends!). After seeing the warehouse space, they knew it was right, signed on the dotted line, and have lived there ever since.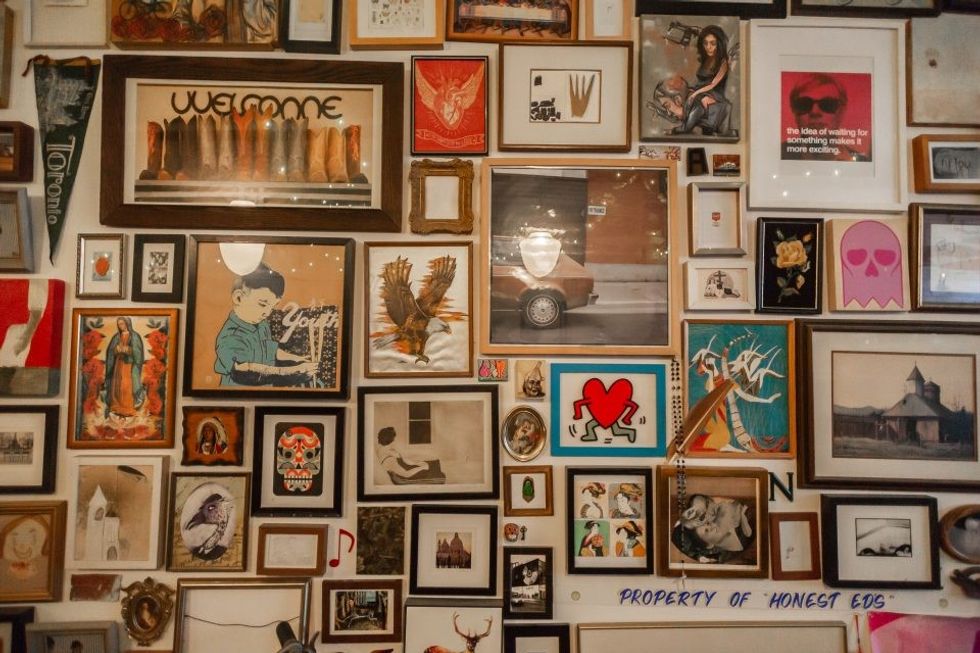 The most notable design element in their loft is a wall with tons of mixed and matched frames, put up as a collage of sorts. 
"I call it the ARTWALL. It's something I've always done in my homes, and was super excited by the SIZE of this wall! At 17 feet long, and 20 feet high, it feels like a masterpiece!" says Joliat.
"I've collected art and vintage frames for years, and we buy art whenever we travel so it's been very satisfying and only took one day to get up,"Joliat says. "It was like Tetris—I was always so good at Tetris. I add little pieces here and there but, it's pretty jam packed!" saysJoliat,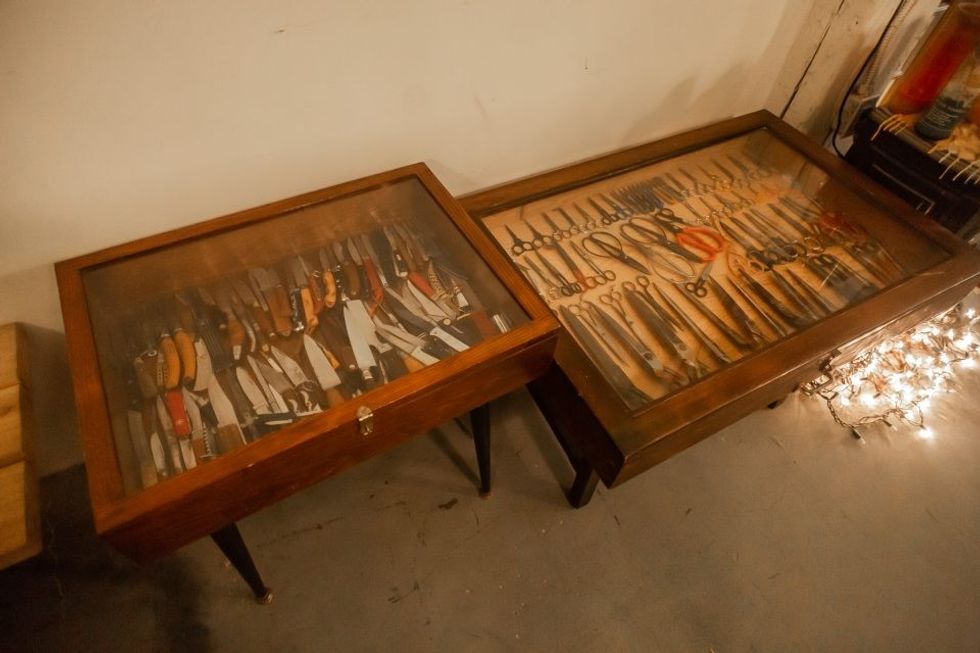 Another unique element in their home is Timar's knife and scissor collection, which lives in old wood and glass displays from various antique markets.
"Nik and I are both collectors. It's a passion and it's a pleasure to share in the art of ART," says Amber who has a sand collection from all the beaches she's been to around the world. She displays her sand finds in little glass vials, and says, "Nik loves it as much as I do!"
She describes their home as expressive, museum-esque and slightly mad. "Some people despise it—too many things for their brain to compute!"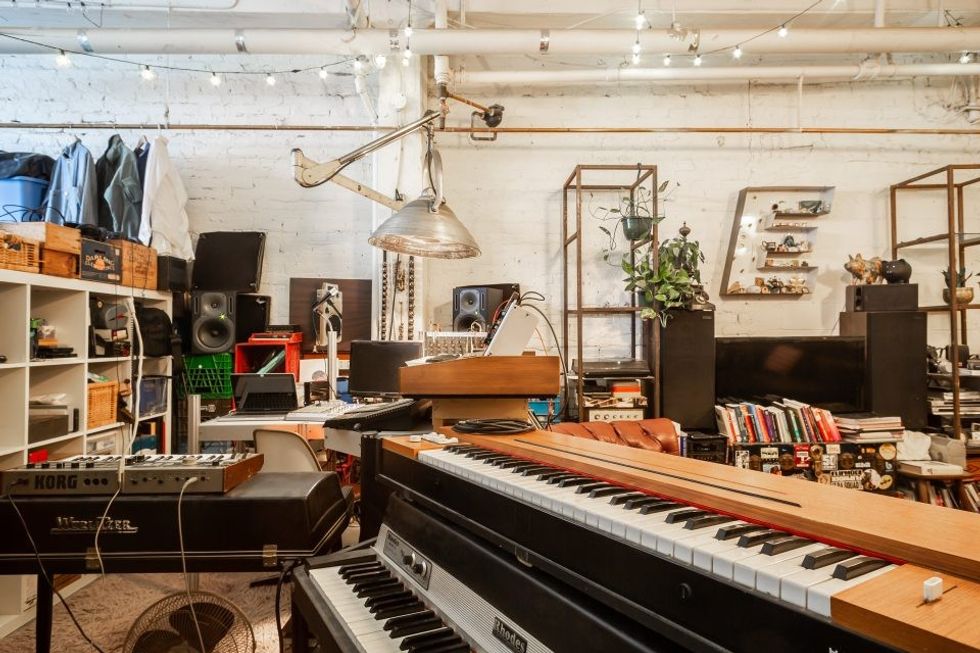 For those who have been to Misfit, the design of her home could be described as "classic Amber J," and yet, she would argue that the design of Misfit completely differs from that of her home.
"Misft is ME. This home is US. Misft is light, open, plant-filled, serene, with a hint of an old circus. Our home is a mash-up of our personalities: All of my art, plants, crystals, books, glass bottles, carpets. All Nik's musical instruments, knives, scissors, shoes, motorcycles."
Their Parkdale loft is 1500 square feet of open space, with only one door: the one that leads to and from the washroom.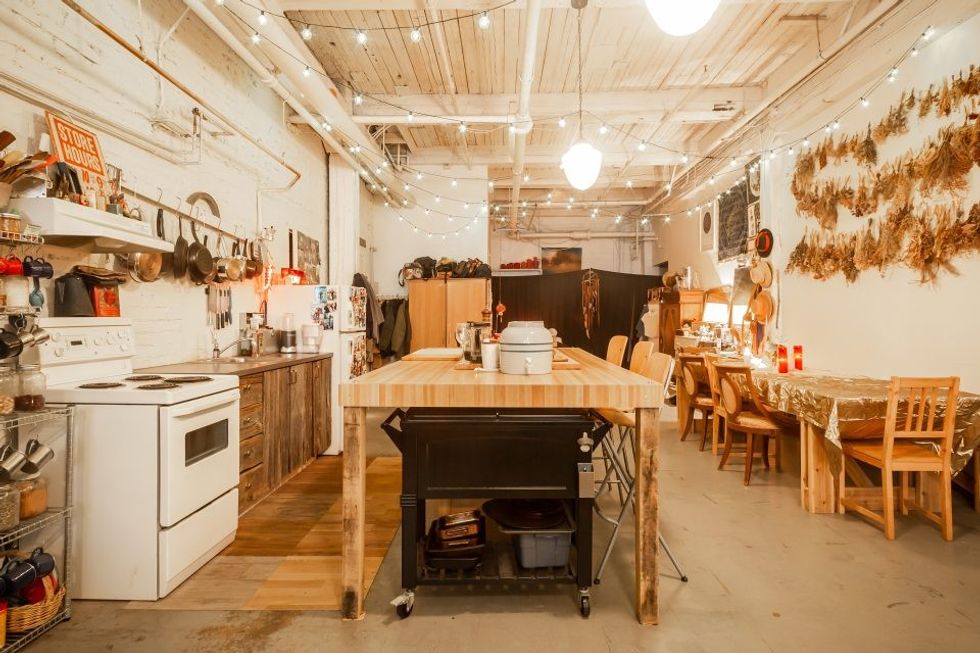 The lights are acorn milk glass lights that Joliat took from the third incarnation of MISFITSTUDIO.
"There were twelve glass lights, but on the day I arranged to have them taken down, only four remained (I still wonder where the others are!). I love the history, the specialness of these well-crafted, beautifully detailed acorn lights in my home, a reminder that we are stronger than we think we are—both the 1910-year-old glass and us humans," says Joliat.
"Resilience is a strong theme in my life."
An altar, put together with love in the center of their space, is key for Amber to meditate in front of, and to perform her smudging ritual.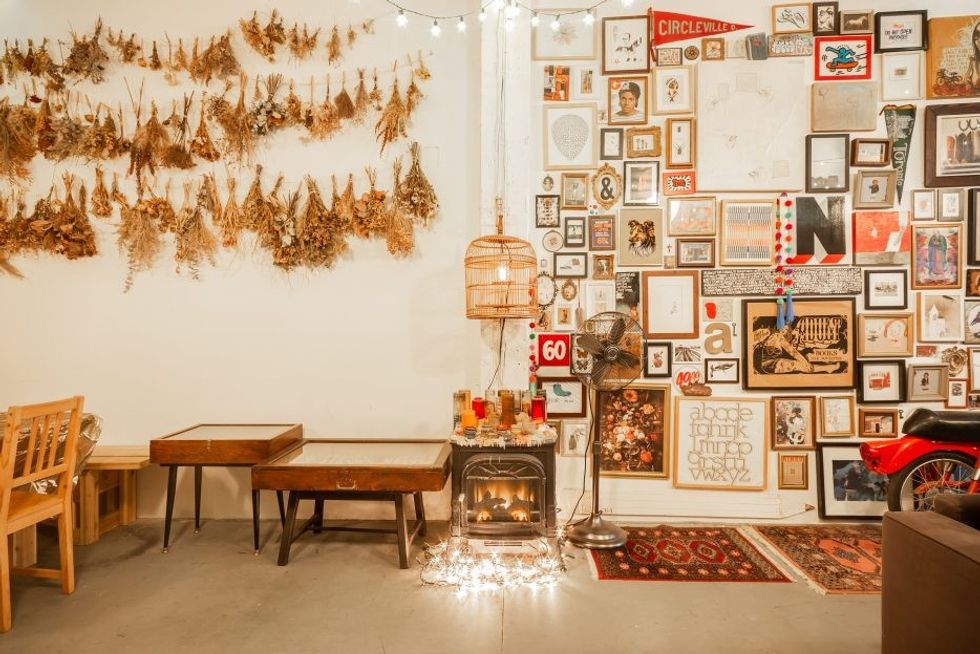 Her advice for making an at-home altar?
"Cultivate a space for you. Add items that speak to you in this moment. Crystals, candles, jewels, trinkets that spark your heart… flowers. Allow it to change and shift seasonally, or, with life experience. And as you shed old skin, have that reflected in your altar, tend to it, love it," says Joliat.
When it comes to 'at home' rituals, she uses Palo Santo each morning to smudge the space, lights candles, waters the plants, and plays classical music, "It's simple!" she says.
The couple has four motorcycles in the loft, including this sweet ride.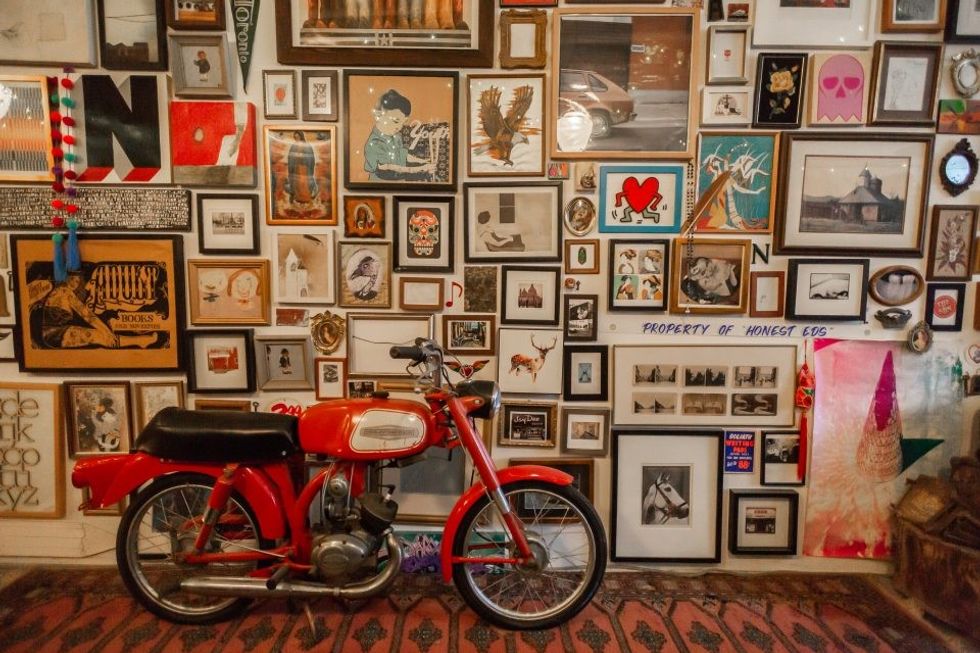 "This is the baby of the motorcycle fam. They are all vintage and only two of them run. Nik lives for old fixer-uppers and old world charm," says Amber. "He too throws nothing away and would rather keep tinkering forever."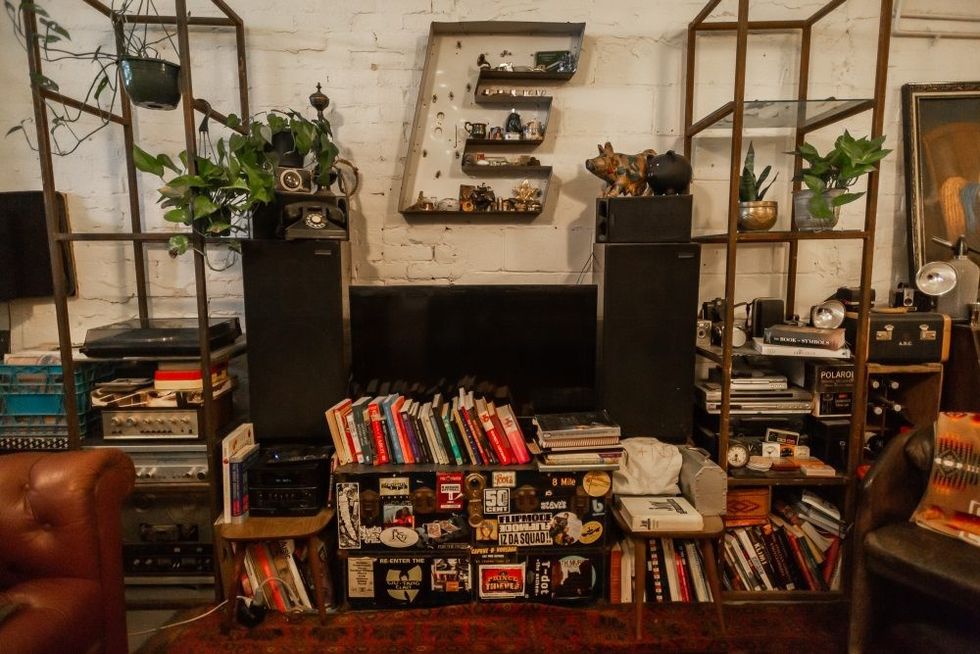 It's no wonder the couple constantly host parties at their place. A quick look at Amber's Instagram, and you can see she often has friends in their laneway, or around their wooden communal table in the cooler seasons.
Her go-to hostess tips?
"Comfort is key…Casual with charcuterie and cheese. Tons of serve-yourself wine and water stations. Fresh flowers (I usually pick mine from the train tracks!). Easy!" says Joliat.
You can catch Joliat hosting MISFITSTUDIO' podcast, Be Moved, on Spotify. And sign-up for classes at MISFIT here, or check out her online class subscription series so you can take her classes no matter where in the world you are.
Style + Décor