As the fear of the novel coronavirus continues to grow, with over 92,000 cases confirmed around the world, cities are doing everything they can to prepare — including major transportation providers.
---
Here in Toronto, transit agencies say they are prepared in the case the virus breaks out in the community and are taking active steps to ensure vehicles are clean for customers.
READ: Toronto Apartments and Condos Taking Measures During Coronavirus Alarm
This comes as the virus or COVID-19 continues to pick up steam and spread around the world. On Monday, three new cases were confirmed in Ontario with another two announced on Tuesday, bringing the total number of cases in Canada to 29, 20 of which are in this province.
Matt Llewellyn, a spokesperson for Metrolinx, said more than six weeks ago when coronavirus was in its infancy that the transit agency proactively initiated a specialized team to plan, prepare and respond to this rapidly evolving situation.
The transit agency says it learned a lot during the SARS and H1N1 outbreaks, especially how important it is to communicate with staff and customers early, openly, and frequently.
This is especially the case now that the regional transit agency, which services over 300,000 people daily, had its first rider that tested positive for COVID-19 onboard a GO bus.
According to Llewellyn, on Saturday, York Region Public Health confirmed that a woman boarded a GO bus on February 26, who has since tested positive for COVID-19. Health officials also say her husband, who travelled with her, has subsequently tested positive for the virus.
And despite public health officials continue to say the risk is low, Llewellyn says Metrolinx took immediate action.
The transit agency said it alerted the public and reached out to the other passengers who were on the bus so that they can be screened for the virus.
Out of extreme caution, the bus in question was taken out of service and thoroughly cleaned and the bus driver was provided with support.
READ: Growing Fear of Coronavirus Could Shake Up Mortgage Rates
"Immediately upon being contacted by York Region Public Health, Metrolinx also began communicating through social media and to the news media to get the word out to customers who were on board the effected bus," said Llewellyn.
"Internally, we have also been keeping staff informed of this evolving situation through regular updates from Martin Gallagher, Metrolinx chief safety officer and an internal information portal."
While all of Metrolinx's vehicles are thoroughly cleaned at the end of each day, the transit agency says it's also testing a long-acting disinfectant/anti-microbial agent. "The initial results are encouraging and we are now beginning to incorporate its use into our standard operating/cleaning procedures," said Llewellyn.
Additionally, at stations and offices, hand sanitizers have been distributed.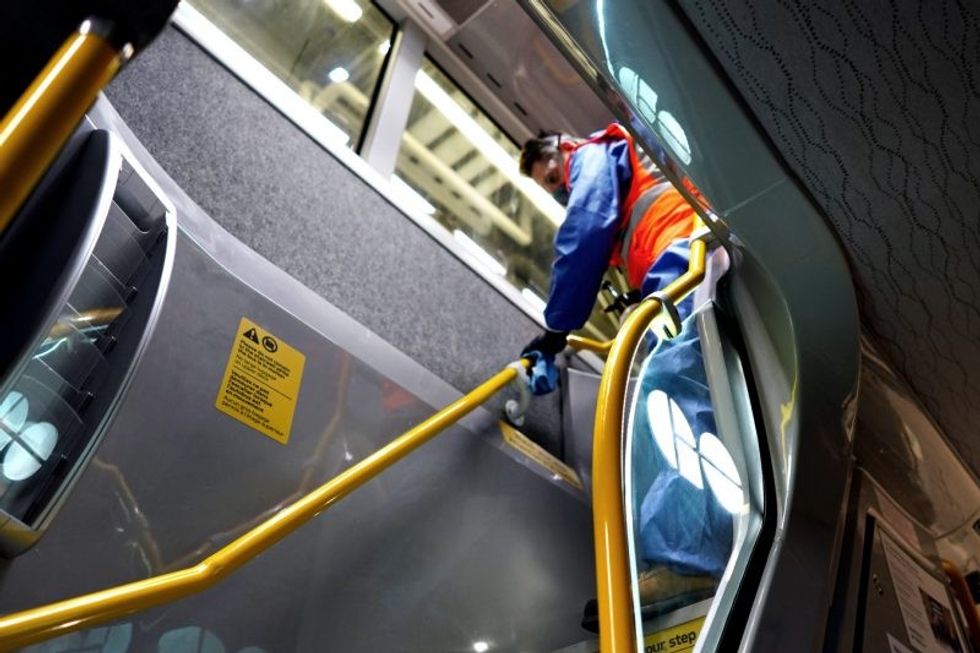 Keith Sheardown/Metrolinx
Stuart Green, spokesperson for the TTC, says the transit system speaks with Toronto Public Health daily and is taking advice from "reputable experts."
"Like most employers, we've distributed hand sanitizer, wipes throughout workplaces," said Green.
Green added the TTC has also increased "end of line" cleaning and conducts daily sanitizing and wipe downs of handrails and straps on vehicles and in stations. This includes handrails on stairs and touchpoints in public washrooms.
Green said the TTC is also looking into the application of an antimicrobial surface treatment.
"These are proactive steps we've taken to supplement public health advice around good hand hygiene, etc. Of course we'd follow any advice from TPH as to if, when and how we change our practices," said Green.
As health officials say the spread of the virus is inevitable, both the TTC and Metrolinx say they are in frequent contact with health experts to ensure they are taking all the necessary steps to protect the public.
Ontario News