The Massey story started in Newcastle, Ontario, but grew both across Canada and internationally. The family is known for their work in the agriculture industry, publishing, education, the arts, and government.
---
The dynasty started when Daniel Massey opened a manufacturing firm for farm equipment in 1847. His son, Hart, inherited and expanded the company, moving operations to Toronto and opening facilities across Canada. It merged with A. Harris, Son and Company to create Massey-Harris Co. Limited, becoming one of the world's largest farm machinery manufacturers. The company continued to be headed by a Massey until 1926.
While farming equipment established their legacy, Hart's ancestors expanded it by exploring other career paths and interests. His son, Charles Albert, was a musician who constructed facilities for employee orchestra and glee clubs. Hart's daughter Lillian, meanwhile, had a passion for education, helping to establish a four-year household science program at the University of Toronto.
Image of Hart Massey, courtesy of the Commemorative Biographical Record of the County of York, Ontario.
Hart's grandsons entered acting and politics. Vincent became the first Canadian-born Governor General (1952-1959), while Raymond was a Best Actor Academy Award nominee for his role in Abe Lincoln in Illinois. Raymond's son Daniel also earned an Academy Award nomination and won a Golden Globe for Best Supporting Actor in Star!
Image of Daniel Massey in "Dangerously They Live," courtesy of IMDB
The family's name is tied to many structures in Toronto. The historic Massey Hall, set to reopen in November after a restoration, was built in honour of Charles Albert. The University of Toronto's St. George Campus has numerous Massey related buildings including Hart House, Massey College, and the Lillian Massey Building. Famed Toronto architect E.J. Lennox built the Massey Mausoleum at Mount Pleasant Cemetery and the Massey-Harris head office on King Street West, which has since been converted into lofts.
There are also two heritage houses at 515 and 519 Jarvis Street. The Massey house at 519 Jarvis Street has been abandoned for years. The home at 515 Jarvis Street, commonly known as Euclid Hall, now houses The Keg Mansion restaurant. A location that is arguably the brand's most famous, aided by the fact that it operates in one of Toronto's most haunted buildings.
The Haunting of 515 Jarvis Street
Sightings and unexplainable occurrences have been reported at Euclid Hall for almost 70 years. The most notable is of a maid, who hung herself from the oval vestibule in the foyer, seen swinging from there. Some say she was distraught over Lillian Massey's death. Others say she feared her affair with a married Massey man was about to be exposed.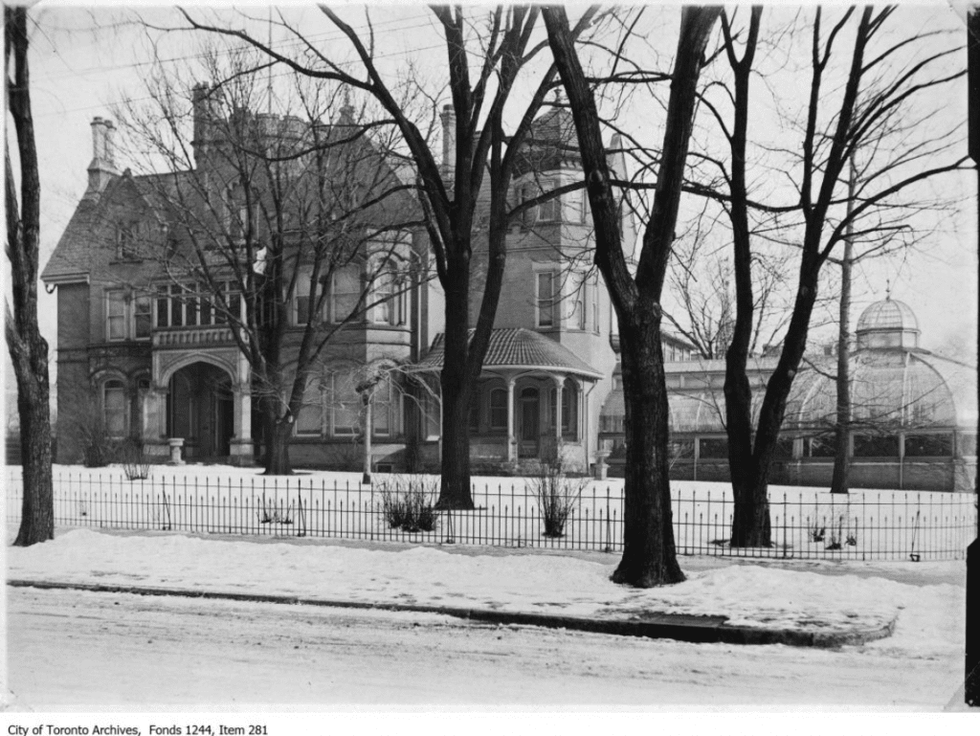 Euclid Hall in 1920, courtesy of Toronto Archives
Other reports note children running and disappearing throughout the house. Some have even heard children's laughter and voices from the upper floors, where the Massey children resided, and one child is said to be calling out for his mother.
Female guests report feeling watched in the washroom and have experienced doors open and close, lights flicker, and personal items moved. Some think this is the doing of Lillian Massey.
READ: These Are Some of the Most Haunted Places in Canada
Wherever the Massey name is associated, it seems a haunting tale accompanies it. Students at Massey College have reportedly heard noises and seen disappearing figures. A former Hart House employee says an apparition warned him of a fire and saved his life. Massey Hall is said to be haunted by man in period clothing wandering backstage and a couple who haunt the aisles at night.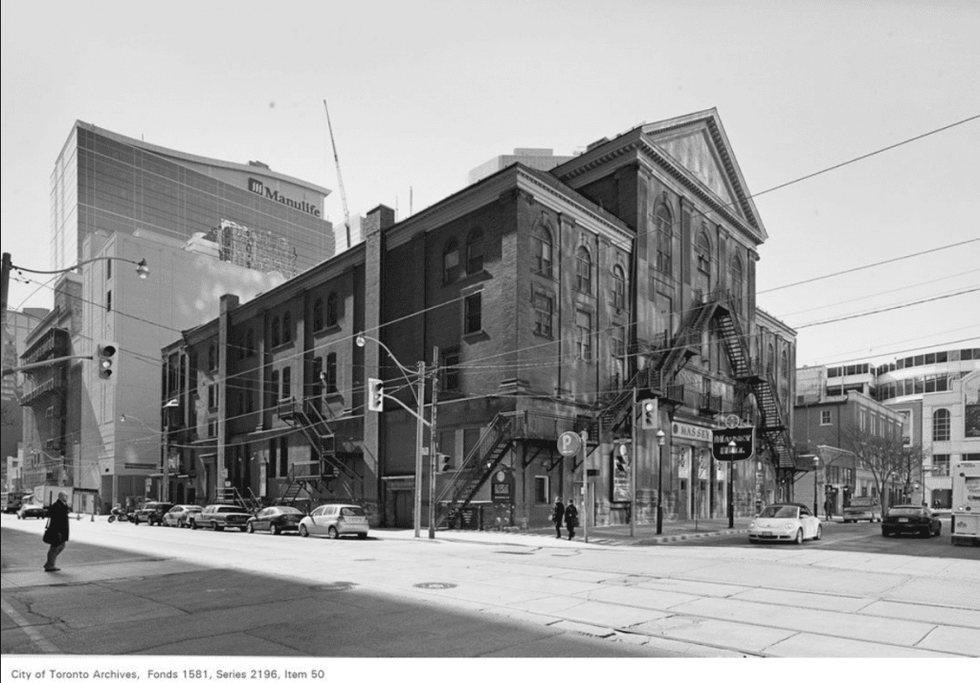 Exterior of Massey Hall, courtesy of Toronto Archives
From the Massey's to The Keg Mansion
Euclid Hall is an example of gothic revival style. It has castle-like features, arched entranceways and windows, a solarium, and vines creeping up the exterior. The interior features woodwork, grand staircases, columns, fireplaces, crown molding and more.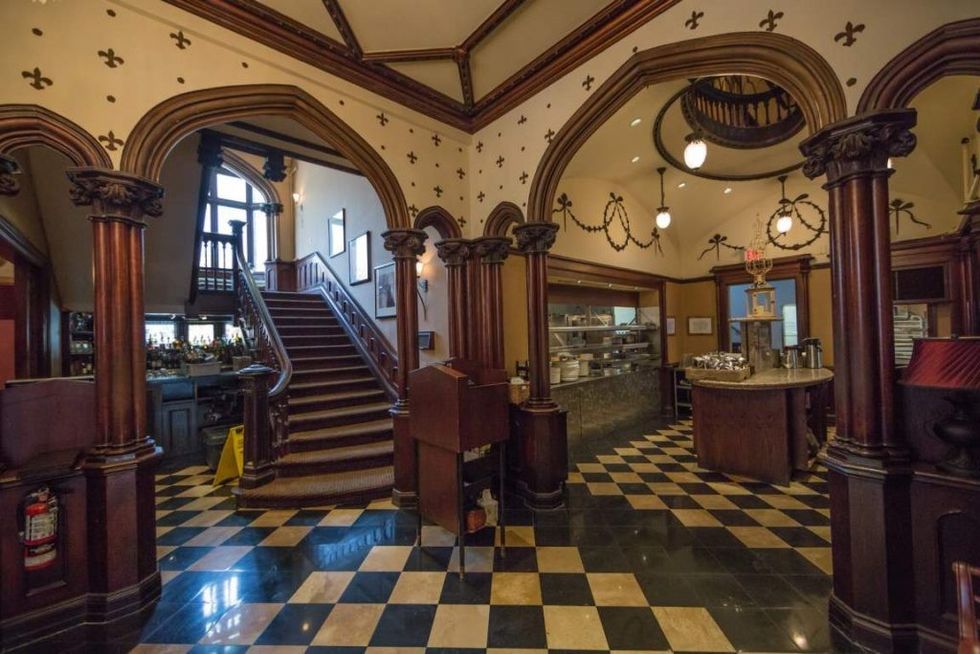 Interior of Euclid Hall, courtesy of Farhi Holdings Corporation
Its front property, now a parking lot, was once a lavish garden enclosed by a fence. Historical pictures suggest it had a porte-cochère, a covered structure where vehicles could drop patrons off, and a greenhouse on the southern portion.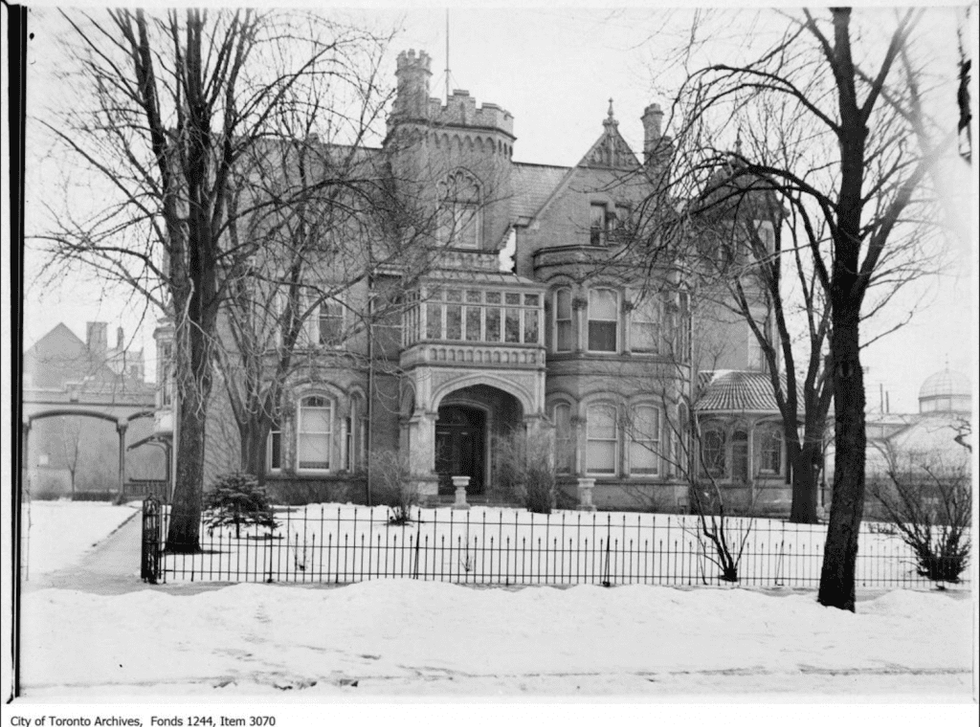 Euclid Hall in 1912, courtesy of Toronto Archives
The home was constructed by William Young in 1868 for Arthur McMaster. At the time, Jarvis Street was a much narrower throughway lined with trees and stunning mansions for Toronto's elite like George Horace Gooderham.
In 1880, the Massey's purchased the home and two years later had George Martel Miller expand it. Lillian Massey named the property Euclid Hall and lived on the grounds until her death in 1915.
As the demographics of Jarvis Street changed, the wealthy moved out. Homes were converted to offices, factories, multi-unit residential properties, restaurants, schools, and more. The narrow tree lined street was widened for traffic.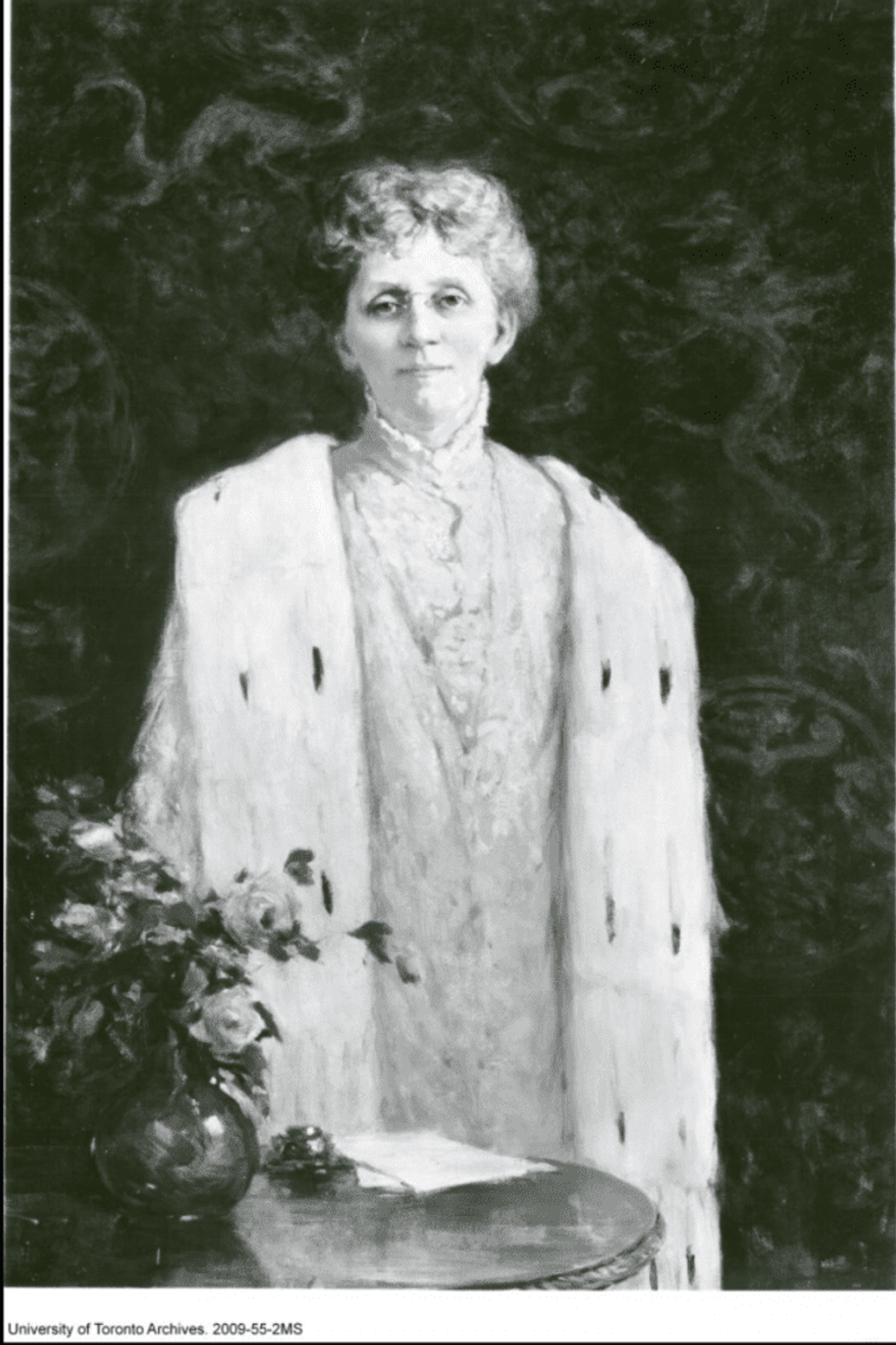 Portrait of Lillian Massey, courtesy of the University of Toronto Archives
Lillian left Euclid Hall to the University of Toronto's Victoria College when she passed. It later became a radio station, art gallery, and nightclub before its life as a restaurant. For a time, it was Julie's Restaurant before becoming The Keg Mansion in the late 1970s. The interior has been used as a film set for Moonstruck and Alfred Hitchcock Presents.
Earlier this year, Farhi Holding Corporation apparently listed the property, but took it down almost immediately. Farhi Holding Corporation owns both Massey homes on Jarvis Street making it a lucrative property for developers.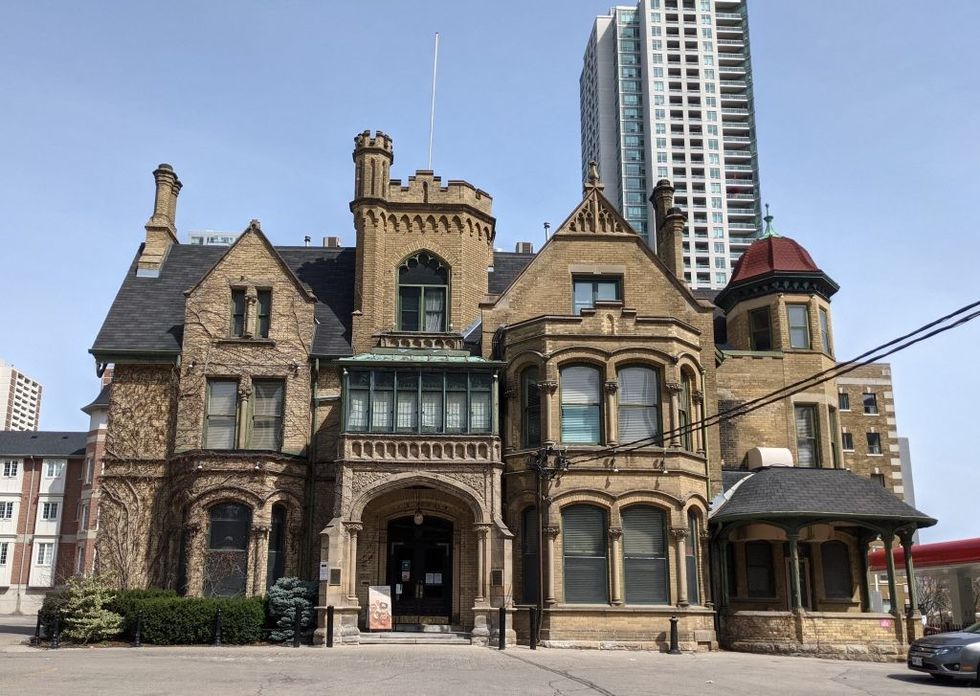 Image of Euclid Hall in 2021
Euclid Hall is a heritage property, meaning it would need to be incorporated into any future developments. According to Reddit threads and other parts of the internet, as long as the property stands (even if it is just a wall), the spirits will have an anchor keeping them bound to the home.
Unless Farhi Holding Corporation invests in other ghost removal remedies, Lillian Massey and the other spirits will forever remain haunting Euclid Hall.
Legendary Houses