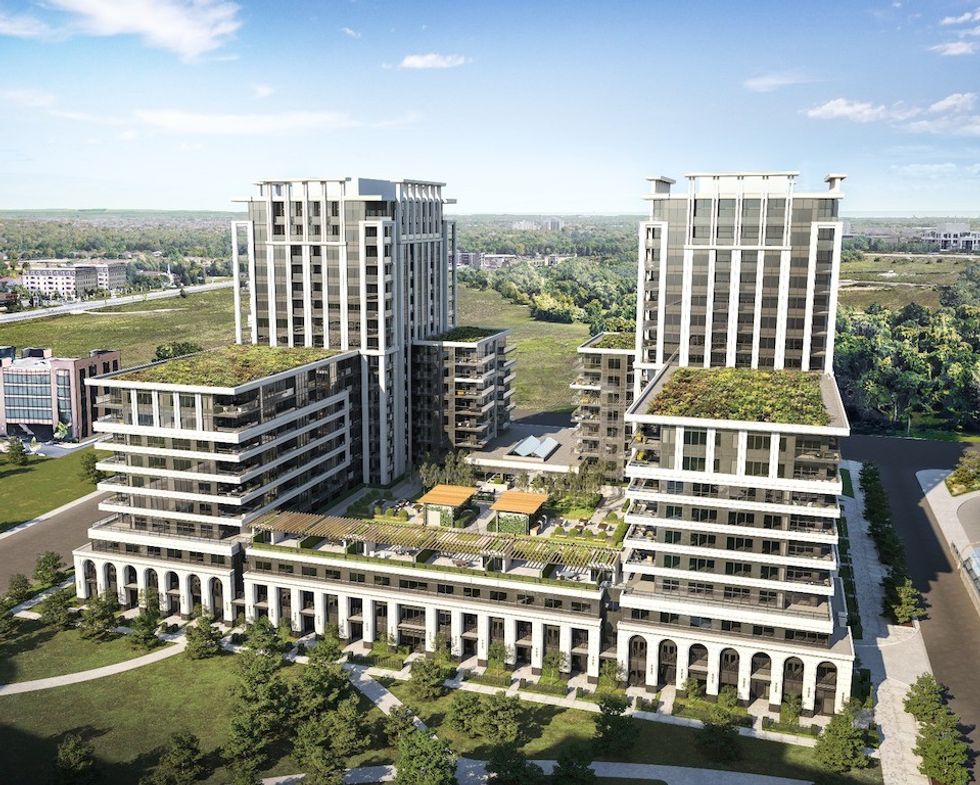 (Image courtesy of Vendome Markham Condos)
Markham is the little high-tech engine that could. Not content to become the mini-me to mega-metropolis Toronto just to its south, Markham has forged its own identity.
---
This is a place where you can buy a Mercedes in a mall, fill your reusable shopping bags with organic groceries, and ride a solar-powered, fine-art carousel.
It's where geek gods rule. And it's where the future begins. Because Markham is Canada's High-Tech Capital.
With more than 1,000 tech and life sciences companies, the city is home to 353,000 people, 10,400 companies, and houses more than 400 head offices, including those of IBM, Toshiba, Real Matters, GE Energy, and Lenovo.
Markham was an early-adopter of the live-work-play concept. And with all those companies, there's no need to commute to downtown Toronto to find a well-paying job or things to do.
The city offers theatres, art galleries, recreational facilities, parks, farmers' markets, festivals and so much more. And its rich, cultural diversity has fostered an awesome food scene to rival you-know-where.
Markham's desirability as a place to live has also fostered a thriving condominium market, with a high standard of architecture and design.
One of the latest entries to the city's condo scene is Vendome, from H & W Developments, on Warden Avenue, just south of Highway 7.
It reflects the city's dedication to live-work-play with a transit-centric location, proximity to stores, service and recreation, and an extensive range of exclusive amenities in the building itself.
Vendome is steps from the new VIVA bus routes and TTC routes into Toronto, plus the Main Street North GO Transit Station is easily accessible.
In close proximity, you'll also find the Markville Mall (with the Mercedes dealership), chain and independent restaurants, theatres, galleries and golf courses, including Angus Glen.
The 18-storey condominium's architecture is the work of DIALOG Design and will include 530 suites, including 32 townhomes.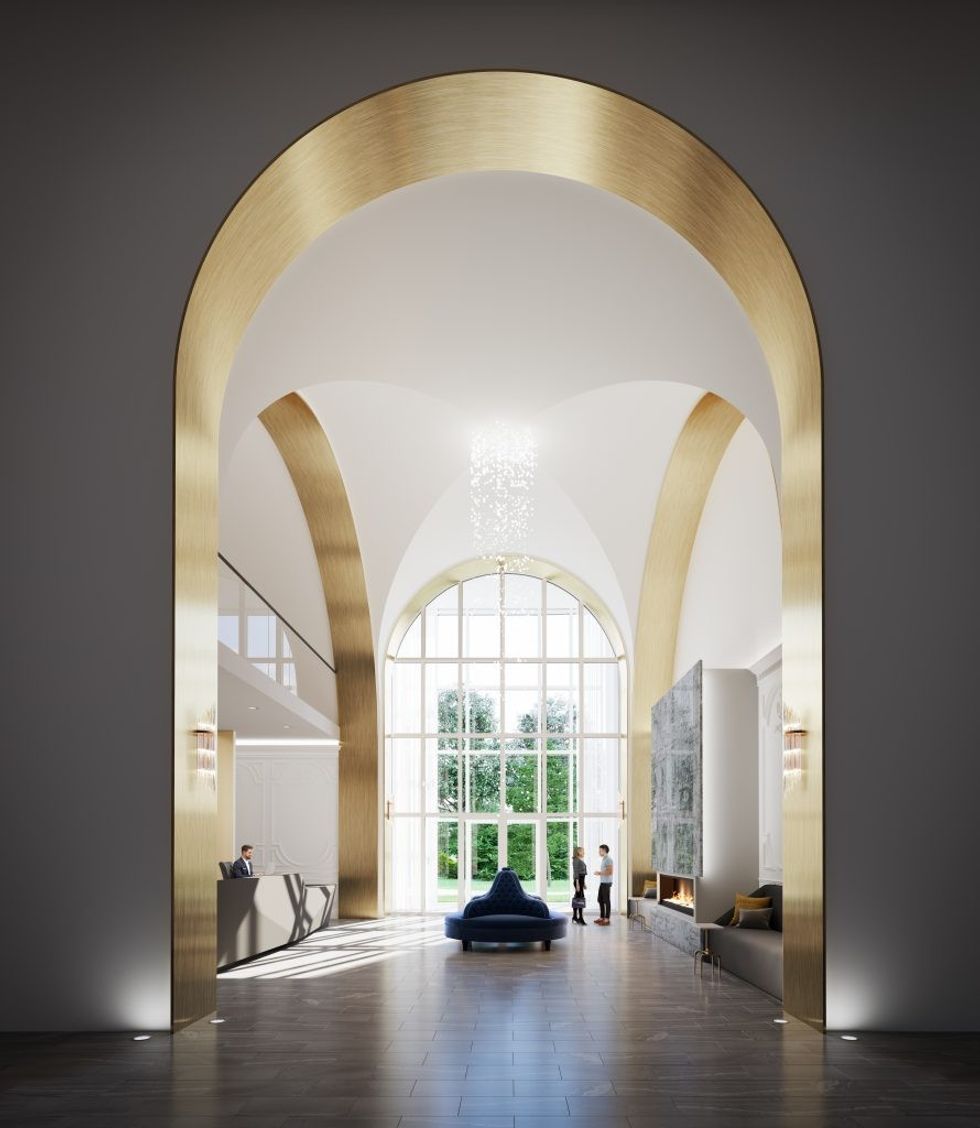 The grand lobby at Vendome Markham Condos. (Image courtesy of Vendome Markham Condos)
The lobby will be a show-stopper, soaring two storeys with vaulted archways, stylish seating and a 24-hour concierge.
Interior design is by renowned Tomas Pearce Interior Design. In recognition of the online shopping trend, automated parcel lockers and a secured refrigerated parcel storage area will accommodate package deliveries.
Then there are the amenities, which are comprehensive and cater to a range of interests and ages:
A library lounge will have 24-hour access and is equipped with high-speed Internet, co-working spaces and quiet study zones.
A 30,000-square-foot fitness centre boasts state-of-art equipment and panoramic park views: an indoor multi-sports facility with double-height ceiling will accommodate basketball, badminton, volleyball, table tennis, and even a yoga/dance studio.
Musicians can practice in a soundproof room and sound studio with audio and video set-up. The media lounge will host cinema-style movie screenings, performances, and karaoke, while the club room is equipped with billiards, card tables, and a large-screen TV.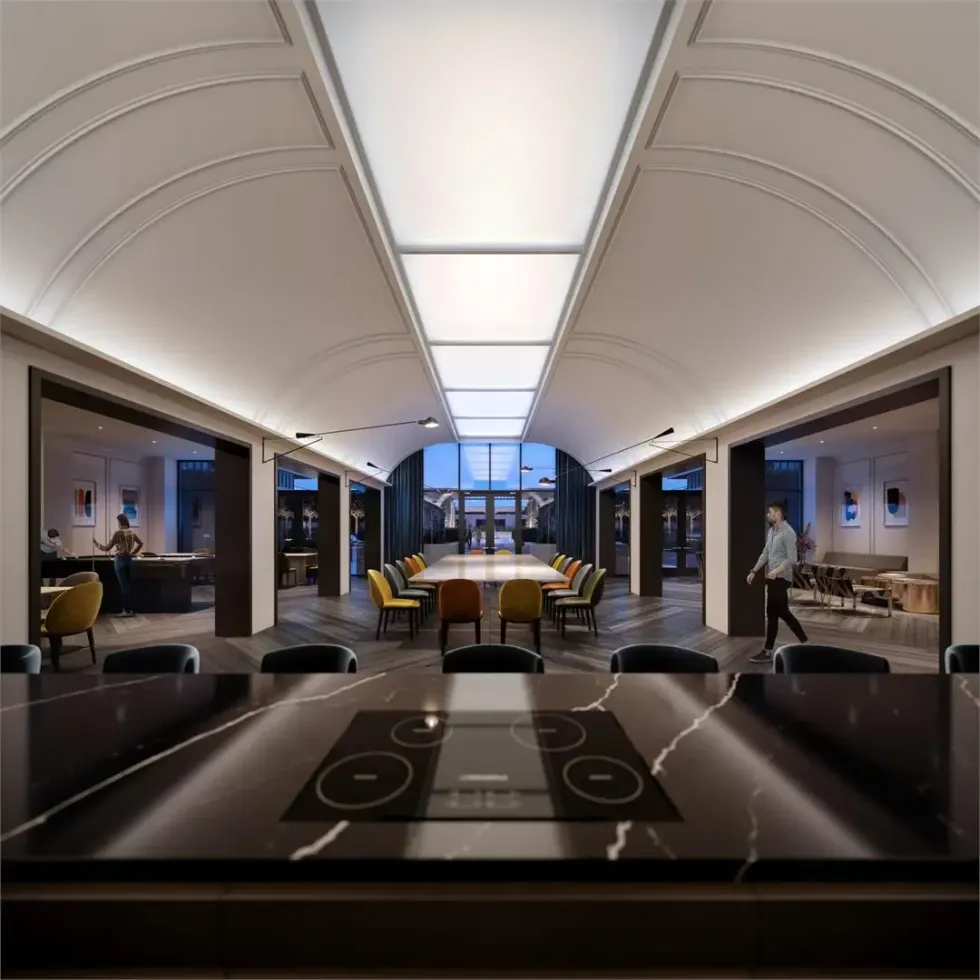 Vendome party room. (Image courtesy of Vendome Markham Condos)
The gourmet kitchen and dining lounge will make it possible to entertain in style, and guests can stay overnight in style in a deluxe hotel-like suite.
Recognizing the trend to families opting to raise families in condos, Vendome includes a kids' play space with a sun-filled imagination centre, complete with active zones, a reading corner and interactive play facilities.
There are duo-pet facilities for washing and grooming fur family members.
The list goes on, because this is what the future demands — and Markham is meeting those demands ...
An exclusive Secret Garden created by landscape architect Schollen & Company Inc. will include 16,000 square feet of spectacular outdoor space, including landscaped lawns, al-fresco seating and manicured leisure space.
Occupancy is slated for September 2022 and suites range from 558 to 2,100 square feet, with prices from $438,900 to $899,900+.
The smaller suites — one-bedroom, one-bedroom-with-den and two-bedrooms — have kitchens with integrated designer cabinetry with accent panels, built-in cutlery drawers, 24-inch stainless steel appliances, one-piece backsplash matched to the countertop, laminate plank flooring and LED under-cabinet lighting.
Large suites — two-bedrooms-with-den and three- and four-bedroom — include full-size designer stainless steel appliances, upgraded plank flooring, built-in island with seating (select layouts), one-piece backsplash matched to kitchen countertop and LED under-cabinet lighting.
Bathrooms are stylish with vanity cabinets with customized designer drawers and pull-outs, stone countertops, premium porcelain flooring, bathroom baseboards, shower wall tiles and frameless glass showers.
Vendome will be a reflection of the dynamic city it's located in — with the sophistication and amenities of the big-city, and a vibe that is uniquely Markham.
Markham