---
Is change afoot for Toronto's notoriously rigid residential zoning laws? According to one expert, it's long overdue.
"Now is the right time to do away with 'exclusionary zoning' in residential neighbourhoods; actually, the right time to unlock this potential was a few decades ago," says Naaama Blonder, architect and urban planner at Toronto's Smart Density. 
So-called "exclusionary zoning" -- a pun on "inclusionary zoning" -- allows only a single-family detached home to be built on a property. While this is the case in countless Ontario neighbourhoods, new recommendations concerning residential zoning could mean that lots historically reserved for one home could now house a handful of dwellings.
Whether it's the right move very likely depends on who you ask; either way, major changes to residential zoning in the neighbourhoods of some Ontario's largest municipalities could be on the horizon, and we could soon see low-rise buildings pop up between single-family homes on residential streets. 
This week, CBC reported on the contents of a 31-page draft report compiled by Ontario's newly-appointed Housing Availability Task Force, which put forth 58 recommendations to improve the province's housing supply and address persistent affordability issues. Of course, it's no secret that Ontario's relentlessly low supply -- especially in red-hot municipalities like Toronto, Burlington, or Hamilton -- continues to play a major role in hiking up the province's home prices to increasingly unattainable amounts. 
Of the task force's supply-focused recommendations is the call for municipalities to increase the allowed size, height, and density in the form of condo and apartment towers along all major and minor roadways and transit corridors.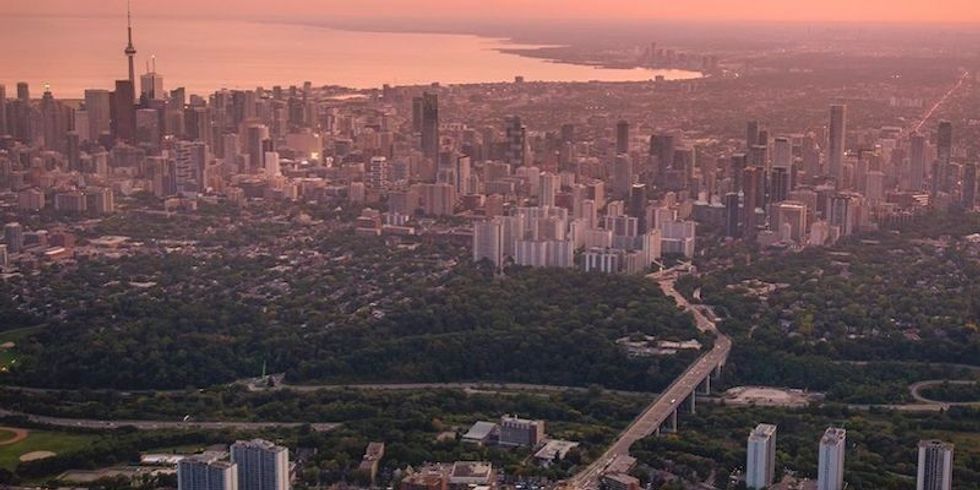 '@iflygta/Instagram
The report suggests that municipalities with populations over 100,000 should allow any type of residential housing up to four storeys and four units on a single residential lot. The task force also drives home the importance of secondary homes and laneway suites and the subsequent need for a reduction in red tape that currently surrounds construction of these density-adding dwellings.
A Means to Tackle Housing Supply Issues
According to CBC, the report highlights how Ontario lags behind many other G7 countries on the density front, when it comes to the number of dwellings per capita. Upzoning --  increasing the zoning density in a particular municipality or neighbourhood -- has been celebrated in cities around the world as a means to tackle housing supply issues.
"In Toronto, they were trying to solve the affordability crisis with new housing near transit, but in 75% of the city, you can't really do anything because of single-family home zoning," says Blonder. "So, I think it's the right time to deal with the fact that for so many years the only thing you could do with the vast majority of the city was tear down a house and build a monster home because you had to keep the neighbourhood 'stable' and it needed to be comparable to its surroundings."
The task force's recommended 100K population marker would mean red-hot housing markets like Burlington, Kitchener-Waterloo, and even Oshawa would be included. "This isn't just a Toronto problem anymore," says Blonder.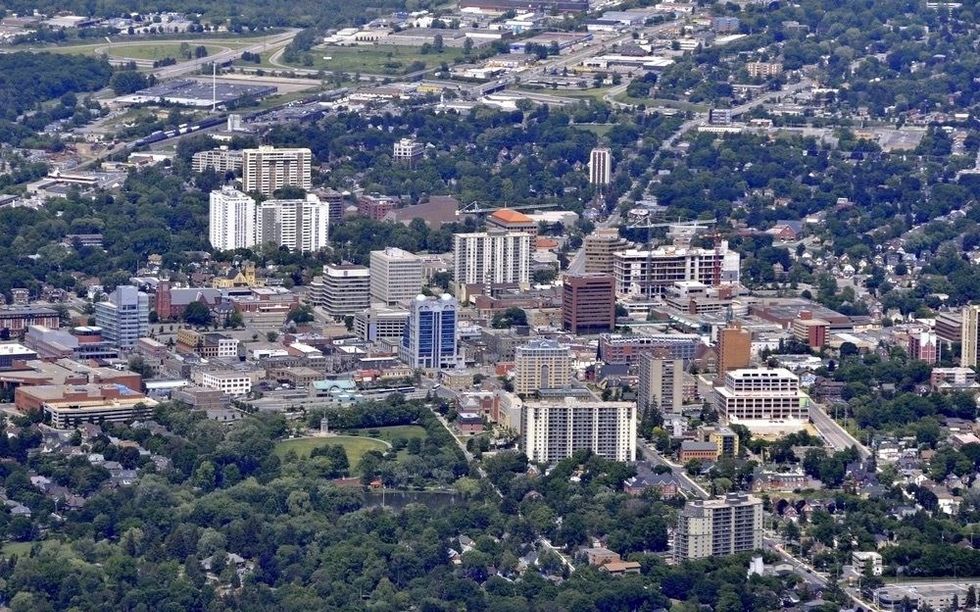 aerial cityscape of Kitchener town center Kitchener-Waterloo, Ontario Canada
According to CBC, the draft report also includes doing away with development charges for infill projects, speeding up development approval processes, permitting owners of vacant property to transition to residential units without municipal approval, and the efficient and effective expansion of urban boundaries (which won't sit well with the Green Party, but that's another story), among others. The task force is "spot on" in its recommendations outlined in the draft, says Blonder.
Of course, getting anything passed by the City is "easier said than done," she says.
Neighbourhood Infrastructure Must Keep Pace with New Developments
The City of Toronto, for its part, has already been working on increasing density in residential lots, by now allowing the construction of three storey homes and legalizing laneway homes. The latter continues to be a hot topic at City Hall; new laneway house regulations will be debated at next month's city council meeting.   
"We are moving in the direction of multi-plex units and our planning department has been discussing this for some time; we just need to be cautious of the fact that whenever you do this basic upzoning of residential areas, you have to make sure that there are the social, community, and recreational infrastructure investments made at the same time," said Toronto City Councillor Mike Colle, who represents the Eglinton-Lawrence ward. 
"You can't have all these fourplexes come into a neighbourhood and the schools are already filled," he adds.
Toronto is already seeing an unprecedented number of developments throughout the city that put pressure on existing infrastructure, highlights Colle. He points to the "historic intensification" of main streets in recent years -- something perpetuated by provincial policies -- which result in an influx of people who need City services like schools, community centres, and libraries.
"I think I have more developments in my ward than there are in five or six provinces," says Colle of Toronto's perpetual condo construction. "I've got 63 developments; they're coming in every week. Now, with anything within 500 metres of a subway station, the sky is the limit; buildings are coming in at 25 to 30 storeys, whereas in the past, they may have had eight."
Adding density to residential streets in the form of multiplex dwellings will only add to the strain on local community offerings if an accompanying investment isn't made in infrastructure, he says.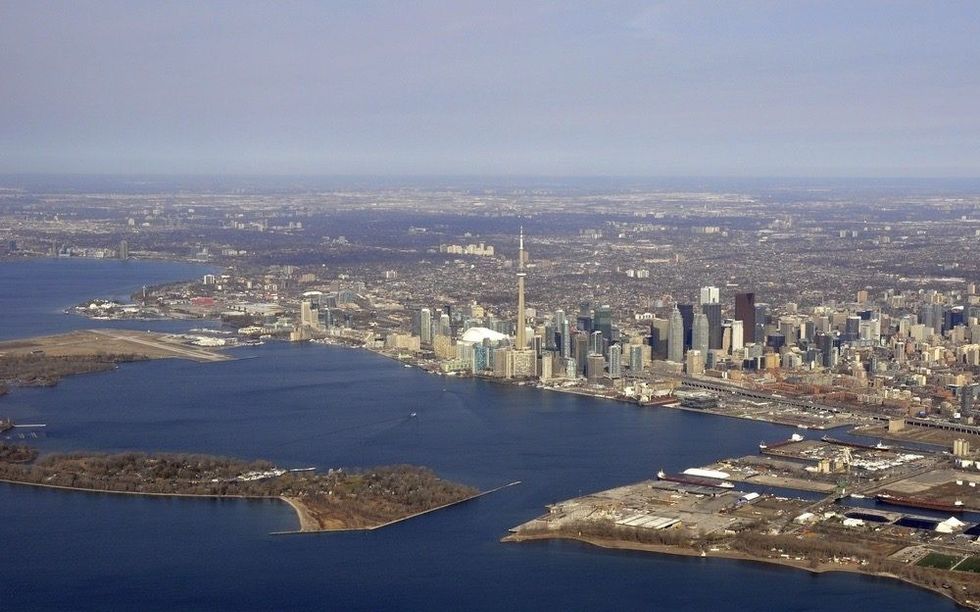 aerial City view of downtown Toronto with the greater Toronto area in the background
"We need to make sure we can protect the integrity of the neighbourhood given that you're getting all this development on the main street and intensification on the residential streets," says Colle. "Supporting infrastructure is critical; you don't just build bricks and mortars. You need the childcare centres, libraries, parks, and other social programming. We need an investment in infrastructure to accommodate the density."
When asked if he thinks Toronto is in a decent position to produce the accompanying infrastructure to support the increasing density, Colle doesn't hold back; "No; we have no money," he says, flatly. "We don't even have money for planning staff. We are so overwhelmed with the development that is taking place that we just can't handle it."
He points to the removal of Section 37 of the provincial planning act, which he says offered a chance to get cash flowing back into the community. "The province is obviously totally devoted to the development industry, which says we have to increase supply," says Colle. "But half is bought up by speculators and the other half is not affordable."
Supply is only as good as accompanying investments in accompanying social infrastructure. And developers, says Colle, should foot the tab for that fundamental infrastructure.
"The City of Toronto property tax isn't enough to build infrastructure," says Colle. "New developments need to be equated to an equal investment in things like green space, community centres, and parks. I don't see any talk of investment in social infrastructure; meanwhile, the development industry is making mega billions of dollars -- the most profitable industry in North America. I don't want to give any money to them; I want to see them pay for some of the infrastructure."
Read: Toronto's Proposed 2022 Budget Includes Dramatic Property Tax Hike
Infrastructure concerns and costs aside, the inevitable reality remains that many homeowners don't want the neighbourhoods in which they bought their (overpriced) homes to change in composition. For this reason, Colle says this recommendation may be a tough sell in City Hall.
"People were all up in arms about laneway housing, there's a lot of objection from people who say they will change neighbourhoods. But in Toronto, we've only approved about 200 of them." says Colle. "When homeowners find out about this, they'll be up in arms. Laneway housing would be a drop in the bucket compared to this."
As CBC reports, the task force plans to address NIMBY factors with province-wide standards for things like setbacks, front doors, and shadow regulations, while excluding details like building materials, exterior colour, and minimum parking requirements from the approval process. 
Colle himself worries about the loss of some of Toronto's beautiful old historic homes, especially with the province's removal of heritage protection under Bill 108. "We have to keep in mind heritage protection; we are losing many gorgeous homes," says Colle. "I worry about losing our heritage properties if a new buyer wants to tear down the home and build a four-plex to capitalize on the zoning."
Of course, adding supply is just one piece of a more complex (see: messy) puzzle that is Ontario's affordability crisis. The full report -- and its dozens of recommendations -- from Ontario's Housing Affordability Task Force will be officially released on Monday, January 31.
Toronto