He is a Canadian real estate legend with sky-high sales, but his success is rooted in family.
Barry Cohen has more than 30 years of real estate experience and has facilitated over $5 billion in real estate transactions. The family man has four children, two of whom are following in his footsteps — much like Cohen who followed in his father's footsteps.
---
Over the last decade, he has been named RE/MAX's #1 agent time and time again. Cohen is also one of a select few to hold the company's Luminary of Distinction Award.
And while many celebrities turn to him for their luxury real estate needs, Cohen turns to charity to help those in need. His philanthropic efforts extend from The Children's Miracle Network, to Sick Kids Hospital, to Autism Speaks to Susan G. Komen Race for the Cure.
Representing some of the finest homes in Toronto, and marketing them through his exclusive network from around the world (check out this one in Tel Aviv priced at 110,000,000 Euros), Cohen seems to rack up one record sale after another. But it wasn't always that way.
So we caught up with Barry Cohen to discover the real estate icon's story and his secrets to success ...
You followed in your father's footsteps. What's your earliest memory of seeing him at work?
My father was one of the few brokers who had a phone in the bathroom, just in case, so he would never miss a call. Growing up I remember waiting outside the door for some long closing sequences.
I remember my father's top priority was nurturing his clients and that's what he thought about all the time. So much so that one of my earliest memories of him is his signature statement that he would say to all of his clients, "Tell me what's important to you. Our time together is about you. What would you like to get out of this?"
I got my customer focus from my dad.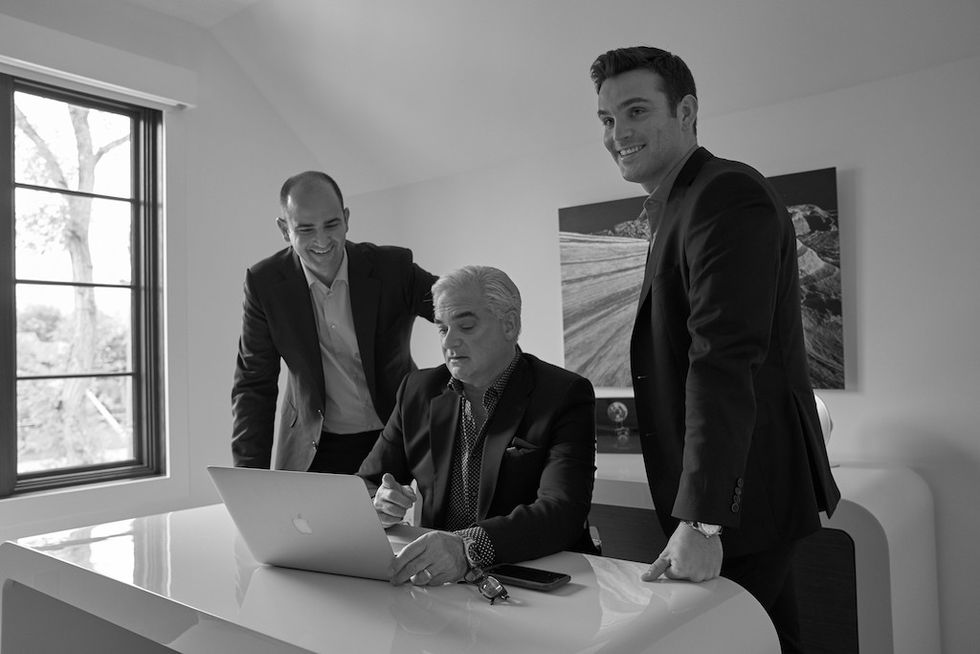 Barry Cohen at work with two of his sons. Justin to his right and Tyler to his left.
Now two of your four sons have followed in your footsteps. Do you see history repeating itself or evolving?
You only have to look at my own evolution to predict what the future holds.
My parents did not encourage me to get into real estate. In fact, my earliest consideration for a career was to be an architect. But I fell in love with real estate. It answered both my interests — architecture and design, as well as my love of people.
When it comes to my kids, they were not encouraged to pursue the path of real estate either. I wanted them to pursue other verticals, as I remember eating a lot of hamburgers for dinner. Not every year is a sirloin kind of year. While the public sees our success today, let me assure you there were a lot of sleepless nights.
Justin and Tyler, who work in the business today, started their careers in the world of commerce. Justin arrived at my doorstep in 2008 wanting to make a change as the financial markets had changed.
I didn't just give him a job, he had to earn it.
He saw an opportunity for evolution in the business and realized it. He focussed on the growing segment of Chinese clients we have and decided he would champion this customer. He took it upon himself to understand the culture and learned Mandarin so we can now speak intelligently to this customer. Justin is definitely evolving the business and has become a great negotiator and marketer.
As for Tyler, he joined in 2017 because he is a great people person and realized that he can dramatically help us service our clients. He is learning the business, but has already introduced great new ideas and initiatives as well.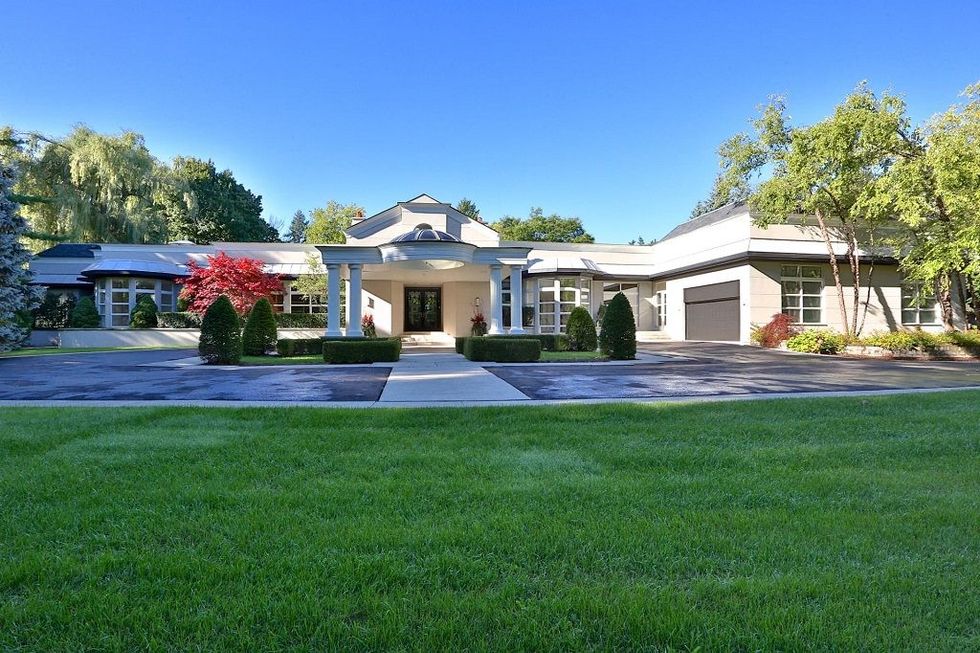 This iconic estate at 61 The Bridle Path is one of Cohen's listings. It could be yours ... if you have $17,880,000.
What have you tried to instill in your sons, as children, that you see helping them today as real estate professionals?
I think they have seen a lot of this business over the years. Good years, bad years and everything that comes with that. I have modelled to them that no matter the market conditions, it's important to live up to our values and our standards.
No matter the situation, we have to deliver our brand promise to the customer and act in their best interest.
Looking at your evolution, then at numbers, "over $5-billion in real estate transactions" ... These things can perhaps make your accomplishments appear as though they've been almost effortless, since people focus on the result, not the journey. That said, what's been the most challenging part of your career?
What continues to be most challenging in the business is separating fact from fiction for our clients. What does that mean?
Well, I am constantly having to keep my clients focussed on making decisions based on facts and true results that we have achieved and proven, versus misleading information from competitors new to the industry.
The lack of ethics practised by some of the agents who have recently emerged on the scene is concerning. So much so that it keeps me up at night, as it's giving our industry a bad name.
How did you overcome that challenge?
I don't think this is something I can overcome. But it has resulted in me and my team practising extra care in every situation. We are ethical. We follow the rules. And, personally, I live by the values of honesty, community and integrity instilled in me by my father.
One of the keys to your success has been the art of mastery of negotiation. Without divulging your secret recipe, what makes for a master of negotiation?
Negotiating well is about being insightful and empathetic.
Often, when I am sitting with my clients I realize that they have not come to terms with what the best possible result is that they should be seeking. It's my responsibility to get that best possible result for them.
I will never forget something a sales trainer at an early stage in my career said to me. He said, at some point money won't matter. This huge insight hit me about a decade or so ago. I realized that I have arrived there. That at every possible level I am working for my clients, without self-interest.
There is a freedom in this, which has allowed me to master the art of negotiation.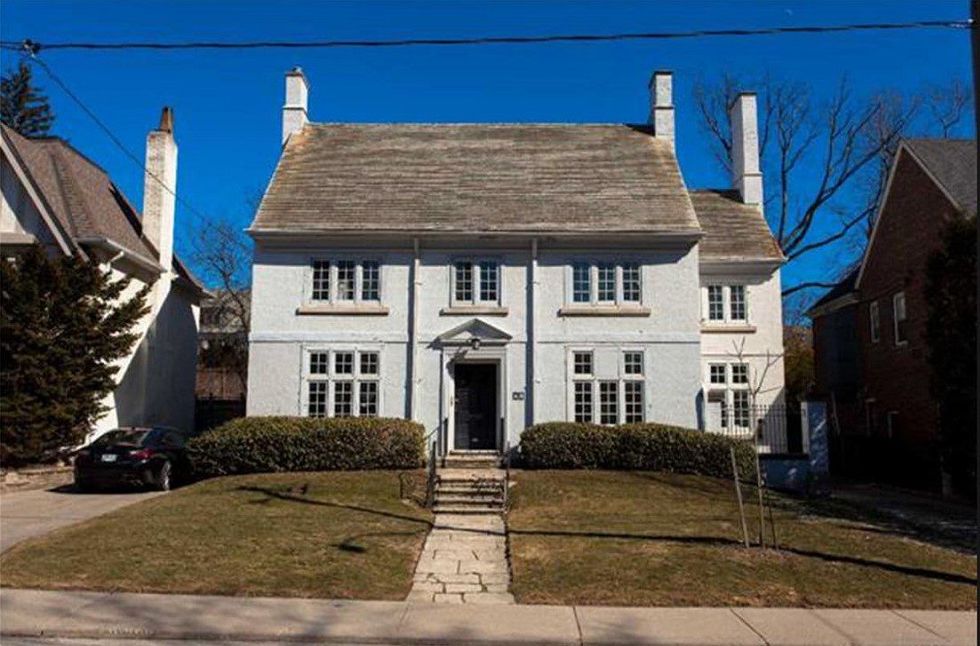 This prestigious Forest Hill home at 45 Dunloe Road is another of Cohen's listings. It's priced at $10,800,000.
Tell us about your first sale.
My first sale was a home I sold to a school teacher who had big goals and limited funds. The sale was lost and my broker asked if he could assist me in salvaging the sale. I didn't see how that was going to happen. The buyer could not afford the house, nor did I think it was good for them to overextend financially.
My broker's solution was to point out to the client that based on his employment contract, his income was to increase over the next five years. So, he crafted a loan with the assistance of the seller where the interest was loaded to the last years of the terms, not the first years.
The buyers got the home of their dreams. The sellers were happy. And it taught me that there is more than one way to put a deal together.
What's your most memorable sale?
My most memorable sale was a house swap. Seriously, in this case, the seller bought the buyer's house and the buyers bought the seller's house. There was also a small change of cash. I suppose it was a match made in heaven.
How important has the role of family been throughout your career?
Family is very important to me, it has brought warmth to the business. I have been blessed with praise, guidance and knowledge of the business from my father and I hope my sons feel the same way. 
What's the biggest lesson you've learned in your career?
When you truly work for your clients' best interest, not only do you achieve the greatest financial outcome, but you get peace of mind. And for me, that's how I am most fulfilled. Knowing that there is nothing I could have done to better my clients' outcome.
Industry Profiles