In better times, Toronto's prestigious condominium developments have launched with splashy affairs: clinking glasses, the cocktail attire-clad real estate industry elite, and visual presentations that left lasting impressions.
Launching a condo in COVID-19 times is a whole new ballgame.
---
"Traditional launches in Toronto have all been broker driven, that's no secret. Traditionally, we would bring brokers – whether 100 or 1000 – into a room, a movie theatre, restaurant, Roy Thompson Hall, or another iconic space," says Toronto-based broker and real estate marketing professional Elliott Taube. "When you see so many of your contemporaries around you interested in the project and fighting for access, it creates an excitement level that can't be duplicated over a Zoom call or sending someone a package. That group mentality is important."
Taube runs International Home Marketing Group Realty, the exclusive brokerage for RioCan Living & Context Development's Queen & Ashbridge Condos (QA), an anticipated project in The Beaches that launched on September 22. Now, launching a condo like QA means that in-person meetings and signings are replaced by the virtual alternatives, physical showings are swamped for 3D suite renderings, and strong digital campaigns replace the fancy events.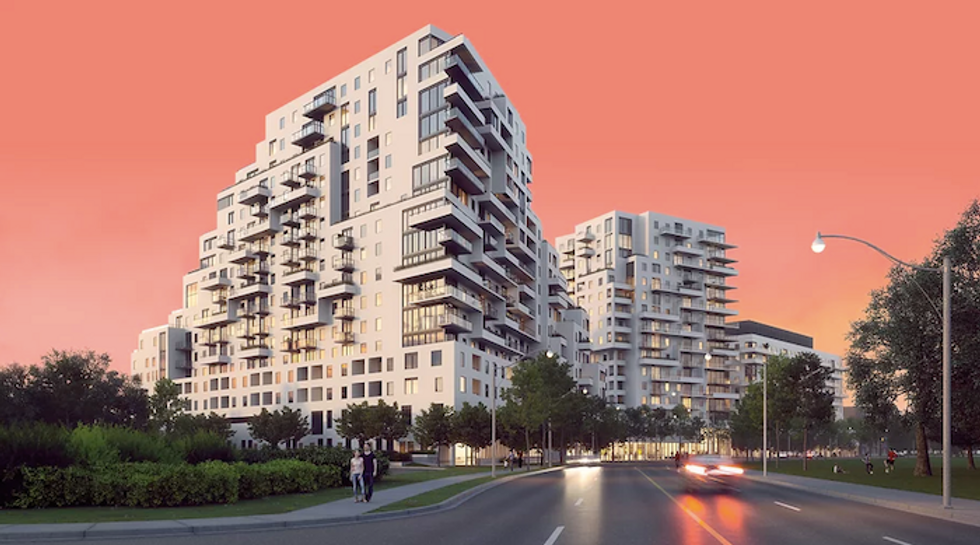 A rendering of the upcoming Queen & Ashbridge development
Not only has "business as usual" shifted due to COVID-19, so have the needs of prospective real estate buyers. The ongoing pandemic has naturally inspired a collective reevaluation of lifestyles and living spaces. Now, things like enough square footage for a home office (or two) and access to nature and outdoor space – both private and public – are at the top of "must-have" lists.
"A lot my clients ask for one thing in particular; balcony and terrace space. It's ideal that the suite itself has a balcony or terrace, but the condominium building itself should also have its own dedicated outdoor amenities too," says pre-construction real estate broker Nerses Sraidarian, owner and broker of record at Big City Realty. "In addition, with many of us continuing to work from home, the layout of the unit should be spacious, functional, and flexible."
Finally, location has always been a major factor in buying a condo. "Location determines so many aspects of your life – transit availability, proximity to grocery, daily essentials, and access to parks and trails. COVID-19 has unquestionably made us appreciate having these conveniences," says Sraidarian.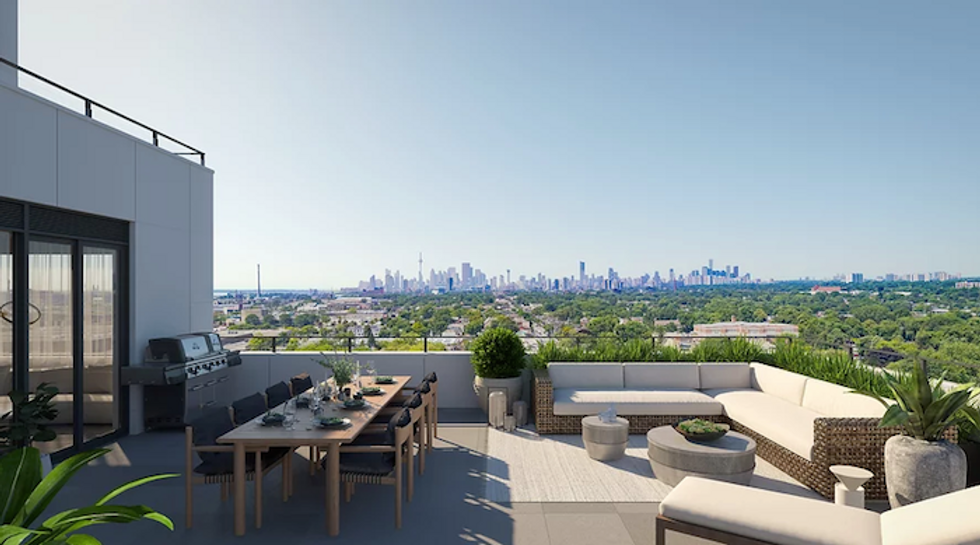 A rendering of the upcoming Queen & Ashbridge development
The QA development was in a hot-ticket position from the get-go by the merit of its location alone – COVID-19 only heightens this. "Not only does The Beaches have the iconic lakeshore and beautiful Woodbine Park at its front steps, you also have the independent specialty stores along Queen Street East," says Sraidarian. "I think this area is very appealing for that reason. Who wouldn't want both the option to relax at the park or stroll along the lakefront while still being a bike or streetcar ride away from downtown Toronto?"
Located at the Queen St. E and Coxwell Ave., the upcoming 17-storey QA features 366 residential suites that range in size from one-bedroom to three-bedroom units. In addition to its proximity to the surrounding parks and beach, the building allures in the outdoor space department. It features things like spacious interlocking terraces, a large third floor courtyard with lush lawns and lake views, a rooftop terrace, and outdoor dog run.
Other coveted amenities of QA include a co-working space, a 5000-square-foot fitness facility with spin and yoga studios, and sleek, editorial-worthy lounge spaces. The development is generating quite the buzz already. This is largely due to the new tactics and technology used in launching and marketing QA.
"The silver lining is that we've created more innovative and exciting ways of communicating with agents and the public. Some of us have gone beyond that Zoom call and taken the budget that would normally go to the splashy launch events and put it into creative assets; QA is a prime example," said Taube. "We spent $125,000 that would normally go to events and created a digital production. We brought in a guest host from SportsNet, filmed it and distilled it to a 15-minute presentation that's now been viewed by the brokerage community thousands upon thousands of times."
The pandemic, says Taube, has pushed the real estate industry to create more progressive – arguably overdue – technology. "For the billions of dollars it generates and its impact on the economy, real estate has always retained almost an old-school philosophy to selling and marketing," he says. "It's pushed us to be more dynamic and forward thinking. We worked with technology people within the industry to create better tools to help both brokers and buyers at home when they're shopping for a new home."
In the case of QA, there is definitely a strong interest and excitement from both the broker community and the public – no splashy event necessary. "What we found interesting was that some of the biggest, most expensive units were the first to sell, which is not really typical of a downtown condo project; it's typically the smaller investment units," says Taube. "There is a huge uptick in interest in the large $1 and $2-million dollar suites."
The project continues to enjoy a successful launch, the sale of one hot property at a time. "I don't think anything will ever replace that old-school, going to a sales office, talking to a rep, walking through the project to get you through the perfect home type of situation," said Taube.
The hope is that the post-pandemic real estate scene will offer the best of both worlds – a harmonious fusion of both in-person and technology-driven experiences.
Real Estate