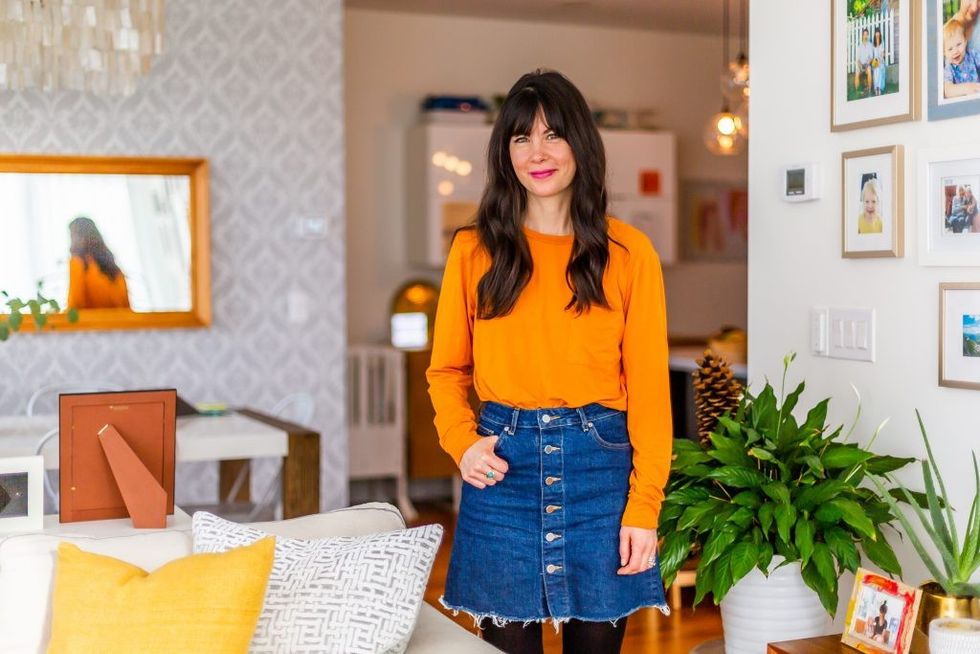 All photos courtesy of Joel Levy.
Joy McCarthy, known to her many fans and followers as Joyous Health, is one of those people who personify their given name.
---
When scrolling through her social media posts (Twitter! Instagram! YouTube! Oh my!), I can't help but smile. McCarthy radiates joy in a way that's ever so infectious, and I feel better off, after reading/seeing what she puts out.
The bestselling author of two cookbooks — Joyous Health and Joyous Detox — certified holistic nutritionist, and founder of Joyous Health, the blog that started it all — shares tips and recipes and offers digital support groups to help readers live a more joyous life through embodying a healthy lifestyle.
She resides in the Junction with her husband of five years (and business partner) Walker Jordan, and their cute-as-can-be 3-year-old daughter, Vienna. They live in a cozy 1000 square foot condo and couldn't be happier there.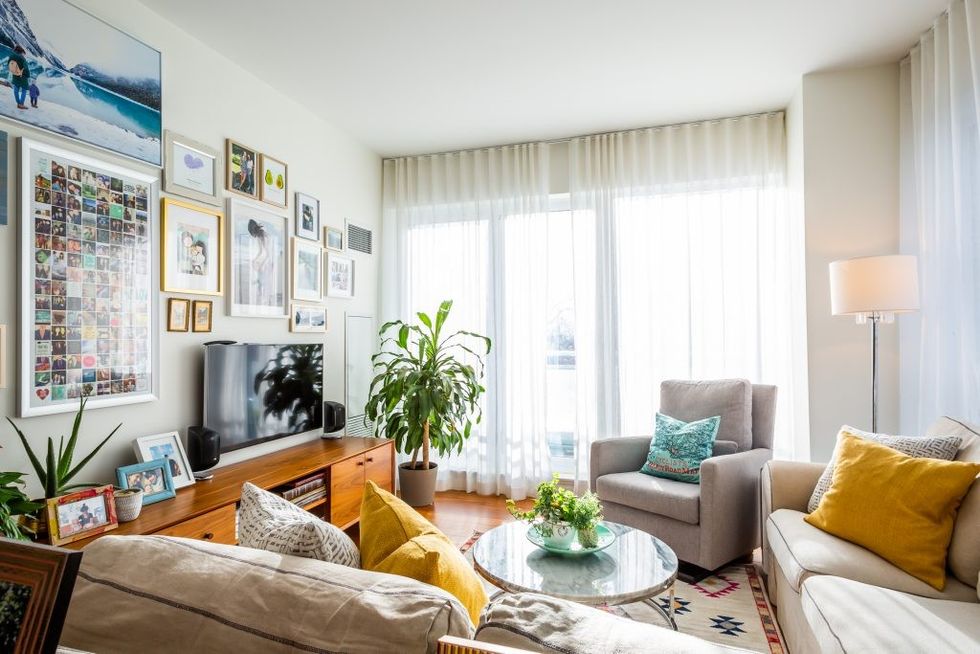 "Home is my favourite place to be," McCarthy tells me on a phone call, while Vienna entertains herself in the background. "I love living in the west end of Toronto because of the green spaces, little traffic, and young families. We can walk everywhere, and if not I can jump on the subway and get around easily."
She acknowledges that the size of her space is cozy, but it works.
"We have a rule: when one new thing comes in, we donate something. If I buy new shoes, I donate an old pair. If I buy a new dish, an old dish goes out. This way we don't accumulate too much stuff. You really have to be picky, otherwise, you run out of space," says McCarthy.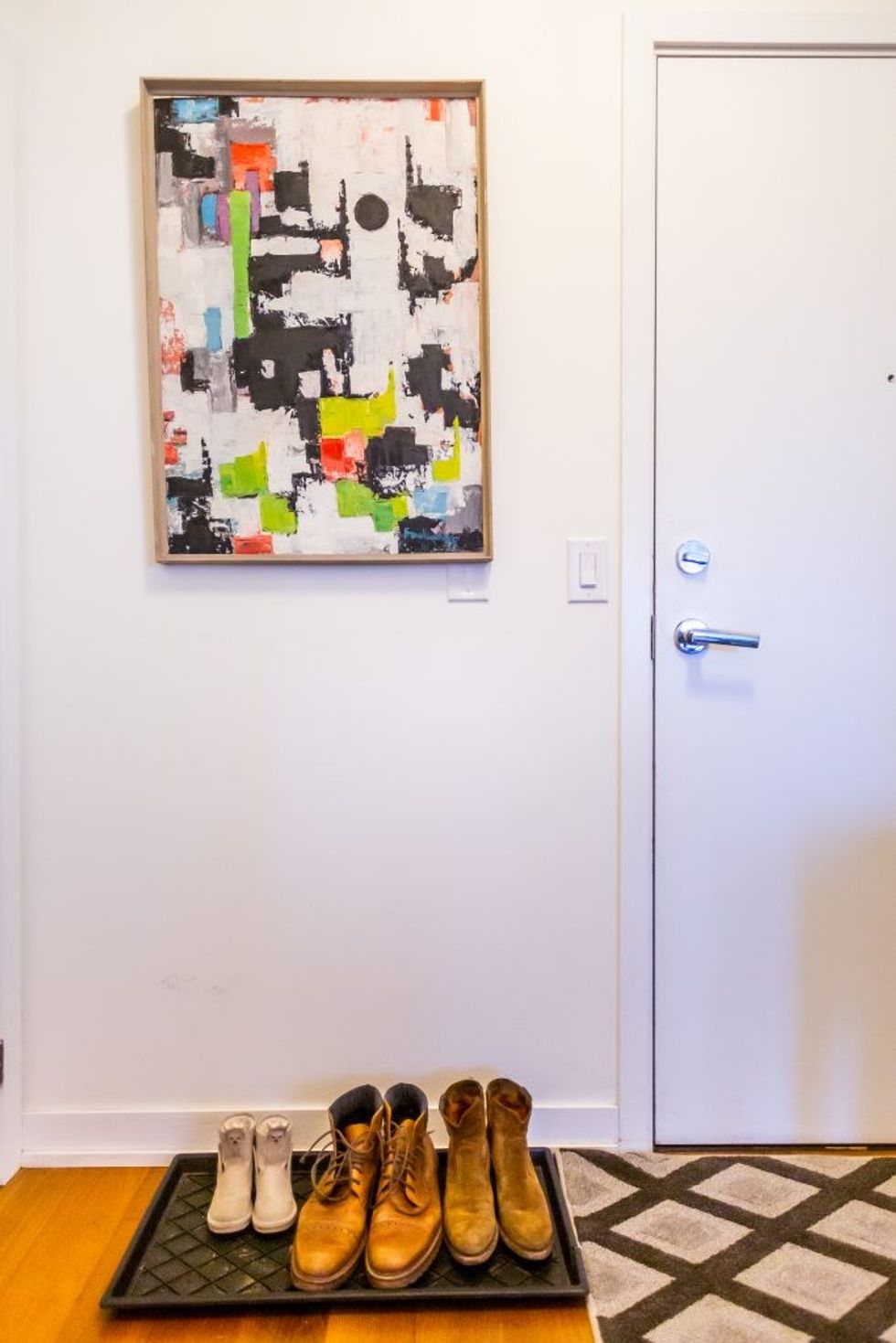 That's why the photos don't show much other than plants and pictures.
"We don't want to be strapped to an unreasonable mortgage. We love travelling and eating the best quality food and these kinds of things wouldn't be accessible to us if we were living paycheque to paycheque to pay a crazy mortgage," McCarthy says.
She starts each day the same way: a big cup of water with half a lemon squeezed in, a smoothie for the family, a handful of supplements (fish oil, Vitamin D, collagen and elderberry) and a walk with Vienna to pre-school, no matter how cold it is outside.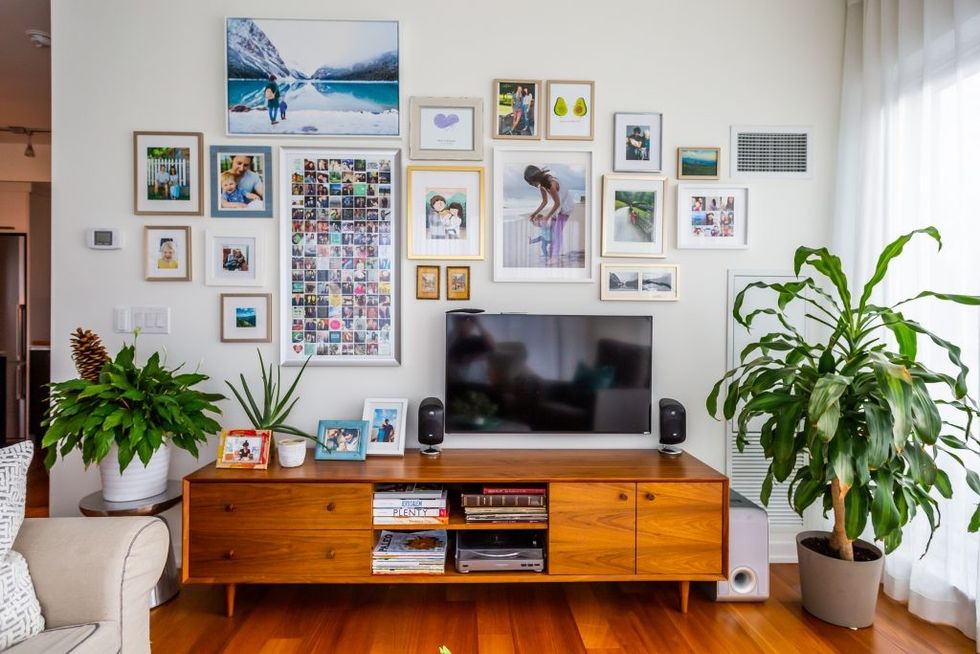 "I get in at least thirty minutes of exercise first thing in the morning. We walk through a park near our house, and I make walking through nature a priority. When we walk, we all feel better," she says. It's not lost on me that her husband's name is Walker.
When it came to childproofing the home they had it pretty easy, since there were no stairs and the outlets were already childproof.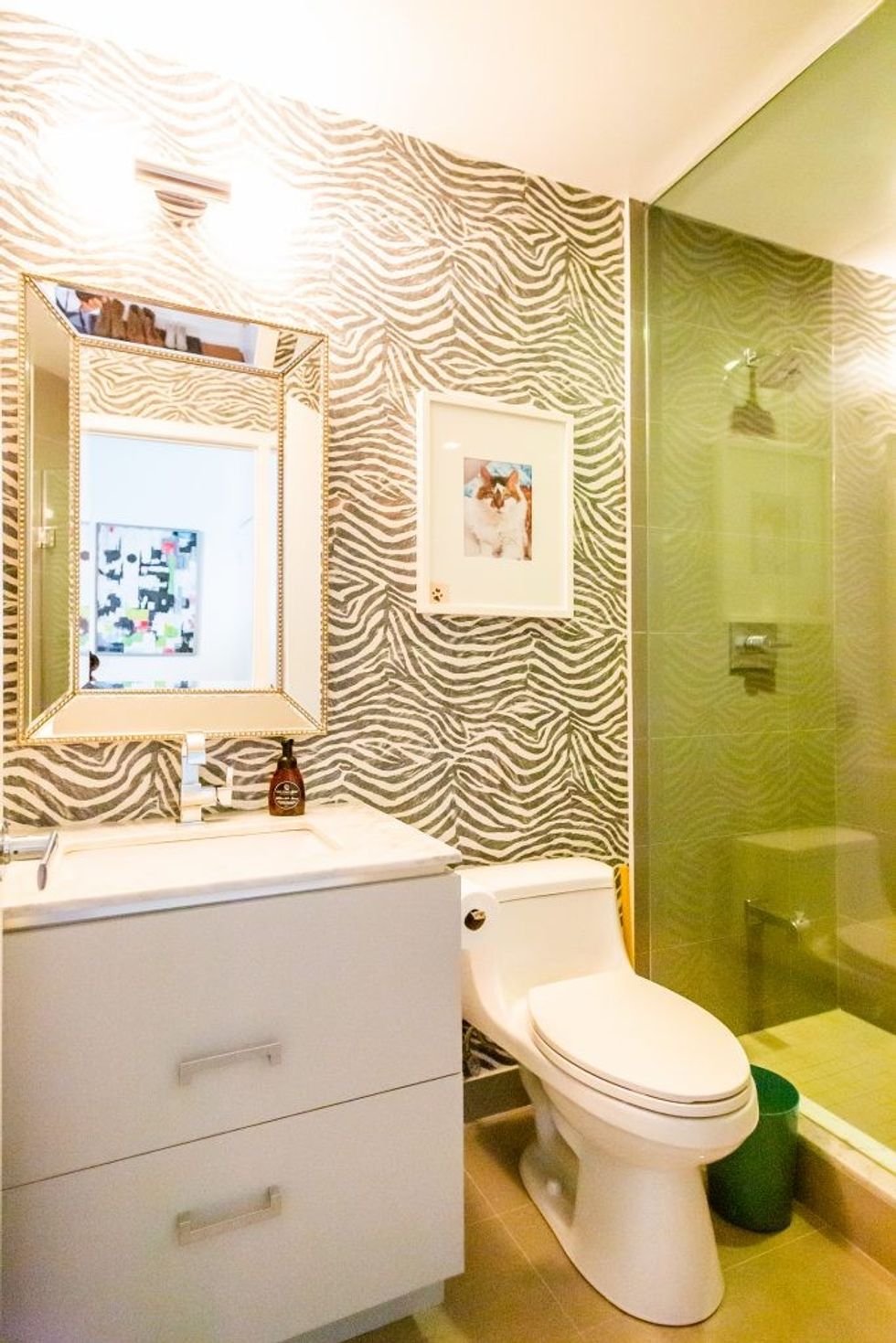 "Our biggest concern was the change table, so we were vigilant when Vienna was in diapers to never leave her unattended on the table," says McCarthy. "We don't have any toxic cleaning supplies to worry about, but things like laundry detergent, dishwasher pods and natural health supplements are kept out of reach. We secured her bookshelf to the wall so that if she climbs up when we aren't looking it won't topple down. But that was really it!"
It should come as no surprise that when asked to describe her home, McCarthy says…joyous!
"People always tell us our home has a really nice energy and I have to agree. It's cozy, bright, green (I have quite a few plants) and fresh. Everywhere you look you see green (we live across the street from a park) or you see plants – that gives it a very fresh, bright feeling. We also love photography and original art so we have a mix of both in our home."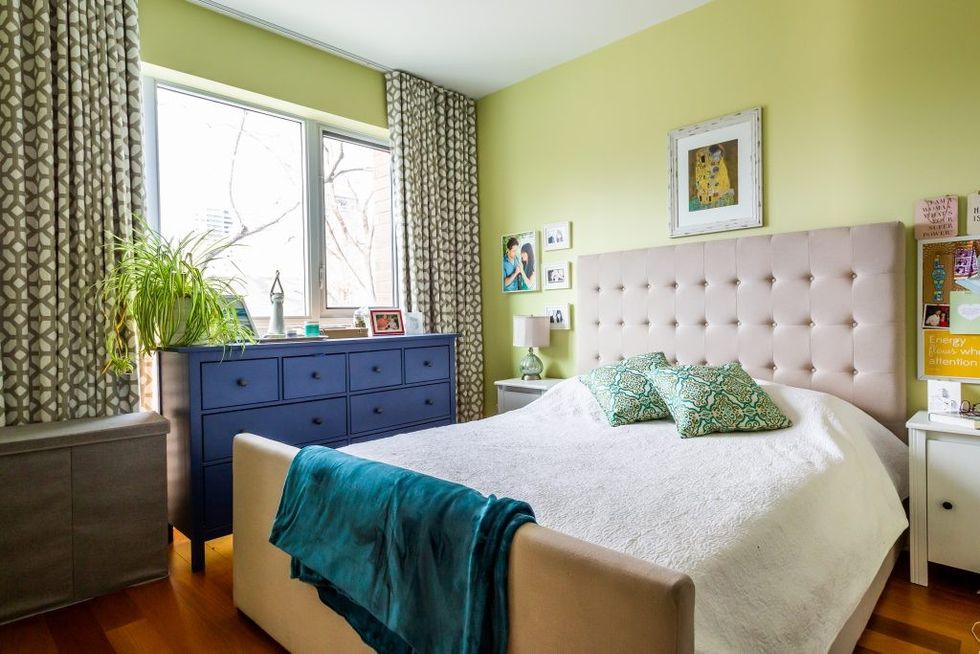 Because they bought the condo pre-construction (about a year and a half before it was built), the couple moved into an empty shell. They were able to choose the flooring, their kitchen and bathroom features and have it painted. They moved in when Vienna was just 5 weeks old and kept most of their furniture from their last place.
"Since we have a small space we have to be very smart about the pieces we have," says McCarthy.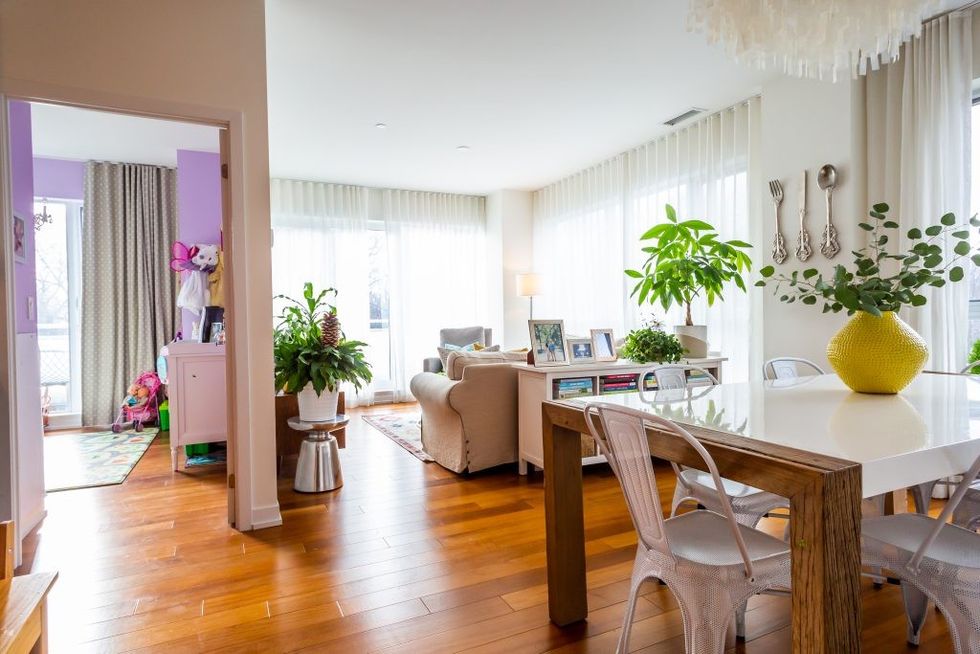 When they moved into their corner suite, McCarthy's good friend Emilia of Studio1nine1 helped them source some key pieces – like their curtains –to ensure they had privacy, but to still let the sunshine. She also helped them with their impressive balcony.
"It's truly an extension of our home and in the summer it's a little oasis. Emilia's my go-to when I need to solve a problem like how the heck are we gonna fit a twin bed in Vienna's room when the time comes! She's a great problem solver."
McCarthy's favourite room is her daughter's wonderful, cheery, cozy room.
"It's a girly, but not too girly room with positive messages that adorn the walls, her artwork and photos of places and people. Plus all her favourite books… She LOVES reading!! Or rather, she loves having us read books to her and she pretends to read herself," McCarthy says.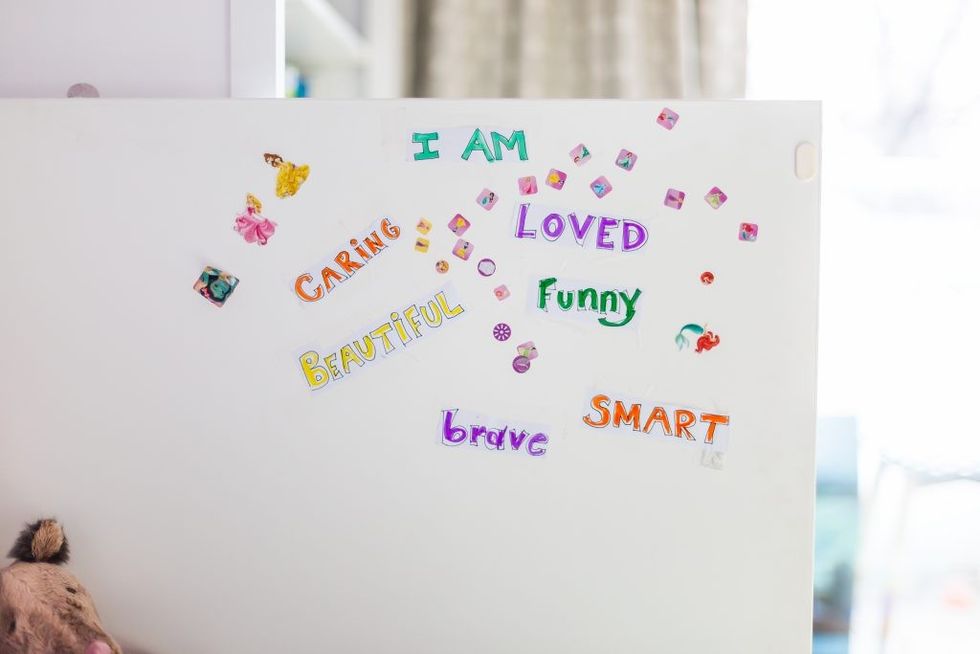 Even though Vienna's room is her favourite, she spends a lot of time in the kitchen. Her must-haves include a high-speed blender, mini food processor, wood cutting board and good quality chef's knife. Her favourite winter recipes are Harvest Vegetable soup and Turmeric ginger tea …a great place to start if you want to get more healthy this month #newyearnewyou.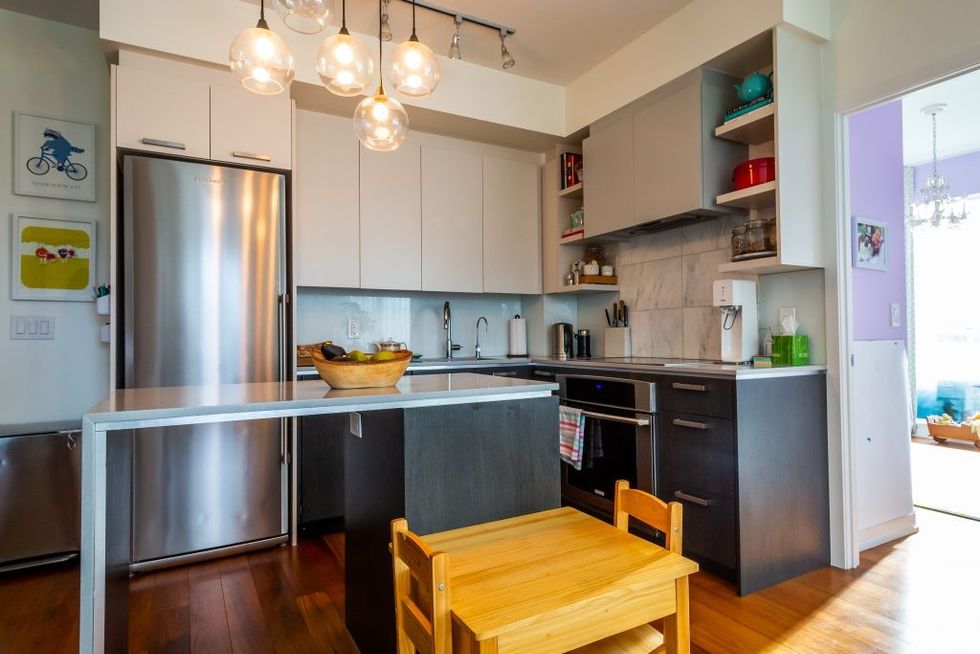 "My happy place is being at home," says McCarthy. "And it stresses me out when I have too many commitments. Being at home is part of being joyful for me."
She also says that people should make sure they have downtime every day.
"Whether it's half an hour of writing in your journal or reading your book before bed, quiet time helps you disconnect from technology and reconnect with yourself," says McCarthy.
BRB, going to submit this article and finally start a book from my ever-growing TBR list.
Style + Décor