Real estate was significantly affected by the COVID-19 pandemic, and the commercial real estate sector is still feeling the impact and the challenges the pandemic created to this day.
Now that workers have gotten a taste of working from home, the toothpaste cannot be put back into the tube, and returning to a world where everybody spends five days a week at the office seems about as unlikely as the coronavirus being entirely eradicated.
---
In July 2020, international commercial real estate services firm JLL said that it believed 30% of all office space in the world will consist of flexible workspace, such as short-term workspaces, workspaces on demand, and coworking spaces.
Wayne Berger, CEO of Americas for International Workplace Group (IWG), estimates that the number is currently at around 3%, and IWG sees itself as playing a big role in closing the gap between those two numbers.
Look at any list of the largest coworking space providers in recent years and the list will look something like this: Regus will be at the top of the list, WeWork will be second, and the rest of the list will include Spaces, Industrious Office, and HQ.
IWG is not directly named, but it owns not just Regus, but also Spaces and HQ (among several others), making it far and away the largest provider of coworking space in the world.
IWG is also feeling bullish on the Canadian market. In late-September, the company provided a clear signal of its confidence when it announced it would be opening 13 new locations, all before next summer.
"It's absolutely signalling a level of confidence in the demand for flexible workspace," says Berger, in an interview with STOREYS, "and how companies are really pivoting away from being traditionally centered from one location and becoming much more geographically-distributed.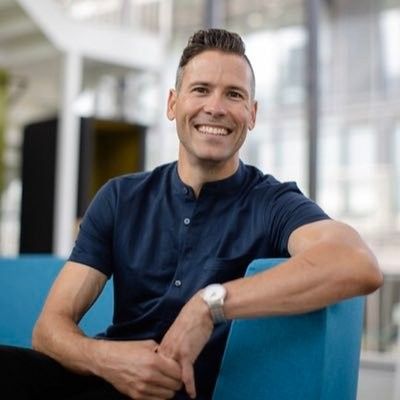 Wayne Berger/via X (formally Twitter)
Another is that IWG looks at the distress around commercial real estate — offices in particular — and sees opportunity.
"What we're seeing right now is a real significant interest in partnering with us to deploy flexible workspace into portfolios. We're really offering them a solution to fix a growing problem within the office sector," Berger adds, alluding to rising office vacancies across the country — now up to 18.2% according to a report published by CBRE this week.
Prior to the pandemic, Berger says IWG received, on average, approximately 3,000 inquiries a month from companies or individuals looking for flexible workspace solutions. Nowadays, that number is well over 4,000, and demand is also surfacing in tertiary markets such as Red Deer (Alberta) and Truro (Nova Scotia), because it allows residents who like where they live to stay there while forgoing what could be extensive commutes to work.
The 13 new locations IWG will be opening soon are:
Spaces (18,500 sq. ft), The Professional Centre, Surrey, British Columbia: February 2024
Regus (13,215 sq. ft), 7300 Edmonds Street, Burnaby, British Columbia: February 2024
HQ (15,713 sq. ft), Park Plaza Building, Edmonton, Alberta: May 2024
HQ (9,296 sq. ft), 335 Hoffer Drive, Regina, Saskatchewan: March 2024
HQ (6,727 sq. ft), 2125 11th Avenue, Regina, Saskatchewan: March 2024
HQ (5,500 sq. ft), 93 Lombard Avenue, Winnipeg, Manitoba: March 2024
HQ (6,870 sq. ft), 379 Dundas Street, London, Ontario: December 2023
Regus (5,355 sq. ft), 154 Woodbridge Avenue, Woodbridge, Ontario: March 2024
Regus (9,080 sq. ft), 125 Commerce Valley, Markham, Ontario: November 2023
Regus (20,071 sq. ft), 6700 Century Avenue, Mississauga, Ontario: March 2024
Spaces (34,807 sq. ft), Rue du Square Victoria, Montreal, Quebec: December 2023
HQ (6,698 sq. ft), 3700 Rue de Campanile, Quebec City, Quebec: February 2024
Spaces (22,895 sq. ft), Maritime Centre, Halifax, Nova Scotia: Q4 2023
After the new locations open, Berger says IWG will be operating around 150 locations across Canada and 4 million sq. ft of space, in downtown cores and suburbs, in cities big and small, in provinces far and wide. That range is something Berger says he's particularly proud of, saying that IWG now has locations in 50 cities across Canada. Berger says the company's goal now is to get to 500 locations across Canada, hopefully within the next five years.
The various brands owned by IWG differ in terms of pricepoint for clients, the design of the spaces themselves, and the capital cost to build them. Workplaces under the Spaces brand, for example, are often designed to cater to particular industries, such as tech companies or designers. In terms of the pricepoint for clients, HQ is entry-level, followed by Regus, Spaces, and Signature — the last of which are the luxurious spaces in prestigious locations that Berger says IWG is currently building out.
Regus remains IWG's largest brand, and perhaps its most famous. In September 2020, Regus filed for creditor protection under the Canadian Companies' Creditors Arrangement Act as a result of filing for insolvency in the US to allow restructuring , which affected about 39 locations in Canada. However, since then, Regus has turned things around, and the company as a whole has recorded record revenue this year and opened 400 new locations around the world.
Now, much of the industry concern is on rival WeWork. In August, the company said that it had substantial doubt that it could stay in business. This week, the company missed $95M in interest payments and is now in the process of renegotiating agreements with both lenders and landlords.
Berger says that WeWork became "highly, highly over-leveraged" with large amounts of space primarily in downtown cores, catering primarily to enterprise clients, and that the model is now untenable. Conversely, IWG's network of over 4,000 locations, Berger says, has a much broader range of sizes, from 8,000 sq. ft to 50,000 sq. ft — opposed to many of WeWork's spaces being over 100,000 sq. ft. Berger says IWG's business model also consists primarily of "strategic management agreements" where they don't have a capital lease liability.
In other words, as a provider of flexible workspaces, they've ensured that the flexibility applies to them as well.
Office