---
A new rental building development proposed for the West End of Vancouver by Gracorp, a subsidiary of Calgary-based Graham Construction, is up for a public hearing later this month where residents can voice their concerns or support for the project before rezoning is granted.
Gracorp submitted a rezoning application to the City of Vancouver in April 2022. Last week, City staff recommended that the application be referred to a public hearing, which is now scheduled for Thursday, April 27, just about a year after the City received the application.
The proposed project will be located on 1045 Burnaby Street in the West End of Vancouver, between St. Paul's Hospital and the Burrard Street Bridge, about midway between Burrard Street and Thurlow Street.
Somewhat notable is that the site is currently occupied by a four-storey, 37-unit strata condominium building, as it's rare for condo buildings to be redeveloped. According to BC Assessment, however, the building was originally constructed in 1976, meaning it may be nearing the end of its life cycle.
A City report noted that Gracorp completed the purchase of all units in the building in order to dissolve the strata, although there are two tenancies that will be eligible for tenant protection.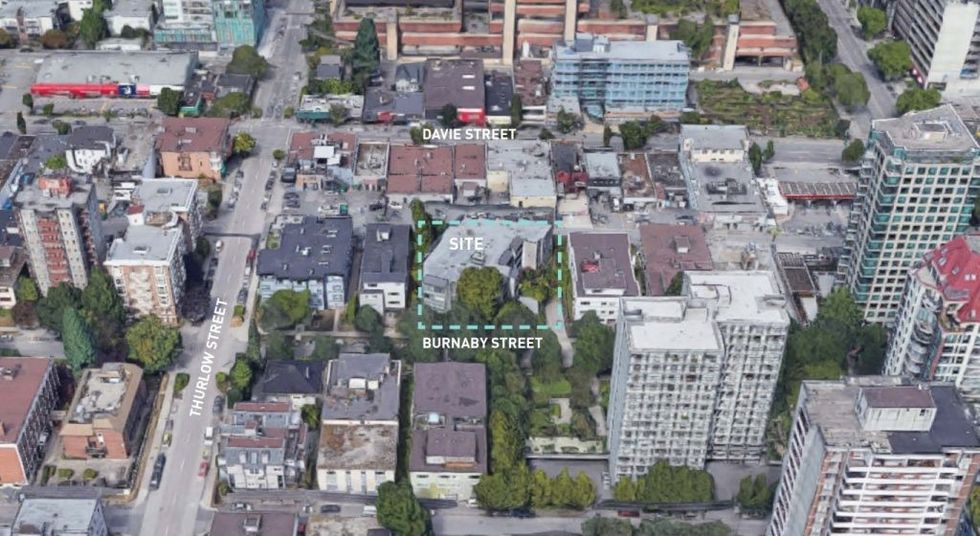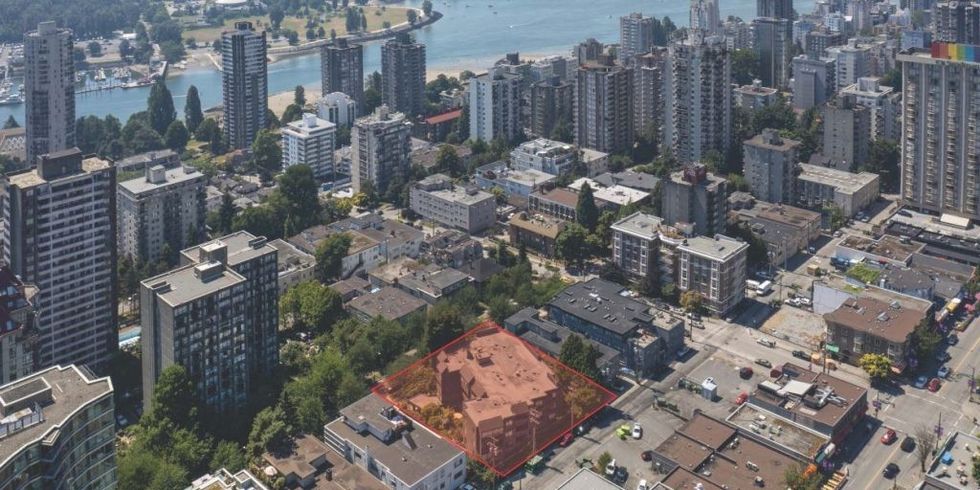 Context maps of the 1045 Burnaby Street site in the West End of Vancouver. (Gracorp / GBL Architects)
Gracorp is proposing a 16-storey building in its place, which would include a grand total of 170 rental units, 37 of which will be secured at below-market rates.
Of the 170 units, 69 will be studios, 38 will be one-bedrooms, 57 will be two-bedrooms, and six will be three-bedrooms. The below-market units will be on floors two through four and the market units will be on floors five through 16, according to application documents.
The building will also provide two levels of underground parking that will include 52 vehicle stalls and 317 bicycle stalls.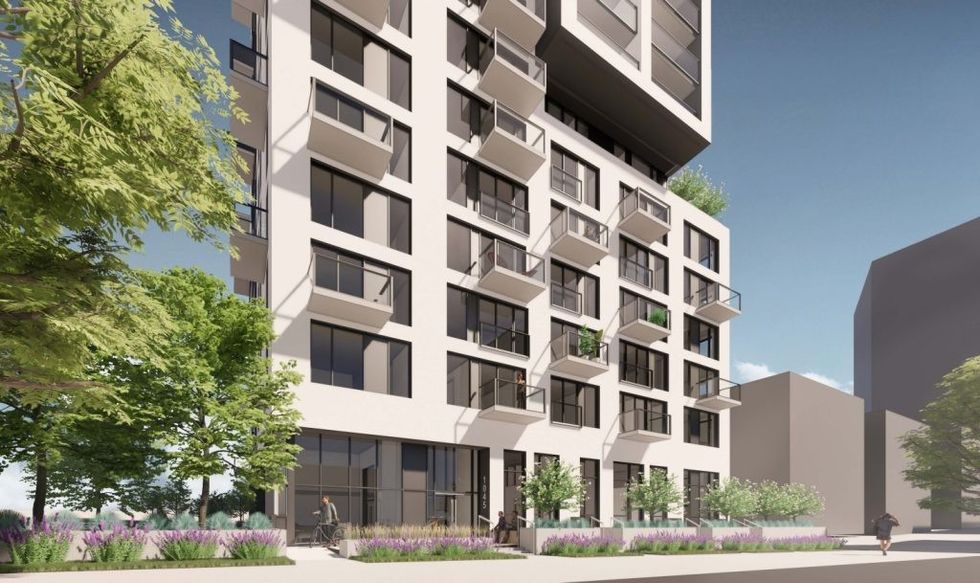 Ground-level view of 1045 Burnaby Street. (Gracorp / GBL Architects)
The site is currently zoned as RM-5A (Residential), which does not allow for the proposed amount of density, so Gracorp is seeking to rezone the site to CD-1 (Comprehensive Development) in order to allow for the proposed FSR of 6.19.
In terms of development contributions to the City, rezonings would normally be subject to Community Amenity Contributions (CACs), but the City notes that no CACs will be required for this project as a result of the costs of all the units being secured for rental. The City says that the project is also eligible for a Development Cost Levy (DCL) waiver, so the developers would just have to pay $1,273,898 in Utilities DCL.
The architect of the project is Vancouver-based GBL Architects, who say that "the character of the building reflects a contemporary, monochromatic theme, which is exemplified through an articulated massing volume with a punched-window expression" and that "the architectural expression has both a functional quality which mitigates the perceived bulk of the building and minimizes excess glazing to maximize energy performance, but also an aesthetic quality that has an elegant and clean form."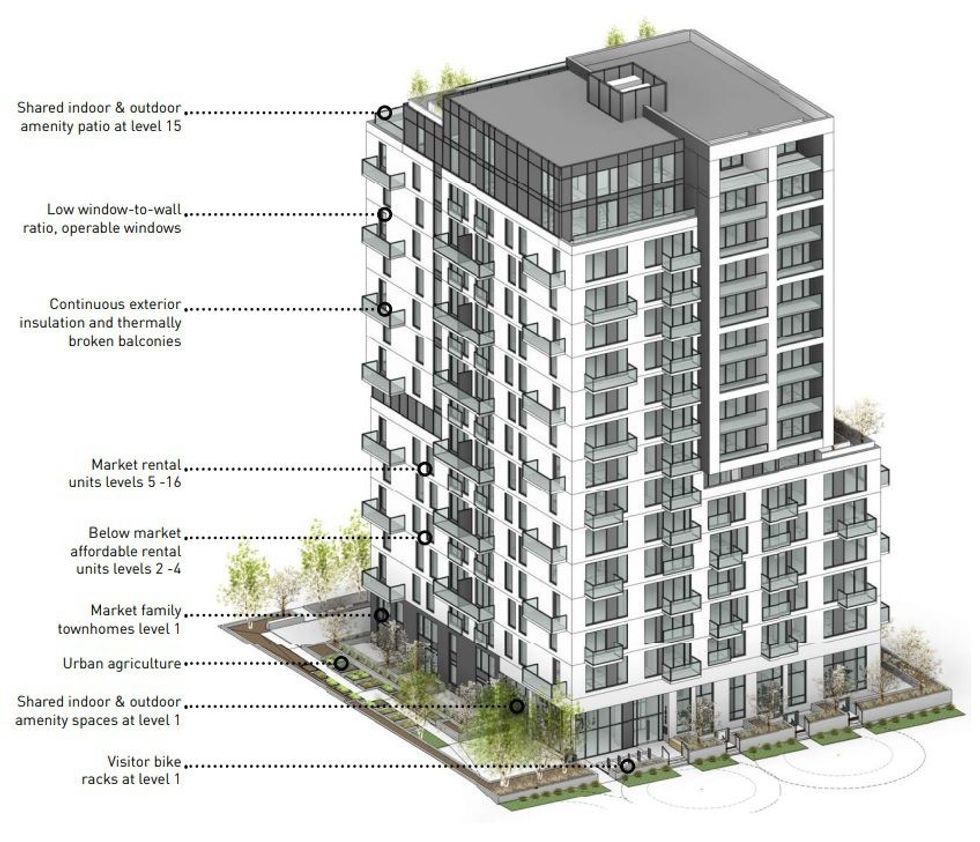 An overview of the building proposed for 1045 Burnaby Street. (Gracorp / GBL Architects)
West End Rezoning Policy
The Gracorp project is located within the Burrard Corridor of the West End, meaning it is being considered under the City of Vancouver's West End Rezoning Policy, which gives developers the option of going 100% rental with 20% of the floor area as below-market units, as an alternate to including social housing. That option was provided as a two-year pilot and expired on December 31, 2022, but was made a permanent option last week.
According to the City, in that two-year span, the policy enabled seven projects with a total of 1,749 rental units and 368 below-market units. In March, the City told STOREYS that those seven projects were:
1040-1080 Barclay Street
1068-1090 Burnaby Street and 1318 Thurlow Street
1045 Burnaby Street
Conversely, a development on 1063-1075 Barclay Street serves as an example of the previous iteration of the policy, as it includes 285 strata units and 87 social housing units. That project was approved by Council in a public hearing this January.
Future Developments