---
The City of Vancouver published a new development application on Thursday submitted by Bosa Properties for a pair of rental buildings near Burrard Street, as the City opens up the project for public engagement.
The proposed site is 1065 and 1066 Harwood Street, on opposite sides of the street, near the intersection with Thurlow Street, a block away from Burrard Street and the Burrard Street Bridge. Both sites are currently occupied by two two-storey rental buildings, for a net total of about 100 units.
Applications to rezone the two sites from RM-5A (Residential) to CD-1 (Comprehensive Development) were individually filed previously and approved in June 2022, so no further rezoning is needed.
The project has been in the works for at least half a decade now, according to a previous version of the development application submitted in 2017, and the project specifications have been revised multiple times.
The towers on 1065 Harwood and 1066 Harwood were originally set to be 33 and 32 storeys, with approximately 150 units each, respectively, but the units were primarily market strata, with a bit of social housing units mixed in. That 2017 application was withdrawn in April 2021, with a new proposal for two 36 storey buildings that would house 288 and 287 rental units in its place.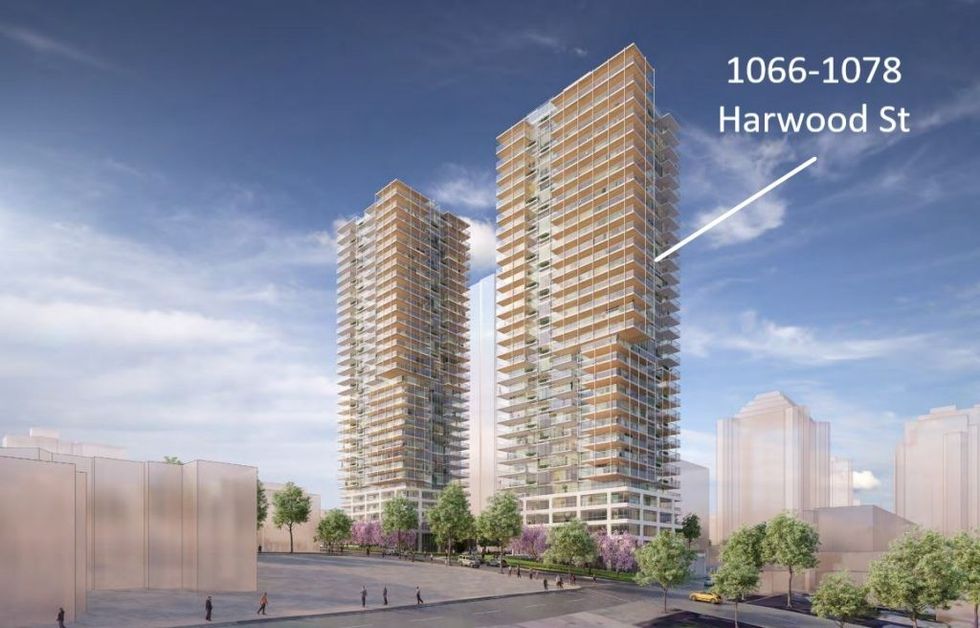 1065 (Left) and 1066 Harwood (Right) 2017 iteration renderings. (Bosa Properties / Henriquez Partners Architects)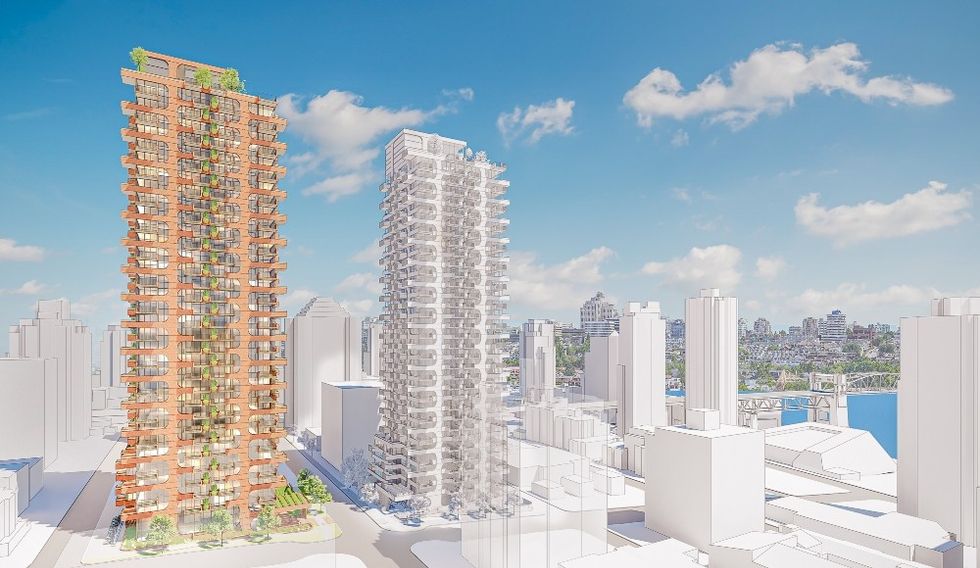 1065 (Left) and 1066 Harwood (Right) 2021 iteration renderings. (Bosa Properties / Henriquez Partners Architects)
In October 2021, revised applications were then filed for each building, lowering both to 33 storeys and reducing the amount of units to 279 and 278. With the most recent iteration the City of Vancouver published this week, both towers are still at 33 storeys, but the amount of units have again been lowered slightly, this time to 275 and 274, respectively.
Referral reports from May 2022 -- as part of the rezoning process -- for both towers included acknowledgements of the development's contributions towards the City's Housing Vancouver Strategy, championed by then-Mayor Kennedy Stewart. The Strategy sought to change the supply of Vancouver's housing supply from condominiums to an emphasis on rental units, and both reports concluded that the developments "would advance the City's rental and affordable housing targets."
Income thresholds and rental rates were also set for the two buildings at the time, but it's unclear if they will be carried over to the latest version of the proposal.
RELATED: Exclusive: Vancouver Mayor Kennedy Stewart Reflects On His Housing Record
Each tower will include 56 below-market rental units, with the remaining units all being market rental units. The tower on 1065 Harwood will include five levels of underground parking with 142 parking spaces, while the other building will have four levels with 134 parking spaces. Both buildings will also have 10 accessible spaces and 535 bicycle parking spaces.
Both rental buildings will be designed by Henriquez Partners Architects, who are also designing a mixed-use hotel-and-office project for Bosa Properties, set for West Broadway near Vancouver General Hospital.
Design details outlined in city council referral reports for the October 2021 iteration of the proposal said the buildings would incorporate common West End architectural elements, such as "brick, punched windows, interlocking balconies, and landscaped setbacks." Design details for the latest iteration have not been published, however, but renderings show that the design has been changed and no longer feature the wood-coloured façade.
The City of Vancouver is currently accepting public input on the project from now until Friday, December 2.
Future Developments