Good Bones is an on-going renovation series, catch up on Weeks 1+2 here, Weeks 3+4 here, and Weeks 5+6 here.
---
The pandemic-driven, rising costs of building materials, particularly lumber, are having some eye-watering effects on our current reno budget.
Weeks 7+8
Wins
Concrete Budget Numbers
Up until this point we've been dreaming up our reno ideas with little concept of how much everything would cost. Having some real numbers against line items in our wishlist -- however eye-watering they may be -- helps us ground our plans in reality.
By the Numbers
Our contractor gave us rough estimates based on his 30+ years experience that come in towards the top end of the spectrum. Each item will be adjusted as we start to refine our designs, fits and finishes. These are installed costs, so include both materials and labour. Here's a snapshot:
Custom kitchen/dining cabinetry (wall run, island, dining hutch): $32,000
Quartz countertops: $12,000
Appliances (fridge, oven, range, dishwasher, washer and dryer): $10,000
French doors: $10,110
Balcony skylight: $6,180
New roof shingles: $10,000
Master bath tile: $5,890
Master bath shower glass: $3,200
Painting: $20,000
No Knob and Tube
Our contractor paid us a visit to unscrew a few electrical plates around the house and check out the wiring behind them. Despite his strong suspicion that we may have some residual knob and tube wiring, he didn't find any of it still connected! With that news we've just saved a $20,000-30,000 total re-wiring job.
Knob and tube is an old electrical wiring system that was in common use from the 1880s to the 1930s. Our house was built in 1902, so it was built with knob and tube. Since then it has all been disconnected and replaced with updated wiring. The problem with finding knob and tube wiring in your old house is two-fold. This kind of wiring wasn't built with today's levels of power use in mind, and as a result can be woefully inadequate at powering a modern home. Secondly, because of half-measure modifications that many people made to their knob and tube arrangements over time, a mix-and-match wiring system to begin with, combined with general degradation of old wiring, means the result can often be a fire hazard. 
While the Ontario Electrical Safety Authority doesn't outright forbid the use of existing knob and tube wiring, they recommend having a licensed electrician inspect it for signs of deterioration (which are pretty likely in an old house). 
Why you need to know if the house you're bidding on has knob and tube: Some insurers will refuse to insure or renew an insurance policy on a house with knob and tube. We ran into this issue when we contemplated bidding on another house with knob and tube a few years ago. We called around to discover that had we bid on it, we wouldn't have been able to get homeowners insurance from any of the major insurers, and without that would not have been able to secure a mortgage to pay for it! So for heaven's sake, make sure you know whether that charming old house has knob and tube before you sign that bid.
Bottom line: It's better not to find residual knob and tube wiring in your house!
Losses
Concrete Budget Numbers
Yes, this had to go under "losses" too! Why? Because nothing is ever as cheap as you'd like it to be. Especially considering how the pandemic has contributed to the sharply rising cost of building materials. Some items where we had the most unexpected sticker shock: tempered shower glass, tile installation, custom cabinetry, and gas fireplaces.
Demolition and dumping is another area we hadn't thought much about before the budget numbers came in! Removing drywall, lath and plaster, ripping up floors, chipping off tiles all takes time and effort. Then renting a bin, paying for drop off and pick up, and paying the fee to dump materials all adds up.
Where wood is concerned, we're considering the following modifications: 
Building our kitchen cabinetry entirely from MDF (a wood composite) rather than solid wood. Yes, the price of MDF has also gone up, but it's still a cheaper option than solid wood. 
Doing a pared-down version of wainscoting (wall panelling) that uses less material, forgoing the full wall of wood in favour of smaller trim elements stuck directly to the wall.
Replacing wood crown mouldings with plaster—not a cheaper option, but one that will stand the test of time better and won't leave gaps and paint cracks where the wood meets the walls and ceiling with the movements of an older house.
Reflooring the basement in a wood-look vinyl. This has the advantage of both way lower cost and a 100% waterproof solution for the area with the highest flood risk (fingers crossed we don't ever need to rely on that feature though!).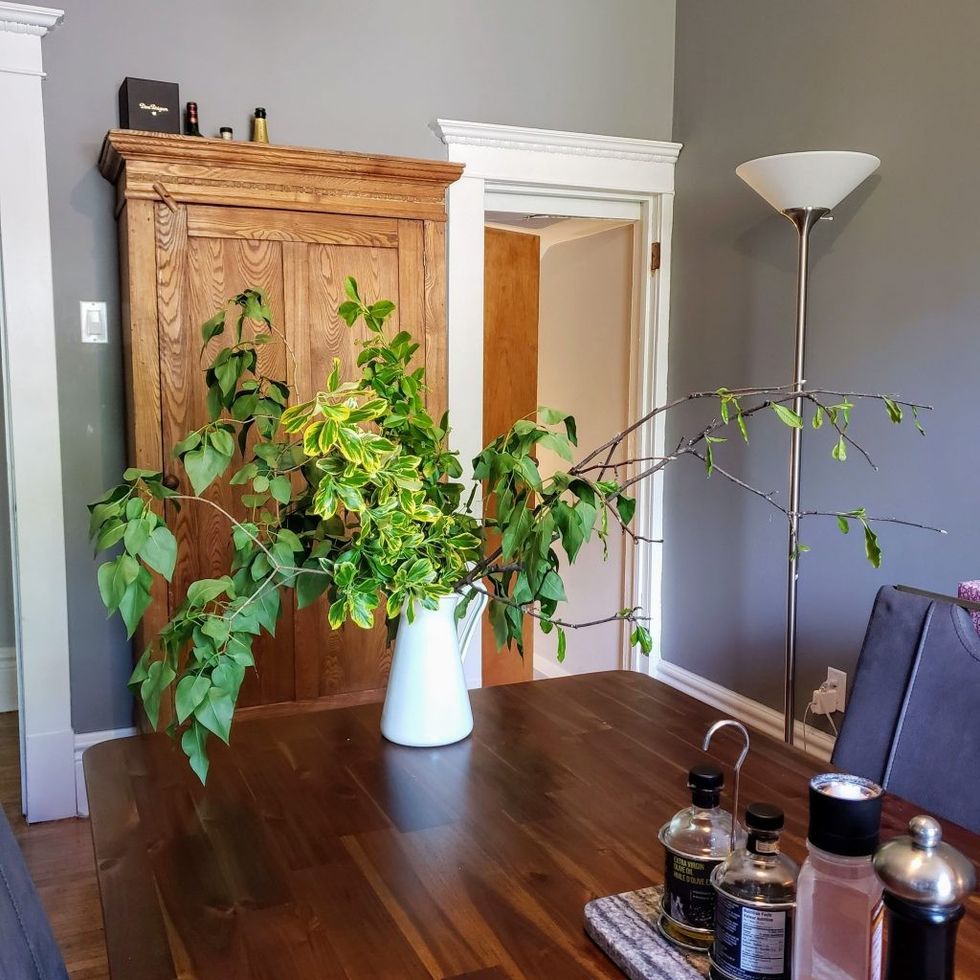 Really appreciating all the wood we have these days as prices continue rising!
What We Learned About Budgeting for a Reno in the Middle of a Pandemic
Seeing the reno budget numbers has forced us to consider areas where we may need to modify or cut items completely out of our wishlist. This is difficult to do, because many aspects of a reno rely on, or are inextricably connected to, others. There's also the fact that if we don't do something now, we may never do it in the future. When it comes to the unsexy stuff -- wiring, plumbing and structural work -- even though we get "nothing to show for it" in the end, so to speak, this is our one chance to do it right while we have the walls opened up. So, unfortunately, our reno budget priority has to go first and foremost towards everything behind-the-scenes.
The second way in which we're developing contingency plans if the reno budget gets stretched too far is by identifying items that are relatively stand alone and could be done at a later date. A gas fireplace, for example, can always have a gas line installed now (~$1000) and the actual fireplace (~$8000) installed later. Similarly, a master bathroom could have plumbing roughed in now and finished later. 
Total cuts are harder to swallow. We've only settled on one so far. Instead of running a gas line to the BBQ (~$1000) we'll stick with the propane tank version. I expect we'll have to come up with more cuts than just that as we go!
Follow along @thepearsonhouse as two new homeowners, Nicola and Michael, grapple with the ups and downs of owning a 120-year-old house in Toronto, and learn to navigate the challenges of pandemic-era renovation in an effort to turn their new property into their dream home.
Renovations