Toronto
Urban Living
Good Bones: How to Obtain Architectural Drawings and Building Permits
Good Bones is an on-going renovation series, catch up on Weeks 1+2 here, and Weeks 3+4 here.
The plans are in! We finally have drawings of what our project will look like to submit to the city for building permits.
WEEKS 5+6
Wins
Architectural Drawings
They finally came in! It's one thing to have an idea in your head about what you might like to do in a reno, but to see it on paper starts to feel just a little bit more real, and it's been a big morale boost given the state of the world at the moment.
The plan is to knock down the wall between the kitchen and dining room, creating an open cooking/eating and entertaining space that will serve as the heart of the house. The east wall will contain the central range with built-in cabinetry flanked by the fridge and pantry. In the middle, a 9-foot island with a farmhouse sink and bar seating, while beyond that you'll find the dining table and a tall built-in hutch. New French doors will open out to the deck and a repositioned pocket door will connect the kitchen to the mudroom to maximize storage space. The current pantry will become a powder room.
Upstairs, a new master bathroom will replace the closet area and a new built-in closet will be created in the bedroom. The main bathroom will get a much-needed face lift. On the third floor a new skylight will go in above the stairs to bring more light in. The yoga room's skylight will become much larger, folding open into a little rooftop balcony.
The basement will get a new gas fireplace and built-in cabinetry, and a Murphy bed for guests. Pot lighting and additional outlets will get installed throughout the house. To top it all off the roof and eavestroughs will be redone for better drainage.
Fast Tracked Building Permits
Because we aren't changing the external footprint of the house, we were able to qualify for Toronto's Residential FASTRACK permit stream. According to the city, a regular permit can take 10-30 business days to process once received, whereas a fast tracked permit will only take five business days.
Nerdy History

We unearthed the site survey of the property created in 1988 (the same year I was born). Whereas today site surveys are done digitally, this blueprint was drawn completely by hand! The plan is to touch up, print and frame the document for our wall. Yes, we get a little nerdy about these things. If you're doing any work on your home that requires building permits, even if you're not changing the external footprint of the home, the city still requires a site survey. We were lucky enough to find and pay for ($400) an existing survey of our property on ProtectYourBoundaries.ca. Commissioning a new one from a land surveyor can cost upwards of $1500.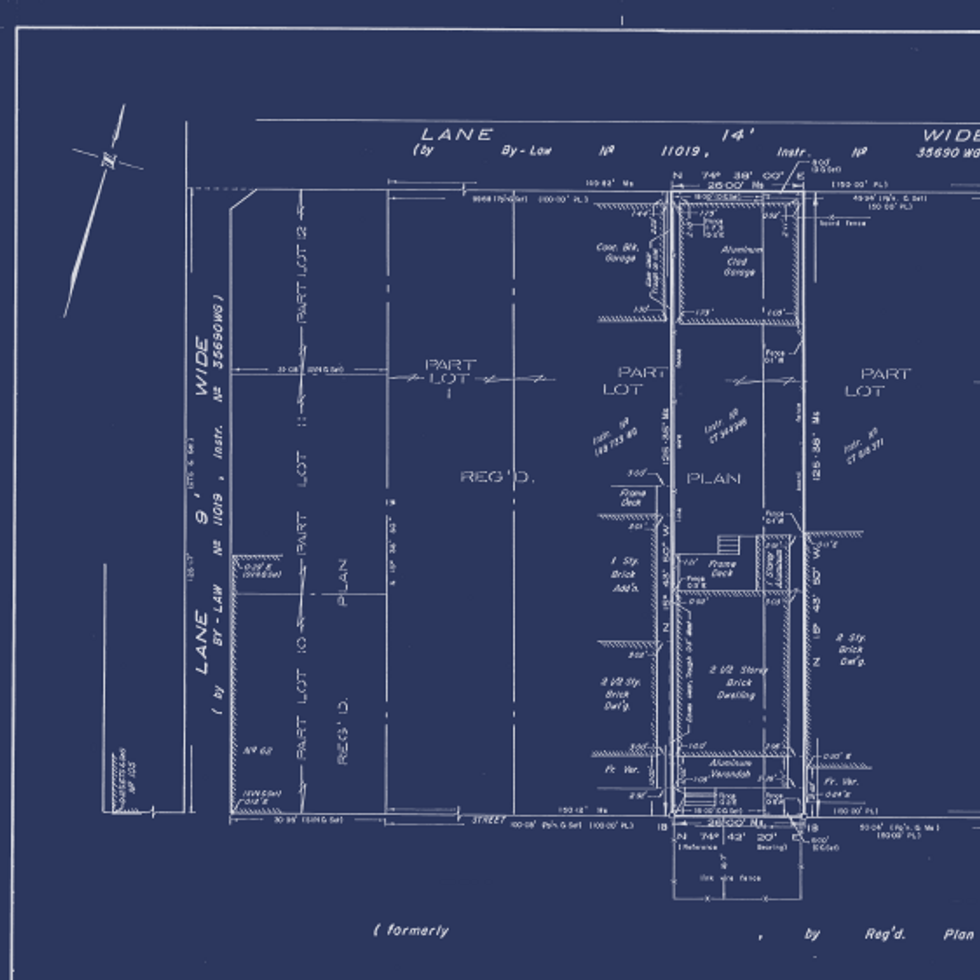 Losses
Unknowns
We won't know many important things until we start opening up the walls. Like whether or not we can properly route the waste pipe from the new master bathroom down into the basement. Or whether we have things like asbestos or knob-and-tube wiring that will add tremendous cost and complexity to the reno. Just some of the fun mysteries of owning an old house! This makes trying to work out a budget for the project really difficult. We will need to be prepared to make cuts to certain things on the wishlist depending on what we find. It will also mean that important decisions we would otherwise want to make well ahead may need to happen in the heat of the moment when we have less time (and emotional composure!) to consider them. Time to brush up on my meditation and deep breathing skills.
Delays
The pandemic has lead to compounding delays on our reno project that will likely continue for the foreseeable future. This means more months of disruption without a liveable space to move back into for longer than we had initially planned for. Our contractor tells us the availability of basic building materials is in constant flux right now, and if one trade can't get what they need to finish something, the next trade can't start. Add to that lockdowns that prohibit construction projects from moving ahead and it gets increasingly difficult to plan a timeline. At least it's spring so we can fill our waiting time watching the plants grow!
What We Learned About Architectural Drawings and Building Permits
If you're planning any kind of structural, plumbing, electrical or HVAC work (i.e. any changes beyond an aesthetic refresh), you'll need drawings submitted to the city to obtain building permits. Before you start, it's a good idea to find out exactly when you need a building permit as well as what drawings and documents are required. In most cases you will also need a site survey. This whole process can take a long time, especially with pandemic delays. Be prepared to allocate a few months before you can get that permit, and make sure all your documentation is as complete as possible when you submit. You don't want to find out a month later that you've missed something and have to re-submit all over again!

---
Follow along @thepearsonhouse as two new homeowners, Nicola and Michael, grapple with the ups and downs of owning a 120-year-old house in Toronto, and learn to navigate the challenges of pandemic-era renovation in an effort to turn their new property into their dream home.