Urban Living
Good Bones: DIY Demolition Reveals Amazing Finds and Expensive Renovation Hurdles
Good Bones is an on-going renovation series, catch up on Weeks 1+2 here, Weeks 3+4 here, Weeks 5+6 here, and Weeks 7+8 here.
We chose to embark on some DIY demolition work to save some money on the renovation of our old house. Opening up the walls has revealed a mixed bag of discoveries: amazing artifacts alongside expensive problems we hadn't factored into the budget.
Weeks 9+10
Wins
Stripping Woodwork
We have been stripping all of the house's original woodwork using a heat gun: baseboards, door, and window casements. It's a labour of love. And hate.
Because the old paint may contain lead we need to wear our P100 full face respirators. We also keep all the windows open, a fan running to direct the air outward, and we keep our trusty wet/dry shop vac nearby (best Christmas present, thanks Dad!) to keep our working areas clean.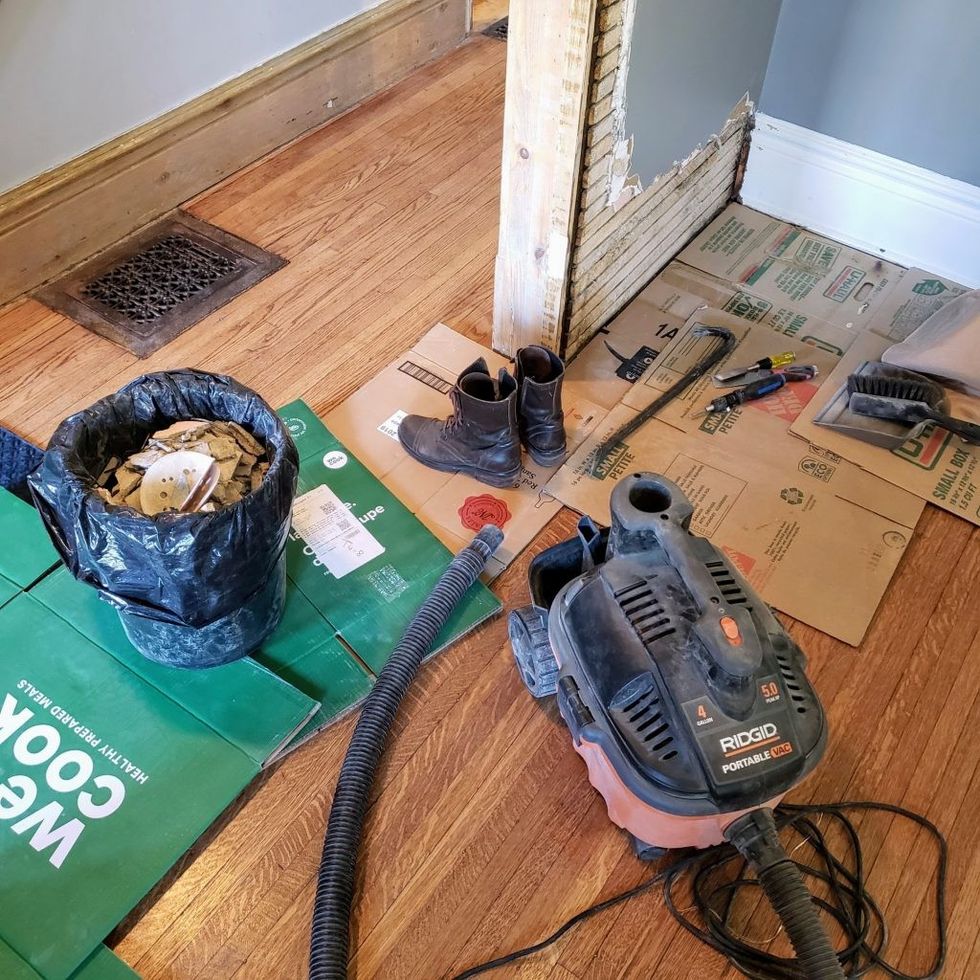 Removing 100+ years of blobby paint will allow us to gain back some of the beautiful definition in the woodwork again when we repaint. We could have hired someone to do this for us but the amount of time and effort involved would have made it prohibitively expensive. Besides, what else are we supposed to do in lockdown??
Antique Wallpaper
We discovered some gorgeous antique wallpaper dating back to the early 1900s hiding behind the doorway casement in the dining room. An expert tells us it's a hybrid Empire/Rococo stripe pattern and further nerdy Canadian wallpaper research suggests the paper could be a "blank", a raw paper with just two design colours; in our case, green and gold.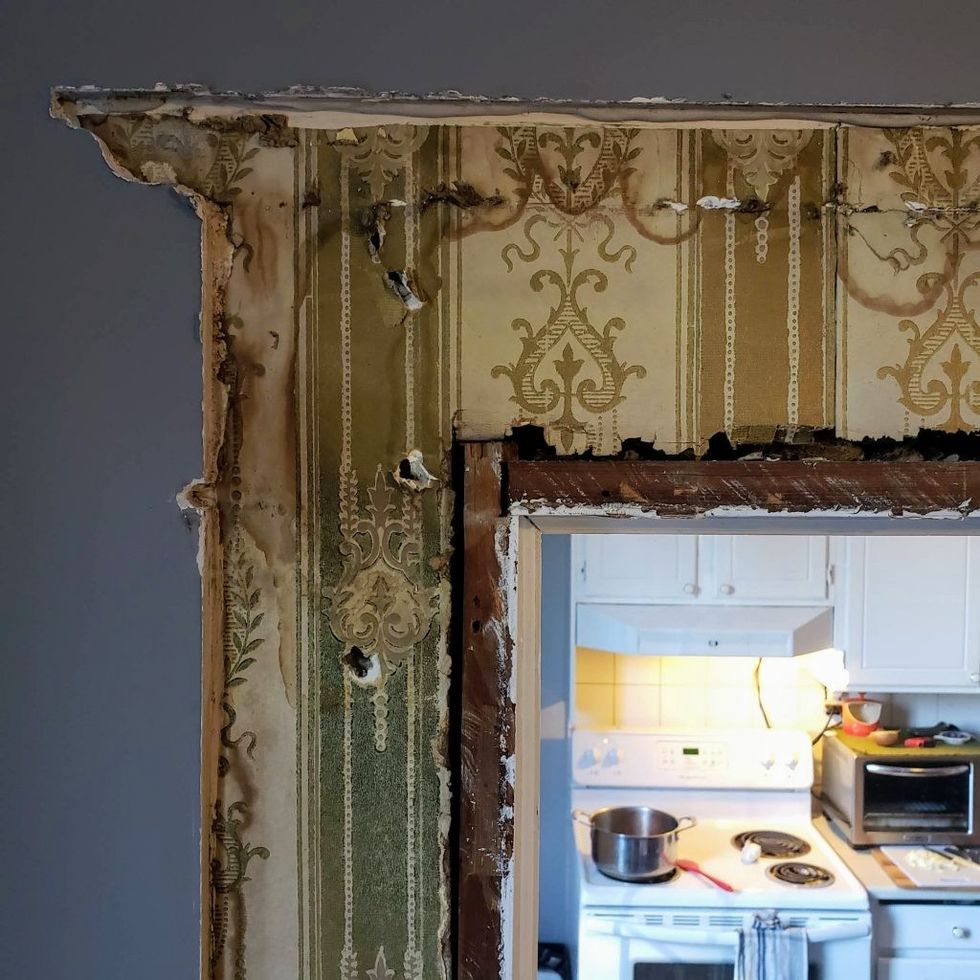 I've painstakingly recreated a digital version of the pattern that we can have printed and framed as an homage to the history of the house.
Coin from 1902
After removing some dining room baseboards for restoration, I discovered something buried in the wall against the subfloor between the kitchen and the dining room. I never imagined it would be a wonderfully oxidized one cent coin from 1902, the year our house was built!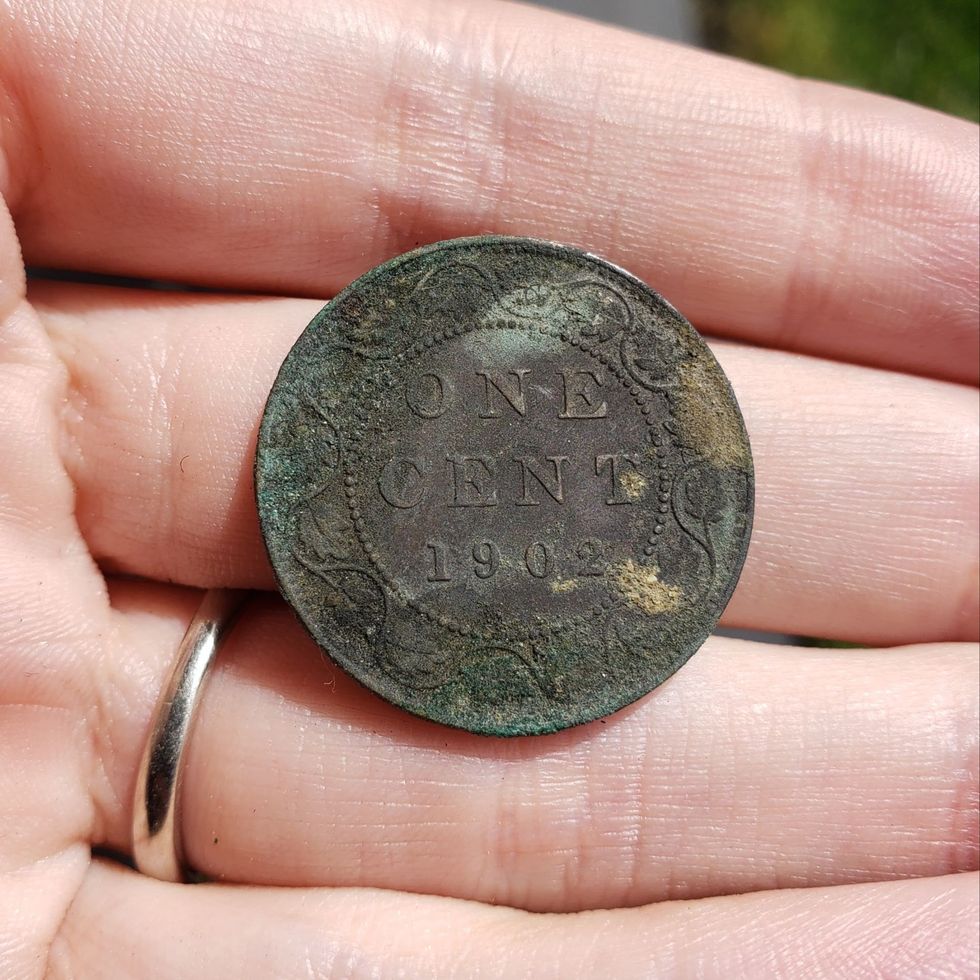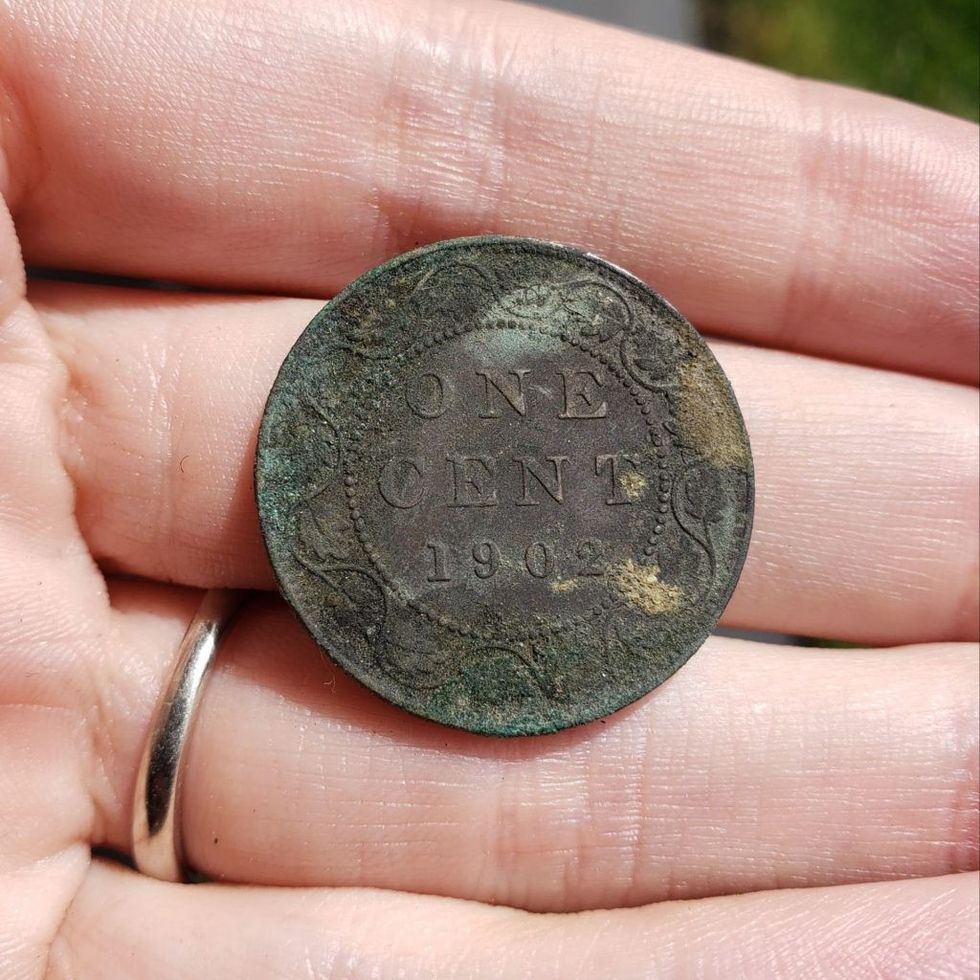 I've read that builders used to (maybe they still do?) bury a coin in a wall or a door for good luck when a house was being built. It bears the head of Edward VII who reigned from 1901-1910 and gave his name to the style of our house: Edwardian. That's one for my mini house museum collection!
We're now planning to bury a little time capsule with a photo of the 1902 coin together with a one cent coin from 2021. I like to imagine the house's owners in 2140 discovering it when they do their own renovations, and perhaps adding a 2140 cent to the collection!
Losses
Asbestos
Clearly, I either didn't knock on wood enough or perhaps I knocked one too many times. We had The Mold Guy in to test ($150 per sample) our suspicious-looking shaving foam texture ceilings for asbestos. Despite telling us the chances of our ceiling containing asbestos were probably pretty low, low and behold, the test came back positive for 5% chrysotile, also known as white asbestos. There are 6 types of asbestos in total but the one you're most likely to have in your old home is chrysotile, commonly found in shaving foam or popcorn style ceilings, and also roofs, floors, and walls.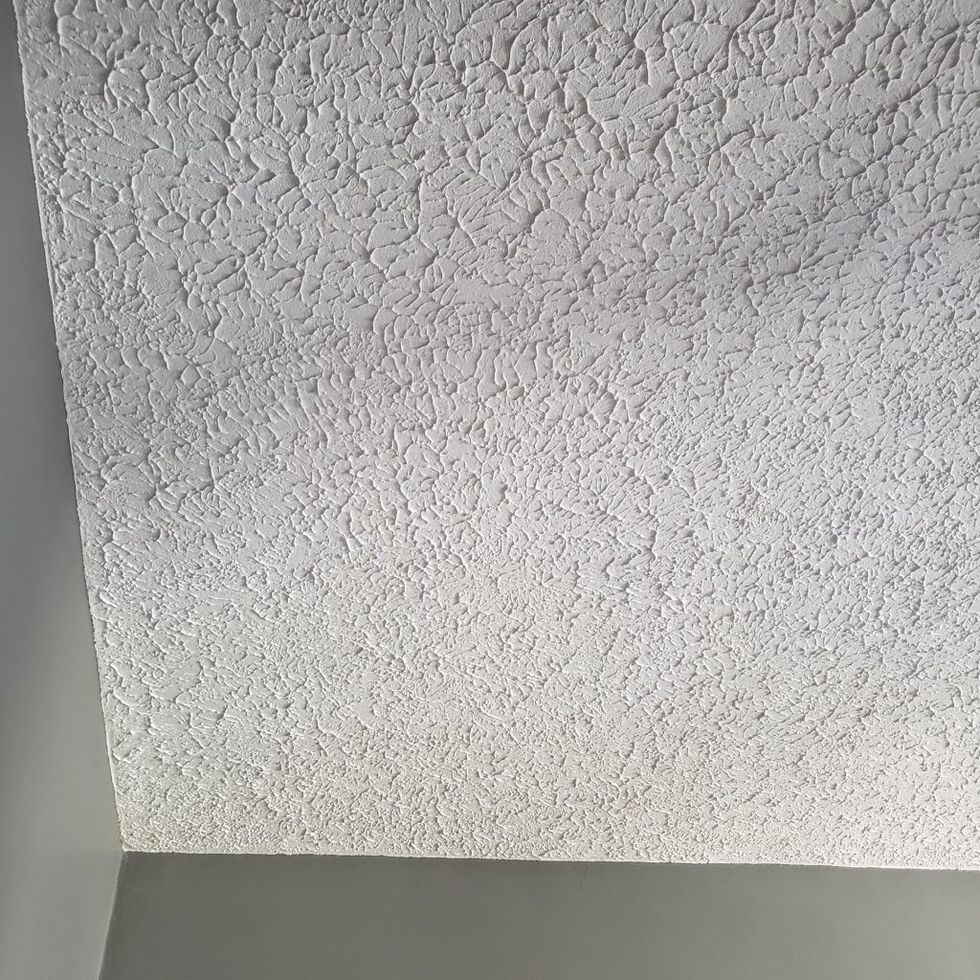 This is really bad news. Asbestos is extremely expensive to have removed. Asbestos companies also know they can get away with highway robbery once you attach the word asbestos to a job. We got quotes ranging from $3,600 to well over $10,000 to remove 270 square feet of it from our hallway and dining room. Needless to say we'll be going with the cheapest solution, but "cheap" is hardly a relevant word here!
Cast Iron/Lead Waste Pipes
When we knocked down part of the wall in the kitchen we uncovered the house's main stack — or poo pipe as I like to call it! — which runs all the way from the basement drain up through the roof of the house. Somewhat unsurprisingly, it is original to the house and thus made of cast iron, and the bit that connects to our 2nd floor toilet is made of lead.
Given that these pipes are designed to last 75-100 years and the house is pushing 120 years old, not to mention the clearly rusted condition of ours, we have no choice but to replace the whole stack ($4,500) while we have the walls opened up. We are rapidly hemorrhaging big dollars for all this and we haven't even started building yet!
What We Learned About Taking the Good with the Bad When Opening Up the Walls of an Old House
We knew we were likely getting a mixed bag buying and renovating an old house. At least I'm happy to report there have been some good discoveries along the way to balance out the bad! Now if only we could dig up a few thousand dollars extra in the walls to pay for the asbestos remediation and waste pipe replacement!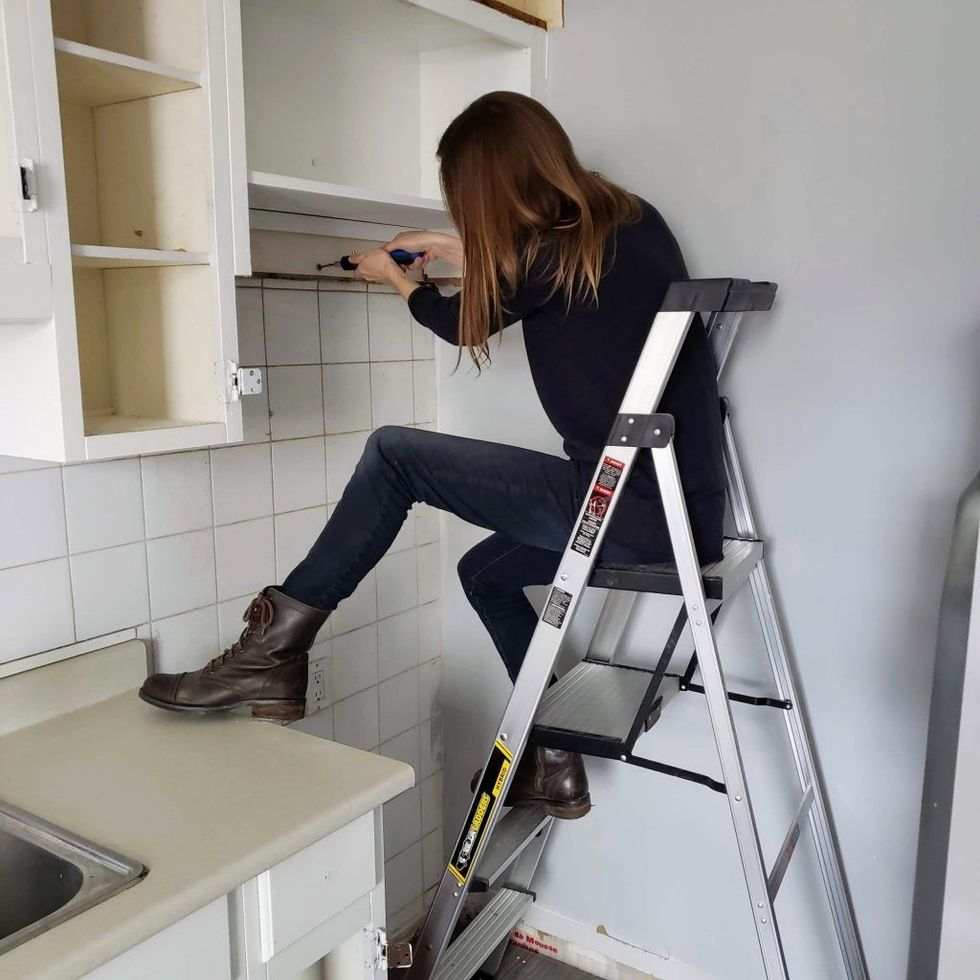 DIY demolition has been a tough slog, but also a satisfying one. If we weren't stripping the woodwork it would never happen, and it will (hopefully!) lead to a lovely finished result where we can see all the definition in the wood again. It's also been really instructive to open up the walls and see how plumbing, electrical and structural components all fit together to build a house. Maybe it's not everyone's cup of tea but it feels a lot like excavating an archeological site to me, and if we weren't doing it ourselves we may never have discovered the old wallpaper and the coin! These two finds alone make the purchase and renovation of an old house worth all the headaches that come with it.
To own a piece of history and participate in restoring and shaping its journey for the next 100+ years is one of the most meaningful endeavours I can think of being involved in, and it definitely continues to be a worthwhile and all-encompassing distraction during these trying times!
Follow along @thepearsonhouse as two new homeowners, Nicola and Michael, grapple with the ups and downs of owning a 120-year-old house in Toronto, and learn to navigate the challenges of pandemic-era renovation in an effort to turn their new property into their dream home.