Good Bones is an on-going renovation series, catch up on Weeks 1+2 here, Weeks 3+4 here, Weeks 5+6 here, Weeks 7+8 here, and Weeks 9+10 here.
---
As bad as we thought the building material shortages were a few months ago, now they are much, much worse.
They are so bad, in fact, that we have been forced to completely rethink our renovation plans. All this as continued demolition is making our home feel increasingly shell-like. I just hope we'll be able to find something with which to put it all back together again!
Weeks 11+12
Wins
Open Walls
The contractor's crew have been working hard to open up our walls. Without the separating wall we now have an open view of what the larger kitchen and dining space will look like.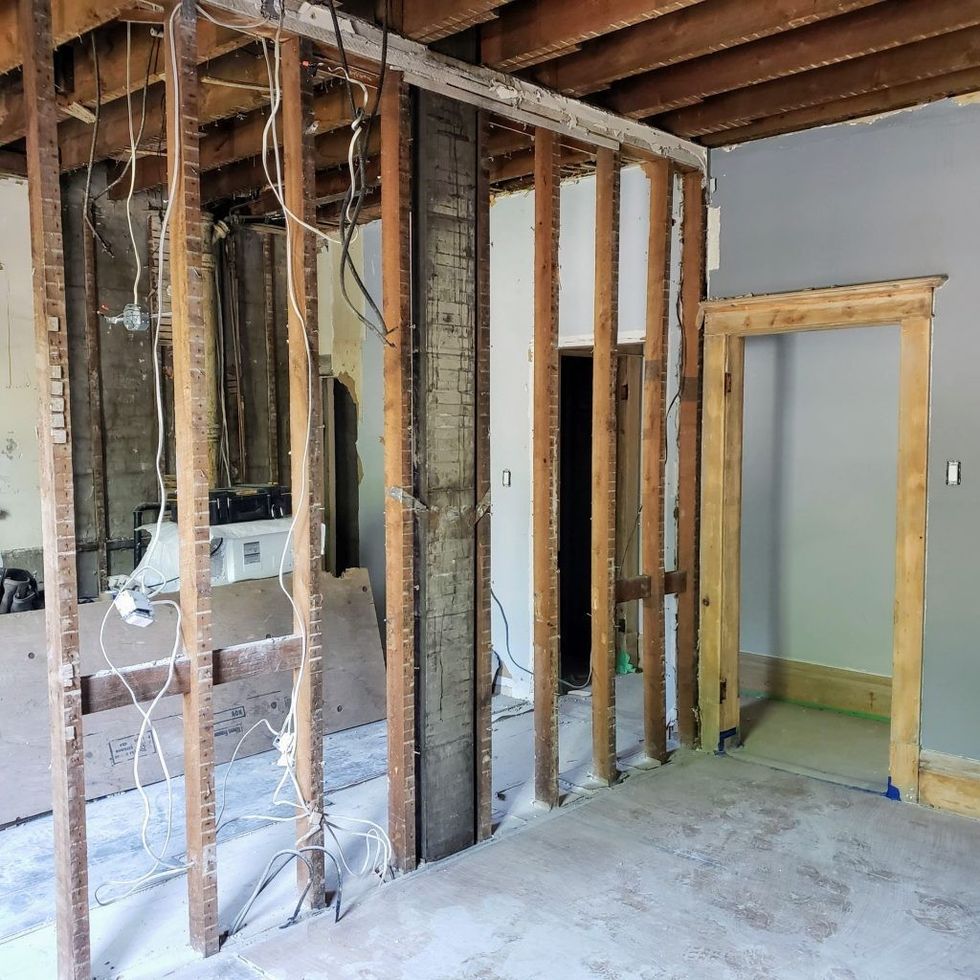 A clear view through to the kitchen from the dining room
I can almost smell the big Sunday roasts with friends and family gathered round the island and the dining table, French doors flung open to let the summer breeze in and glasses of bubbly all around. A post-pandemic vision we hope to make a reality some day in the not too distant future.
Asbestos Gone
Despite having to eat an astronomical cost to remove the asbestos ceilings in our main floor hallway and dining room, having them gone gives us peace of mind and actually makes the routing of electrical and plumbing much easier to do. It took about 3 days to remove it all with 1 day reserved for running a HEPA filter for 24 hours following removal. No small feat.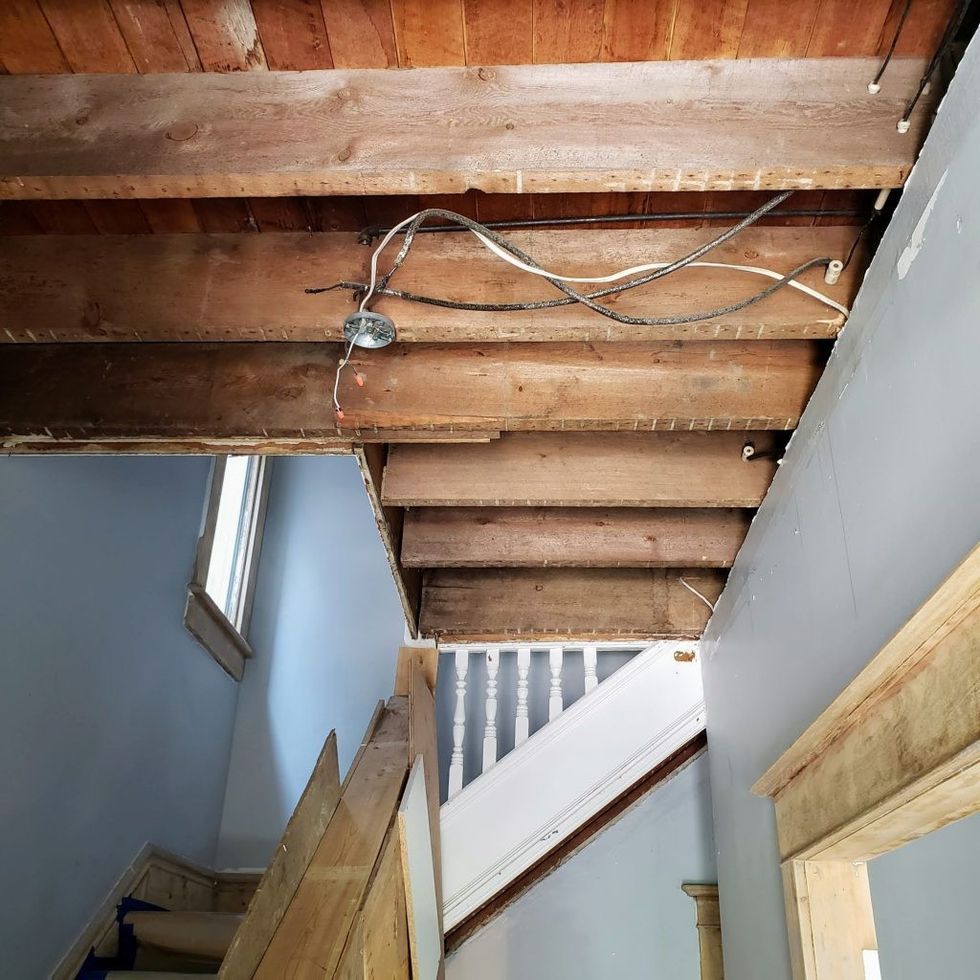 All the ceilings that contained asbestos have been removed
Historic Gas Lighting
Another upside of opening up the walls and ceilings was the discovery of thin metal pipes that seemed to stop right above the electrical boxes in the ceilings. One of the crew informed us they were gas pipes that would have powered gas lighting in the home back when it was first built in 1902, before the mainstream use of electricity. I can just picture the first owners lighting the lanterns at dusk and curling up on chairs in the living room to read in the flickering lamplight. Another glimpse into the past that paints such romantic details of a home with real history.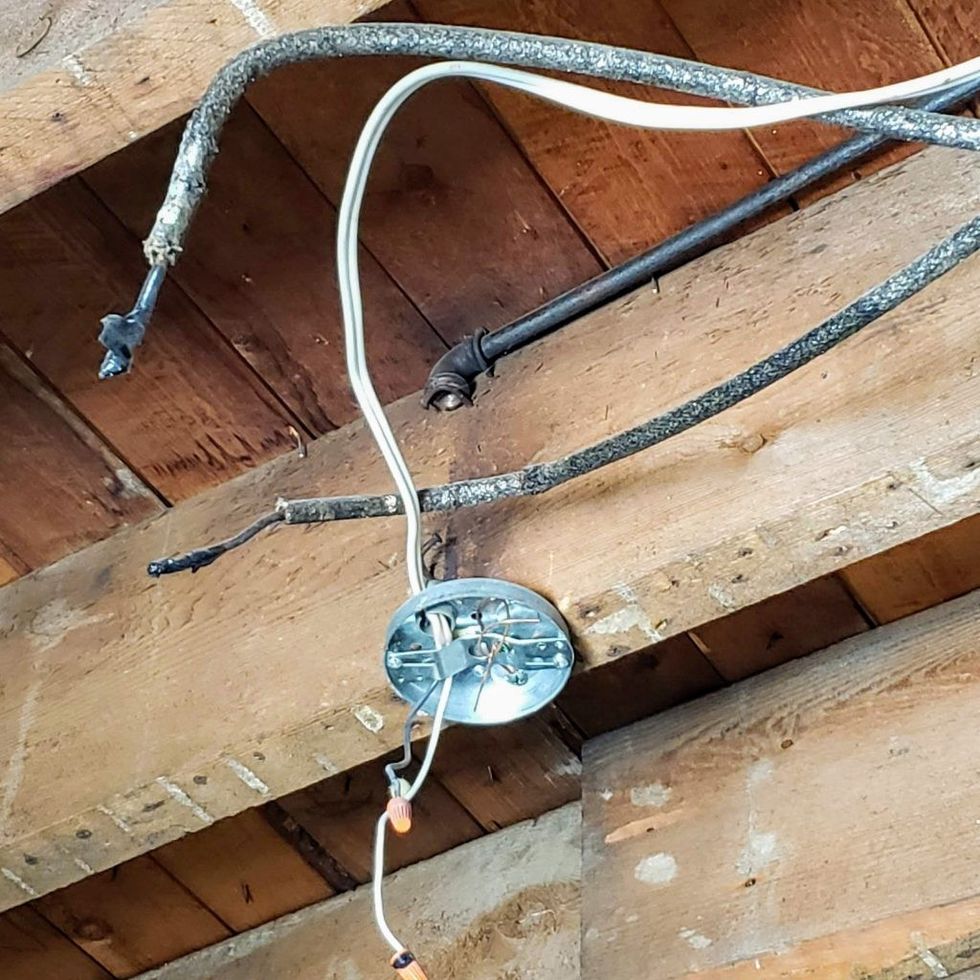 The metal pipe above the electrical junction box would once have powered gas lanterns in the house
Original Linoleum Flooring
In the kitchen we've uncovered what would have been the house's original linoleum flooring. Kitchens were always out-of-sight out-of-mind kind of places back then. They weren't finished to the same level as other rooms and never had hardwood flooring installed. They were generally treated like utility spaces and fitted with water-resistant linoleum. Ours is a common green and cream checkerboard pattern you can just make out the remnants of near the old chimney.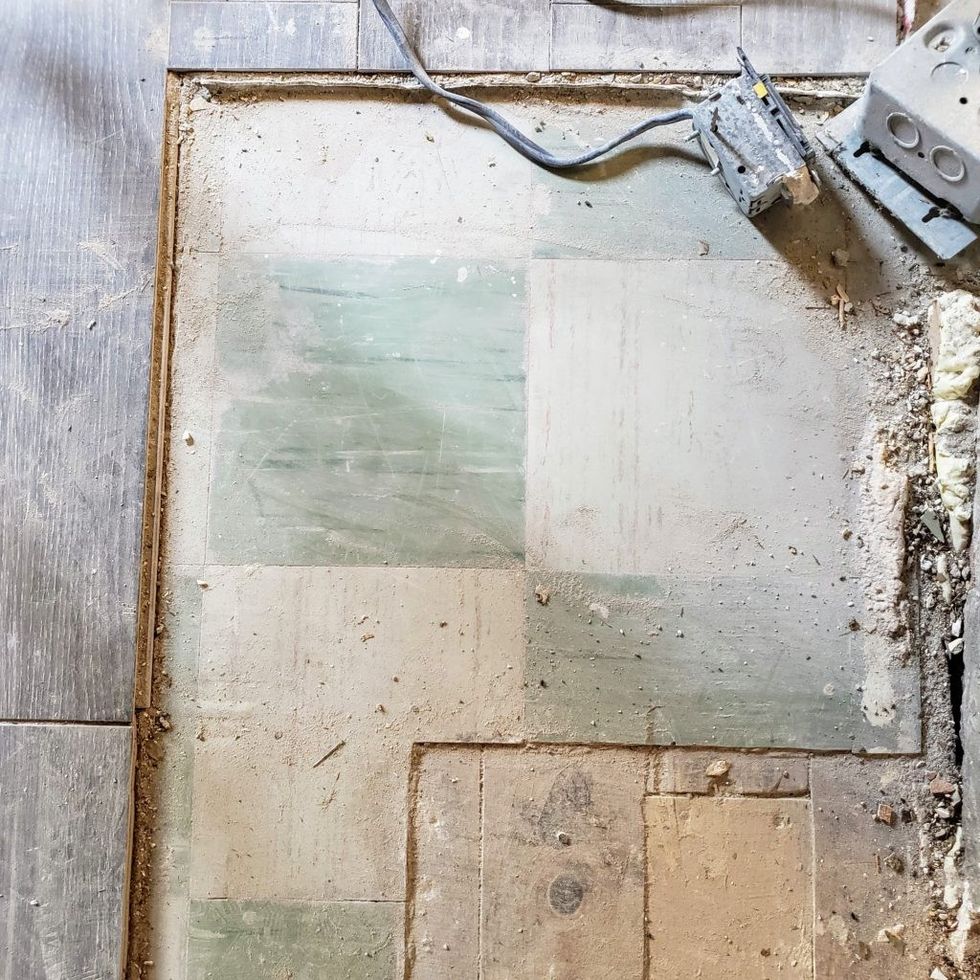 Original green and cream linoleum flooring in the kitchen
Appliance Delivery
After a several-month delay in fulfilling an order for appliances we made back in 2019 -- yes, 2019 -- they are finally being delivered this weekend. Well, everything except the fridge, which is still not expected to be available until July(!) 
The living room wall will be widened to accommodate HVAC, new plumbing and new pocket doors
Losses
No Laminated Veneer Lumber
Laminated veneer lumber (or lvls) are composite wooden beams used for structural applications. Because we are removing a wall and adding a heavy skylight to an old roof, we need a lot of them to make sure our house is still standing strong by the time we've finished the reno. As of right now, not a single lumber yard we've contacted has any in stock. Nor do they have any idea when they will be back in stock. We're talking at least 3 months before any signs of this basic building material returns to Toronto. It's not just a city problem either. It's a Canada-wide shortage caused by the pandemic, and it's getting worse right now, not better.
Back to the Drawing Board
We've had to go back to the literal drawing board and consult with a structural engineer (+$300-500) on how else we can possibly proceed. It may mean we need to switch our structural supports from wood to steel, which will raise the cost of our project yet again, and there are no guarantees we'll be able to source the steel either.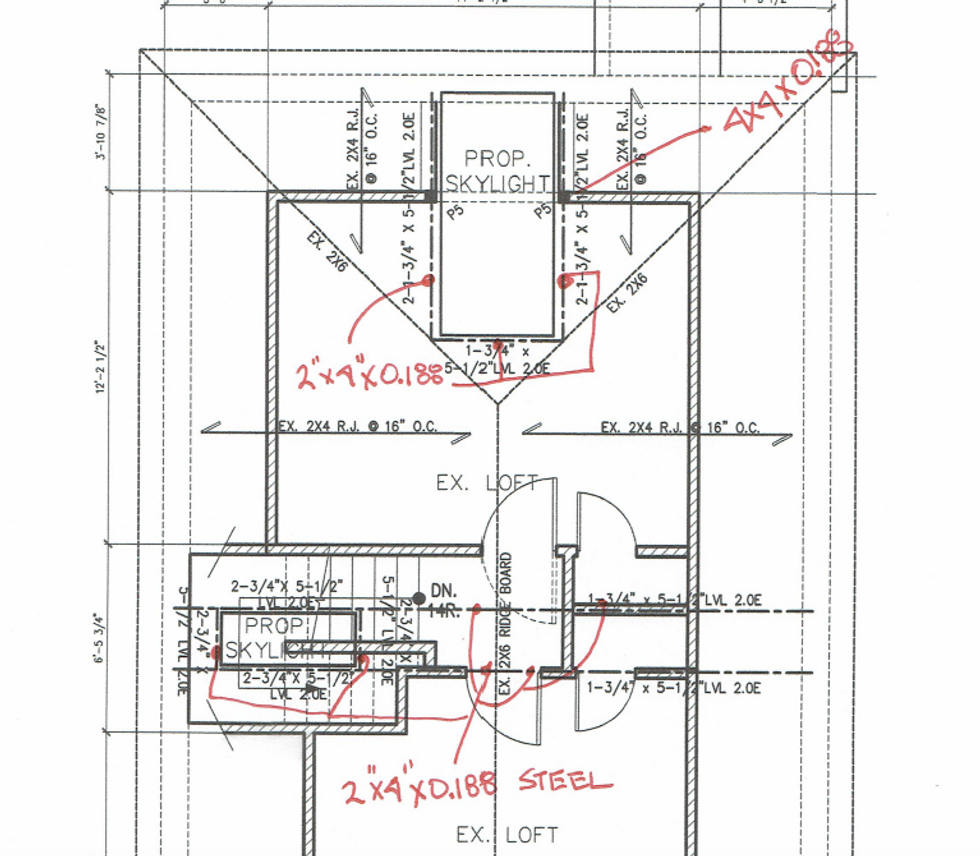 Brainstorming new materials like steel for the structural supports
What We Learned About the Illusion of Abundance We've Become Accustom To
For all our lives we've lived in a world where everything is available at your fingertips. The little corner store stocks fruits and veggies from around the world. Everything from clothing to furniture is just a click away and arrives right to your door. We've never felt the kind of hard times our grandparents lived through during the war when everything from razors to sugar was rationed. 
The lumber and building materials shortages we're experiencing now are a wake up call that the raw materials we rely on are finite. We're now turning our attention to the importance of preserving what we already have. Refinishing our floors, porches and decks rather than replacing them, and making sure we take good care of what we have to make it last.
Follow along @thepearsonhouse as two new homeowners, Nicola and Michael, grapple with the ups and downs of owning a 120-year-old house in Toronto, and learn to navigate the challenges of pandemic-era renovation in an effort to turn their new property into their dream home.
Renovations