The local developer that's planning to turn the site currently houses the beloved College Street bar Sneaky Dee's into a condo has released renderings of the proposed mixed-use building, giving locals and Toronto residents alike a better idea of what could soon become of their favourite local watering hole.
According to the recently-released official plan and zoning amendment application documents, Quadrangle Architects Ltd. has designed a 13-storey, mixed-use building at 419-431 College Street which would house 169 residential units.
---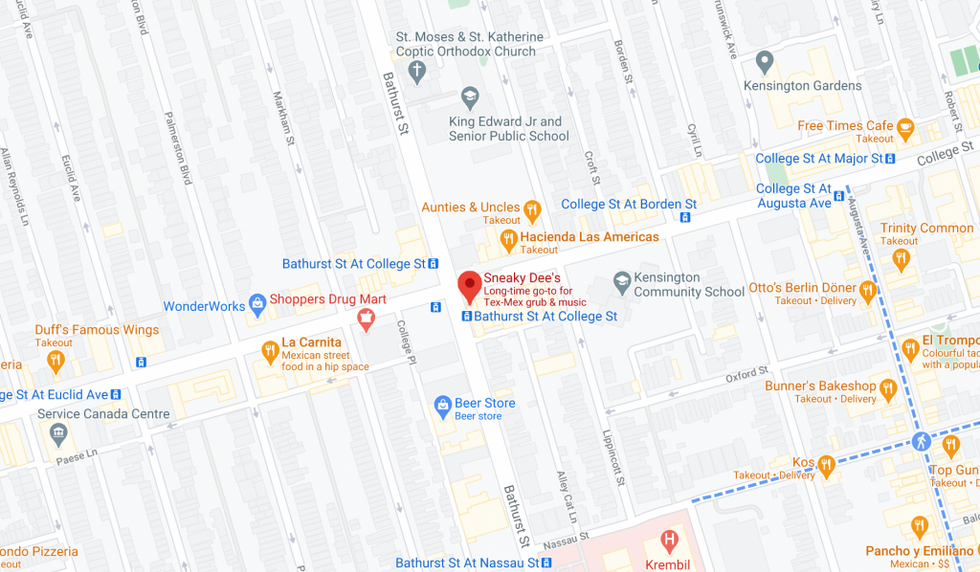 Proposed development location
READ: Sneaky Dee's Could Be Replaced By 13-Storey Condo Development
The planning rationale, which was prepared by Goldberg Group, says the developer, Ironwood Bay, plans to demolish the existing buildings on the lot at the intersection of Bathurst and College streets and incorporate retail and commercial space at-grade for a combination of 140,027 square feet worth of residential and non-residential gross floor area.
The subject site is currently home to five low-rise mixed-use commercial properties along College Street for a total area of 1960.24 square metres.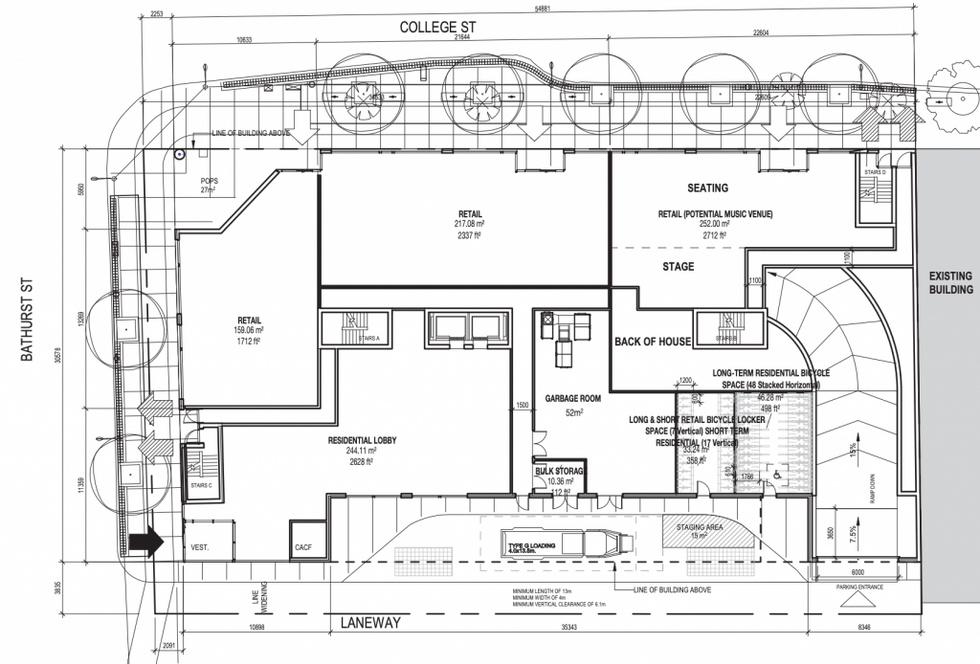 Proposed ground floor
From the submitted architectural drawings of the building's ground floor, you can see retail space, the residential lobby fronting Bathurst Street, and a stage with a seating area in a space labelled as "potential music venue." A total of 7,542 square feet have been proposed for commercial and retail use.
If approved, the development would house 169 condo units, with 102 reserved as one-bedrooms, 44 for two-bedrooms, and 23 for three-bedrooms.
Since the early nineties, Sneaky Dee's has been a popular College Street staple where Torontonians and visitors alike could indulge in cheap late-night eats or check out a local or touring band.
After the initial proposal was submitted to the City earlier this month, some Torontonians took to social media to express their unhappiness about the potential development, and an online petition has since been started calling for it to be rejected.
Toronto city councillor Mike Layton, whose ward encompasses the area, says that we can't lose institutions like these.
This comes not long after the announcement that popular Toronto nightlife institution Crews and Tangos could also (eventually) be replaced with a condo tower, though the bar's facade has already been guaranteed to be included.
Future Developments