It could soon be the end of an era for a landmark Tex Mex restaurant, bar, and live music venue on Toronto's bustling College Street strip. That is, of course, if a proposal to build a mixed-use building at the site where Sneaky Dee's currently sits is approved by council.
---
Since the early nineties, Sneaky Dee's has been a popular College Street staple where Torontonians and visitors alike could indulge in cheap late-night eats or check out a local or touring band.
But the days of Sneaky Dee's could soon be a thing of the past if city planners give the proposal to build a 13-storey mixed-use building with 169 residential units and more than 13,000 square metres of combined residential and non-residential gross floor area for retail or commercial storefronts at ground level the green light.
READ: Crews & Tangos Facade to Be Retained as Part of Proposed 15-Storey Condominium
The name of the prospective developer has not been released at this time.
The proposal covers 419, 421, 423, 429, and 431 College Street, which encompasses much of the block on the southeast corner of Bathurst and College.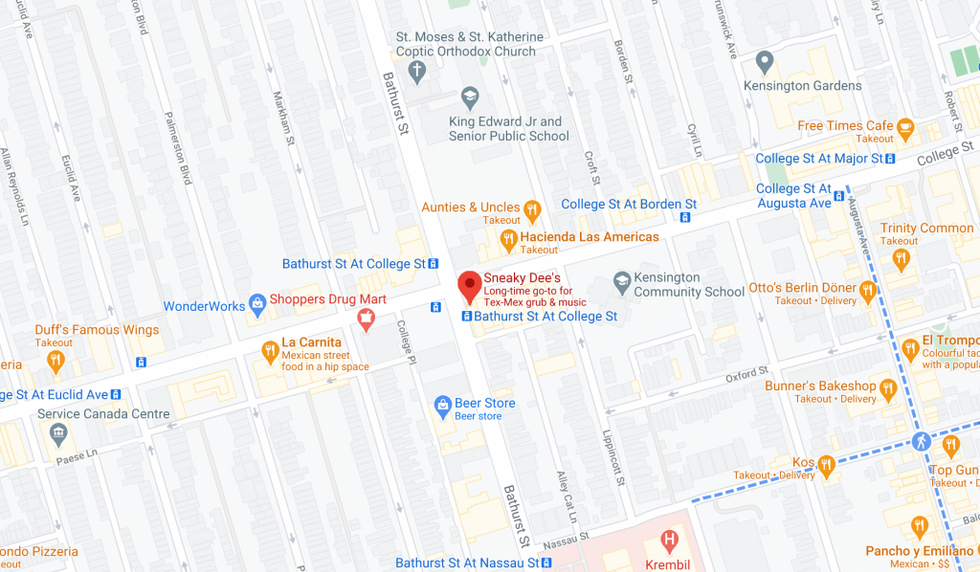 Sneaky Dee's
After the proposal was submitted to the City last Friday, some Torontonians took to social media to express their unhappiness about the potential development, and an online petition has since been started calling for it to be rejected.
Toronto city councillor Mike Layton, whose ward encompasses the area, says that we can't lose institutions like these.
Councilor Layton also noted that while there hasn't been any major details of the proposal released, he knows the development would include most of the block of buildings in the area, which also fall within the boundaries of the proposed Kensington Market Conservation District plan, which is set to go before city council this fall.
If City Council grants heritage designation to the neighbourhood, it could potentially limit future development plans.
Local resident Lex Corbett started the online petition, which has already received nearly 3,000 signatures.
"This isn't only about Sneaky Dees but the constant invasion by big-time developers into our neighbourhoods. We need to stand up and tell the city exactly what we think of this," reads the petition. "The proposal is new and there is plenty of time to get our voices heard as a community. These kinds of developments raise our rent and push marginalized and low-income people out of the neighbourhood."
This comes not long after the announcement that popular Toronto nightlife institution Crews and Tangos could also (eventually) be replaced with a condo tower, though the bar's facade has already been guaranteed to be included.
Future Developments