While February may feel like it took place years ago, given the daily coronavirus updates the city, province, and country are providing, it was fewer than just four weeks ago. And it was still on fire from a real estate perspective.
According to a new report from the Building Industry and Land Development Association (BILD), February was a record month for new home sales.
---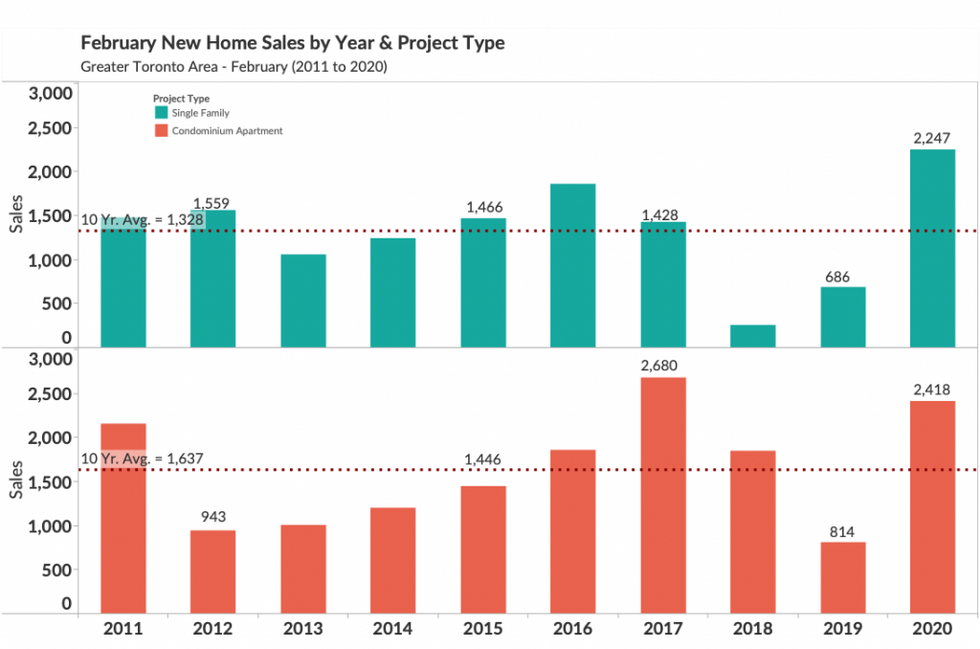 Altus Group
This has provided a staggering set of statistics for new home sales figures in February.
New Home Sales
A total of 4,665 new home sales were made in February 2020.
Fast stats:
211% increase over February 2019
57% above 10-year average
highest number of new homes sold in February since 2002
third highest February in past 40 years
New Single-Family Homes Sold
A total of 2,247 new single-family homes, including detached, linked, and semi-detached houses and townhouses (excluding stacked townhouses) were sold in February 2020.
Fast stats:
228% increase over February 2019
44% above 10-year average
New Condos, Stacked Townhouses and Lofts Sold
A total of 2,418 new condos, including units in low, medium and high-rise buildings, stacked townhouses and loft units were sold in February 2020.
Fast stats:
197% increase over February 2019
48% above 10-year average
Second strongest February in 40 years for new condo sales (after 2017)
Of course, this shouldn't come as a huge surprise. Before the economy came to a jarring halt earlier in March, Toronto's, and the rest of the GTA's, housing market was off to a red-hot start reminiscent of 2017.
Only this week, are we starting to see some course correction take place, and sales starting to slow down.
However, February did set a new benchmark price point for new condo apartments at $961,268, up 21.3% over the last 12 months. The benchmark price for new single-family homes, however, dropped 2.2% over the past 12 months to $1,097,987.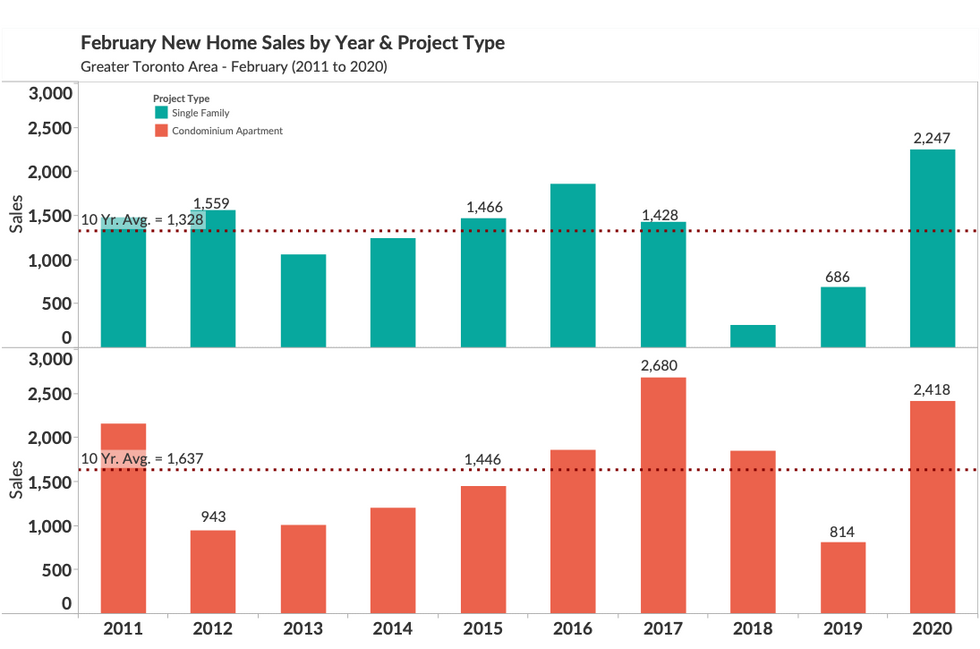 Altus Group
"Following on a month of strong new home sales in February, our industry and our customers are facing a time of challenges and uncertainty due to COVID-19," said David Wilkes, BILD President & CEO.
"We are working diligently to coordinate responses with provincial and municipal authorities, protect workers and customers and ensure that we continue to fulfil our responsibilities to new home buyers. One of those responsibilities is building enough homes to top up depleted inventory and ensure our region's new home supply keeps up with demand."
Earlier this week, the construction industry was named among the essential businesses allowed to remain open during Ontario's current state of emergency.
Cities