---
A new report has found that the global construction industry is losing a shocking amount of time and dollars as of late. 
Global management consultant HKA analyzed data from 1,400 projects in 94 countries for its CRUX Insight 2021 to shed light on claims and disputes in the construction industry around the world. 
Findings reveal that some $73B was tied up in claims and disputes in large construction projects globally in the year leading up to August 2021. 
The report found that the average extension time claimed on projects was 17 months and that the average disputed costs per project were a cool $100M. The report also highlights that the value of claims grew to an average of 46% of a projects' capital value and that costly delays typically prolonged the scheduled construction projects by a staggering 71%. 
In total, HKA reports that the cumulative overruns on all global construction projects reached a staggering 750 years in the period.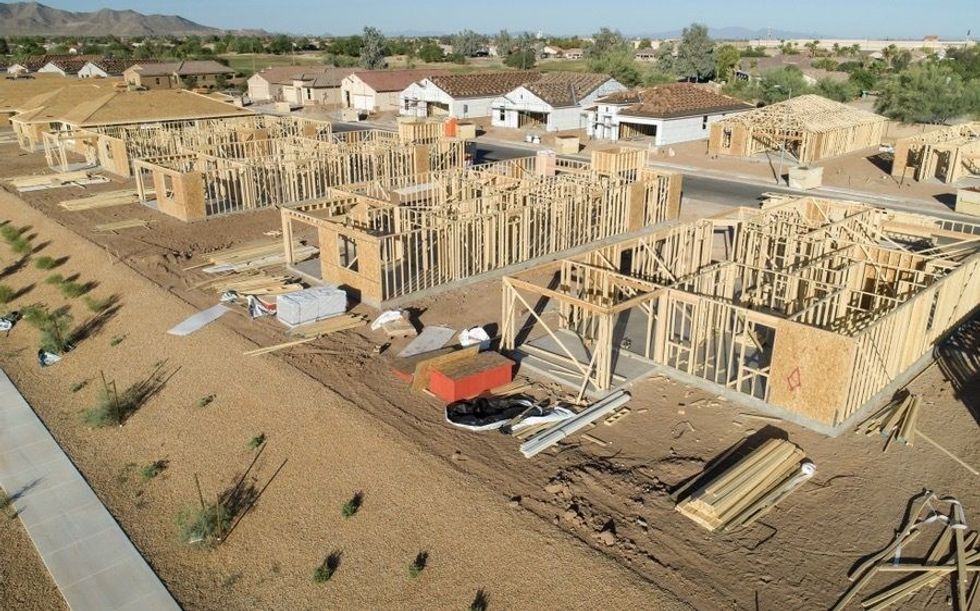 New homes under construction/Shutterstock
READ: Near-Historic Inventory Lows Push New Construction Home Prices to Record High
According to HKA, these findings suggest that conflict is to blame for the poor performance of the world's construction industry. HKA found that the main causes of these costly and time-consuming claims and disputes involved things like changes in scope, design failures, conflicting interpretation of contracts, and mismanagement of subcontractors. 
Naturally, the relentless pandemic hasn't helped; it has wreaked havoc on the construction industry around the world, resulting in shortages of supplies and labour, restricted access to sites, constricted cashflow, and exposure of limitations of contract provisions on force majeure and changes in law, according to HKA.
"Ominously, however, COVID has compounded underlying industry weaknesses, intensifying the risk of claims and disputes as the industry is rebounding and governments across the world press ahead with ambitious infrastructure and development plans," reads the report. 
The company predicts a long legacy of COVID-related claims and disputes. "By August 21 – the CRUX data cut-off – only one in six projects (16%), begun since the pandemic, generated COVID-related claims, though many more are in the pipeline," reads the report.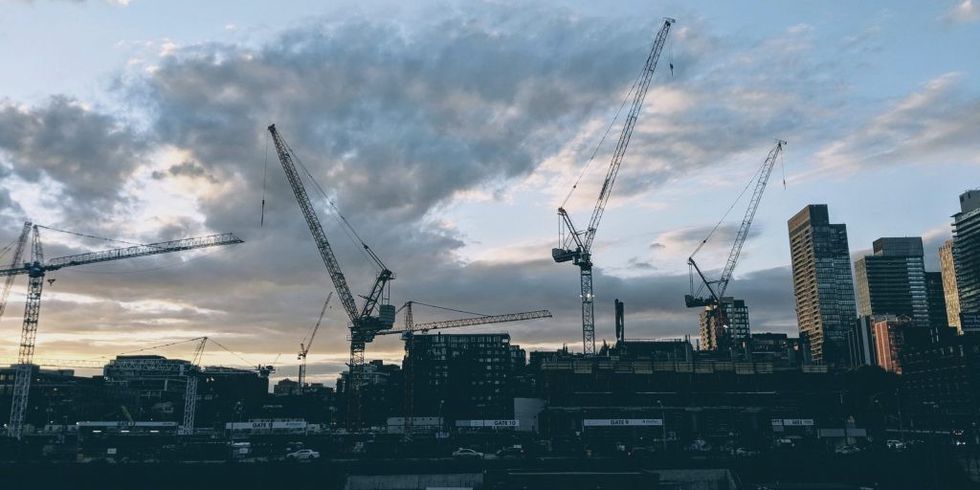 Photo by Omar Flores on Unsplash
Benign effects are revealed in the report too. "Enhanced levels of reporting have helped curb spurious claims and deficient workmanship in some areas. Advanced technologies such as drones and digital modelling gained new advocates. The construction and engineering industry may also learn from other changes in ways of working -- often involving closer collaboration -- to be more agile and productive in future," it reads. 
As it turns out, quality construction workers are difficult to come by in many regions of the world. According to HKA, about 36% of projects were negatively impacted by skills gaps associated with labour deficiencies. 
HKA reports how skills shortages, supply chain disruption, cost inflation, increased market volatility, and the climate crisis are impinging on projects and increasing the potential for conflict in the claims and disputes environment. Whatever the cause, the resonating theme in the global construction industry is one of an unstable and uncertain climate.
"Capital projects are hemorrhaging billions of dollars each year to recurrent, predictable, and often avoidable claims and disputes. CRUX Insight 2021 not only diagnoses these failings and quantifies the impacts, but also identifies corrective actions to stem these losses," says Renny Borhan, HKA Chief Executive Officer. 

"The stakes are rising for all involved in delivering capital projects as global pressures increase in parallel with construction activity. Individually and collectively, project stakeholders and the industry can learn lessons from CRUX Insight to operate more effectively amid this heightened uncertainty and deliver better project outcomes. I encourage them to make good use of our analysis and insight along with the CRUX Interactive Dashboard."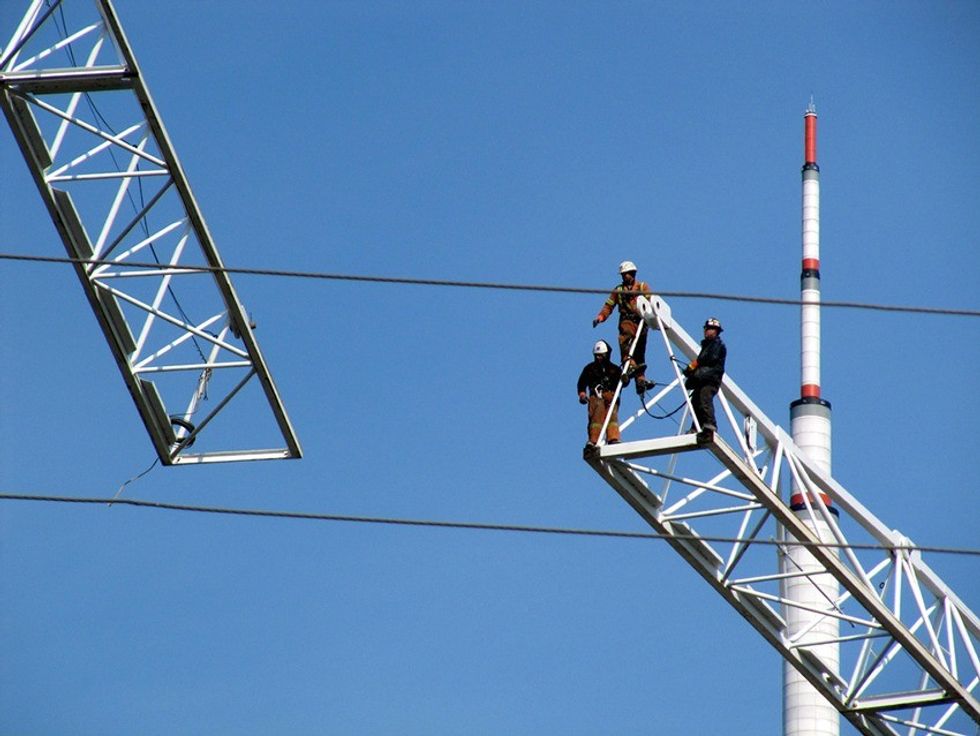 So, how does Canada compare to the rest of the world? 
According to HKA, the perpetual push to design in Canada and the rest of the Americas is having unintended consequences. "A more proactive approach to risk assessment and allocation, with checks on design progress and constructability and designer price adjustments, can limit scope creep and design clashes," says HKA of the struggle in the country. 
While the pandemic has disrupted construction projects and employment to varying degrees across North America, HKA acknowledges that both Canada and the US have embarked on a strong recovery. 
"Yet, COVID-19 -- echoing its societal and public health impacts -- has exposed and amplified many of the underlying weaknesses of the construction and engineering industry, while also accelerating change, some of it positive," reads the report. 
Access to sites and unforeseen physical conditions are triggering large numbers of claims or disputes in Canada and Latin America, but less so in the US, according to the report. 

"The risk of unforeseen ground conditions is invariably borne by contractors under the types of contracts used in Canada," reads the report. "However, they do not carry out geotechnical investigations and soil testing before submitting bids, and when appointed, therefore, have not accounted for any issues with ground conditions. Contractors do not want to spend the money upfront unless they are certain they will be awarded the work."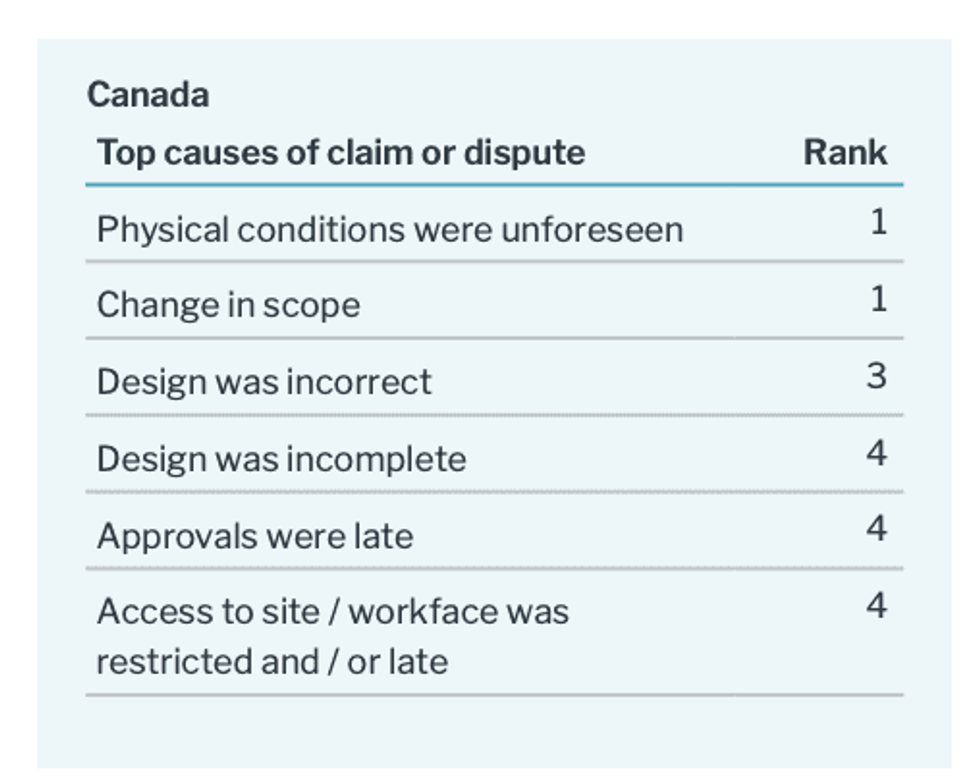 Furthermore, design issues are among the main drivers of claims or disputes across both the US and Canada. 
"Construction management -- namely, cost, schedule and efficiency tracking -- has improved greatly in the last few decades. However, managing and tracking design has not," reads the report. "This failure has become increasingly apparent during the pandemic, exacerbated by designers working from home." 
A succession of cases handled by HKA Canada since March 2020 has hinged on alleged or actual design deficiencies, says HKA. "Defending or challenging these claims is difficult as the information is not being captured," reads the report. "We expect to see an overhaul of design management (akin to the progress in construction management) in the coming years."
Despite the challenges, the pandemic-inspired construction boom continues in Canada, as the country's demand for home upgrades and shiny new condos faces supply chain issues and volatile market costs.
Real Estate News