---
After more than a year and a half of pandemic-induced construction shutdowns and social distancing mandates, 2021 has proven to be a year of recovery in Canada.
And, thanks to low-interest rates, pent-up savings, the desire for more space, and the shift in consumer consumption, Canada -- like many other countries -- is undergoing a construction boom, which has led to historic building activity.
In fact, after a drop during the early months of the pandemic, the value of new building permits has roared back to life, hitting a peak of over $11 billion in Q2-2021, fuelled by activity in residential, industrial, and office construction, according to Jones Lang LaSalle's (JLL)Q4-2021 Canadian Construction Outlook report.
According to the report, residential construction is booming for all housing types. Even the rental apartment sector has experienced "significant" new supply to accommodate growing urban populations. Altogether, housing starts across Canada have "never been higher."
READ: Absence of Technology Highlights Construction Industry's Inefficiencies
However, the rise in construction activity has created a spike in demand for building materials at a time when global supply chains are already struggling to keep up.
The report said that many suppliers remain impacted by the Delta Variant, especially in countries where the vaccination has yet to reach critical mass.
Though, regardless of the pandemic, JLL says given that supply chains are so globally-connected, disruptions in one region of the world have major consequences in another.
"For example, shipping containers are taking 73 days as opposed to 20-30 days pre-pandemic to complete a journey across the Pacific Ocean, spending much of this time waiting in line to dock at the port," reads the report. As a result, the average cost of a 40-ton container from China/East Asia to the west coast of North America has increased from $4,500 a year ago to over $21,000 -- resulting in cost spikes for builders across all sectors.
According to StatCan's Canadian Construction Cost Index, overall project costs have increased by 8.3% for non-residential construction and a staggering 20.3% for residential construction from Q3-2020 to Q3-2021.
"Contractors are increasingly stretched between many projects and relying on a less experienced workforce," said the report. "As these costs are typically passed down to the end user, they contribute to rental escalation that is becoming a growing issue for households and companies."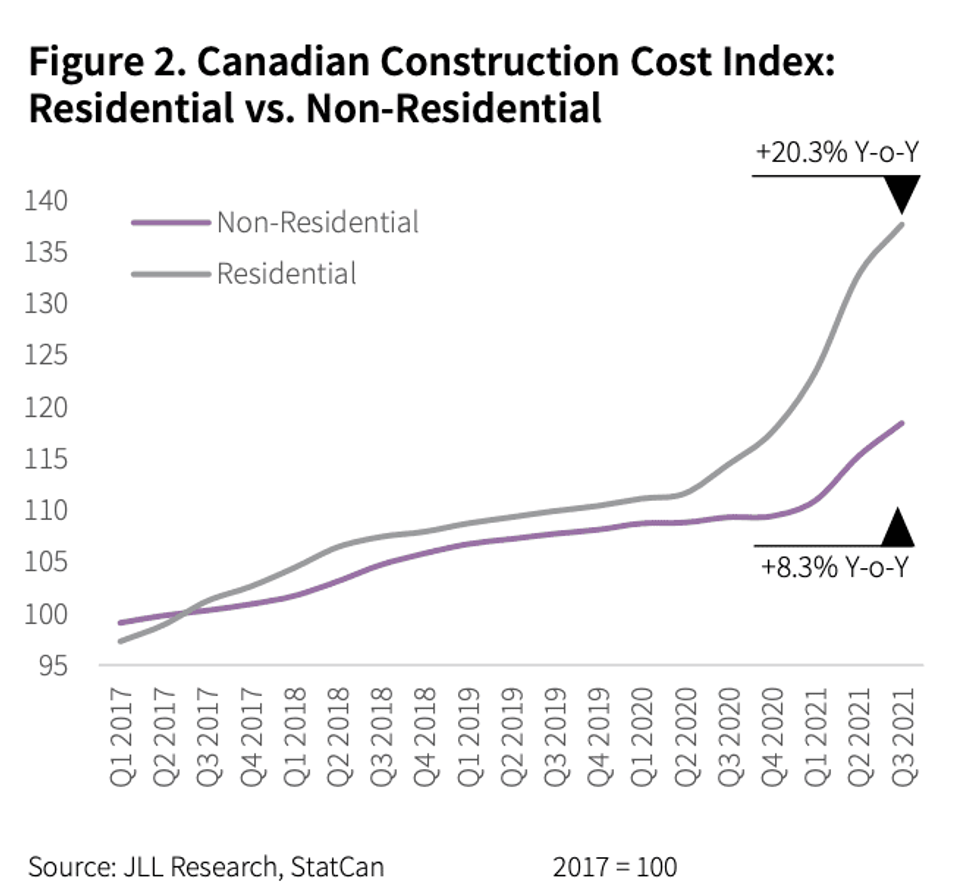 Construction Outlook Q4-2021/JLL
Subsequently, the construction industry continues to struggle with supply chain difficulties and volatile material costs at an unprecedented level. According to JLL, costs for materials have never risen across so many different areas so sharply at once before.
With material costs and labour inputs rising, it has added a significant cost premium for builders, with some estimating there's been between 20-40% in additional price escalations on similar projects that may have started five years ago.
Unsurprisingly, Canadian cities with the greatest demand pressures in residential and industrial sectors are currently seeing the most pressure for construction materials. Ottawa, Montreal, and Toronto have seen their three-year change in average costs grow the greatest, climbing by 22.2%, 18.5%, and 18.4%, respectively.
However, Vancouver has been able to save on costs thanks to its mining and forestry industries, which is why the western city has only seen its three-year average for construction costs increase by 9.2%.
With winter on the horizon, JLL believes that construction prices will "somewhat" moderate as the industry enters its cyclical down period. The winter is also expected to deliver rising energy costs as many gas and oil wells that were shut down during the pandemic remain offline.
While these expenses may be lamented by builders, JLL noted that these rising costs have produced "economic tailwinds" as Canada is a major exporter of lumber, copper, oil and gas, and hydroelectric power.
"This has created multiplier effects to local economies and has boosted the value of the Canadian Dollar and our purchasing power of imported goods," reads the report.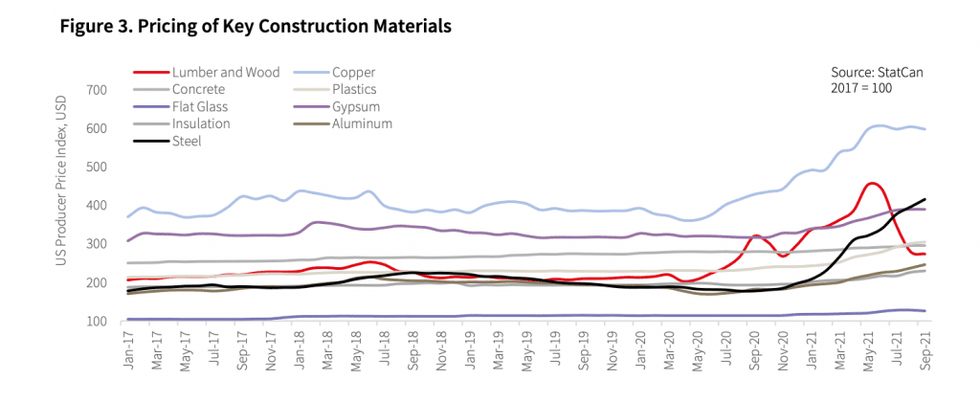 Construction Outlook Q4-2021/JLL
While there are still a few weeks left to go in Q4-2021, JLL says that out of nine major types of construction materials, three are among the highest volatility sectors in Canada's construction industry, including steel, lumber, and copper.
According to JLL, demand for global scrap metal and automobiles has pushed the price of steel close to $2,000 per ton -- about triple its value compared to early 2020. By mid-2021, lumber prices soared to $1,600 USD per thousand board feet before "falling back to reality" in September, while copper costs have reached record highs and are nearly 40% higher compared to a year ago.
There are also three medium volatility sectors, aluminum, gypsum, and plastics, while insulation, flat glass, and concrete remain low risk.
Available labour also remains a challenge in the construction industry. In Q3-2021, StatsCan reported that Canada's construction industry had a 5.8% vacancy rate, one of the highest rates among the economic sectors and well above the 4.6% job vacancy rate for Canada as a whole.
Luckily, JLL says there is reason to believe relief for supply chains is coming over the next year. "Much of the volatility we are seeing is a consequence of supply chain operators transitioning from a low demand context to a high demand context in a short period of time as consumers binge on goods and services after a year of lockdown measures," reads the report.
By 2022 it's expected that delays to supply chains will largely stabilize, thankfully resulting in more normal price variations, which will be a welcomed relief for the construction industry.
Real Estate News