---

As national housing market activity continues to weaken, condo market share is picking up.
This is according to the 2022 Canadian Condominium Report by RE/MAX Canada, which examined six major markets across the country, including Greater Toronto, Greater Vancouver/Fraser Valley, Calgary, Edmonton, Ottawa, and Nova Scotia.
The report showed that condominium market shares, as a proportion of total sales, were up in five of those markets. Most notably, condo sales in Greater Vancouver have climbed to 54.3% of total sales (up from 48.2% in 2021), to 36.3% in the Greater Toronto Area (up from 34.5% in 2021), and to 31.9% in the Fraser Valley (compared to 25.3% in 2021).
Edmonton, Ottawa, and Calgary have also seen increased condo market shares between this year and last, and Nova Scotia is the only market to see a year-to-date decline. At the same time, condo sales are actually down from last year in the major of markets examined, including Greater Vancouver/Fraser Valley, Greater Toronto, Ottawa, and Nova  Scotia.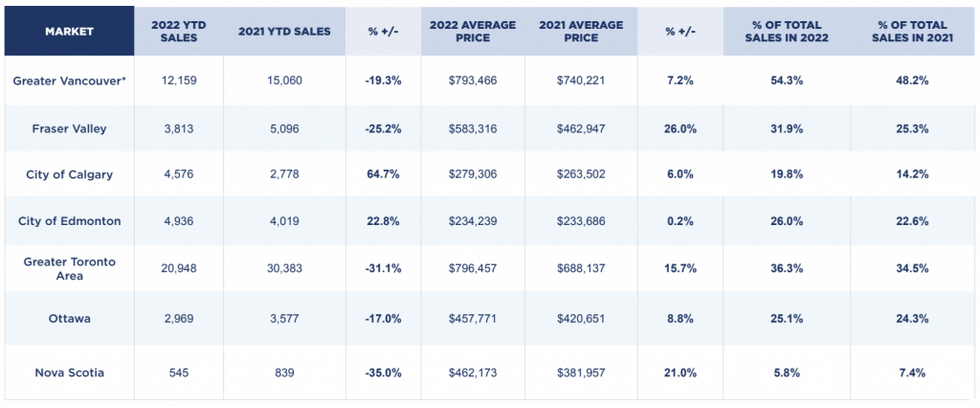 Both sets of data point to a lack of affordability that looms over housing in Canada. This is also reflected in the fact that "the lion's share of condominium activity is occurring at lower price points," according to the report.
"Rising interest rates have slowly eroded purchasing power and, despite lower housing values and cooling market conditions, buying a house is more challenging now than ever before," says Christopher Alexander, President of RE/MAX Canada. "For those who have adjusted expectations with every rate hike, the cost of carrying a mortgage versus renting is now more comparable, given sharp double-digit increases in rental rates throughout the major markets, but especially in BC and Ontario. So, while fewer sales have occurred in 2022, condominiums represented a greater proportion of overall sales, as buyers gravitated to affordable options to achieve home ownership."
It's also important to note that 2021 was a record year for housing sales, and activity in 2022 was never anticipated to measure up. With that in mind, RE/MAX urges buyers not to panic.
"Buyers should be cautioned that the current slowdown in sales activity is likely not indicative of a crash," says Elton Ash, Executive Vice President of RE/MAX Canada. "Prices for condominium product have remained stable or risen in most major urban centres year-to-date. Conditions are balanced overall and, as such, buyers and sellers with realistic expectations should be able to achieve reasonable objectives."
As the market balances out, the report states that right now is "a rare window of opportunity for those ready and able to make their moves -- from first-time buyers gaining a foothold in the market to move-up buyers and empty-nesters."
Condo Sales are Down, but Valuations are Up in the Greater Toronto Area
While home buying activity is around 30% less than last year's levels in the Greater Toronto Area, close to 21,000 condominium apartments and townhomes were sold in the first eight months of this year, with the most sales recorded within the 416/905 districts (with some exceptions).
In addition, condo values are trending upwards, from $688,137 one year ago to $796,457 currently. RE/MAX's report attributes price stability in the downtown core as a "key factor in keeping values on even keel."
On the condo rental side, activity is strong. This is largely due to the fact that condo sales listings were terminated at an unprecedented amount earlier this year, and many condo owners opted to rent out those properties instead. This reality has also helped to reduce condo inventory and keep valuations more or less stable in the GTA's market and particularly in the sought-after Bay Street Corridor, Waterfront Communities, and the Annex/Yorkville areas. 
Meanwhile, investors are re-entering the GTA's condo market. RE/MAX reports that investors are interested in the $1M to $2M price-point in the downtown core and are prepared to move quickly with all-cash offers. With that said, it's condos in the $500,000 to $700,000 price range that are seeing the most traction in the GTA -- again, indicating a shift towards affordable housing products.
Although the GTA's housing market is certainly in a period of turbulence, RE/MAX forecasts that the region's condo market will hold steady in the face of "favourable population growth forecasts and limited inventory available for sale and lease."
Sales are Down, but Less Dramatically, in Greater Vancouver and the Fraser Valley
In Greater Vancouver, the condominium market has held up strong this year compared to last. For example, sales in Coquitlam, Vancouver West, and Surrey North were just 12.8%, 12.4%, and 11.7% below last year's numbers.
In the Fraser Valley, sales were down more dramatically, falling 25.2% this year compared to last. RE/MAX chalks this up to a decline in demand in Fraser Valley markets following the pandemic.
While rising interest rates have certainly softened home buying activity in Greater Vancouver -- around 12,000 strata apartments changed hands during the first eight months of this year, down from 15,060 in the same period of 2021 -- condo values are on the rise, although they are on a more moderate trajectory than in the GTA. Values have climbed from $740,221 a year ago to $793,466 currently.
The report goes on to say that "affordability remains a challenge in Greater Vancouver and the Fraser Valley, but moderating residential values may take some of the sting out of higher mortgage rates. While the Bank of Canada is committed to bringing  inflation to its knees, consumer uncertainty is expected to be a factor in the market until the Bank's  objective is achieved, markets stabilize and rates start to decline."
And despite the declines in year-over-year sales, demand in the national condo market is expected to dial back up.
"The factors at play that have served to moderate demand are temporary variables. All boats rise and fall with the tide," says Alexander. "Condominium sales activity is expected to rebound in 2023 and 2024 as interest rates begin to stabilize or decline. As demand for condos ramps up again, inventory will contract, and price growth will likely regain a stronger upward trajectory. The  impact of the slowdown in new condominium construction starts combined with an inadequate supply  of purpose-rentals against a backdrop of intensified population growth may exacerbate inventory levels  of existing product."
Condos