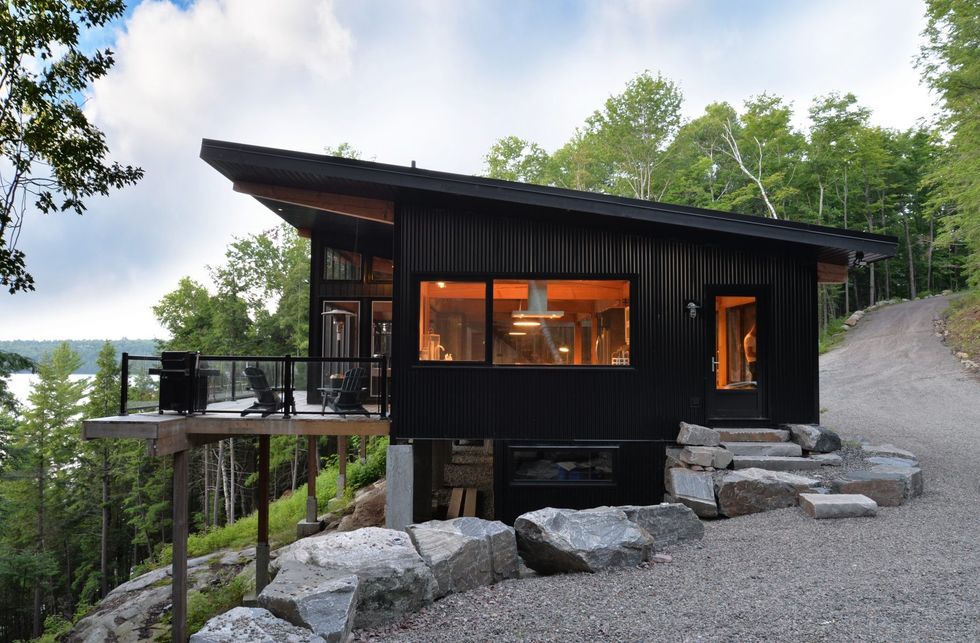 A wonder wedge – the precision of this modern structure serves as a foil to the natural landscape. (Photo courtesy of Stamp Architecture)
As hosts of Cottage Life docu-series 'Great Canadian Cottages,' Colin and Justin throw open the doors to a veritable wonderland of vacation magic …
---
Navigating this country's rich landscape, whilst shooting our new show, we espied cottages in all shapes and sizes. From gravity-defying architectural gems to petite rustic fantasies fashioned from straw bales (yup, straw bales) we swooned at every turn.
Aye, across a demanding — but nonetheless fascinating — location schedule (cue 24 utterly unique respites), we encountered singularity in every retreat. But as much as they're all different — they share one thing in common: each represents an ambitious dream realised.
Square, boxy lines and expanses of glass proffer a metropolitan look. (Photo courtesy of Simon Payn Condo Cottage)
One of the biggest dreams realised, perhaps, is that of marketing exec Simon Payn, who, whilst a committed city boy, also aspired to own a home in the woods. Albeit one with, ahem, seriously urban predilections.
During the planning stage, he explains, certain onlookers considered the project unachievable, but in reality, it transpires, it was relatively straightforward.
His best advice?
Hire a good contractor, develop strong relations with the local planning department and never lose sight of your original vision.
And so it came to pass he and partner Bram submitted plans for a respite that, realised, feels — for all the world — like a condo model suite. Indeed its grey, brown and black aesthetic, accented with warm wood tones and restrained splashes of colour (via accessories and textiles) wouldn't look out of place in a city tower or a new housing development in any of Toronto's enclaves.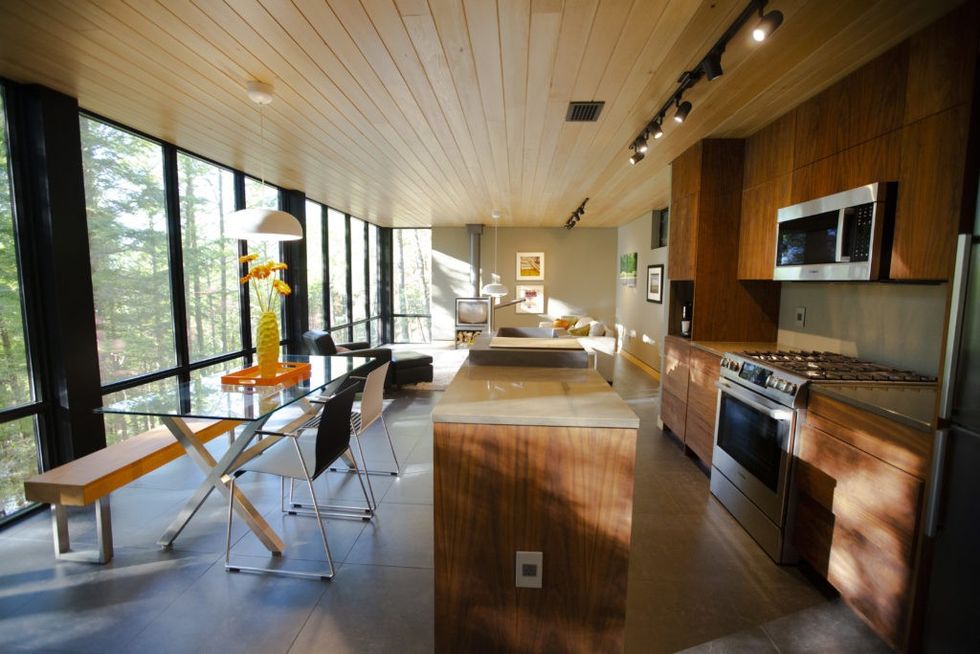 Just like a model suite, albeit perched in the forest. (Photo courtesy of Simon Payn Condo Cottage)
Sitting, as the compact home does, on a remote spot overlooking Drag Lake — Haliburton's most revered body of water — it's an exactingly manicured proposition.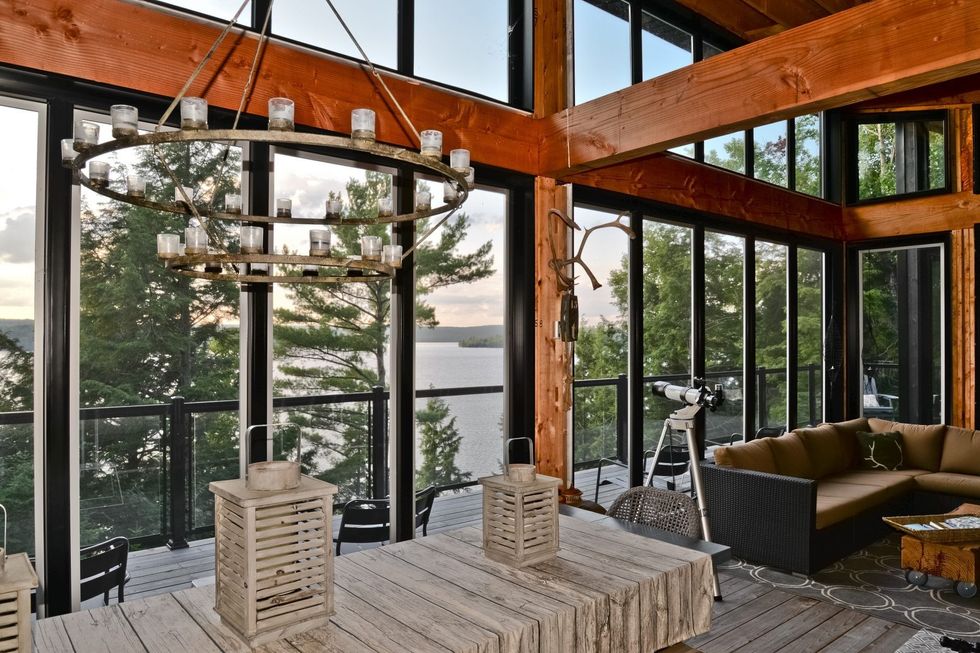 As managing director of Euro Vinyl Windows, it's little wonder Chris Meiorin's fenestration so perfectly frames the stunning vistas towards Drag Lake.
Essentially a rectilinear box, with a shallow Scandi-style roof trajectory, the ebony and cream sided structure boasts acres of jet-toned fenestration yet, for all its modernity, somehow blends into the verdant landscape by which it's surrounded.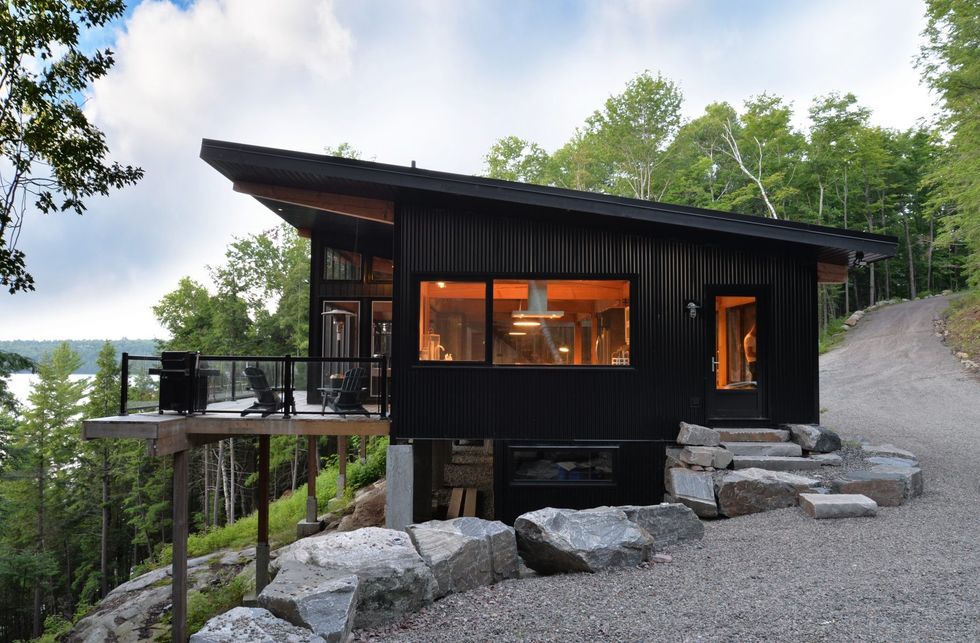 A wonder wedge – the precision of this modern structure serves as a foil to the natural landscape. (Photo courtesy of Stamp Architecture)
Further down the same lake is Blackbirch, another modernist vision which stars on Great Canadian Cottages. Discreetly nestled within the remote county's forestation, it's a commanding affair with black steel cladding and expansive use of glass.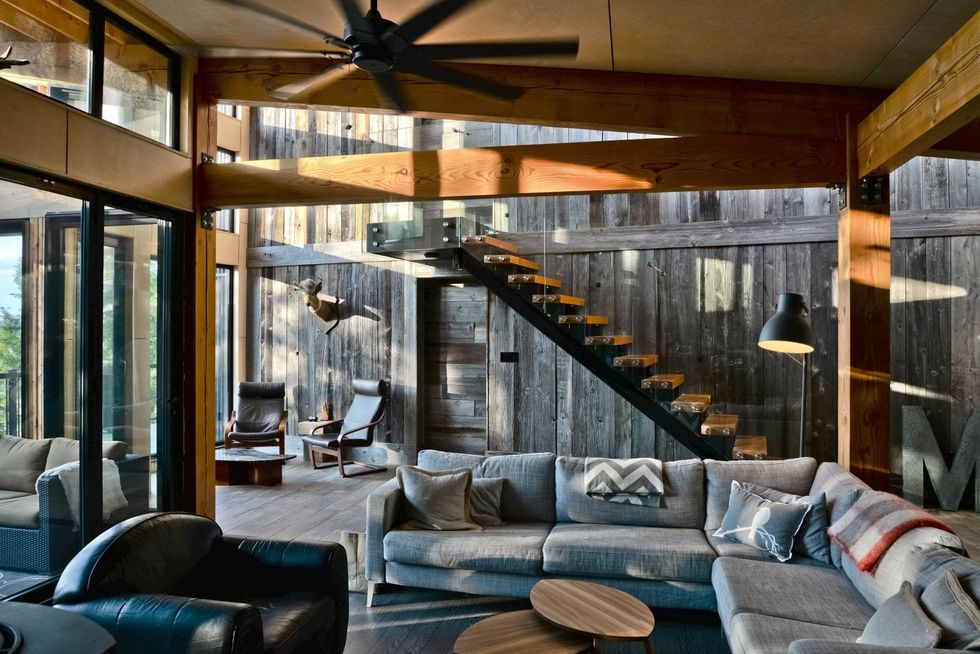 This modern cabin features a "forest" of timber genus, all of which work together beautifully. (Photo courtesy of Stamp Architecture)
Envisioned by owners Chris and Susan Meiorin, and designed in association with Brad Netkin of Toronto's STAMP Architecture, the 2,400-square-foot reserve is the perfect escape from the couple's buzzing Toronto life.
On the main floor, there's a spacious kitchen, a living zone, a dining area and an ancillary screened outdoor eating space. To one side, a towering wall of grey barn board delineates the shared living area from sleeping quarters (and washrooms) which are arranged across the principal and top floors.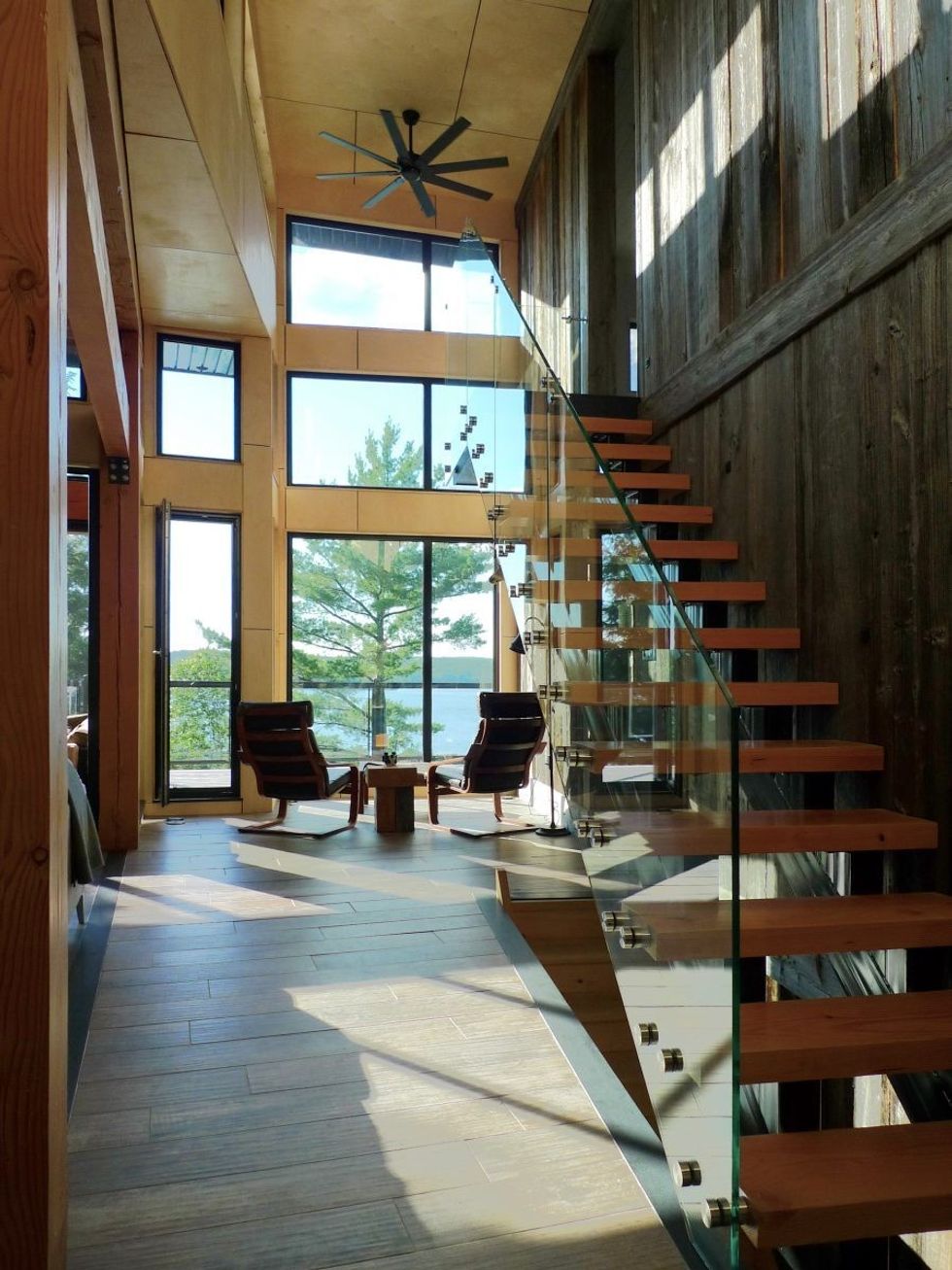 Stairway to heaven – a modern glass-fronted staircase sits invisibly against a heritage barn wood wall. (Photo courtesy of Stamp Architecture)
Monolithic plains of crystal clear glass, outlined by powder coated black frames, feature prominently (little wonder: Chris presides over revered fenestration manufacturer Euro Vinyl Windows) with tilt action units set into every elevation to embrace — or baffle — the climatic vagaries of an area where the barometric shift is, to say the least, challenging.
Next up is 'The Coo Shed," a barn-like structure, whose moniker nods in whimsical deference to the architecture of its creator's home country.
Style by the yard – a modern interpretation of a Scottish Long House built by Scott Young. (Photo courtesy of Sandy Mackay)
Centuries past, we learn, in Scotland's hinterland, farm animals and humans often lived under one roof, sheep and cattle at one side, family to the other. And it was from this "longhouse" vernacular that Scottish-born builder Scott Young drew inspiration for the remarkable home he shares with wife Lynn.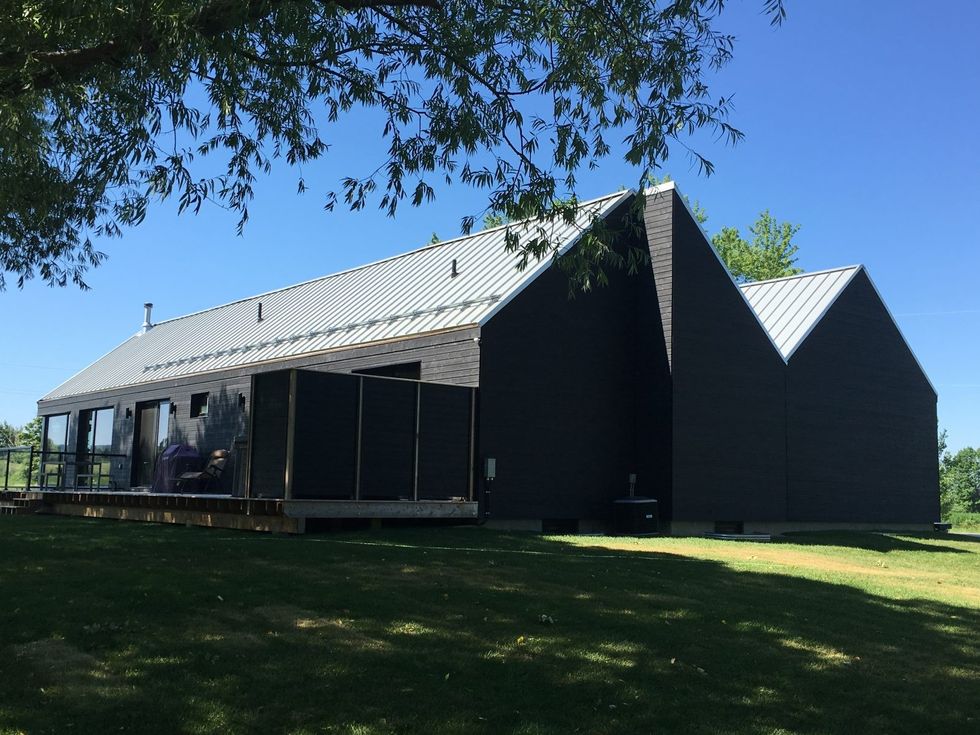 Peaked to perfection – the dark mysterious exterior contains a bright and friendly family home. (Photo courtesy of Sandy Mackay)
Internally, the black wood sided, silver steel roofed domicile affords a distinctly colourful world, but its exterior is where the magic happens.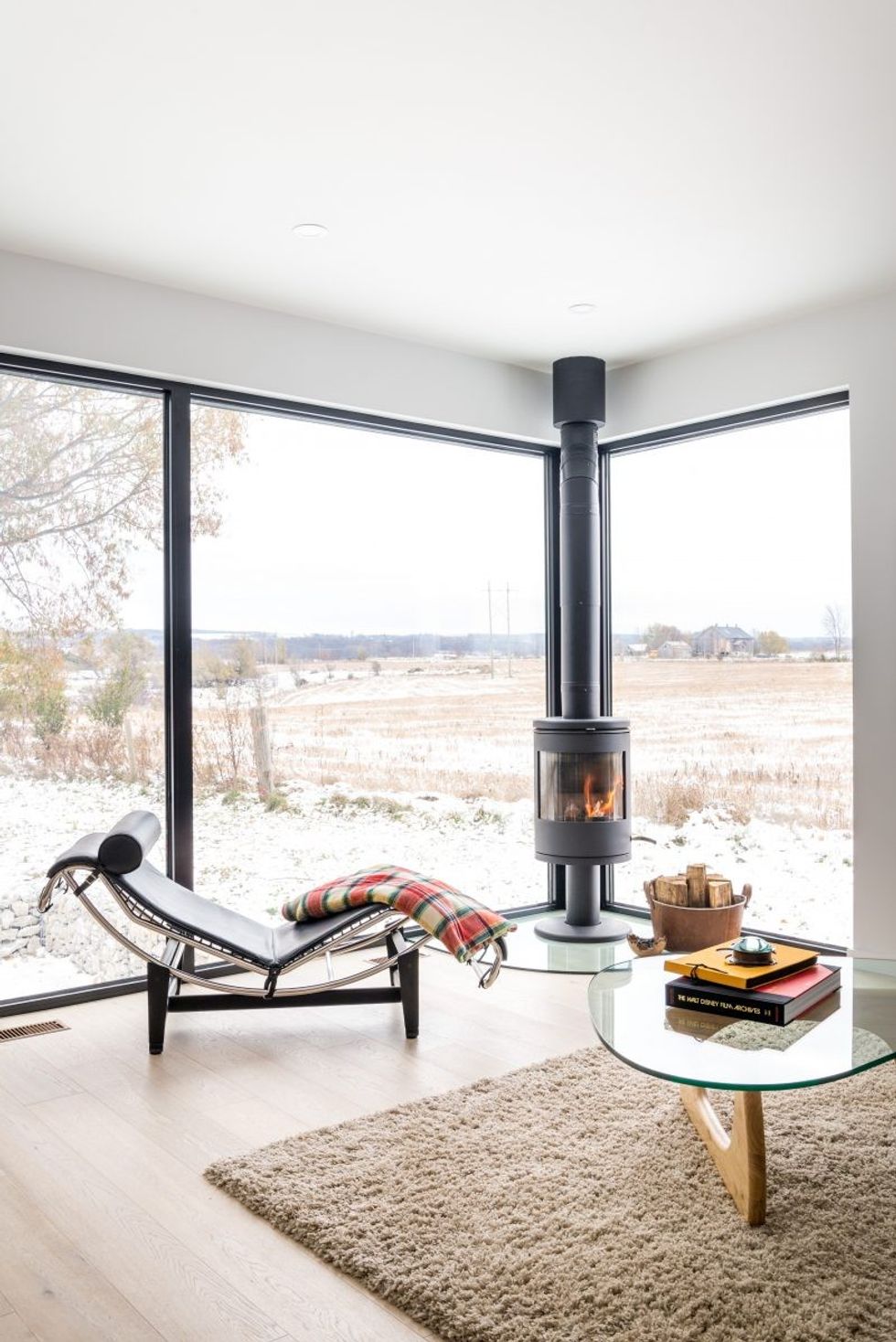 Northern exposure – this corner elevation offers an unbroken view over local farmland. (Photo courtesy of Sandy Mackay)
It's so dramatic, in fact, it's already the stuff of folklore: an average day sees curious onlookers snapping selfies and asking questions, none of which, Scott proclaims, are a problem.
"In such contrast to neighbouring homes," he purrs, in a rich Scottish brogue, "this place was always destined to be of interest, so we're happy to inform."
And you can expect SO much more as our exciting new series protracts.
The great white north – acres of Corian create a room with operating theatre precision. (Photo courtesy of Larry Williams)
There's a home built within the walls of an abandoned cooperage. A minimalistic glass box set at the side of Stony Lake. An eco-lodge in Georgian Bay. The Opinicon resort (near Ottawa) whose decidedly rustic, old-school interiors would give Dirty Dancing a run for its money. And, one of our favourites, a wildly ambitious home built by a 6/49 Lottery winner literally around her original 10' x 12' log cabin.
Seriously: we can't even.
If you're looking for escapism, superlative design and stunning landscape, don't be shy: pull up a chair, pour a glass of wine and join us, each Thursday, on Cottage Life. It's a journey of discovery, to say the very least …
Great Canadian Cottages airs from Thursday, October 18th on Cottage Life. For details, visit www.cottagelife.com. 
Style + Décor