The impact of high interest rates hasn't weighed as heavily on apartment construction, leading to an unexpected uptick in Canadian housing starts in September.
According to the latest data from the Canada Mortgage and Housing Corporation, the monthly seasonally adjusted annual rate (SAAR) of housing starts rose to 270,466 units in September, an 8% increase from August.
---
Total urban starts increased by 9% on a monthly basis to 250,766 units. The growth was driven by multi-unit urban starts, which jumped 10% to 207,689 units, while single-detached urban starts edged up 3% to 43,077 units in September. The monthly estimate of rural starts was 19,700 units, on par with August's figure.
After minimal movement in August, the six-month trend in housing starts increased 3.9% to 254,006 units in September, the largest jump since the trend began moving upwards in June.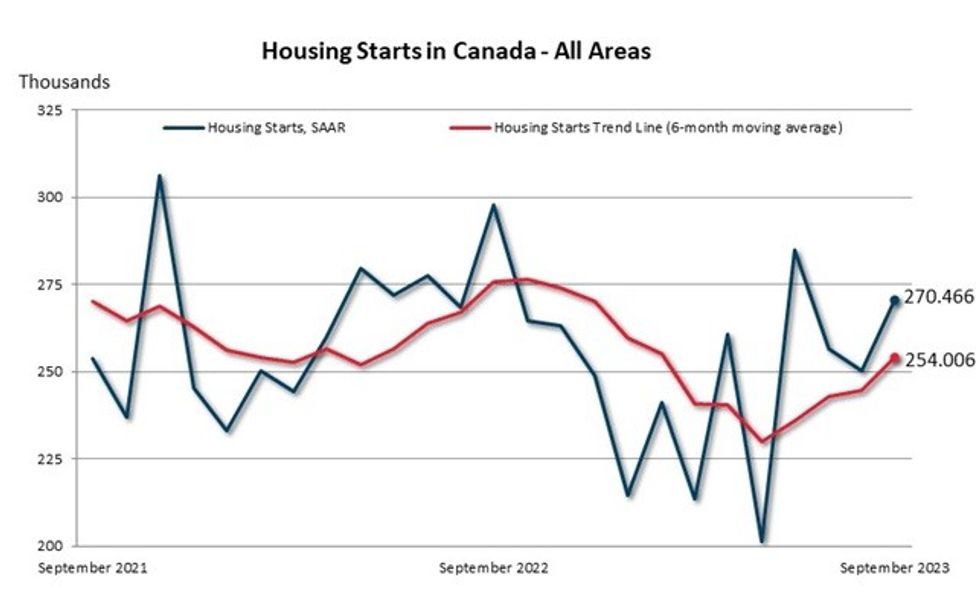 Canada Mortgage and Housing Corporation
Regionally, much of the activity took place in Nova Scotia, where the total SAAR of housing starts soared 205% from August to September. Ontario experienced a 24% increase, while Alberta registered a 22% jump in housing starts in September.
Meanwhile, total housing starts dropped 75% in Prince Edward Island, 48% in Saskatchewan, and 19% in British Columbia on a monthly basis as the summer came to an end.
The trend played out on a local level, with total housing starts falling 64% in Saskatoon, 68% in Victoria, and 17% in Vancouver. Sizeable increases in multi-unit starts drove growth in Halifax (355%), Kitchener-Waterloo-Cambridge (191%), Toronto (20%), and Calgary (61%). Although total starts only rose 4% in Quebec, Montreal registered at 98% increase.
"Multi-unit starts activity has persisted and maintained similar levels to 2022 despite the higher interest rate environment. This has helped offset double-digit declines in single-detached starts in all provinces," said Bob Dugan, CMHC's Chief Economist.
"In fact, September was the second highest month this year for multi-unit starts. It seems the current higher interest rate environment has not yet had the expected negative impact on multi-unit construction activity so far in 2023."
With multiple municipalities changing zoning laws to permit greater density and the federal government removing GST on new purpose-built rentals, construction levels should be supported moving forward, said Rishi Sondhi, Economist at TD.
However, Sondhi notes that starts are still expected to cool through 2024, as past declines in home sales, as seen in the latter half of 2022, filter through in to homebuilding.
Affordable Housing