---
Housing starts shot up across Canada in June, leading to the largest monthly increase in a decade. However, the burst is expected to be short lived as high interest rates continue to weigh on the economy.
According to the latest data from the Canada Mortgage Housing Corporation (CMHC), the seasonally adjusted annual rate (SAAR) of housing starts jumped to 281,373 units in June, a 41% increase from May, which marks the largest monthly SAAR change in the last 10 years.
The increase was mainly driven by a rise in multi-unit starts, the CMHC noted, which accounted for 82% of total starts in June.
Total urban starts increased 46% month-over-month to 262,815 units. Multi-unit urban starts led the growth, rising 59% to 219,914 units, while single-detached urban starts jumped 3% to 42,901 units in June. The monthly estimate of rural starts was 18,558 units, a 5.5% drop from May.
Much of the activity was concentrated in the Vancouver and Toronto Census Metropolitan Areas (CMAs) -- together, the two cities accounted for 47% of total housing starts in Canada's urban centres in June.
On a monthly basis, total SAAR housing starts were up 71% in Vancouver and increased 100% in Toronto, with both cities recording increases in single-detached and multi-unit starts.
The most significant monthly increases, though, were seen in Halifax (447%), Gatineau (342%), and Trois-Rivières (330%). Meanwhile, several cities experienced a dip in housing starts in June -- the largest of which were reported in Peterborough (81%), Greater Sudbury (79%), and Saint John (78%).
Although half of the cities to post monthly declines were in Ontario, the province still managed to see a 75% jump in total housing starts in June. Alongside Vancouver, sizeable gains in Victoria (264%) and Kelowna (139%) propelled British Columbia to a 64% monthly increase in housing starts.
Saskatchewan posted the largest monthly increase on a provincial level, at 215%, followed by Nova Scotia, at 178%. Only Alberta and Manitoba experienced a monthly decline, with housing starts dropping 28% and 1%, respectively in June.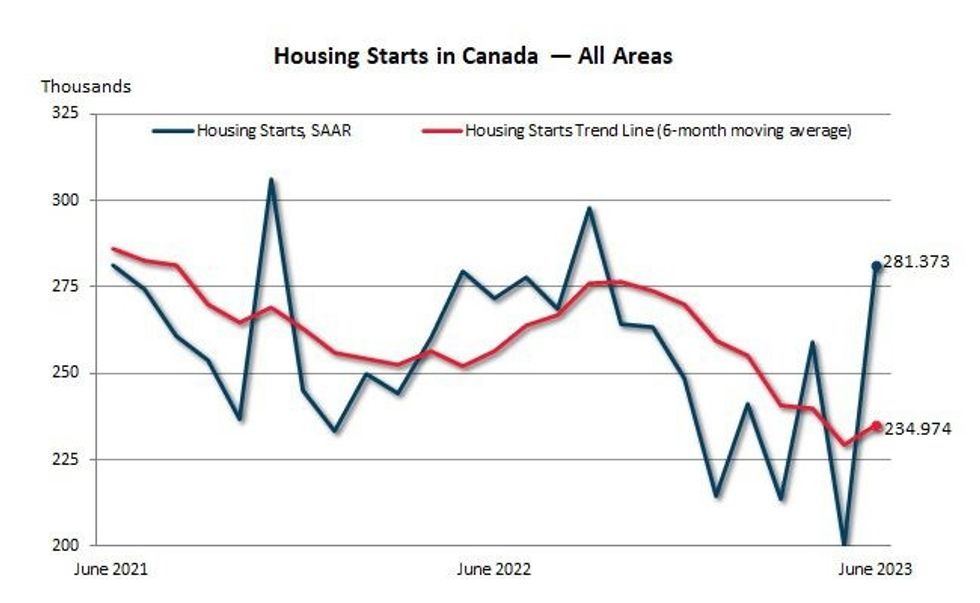 Canada Mortgage and Housing Corporation
The total monthly increase in housing starts recorded in June was significant enough to reverse, albeit slightly, the declining trend that has been observed since November. Canada's six-month trend in housing starts rose to 234,974 units in June, a 2.4% increase from May.
As TD Economist Marc Ercolao pointed out, though, one month is not enough to turn around the "long-running downward trend in the sector." The decline is due to falling home sales in 2022, which are now affecting construction activity, as well as a dip in permit issuance, which has fallen to 2019 levels.
Although "large pops" seen in April and June led to a 10% increase in total housing starts from Q1 2023 to Q2 2023, the total year-to-date housing starts for the first half the year were 8% lower than they were over the same period in 2022.
Bob Dugan, CMHC's Chief Economist, attributed the annual change to the high interest rate environment, which "continues to challenge housing starts through increasing borrowing costs."
For his part, Ercolao noted that the quarterly growth in housing starts alongside a recent rise in home sales will likely generate a "positive second quarter growth print for residential investment."
"However, this burst should be short-lived," Ercolao said. "And, as high interest rates continue to work through the economy, homebuilding will be a drag on residential investment in the coming quarters."
Real Estate News