The Bank of Canada's (BoC) back-to-back interest rate hikes earlier this summer have brought balance back to some major real estate markets. But, amid persistent affordability issues and threats of a recession, the path forward will likely be "bumpy."
The prediction is courtesy of a new RBC Special Housing Report from Robert Hogue, Assistant Chief Economist, and Rachel Battaglia, Economist.
---
After the BoC raised rates in June and July — which brought the policy interest rate to its current 5% — the springtime momentum that had materialized in Canada's priciest markets began to falter.
Between June and July, sales declined in markets across Ontario and British Columbia, and what had been consistent price gains moderated considerably. At the same time, new listings rose, helping rebalance markets that had been deep in sellers' territory throughout the spring.
In Toronto, July marked a second straight month of softening sales; activity declined 8.8% on a seasonally adjusted monthly basis, which followed an 8.4% monthly drop in June.
New listings rose 8% month over month in July, easing demand-supply conditions and helping to "turn the heat down" on prices. In July, Toronto's composite MLS HPI rose 0.9% — the average increase seen over the previous three months was 2.4%.
While Hogue and Battaglia expect the pace of the price increase to moderate further in the coming months, the fervour of the springtime rebound has kept the index 0.5% above July 2022 levels.
"With exceptionally high ownership costs already stretching the limit of many buyers, the latest interest rate increases no doubt sent more of them to the sidelines — stalling the surprisingly-brisk momentum that emerged this spring," the economists said. "We see high interest rates and the likelihood of a recession keeping real estate activity quiet in the area in the coming months."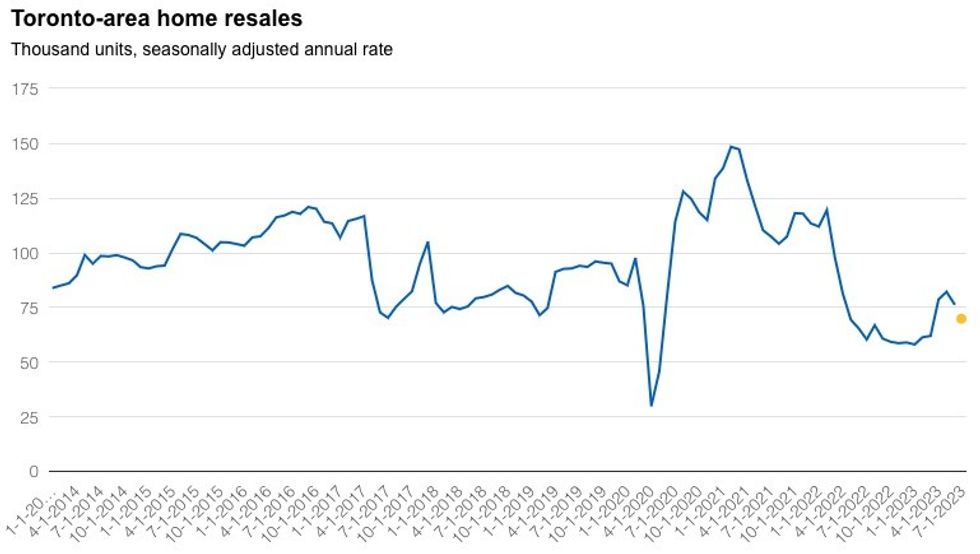 RBC Economics
A similarly softer tone was set in in Vancouver, where sales declined an estimated 3% month over month in July as new listings picked up. As such, demand-supply conditions were "markedly" rebalanced.
In July, Vancouver's composite MLS HPI rose 0.6% month over month, less than half the 1.5% average monthly increase seen over the last five months. However, the index sat 0.5% above July 2022 levels, the first time since October 2022 that it has risen on an annual basis.
"Looking ahead, extremely poor affordability and high interest rates are likely to keep home ownership out of reach for many interested buyers; as such, we expect the softer tone to persist for some time to come," Hogue and Battaglia said.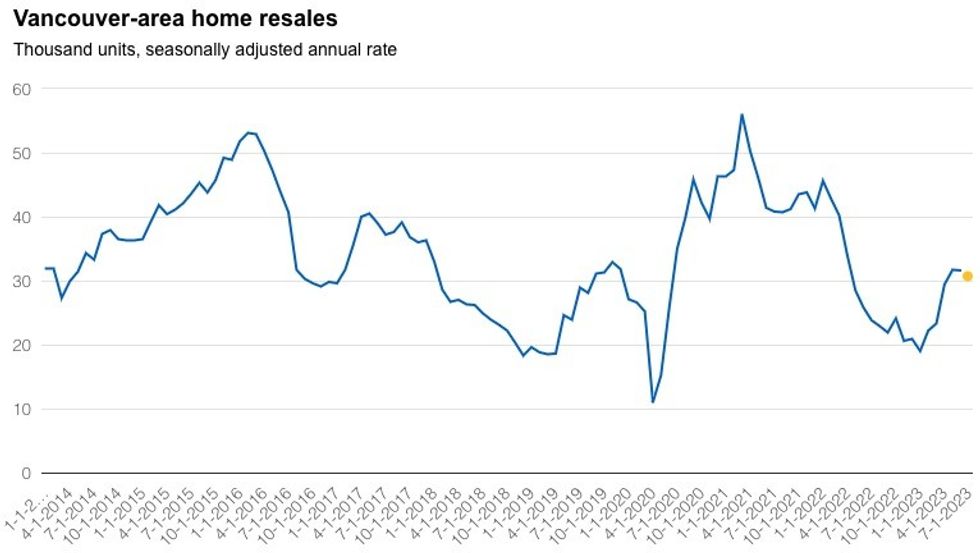 RBC EconomicsRBC Economics
Despite market moderation in Canada's largest provinces, sellers in the prairies maintained the upper hand as sales increased even in the face of dwindling supply.
In Calgary, activity rose 3% month over month in July — marking a fourth consecutive monthly increase — and was up more than 15% annually.
Failing further rate hikes, the city's strong economic momentum and significant population growth should support this "brisk pace" of activity for the remainder of 2023, Hogue and Battaglia predict.
But, buyers' determination comes amid "persistently low" inventory, which will drive prices higher over the coming months. Calgary's benchmark home price was up 5.7% year over year in July, one of the largest annual increases in Canada.
RBC EconomicsRBC Economics
Meanwhile, in Montreal, new listings are on the rise. Following the downturn of the last year, listings rose 7% month over month in July, while sales are estimated to have increased 10%.
However, the city's recovery has a "long way to go," the report says. Despite July's increase, sales are still 30% below pre-pandemic levels, as high interest rates and strained affordability dampen demand. Although inventory has risen 20% annually, it remains low, constraining supply.
With market conditions still relatively tight, Hogue and Battaglia expect prices to appreciate in the near-term. In July, the median price of a single-detached home rose 0.9% month over month, while the price of a condo apartment edged up 1.3%.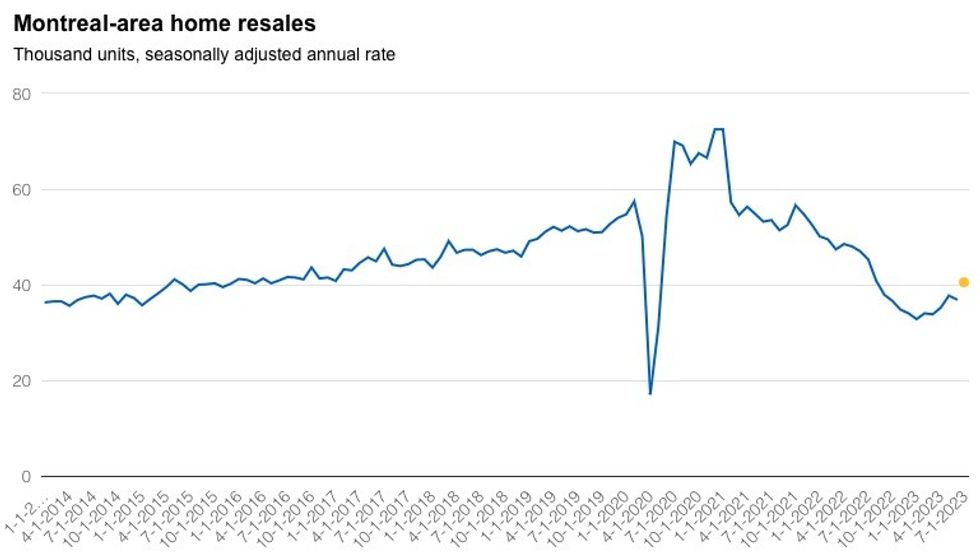 RBC EconomicsRBC Economics
Signs that activity is cooing in Canada's largest real estate markets support Hogue and Battaglia's view that the spring rebound was "premature."
"[The rebound] will taper off further amid high interest rates, ongoing affordability issues, and a looming recession," the economists said. "We think the path ahead is more likely to be slow and bumpy, with the recovery gaining momentum when interest rates come down — a 2024 story."
Real Estate News