---
The real estate market across Metro Vancouver, British Columbia, and most of Canada has been greatly tied to the Bank of Canada's interest rate announcements, and even those who operate in the wealthier luxury real estate market have not been immune.
An Engel & Völkers mid-year report published this week revealed that the luxury home market has seen trends nearly identical to what has been observed in the rest of the real estate market. It's also suffering from the same issues, such as sellers that are confident they can sell their home quickly, but hold back because they have less confidence in being able to find a suitable replacement.
While home sales in January are always relatively low, "the lower activity was more pronounced than usual this year," Engel & Völkers says.
The brokerage classifies "luxury" real estate into two major classes: homes priced between $1M and $3.99M, and homes priced at $4M or higher.
This January, home sales in the first class -- including both single-detached homes and condominiums -- were 59% lower year over year, while home sales in the latter class were 60% lower.
As interest rates held stable through February, March, April, and May, market activity began to improve accordingly.
Small glimpses of improvement came in February, with sales of homes between $1M and $3.99M for the month down 53% year over year, falling from 1,558 units sold in 2022 to 733 in 2023. In March, total sales jumped all the way to 1,034, then to 1,155 in April, and to 1,471 in May.
The $4M-or-higher category is significantly smaller, but the story was nonetheless the same. Home sales started the year at 17, before increasing monthly to 33, 49, 63, and 68 by May.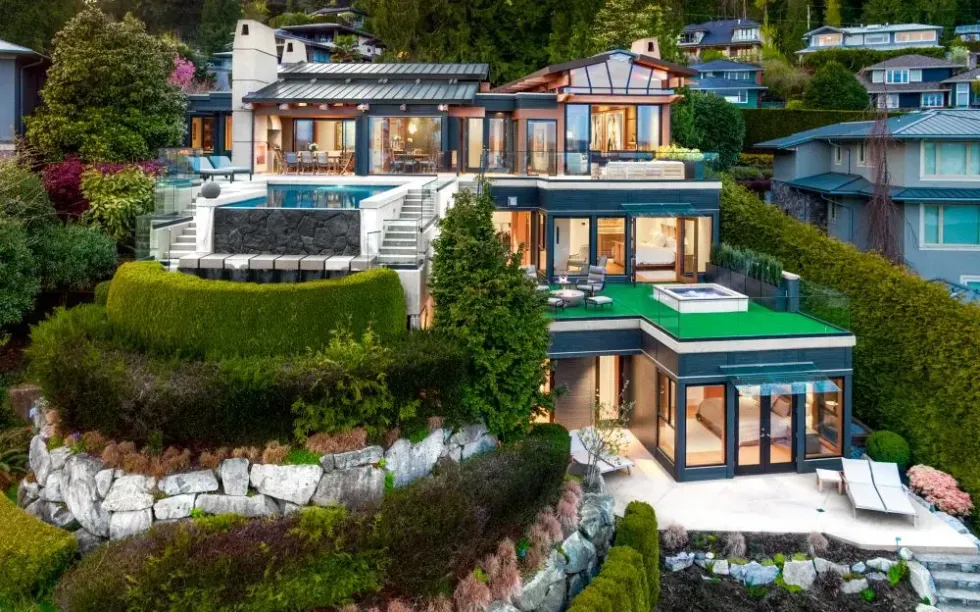 A property on 3370 Craigend Road in West Vancouver that sold for $7.7M in April. (Engel & Völkers)
As soon as June hit and the rate increases began once more, home sales saw an immediate drop-off.
In the $1M to $3.99M category, home sales dipped from 1,471 in May to 1,276 in June, while the $4M or higher category saw a drop-off from 68 to 51.
In May, "while many buyers took the plunge, many continued to hesitate because they were unsure of their timing and strategy," says Engel & Völkers. The brokerage noted the decrease in June sales, but attributed it primarily to "a return to seasonal patterns" where activity dips as the weather improves.
Engel & Völkers says it expects historic seasonal patterns in Vancouver to continue playing out, with market activity continuing to dip this summer, before coming back to life in the fall.
They add that if the Bank of Canada continues to raise interest rates, sellers may remain on standby, while buyers may still continue to make attempts to close, but with hesitancy and fewer options due to the low supply of luxury homes across the Metro Vancouver real estate market.
READ: BC Real Estate Boards To Introduce New Multiple Offers Disclosure Rule
In terms of specific neighbourhoods to watch going forward, Engel & Völkers says East Vancouver, North Vancouver, and South Surrey are the ones to keep an eye on when it comes to the $1M to $3.99M class of luxury real estate, while West Vancouver, Edgemont (in the District of North Vancouver), and Point Grey are the ones to watch for homes over $4M.
Engel & Völkers also notes that across Canada, the luxury real estate market has been affected by the foreign buyer ban, despite its amendments, as it's become a barrier to entry for high-net-worth buyers such as executives or professional athletes who are now "essentially being forced to rent."
"In the long run," the brokerage says, "this could create friction for organizations attracting top-tier global talent to Canada."
Vancouver