Real Estate News
Homes Under Construction in Canada at an All-Time High
Even before the onset of the pandemic, Canada's housing supply was struggling to keep up with demand. Then, over the past year and a half, the drop in interest rates coupled with increased household savings and changing needs sent a tidal wave of Canadians rushing to buy a home.
As a result, buyers bought up the stock of existing homes for sale, while others depleted newly built home inventories — especially those in high demand, like single-family and other low-rise homes.
To keep housing inventory at relatively stable levels, Canadian homebuilders continued constructing new homes as demand intensified throughout the pandemic.
A new report from RBC senior economist Rober Hogue has highlighted the resilience of the residential construction industry, which has seen housing starts over the past 12 months reach the most substantial level since the mid-1970s and the number of homes under construction at an all-time high.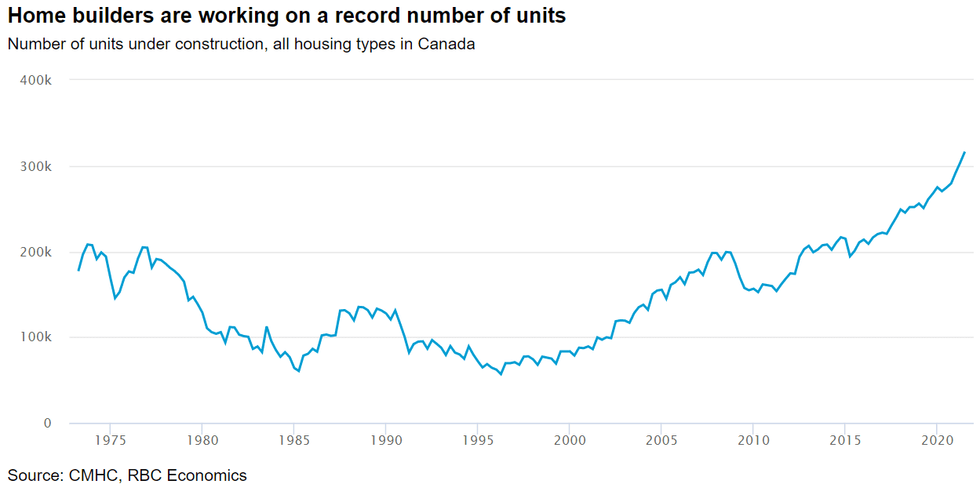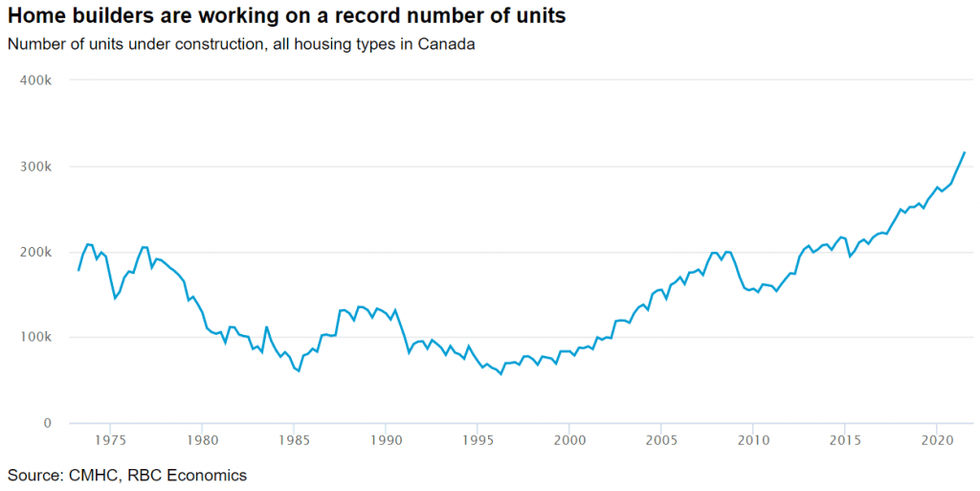 READ: Housing Starts Cooled in August, Though Remained Higher Than Average
In the past 12 months, Canadian builders poured the foundations (defining a housing start) for the highest number of housing units (260,500) than at any time since 1977 — representing a 26%, or a 53,600-unit increase, relative to the 2015-2019 average pace of 206,900 units.
As it stands, there are close to 320,000 housing units under construction nationwide, which Hogue says is by far the highest number and a 12% (or more than 30,000-unit) increase from the end of 2019. About three-quarters of the total are apartments — mostly condos but also rental.
With housing starts at an all-time high, you might be wondering why move-in ready supply remains low. The problem is the average timeline to complete a new build has more than doubled over the past two decades, from 9 months to 21 months, depending on the type.
Nonetheless, completions are still rising. Builders have completed 215,000 new units in the past 12 months, up from an average of 193,000 units from 2015 to 2019. However, the report said this continues to be short of the 220,000 average increase in the number of Canadian households in the four years preceding the pandemic.
Hogue anticipates that housing completions should accelerate in the coming year — including apartments, which typically have longer production timelines — as long as supply chain disruptions in the construction industry don't cause any complications. However, the completions will vary across the country.
"We think as many as 240,000 housing units could be completed in 2022 nationwide — the biggest push in a generation to address supply issues," wrote Hogue.
Currently, smaller and rural markets are seeing the most significant increase in housing starts in the past 12 months relative to the 2015-2019 period, rising 51% and 33%, respectively, with completed supply expected sooner.
Medium-size urban areas weren't far behind, with an increase of 27%. Additionally, Hogue said the types of housing built are predominantly (70%) single-detached and other ground-oriented homes, which usually have shorter construction timelines.
New construction in larger urban markets was still busy, climbing 23%. Census metropolitan areas (CMAs) accounted for the bulk (38,000 units) of the overall increase in housing starts (57,000 units) from the 2015-2019 average.
However, larger markets where the pandemic-induced construction boom has been more subdued and heavily concentrated in slower-to-build multi-unit dwellings won't likely see more supply hit the market for a while.
According to the report, housing starts barely increased in the Toronto region in the past 12 months compared to the 2015-2019 average, rising just 1.4% or 500 units. The increase in new construction was a little more active in Edmonton (up 4.1%), Calgary (up 7.2%), and Vancouver (up 10.3%) but still well below the national average (26%).
Hogue says the relatively flat starts in the Toronto area, in part, reflect a significant drop in pre-construction condo sales in 2018 and 2019 following Ontario's Fair Housing Plan in 2017.
"A recent spike in building-permit issuance suggests the pace could pick up. Failing that, the supply response will look underwhelming in the region—prolonging the significant challenges facing buyers and renters," said Hogue.
Outside of major markets, housing starts were up 11,000 units (or 50%) from the 2015-2019 average in the Montreal area and up 5,700 units (or 65%) in Ottawa-Gatineau over the past 12 months. Purpose-built rental units accounted for more than 90% of the increase in Montreal.
While more supply is inevitable, Hogue notes that there will be a market imbalance as apartments have come to represent a significantly larger share of homes being built.
"Part of the solution to Canada's housing market imbalance runs through the mix of new units being built: a recalibration toward project types that can deliver move-in-ready units more quickly to market—like low– or mid-rise housing—would boost supply responsiveness," wrote Hogue.
The economist also said addressing the 'missing middle' (lack of medium-density housing) in some of Canada's largest urban areas, for example, would be a significant step in that direction.
Looking ahead, the newly re-elected Liberals promised an aggressive amount of new housing during their campaign, committing to build, preserve, or repair an additional 1.4 million homes in four years to address supply constraints. (We'll believe those numbers when we see them.)
The party has also earmarked $4 billion to help large cities speed up their housing plans, targeting 100,000 new middle-class homes by 2024-2025 in addition to $2.7 billion to build or repair more affordable homes over four years.