---
Converting buildings from office to residential may not have caught on yet in most of Canada, but if one city's leading the way, it's Calgary. Even still, a new conversion project now underway in the Stampede city stands out just a bit more, as it's a rare conversion that involves the addition of balconies.
The project, developed by Peoplefirst Developments, is called The Cornerstone, located on 909 5th Avenue SW, about two blocks away from Bow River and Louise Bridge.
The existing 10-storey office building was once occupied in-part by SNC-Lavalin Group, but has been empty for a number of years. The conversion -- often referred to as an "adaptive reuse" -- will see the 129,000-sq.-ft building converted into 112 residential units, with retail and residential amenities on the first floor and a coworking space on the second floor.
Construction on The Cornerstone began in late-2022, and passersby began noticing sections of the old exterior on the top eight floors being pushed inward and turned into balconies for the residential units.
Converting an office building into a residential building is not quite as simple as swapping out the furniture. Often, floor layouts have to be completely reconfigured, electrical wiring and plumbing have to be stripped and set again, and the envelope and facade of the building may be changed as well.
Unlike most modern residential buildings, office developments typically do not have balconies -- an often-desired feature when it comes to apartments, but one that can result in much higher building conversion costs, adding to the already-numerous considerations.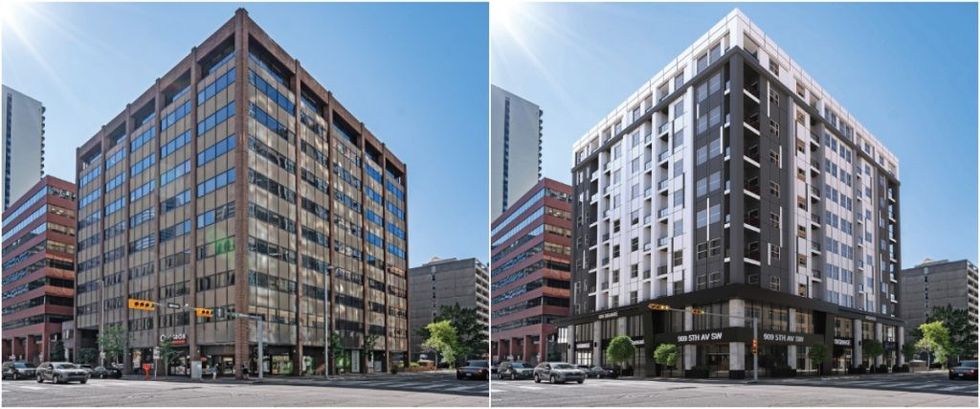 Side-by-side comparison of the Cornerstone in Calgary, before (left) and after (right) conversion. (Peoplefirst Developments)
The conversion of The Cornerstone is reportedly expected to cost $38M, with the City of Calgary providing $7.8M in funding via its Downtown Calgary Development Incentive Program, which focuses on making use of neglected office buildings to provide more housing for Calgarians.
Calgary created the incentive program after the city increased its supply of office space too much, too quickly. Between 2013 and 2018, over 4M sq. ft of office space was added, which was then followed by a steep 6M-sq.-ft reduction in demand, according to an official City economic report.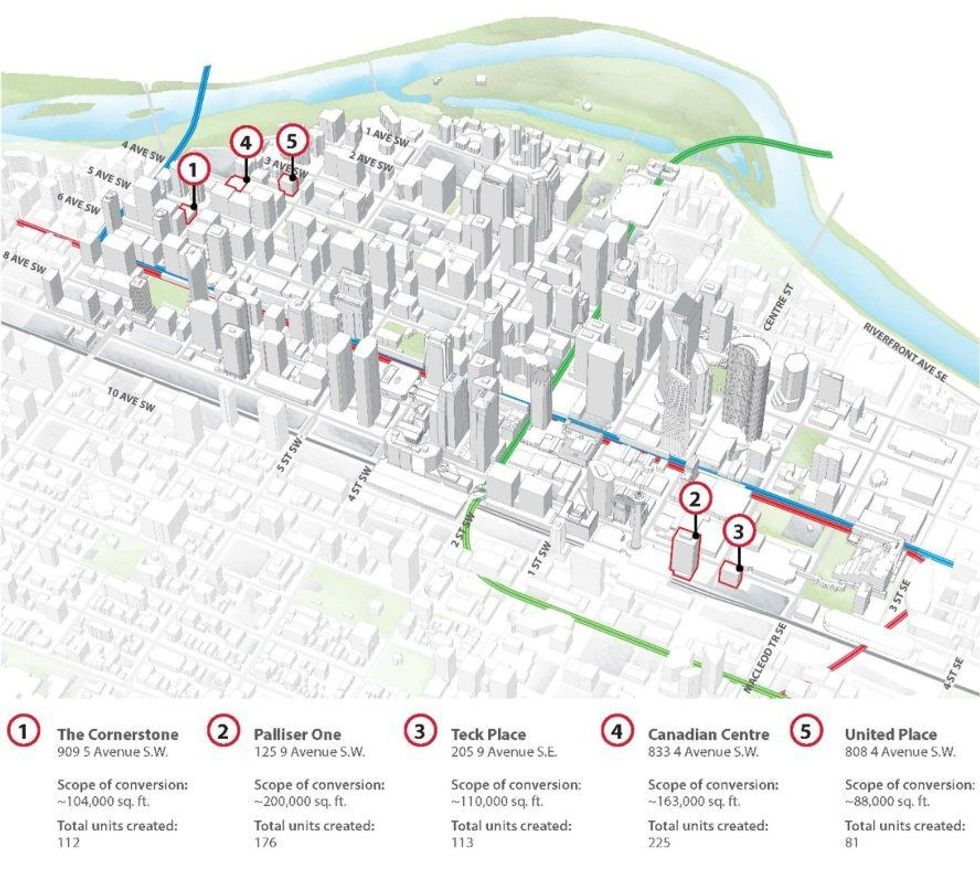 A map of ongoing office-to-residential conversion in Downtown Calgary. (City of Calgary)
The incentives provide $75 per sq. ft, based on the original amount of office space that's set to be converted, with a maximum of $10M per project. The City is currently in the process of converting about 665,000 sq. ft of office space into over 700 housing units.
READ: Adapt or Die: Why Converting Offices Into Homes Hasn't Taken Off in Canada
The Cornerstone is one of the projects that received funding from Phase One of the program, with more projects to come as part of Phase Two.
The Cornerstone will likely be the first completed conversion project via the City's program, with residents likely able to move in by the end of the year. And once they do, they can enjoy those balconies.
Office