---
The City of Calgary has published its latest Economic Outlook for the region from 2022 to 2027. The good news: most indicators the report looks at, such as real estate investment, are currently at new highs. The bad news: that's expected to fall back down to Earth soon.
Housing and business fixed investments are "at a record-high", the report says, with both providing "substantial contributions to GDP growth" to the tune of close to half of GDP growth in 2022.
Looking forward, spending and investment in Calgary by the municipal, provincial, and federal government is expected to decline briefly in 2023 and 2024, as a result of spending decisions made in 2020 in response to the COVID-19 pandemic, before then returning to 2020 levels in 2025 and beyond.
A good measure of real estate investment intentions in the near future is the aggregate value of building permits, and by that measure, Calgary is on a similar trajectory. The total value of proposed developments in Calgary was $5.7B in 2021. For 2022, that total has increased to $6.2B, the second-highest value on record since 2014, which saw $6.5B. However, the value is set to start declining in the near-future, to an average of about $5.5B between 2023 and 2027.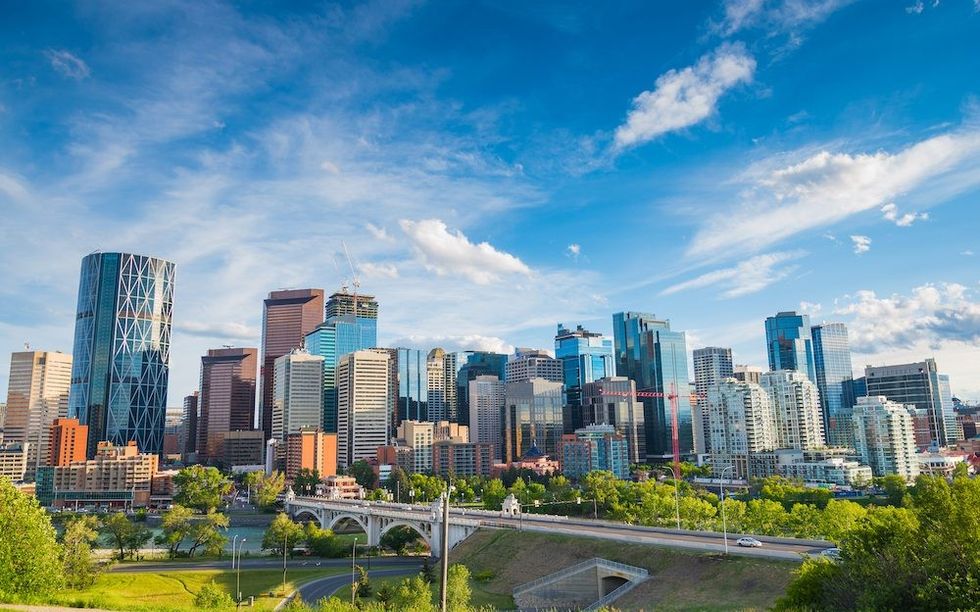 Some of the forecasted declines are attributed to the declining interest in the Calgary office real estate market. From Q1 2013 to Q4 2017, Calgary accumulated approximately 4M sq. ft of office space supply, the report notes. That was then followed by a sharp reduction in demand, by approximately 6.1M sq. ft.
"It discouraged future investment," the report says, and "it should limit future investments in the downtown Calgary office market over the next decade to not much more than building improvements. In other words, Calgary built up too much office space too quickly, and the City is still paying for that mistake -- literally, as evident by the incentive program launched in 2021 that allocated $100M towards encouraging owners of Downtown Calgary office buildings to convert vacant office space into residential uses.
READ: "A Perfect Storm": Why BC Industrial Real Estate Demand is Migrating to Alberta
For residential real estate, only two provinces, Prince Edward Island and British Columbia, increased their housing stock between 2016 and 2021 faster than Alberta, which increased its supply from 1,527,678 to 1,633,220 units.
Housing starts were at a multi-year low of 7,900 in 2020 due to the COVID-19 pandemic. They then bounced back in 2021, which saw 12,700 starts, and 2022 is expected to reach an all-time high of 14,500. Starts are then also expected to moderate in the years to come, to an approximate average of 10,500 units per year between 2023 and 2027, the report says, which is still a healthy number.
"Housing investments in the Calgary area are expected to remain stable in the next cycle," the report concludes. However, they noted that now "Calgary faces competition from surrounding areas in attracting housing demand and investments."
In terms of prices for consumers, the 2022 average house price is expected to increase by 3.7%, with strong job growth between 2021 and 2022 as a big reason.
"In the recent past, the changes in the average resale price (-0.6% in 2020) and benchmark price (-0.8% in 2020) were very close," the report notes. "However, starting in 2021, a difference has emerged. The benchmark price increased sharply in 2021 and should do so again in 2022, rising by 10.8%."
Outside of the real estate realm, the outlook found that the population of Calgary grew by 22,000 between April 2021 and April 2022. That is one thing that isn't expected to regress to the mean, however, as a further increase of over 88,000 is expected before 2026.
Real Estate News