The grass isn't always greener on the other side, but for British Columbia businesses seeking industrial real estate, there are strong signs that Alberta just might be a better place to set up shop.
---
A confluence of factors have made it clear that those requiring large amounts of industrial space in British Columbia are going to have a challenging time, while making the other side of the provincial border increasingly appealing.
In interviews with STOREYS, three experts on the industrial real estate market -- from Vancouver, Calgary, and Edmonton -- detailed these factors, how they've coalesced at the right time, and the Albertan advantages businesses seek to benefit from.
British Columbia
In a national Q3 report on the industrial and office market published this week, Colliers said Vancouver became "the first market in the history of our tracking" to exceed an average asking net rent per sq. ft of over $20, at $20.44.
Part of the reason for that high price is location, but another factor is just simple supply and demand.
"The supply of land suited for industrial development is low," Susan Thompson, Associate Director of Research at Colliers, told STOREYS.
Additionally, vacancy in the industrial market in BC is also low. In Q3, the total industrial vacancy rate was just 0.2%, according the Colliers report. That was actually a small increase from Q2, when the vacancy rate was a record-low 0.1%, but Colliers points out that the small increase was due to absorption catching up and not new supply added. What happens when supply is low and demand stays strong? High prices.
Industrial facilities such as distribution centres or warehouses have traditionally been a single floor, whether it's because of too much weight on an upper floor potentially causing problems, or decreased efficiency with multiple floors. However, Vancouver is so "tight", says Thompson, that companies hoping to stay in the market are now thinking about "stacked" (multi-floor) industrial space.
One such example Thompson points to is none other than Amazon, who took over a 707,056 sq. ft, two-storey space on 8351 Fraser Reach Court in Burnaby -- near Queensborough -- in August. Thompson believes that once there are more success stories with stacked industrial space, the idea will start taking off. It's something that has already occurred in the residential real estate market in Metro Vancouver, where the land shortage and housing crisis has resulted in increased density -- building more space vertically, rather than horizontally.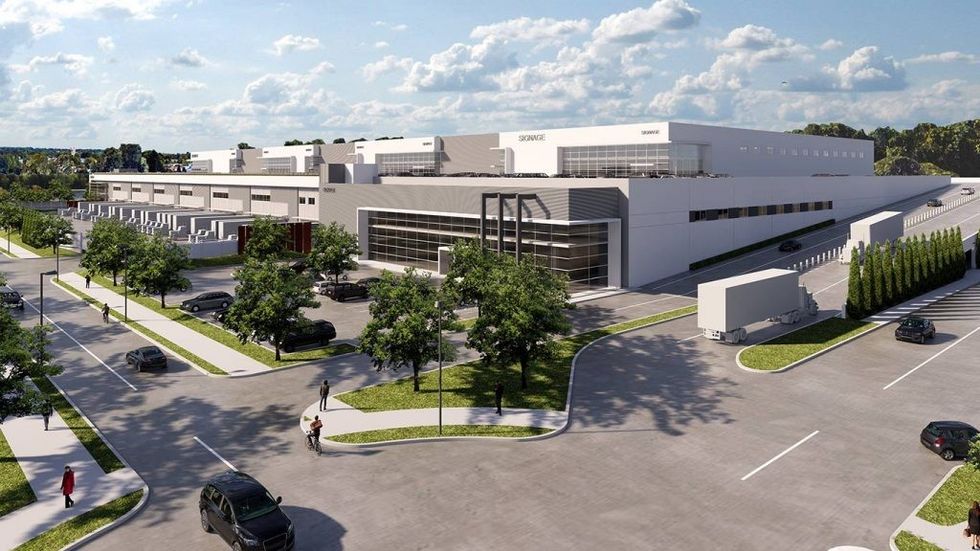 8351 Fraser Reach Court, Riverbend Business Park. (Oxford Properties)
Alberta: The Land of Industrial Abundance?
Meanwhile, these issues don't really register in Alberta. Not only does the province have an abundance of land, it's also significantly cheaper. David St. Cyr, Principal for Industrial in Edmonton at Avison Young, told STOREYS that an acre in British Columbia that could cost anywhere between $4M an $5M would be closer to $400,000 in Alberta.
And while the supply in British Columbia is getting plugged up, supply of industrial space in Alberta is trending the other direction.
According to Avison Young's Q2 industrial market report, Calgary alone has seen $792M in investment sales in the industrial market halfway through 2022, which is up 32% from the same point in 2021. Furthermore, "the development pipeline is expected to deliver an unprecedented number of new builds. With 8.7M sq. ft under construction and in the pipeline, the 2022 industrial development frenzy will continue well into 2023."
And if the abundance of supply and cheaper costs aren't appealing enough, Alberta will often also have less red-tape when it comes to things like permitting. (A Greater Vancouver Board of Trade survey published earlier this month found that permitting and red-tape reduction was the top issue for businesses.)
There's more "working with businesses" and "cooperation between municipalities" and "less red-tape", St. Cyr says. His colleague, Tyler Wellwood, Principal for Industrial in Calgary at Avison Young, told STOREYS that there's also a stronger focus on approvals of permits, which take "significantly less time" than in British Columbia. Faster permitting times means construction can begin sooner, which translates to less wasted costs and less risk for businesses.
Thompson, the expert from Colliers, recognizes this too, saying that jurisdictions in Alberta are often willing to expedite the permitting process. "Companies want their needs met quickly, not years and years later," she said. "If they can't get their needs met, they need to consider their options."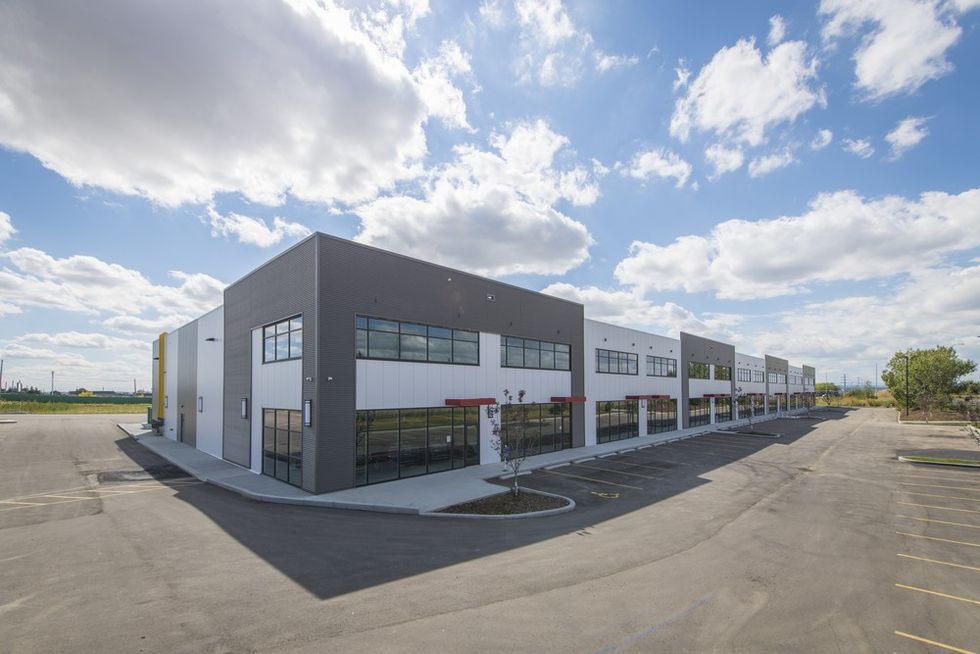 A 58,516 sq. ft industrial space on 8489 40 Street SE in Calgary currently leasing. (Glenmore Junction / Avison Young)
Migration
The Province of Alberta launched a new witty advertising campaign last month called "Alberta Is Calling," which highlighted many of the challenges residents of British Columbia and Ontario are facing -- and how they're of significantly less concern in wild rose country -- in an attempt to lure talent. "Find things you'd never expect. Like a centrally located house you can afford," one of the campaign's slogans reads. "Bigger paycheques. Smaller rent cheques," says another.
When asked whether housing affordability has any connection to the growing appeal of the Alberta industrial market, both Wellwood and St. Cyr said that it's definitely an added bonus, for both the workforce and employers who worry about labour shortages -- another issue in British Columbia.
"These factors are all coming together," St. Cyr says. Those that "can't grow in tighter markets, can't activate next phase of growth in their current markets are looking to Alberta", Calgary's Wellwood adds.
And it's pretty much across the board, when it comes to companies. Wellwood says that there are some small differences between the composition of the markets in Alberta, with Edmonton seeing a little more from the raw material market and manufacturing, while Calgary has seen more when it comes to distribution and logistics. St. Cyr agrees, saying that while the cities are distinct, the costs are very similar and it often just comes down to preference.
It's not so much that companies desire to leave British Columbia, but more so that they're shifting the weights towards Alberta more. St. Cyr says that British Columbia is increasingly losing out on deals to Alberta for large distribution centres. One example he points to is Lowe's, the home improvement retailer, which signed on in late-2021 to lease a 1.2M-sq.-ft facility in the High Plains Industrial Park in Balzac, Alberta. Another is De Havilland, the aircraft manufacturer, who announced a new manufacturing facility in Alberta just last week.
St. Cyr also points out other additional benefits of Alberta, such as the significant amounts of cargo space between Alberta's two international airports and Edmonton's rail connection to the Port of Prince Rupert in British Columbia, the closest North American port to Asia, meaning businesses can still access the advantages of British Columbia without having to deal with the exorbitant prices.
In their report, Avison Young notes that despite the rising interest rates and steeper construction costs, "Calgary's position as a viable alternative to larger and more congested industrial markets continues to solidify. The market's relative affordability, even in the face of elevated costs, will still play into its favor."
It's a "perfect storm of conditions," Thompson says.
In other words, Alberta is calling, and those in the industrial real estate market are answering.
Industrial