Many were holding their breath ahead of the Bank of the Canada's latest interest rate hike announcement, but perhaps none more so than developers, who now have to make the necessary adjustments in light of that hike.
---
Developers were crossing their fingers for an increase of just 50 basis points, but leading up the announcement, experts pegged the increase at 75 basis points, which turned out to be the accurate.
The Overnight Lending Rate is now currently 3.25%, and may still continue increasing given the outlook on inflation, which the Bank of Canada continues to cite as the reason for raising interest rates. Previously, the Bank of Canada has said their inflation target was 2%.
READ: BoC Must Risk a Recession "Kamikaze Mission" to Control Inflation: Economists
Those in the real estate market recognize this, but have still come away from the increase announcement with a common sense of caution and a gloomy outlook on the impact of higher rates, according to multiple people interviewed by STOREYS.
How Interest Rates Affect Developers
"Nobody in [the] business wanted to see this," founder and CEO of BakerWest Real Estate, Jacky Chan, said. "Everyone was hoping for the lower end [increase] of 0.5%."
Chan says that it starts with developers' financial analyses of projects (pro formas), which he believes many will now have to re-assess or even re-do, as higher-than-expected rates can push their numbers beyond their "contingency boundaries." Chan says those delays could then lead to postponed execution of developments, which could then result in a backlog of new projects with delayed launches.
In a separate interview with STOREYS, Joe Lee, a real estate advisor for the Faithwilson arm of Christie's International Real Estate who has previously worked in sales and consulting for firms like Concord Pacific and Bosa Properties, voiced a similar outlook.
"For smaller developers or developments still in the infant stage, the developers may re-assess the situation and carefully consider if they should launch," he said, adding that several developers have opted to pause their projects in order to see how this latest increase will play out. Bigger developers may be able to tough it out, Lee believes. "Some mid-large size developers with cash or land for decades are pushing ahead if they have already invested heavily into the project, especially if the city has already given the green light. They understand that the pre-sale market isn't completely dead."
Regarding pre-sales, Toby Chu, Chairman and CEO of CIBT Education Group -- the parent company of GEC Living, which specializes in student rental buildings across Metro Vancouver -- told STOREYS that, "Generally speaking, the business model for most developers is: buy land, pre-sale, build, deliver, and repeat. This traditional model could have profound impacts in today's environment because once they pre-sold the units at a fixed price, they effectively placed a cap on their income."
Chu says that although GEC Living is unaffected in this way -- because they rent out, not sell, units -- other developers will have to "slow down or outright stop their development cycle until they can see a path of stability."
READ: Back to School, Back to the Harsh Realities of the Vancouver Rental Market
Aside from interest rates and inflation, Chu says there are other compounding challenges that developers are currently facing, such as construction costs, labour shortages, and slow permitting processes.

Lee concurs, pointed out that although lumber prices have dropped by over 50% since the peak of the COVID-19 pandemic, it has been overshadowed by labour costs and labour shortages, resulting in net construction costs for residential buildings increasing nearly 25% year over year in Q1 2022.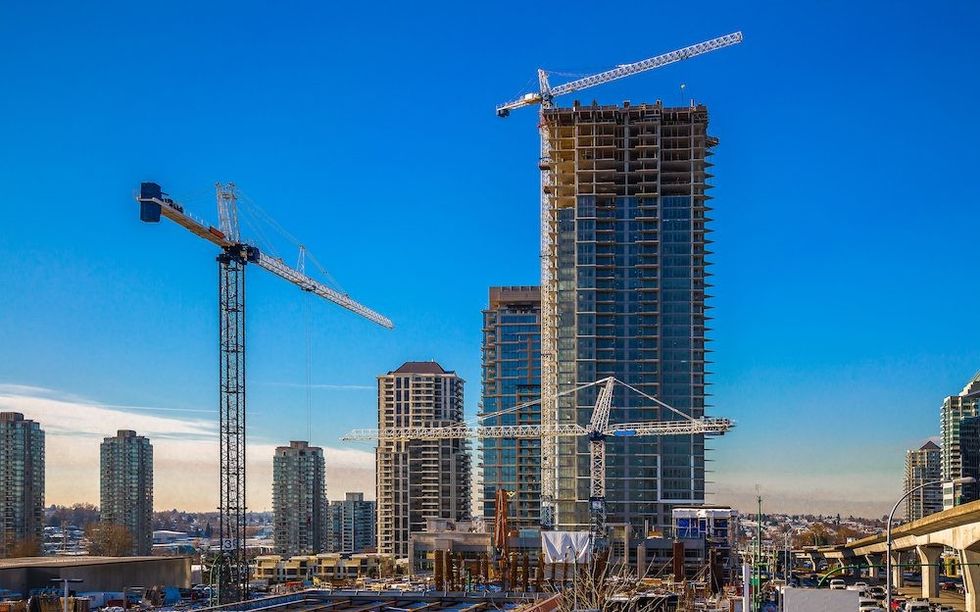 Those problems affect the speed of construction, which of course then goes back to rising interest rates. "This extra time means more interest payments for the developer," Lee said. "I personally do see that a lot of projects that are ongoing right now are going to be delayed. Hopefully by a bit, but most likely significantly. This is already happening where we are hearing projects completing one year plus from the initial projected completion."
The Ripple Effects
Those delays, as with most things in economics, have ripple effects that can then impact those who aren't developers, such as prospective homeowners or low-income renters. With projects being delayed, the housing supply in Metro Vancouver can quickly become plugged up, and with the demand not waning, what will inevitably happen is prices will have to go up. Because of rising construction costs, "developers are forced to go with the worst-case scenario by adding those premiums to the end user [buyers or renters] during the pro forma planning," Lee says.
In a previous interview with STOREYS following the June interest rate increase from 1.00% to 1.50%, BakerWest's Chan said that "should this [interest rates] continue the way they are, it won't just impact the strata market condos, but it will also impact the affordable rental projects, which [are] greatly needed by the cities, and across the nation."
Chu tells STOREYS that "If our financing and construction costs go up, our future rental rate will increase accordingly."

Students, of course, are already facing an extremely tough rental market. GEC Living is the biggest off-campus housing provider for students in Metro Vancouver. While they have several projects on the way, miniscule vacancy rates could push low-income students closer and closer towards housing precarity, and possibly even homelessness. Chu also points out that because higher prices means fewer people buying homes, more people will turn to renting, compounding the situation.
These factors can prove especially significant in a real estate market like Vancouver. Unfortunately, going forward, Lee sees the market conditions getting worse.
"Should this condition continue, pre-sale prices will remain or go higher. If the developer is not able to attain those numbers, they will simply just not build. This will then impact how many projects we will release in the short term and, of course, impact supply in the long term. The developer will consider all of these factors, and they will make the right decision for their business. As a result, this will cost a negative chain reaction where the prices for our homes in the future will get more and more expensive due to a further lack of supply."
Chu also has a dark outlook. He sees supply going from "bad to worse" and says that "when the [housing supply] pipeline stops, it takes months to re-mobilize and years to catch up." He also sees demand simultaneously increasing. "International and domestic students arriving in Vancouver to study, they rent. Migrants moving to Vancouver for work, they rent. New immigrants arriving in Canada (3M in five years), they rent before they buy. Interest rate causes stress test issues for new home buyers; thus they rent. Homeowners downsize from owning to renting, they rent."
How would he describe the changes in Vancouver's rental and housing crisis in the near future as a result of that supply shortage and demand increase? "I think the rental crisis will transform a bad dream into a nightmare."
Vancouver