---
Global Education City (GEC) is the largest provider of off-campus student housing in Vancouver, but the first thing you're greeted with when you visit GEC's website gives you a sense of the reality a lot of students have faced recently. It's a pop-up message: "FULLY BOOKED."
It's not GEC's fault. Since 2015, according to the company, they've housed over 6,000 students from 71 countries. They currently operate five student residences, with five more on the way, including a 49-storey tower in Surrey that will accommodate nearly a thousand students. No, the fault lies elsewhere.
Every three years since 2014, UTILE, a Québec-based non-profit specializing in affordable student housing, conducts a survey on the residential situation of the student population. Their most recent study -- published last week but conducted in late 2021 -- extended the scope to all students across Canada, and found that a total of 1.5M university students were renters in 2021. Of that 1.5M, approximately 1.3M lived in off-campus housing.
Specific to Vancouver, the report estimates that the post-secondary student population was approximately 194,582 and that about 62.2% of them were renters, either in rental units such as what GEC provides, or private rentals.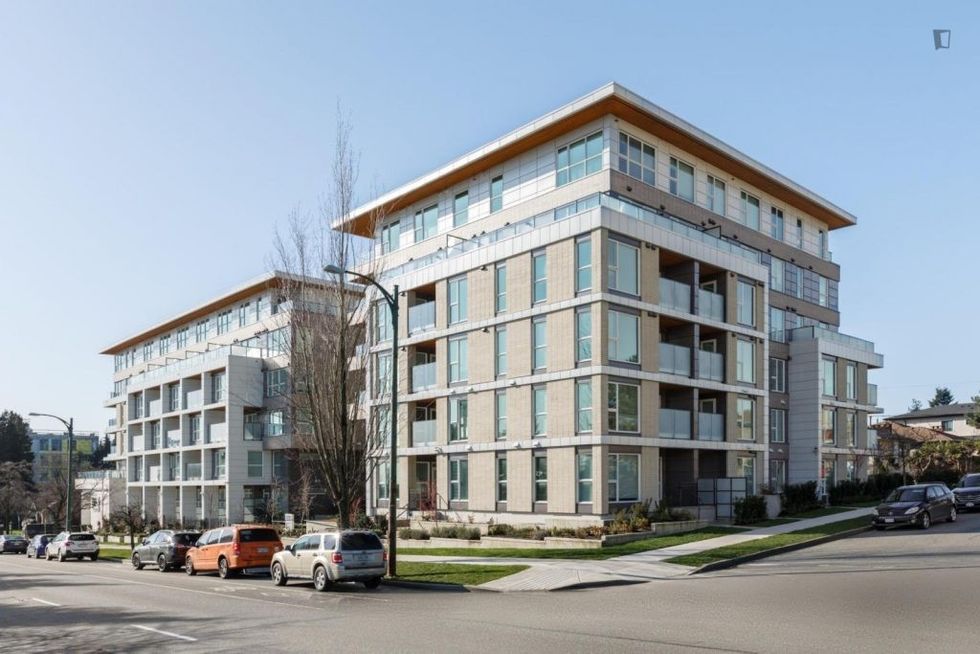 GEC Living
In a rental report published earlier this year, the Canada Mortgage and Housing Corporation (CMHC) found that Vancouver's supply of purpose-built rental apartmentsdid increase -- by about 1.4% and 1,600 units -- as a result of new developments completing. However, the report also identified that the vacancy rate for those purpose-built rental apartmentsalso decreased, from 2.6% in 2020 to just 1.2% in 2021. In an additional note, the report also said that purpose-built rental apartments on the UBC campus saw its vacancy rate decrease from 13% in 2020 (abnormally high due to the COVID-19 pandemic) to 0% in 2021. In other words: "FULLY BOOKED."
There is also plenty of anecdotal evidence that demand is greatly outweighing supply, with an abundance of students sharing stories about their difficulties finding housing. One student responded to 70 listings with no luck. Two are living in an RV. Another had so much difficulty that she'll be commuting to UBC from Washington State.
READ: Do SkyTrain Expansions Really Better Vancouver's Affordable Housing Problem?
Aside from availability, affordability is, of course, a big part of the problem. "I think when we are speaking about availability of housing, we also have to speak about affordability. Both go hand in hand", Melissa Chirino, Chairperson for the BC Federation of Students, told STOREYS. "For those who are not struggling to make ends meet, those who have the financial means to absorb increased housing costs, there is housing available. For those who don't, there simply isn't."
Traditional financial advice recommends spending no more than 30% of your income on housing (not including costs for transportation). The reality for most students, of course, is they cannot work full-time. They also don't get student discounts on rent, so with rent prices across Metro Vancouver still sky high, most students end up spending more than 30% of their income on housing. Canada's population of international students has also doubled in the past six years, and those on study permits have a government-mandated limit on the amount of hours a week they can work, adding to the financial stress.
"Housing was the root of practically every headache I had", an international student who graduated from Simon Fraser University earlier this year told STOREYS. The graduate, who requested anonymity, also said that many students (international or local) often end up making do with minimal standards of housing or saving money by eating less expensive, unhealthy food. "Because you are studying, you can't constantly be looking for a new place to live so you end up just tolerating whatever it is", she said.
The market is so tight that a small cottage industry has popped up solely to help students find housing via increasingly creative solutions. One member of said industry is Canada HomeShare, a non-profit operating across the country that matches students looking for housing with seniors who have room to spare.
STOREYS spoke to Canada HomeShare's National Program Manager, Jackie Tanner, about the interest she sees in HomeShare -- in large part due to a partnership with SFU -- and the difficulties students in Vancouver face.
"In speaking to students from the Metro Vancouver site and in information sessions, I know that many of them are faced with navigating housing which is insecure, very high rents, accepting housing with pests or other safety concerns, and long commutes", Tanner says. "Another thing that we know is that some of these students are redirecting funds that should be buying food, books or software needed for their school program to cover the cost of their housing."
When asked about the interest in the program across Canada, Tanner says that those difficulties are not just exclusive to students in Vancouver. "I see that in every city that we operate in there is a huge need for safe and affordable housing for students. I get emails everyday from community members, academic institutions, and service providers in locations where we are not operating indicating that this is a Canada wide reality."
READ: Post-Secondary Students Resort to Desperate Measures Amid Rental Market Heat
At the bottom of GEC Living's "FULLY BOOKED" pop-up message, there's also a line that says "Reserve Your Space Now for Spring 2023." When STOREYS asked GEC Living about the current vacancy rate for Spring 2023, Toby Chu, Chairman and CEO of CIBT Education Group -- GEC Living's parent company -- said there's a "less than 2% vacancy rate up to mid-2023." (NEAR) FULLY BOOKED, in other words.
Chu also told STOREYS that he's forecasting vacancy rates for next year to be even worse than this year, "due to the construction industry slowing down (or halted in many cases) due to rising construction costs and hiking interest rates."
"Unaffordable housing, long commutes, and safety concerns are detrimental to the academic success of a student", Tanner, from Canada HomeShare said. Academic success of students may seem inconsequential to some, but as many politicians, such as Prime Minister Justin Trudeau, often like to say: "An investment in young people today is an investment in our future success as a country."
Earlier this week, the Government of Canada announced funding towards an 11-building development, 70% of which be affordable rental units. Late last month, the Province of British Columbia announced a new 20-storey student residential building for Douglas College. The City of Vancouver has policies to encourage purpose-built rentals, and developers are biting, popping up new buildings near colleges.
That investment is on the way, but they can't come quite fast enough to help young people today, and there clearly isn't enough help for students today. It's what's called a "hole" in the market. The existence alone of programs like Canada HomeShare tells us there is a problem in the market, a hole -- a need -- that needs to be addressed. Let's hope students don't have to learn about that and the realities of that hole the hard way. That's one thing you're better off learning in a classroom.
Renting