It's not a secret that Vancouver is short on affordable housing, but a new development application submitted to the City of Vancouver this week for a site on Main Street is seeking to add more to the city's supply.
---
The development application was filed by Yamamoto Architecture, who are proposing a six-storey, 67,025-sq.-ft residential building on 6495 Main Street, a few blocks away from Langara College. The application was made public on August 31, when the City of Vancouver began accepting public comment on the project.
The building would consist of 94 Secured Market Rental units, in line with Vancouver's Secured Rental Policy, and also include two floors of underground parking, with 75 parking spaces.
Purpose-Built Rental Housing
This new development project exists in part specifically because of that Secured Rental Policy. That policy has existed since 2012, but became significantly more popular after it was amended in December 2021 to allow for six-storey condo building applications to be subjected to the same streamlined approval process that previously was only accessible by four-storey condo building applications.
The intent behind the amendment, the City of Vancouver said, was to "create more complete, connected, and walkable neighbourhoods in Vancouver by speeding up the delivery of rental housing in local shopping areas and nearby low-density areas." "Density", along with "transit-oriented development", are concepts that have been strongly emphasized in Metro Vancouver, in order to better Vancouver's housing issues.
Since that amendment was made, the City of Vancouver has received a flurry of development applications, all at six-storeys or lower with under 100 secured market rental units, such as one on West 10th Avenue, or Granville Street, or Victoria Drive, and many more.
All of the residential units have be rental units, according to the official policy document, but the buildings themselves can be mixed-used, as is the case with this latest development project on Main Street, which will include retail spaces on the ground floor.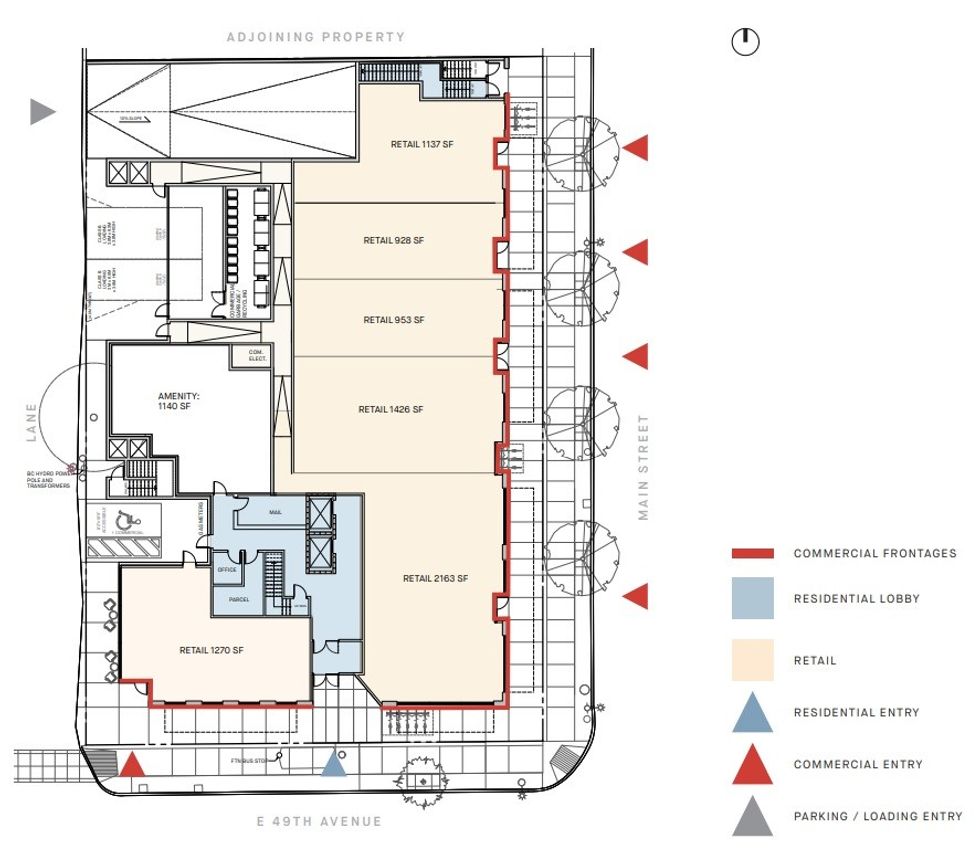 Currently, the site is a vacant lot in what's referred to as Vancouver's "Punjabi Market" neighbourhood. In its application, Yamamoto Architecture -- who has been involved with secured market rental projects previously -- said that they believed the site "is an ideal location for rental homes" because it is "well served by public transportation", and "is a short walk from several large parks and green spaces, schools, and community amenities."
Yamamoto also noted that the proposed building will include a large number of studio apartments to be desirable to students at the nearby Langara College. Of the 94 units, 59 will be studio apartments, 26 will be two-bedroom units, and nine will be three-bedroom units. The building will also include a gym, shared gathering spaces, and rooftop access.
Following the public comment period, which ends on September 22, the application will then go to the Director of Planning for a decision.
Renting