---
Residential sales in BC are forecast to decline from a record-high 124,803 in 2021 to just 82,345 this year -- a decline of 34.4% -- with further decreases expected into the new year.
That's according to the latest housing forecast published by the BC Real Estate Association (BCREA), which finds residential sales in BC will likely fall an additional 11.4% next year, to 72,960. That same trajectory is also expected across real estate board regions in the province.
In Greater Vancouver, unit sales dropped 33.2% this year and are expected to drop another 13.3% next. In the Fraser Valley, sales fell off by 41.6% this year, with another 9.7% drop called for next year. In the Vancouver Island region, sales dropped 30.1% in 2022 and are expected to drop by an additional 13.3% in 2023. In Victoria, sales fell 31.7% this year, with a 9.2% drop expected to follow.
As with projections of any kind made for the real estate industry this year, this outlook is deeply rooted in rising interest rates and the Canadian economy.
"With high interest rates and what looks like a difficult 2023 ahead for the Canadian economy, we anticipate that market activity is going to continue to be below normal levels," the BCREA stated. "The factors that drove unprecedented demand during the last two years, including record low mortgage rates, buyer preference for extra space and the ability to work remotely, are now unwinding, prompting a significant shift in housing markets across BC."
The association points out that five-year fixed mortgage rates are now nearly 5.5% -- the highest since 2007 -- making the 7.5% mortgage stress test threshold that much more of a hurdle.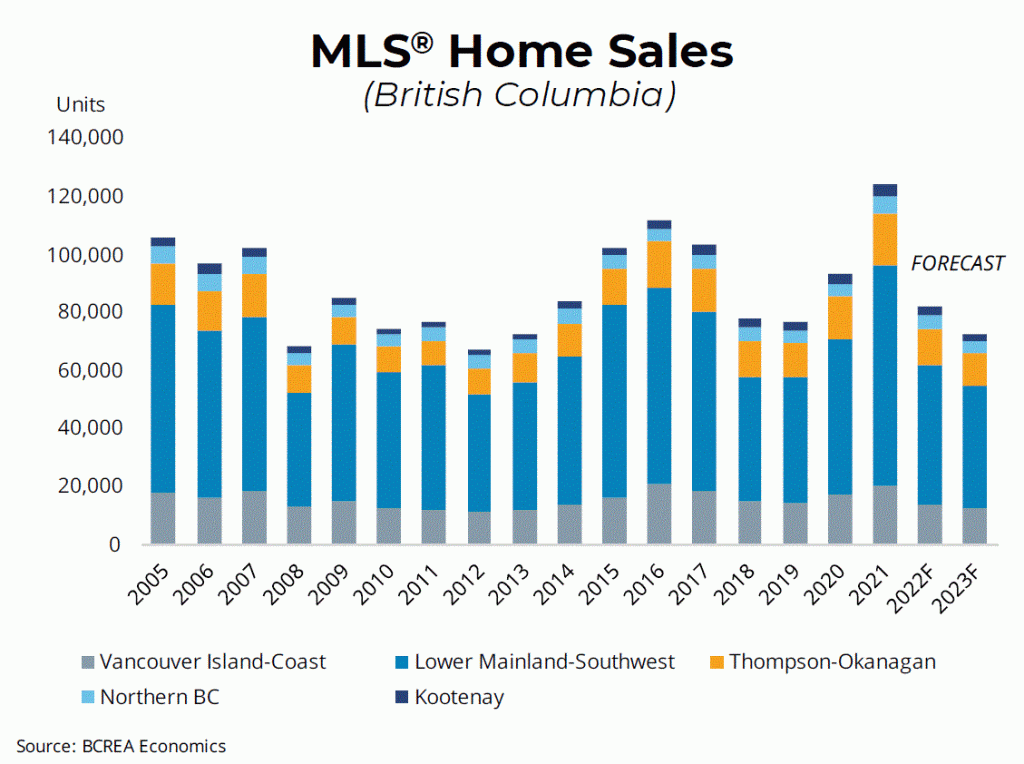 Simultaneously, the average price for residential sales in the province have risen this year. In 2021, the MLS Average Price was $927,558. For 2022, that number is expected to be approximately $970,000, an increase of 4.6%. However, the BCREA is forecasting a decline in prices come 2023, a 5.4% decline to approximately $917,900.
"The rapid shift in market conditions has weighed on prices in the second half of this year, though active listings growth has slowed and is short of levels where we tend to see more substantial downward pressure on prices," the BCREA explains.
Real GDP growth, employment growth, personal income growth, and the unemployment rate are all positive this year, but are expected to all slow down in 2023.
"The BC economy, once thought to be set on a path of prosperity that would last several years, has been knocked off course by the blunt force of higher interest rates. As a result, there is a high probability of a slowdown in economic growth to below trend in 2023 with the risk of a mild recession impacting all of Canada next year," reads their forecast.
A mild recession is not a 100% done deal, but what's past is prologue and history tells us it is reasonable to expect it.
"Although a slowdown in economic growth seems all but certain, a recession is not inevitable," the BCREA says. "Indeed, the big question for the Canadian economy over the next year is whether the Bank of Canada can engineer a soft landing. History tells us this is a difficult task. Over the past 100 years, each time inflation has spiked, it has taken a recession to bring it back in line."
In September, the BCREA also said it was expecting interest rates to rise further in Q4, but eventually stabilize in 2023. The Bank of Canada's next interest rate announcement is scheduled for Wednesday, December 7.
Real Estate News