---
Real estate activity across Metro Vancouver was well below historical averages for the month of October, according to the latest data published by the Real Estate Board of Greater Vancouver (REBGV) on Wednesday.
October saw a total of 1,903 residential sales last month, a 12.8% increase from the 1,687 sold in September, but a decrease of 45.5% compared to October 2021, which registered 3,494 sales, a year-over-year decrease seen across most sub-markets in Metro Vancouver. According to the REBGV, October's sales were 33.3% below the October average in the past 10 years.
Looking at the amount of homes being listed shows a similar trend. Last month, a total of 4,033 residential properties -- single-detached, townhouses, or apartments -- were newly listed in Metro Vancouver, bringing the total number of homes currently listed to 9,852. This time last year, the total was 8,034, which means there has been a 22.6% increase in the amount of homes being listed for sale.
Looking at sales and listings together is generally a good indicator of whether the market is leaning towards sellers or buyers. One such way is the sales-to-active-listings ratio (SAR), dividing the number of sales (1,903) by the number of active listings (9,852). The REBGV defines a ratio over 20% as a sellers' market and a ratio under 12% as a buyers' market, with anything between an indication of a balanced market. The ratio for October was 19.3%.
A second way to look at it is the sales-to-new-listings ratio, dividing the amount of sales (1,903) by the amount of new listings in the same period (4,033), rather than the total amount of active listings. The Canada Mortgage and Housing Corporation (CMHC) sets those thresholds at 55% or higher for a sellers' market and 40% or lower for a buyers' market. For October, that ratio was 47.1%, confirming that while real estate activity has decreased, it has also brought balance to the Metro Vancouver market.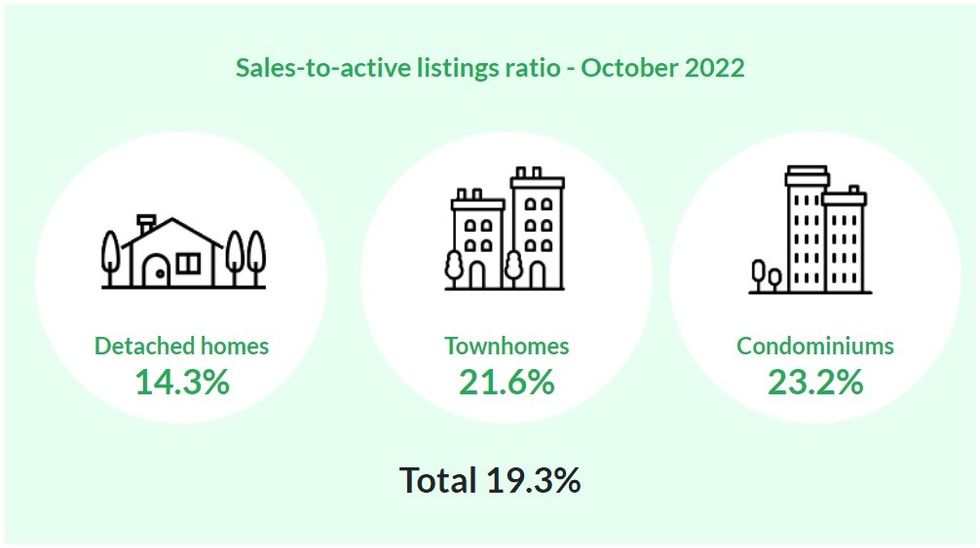 (Real Estate Board of Greater Vancouver)
As has been the case with many things this year, this can be attributed to global inflation and rising interest rates, which have rightfully given consumers more pause.
"Inflation and rising interest rates continue to dominate headlines, leading many buyers and sellers to assess how these factors impact their housing options," said Andrew Lis, REBGV's Director of Economics and Data Analytics. "With sales remaining near historic lows, the number of active listings continues to inch upward, causing home prices to recede from the record highs set in the spring of 2022."
READ: Don't Call it a Pivot: Real Estate Industry Reacts to Latest Rate Hike
And as such, the MLS Home Price Index composite benchmark price for all residential property types in Metro Vancouver is now $1,148,900, a 0.6% decrease from September and a 9.2% decrease since this past spring.
By property type, single-detached homes are now at a benchmark price of $1,892,100, a 0.7% decrease from September, but a 1.6% increase from October 2021. The benchmark price for townhouses is $1,043,600, a 0.5% decrease from September, but a 7.1% increase compared to October 2021. Similarly, the benchmark price for apartments is now $727,100, a 0.2% decrease from September, but a 5.1% increase compared to October 2021.
"Recent years have been characterized by a frenetic pace of sales amplified by scarce listings on the market to choose from," Lis said. "Today's market cycle is a marked departure, with a slower pace of sales and more selection to choose from. This environment provides buyers and sellers more time to conduct home inspections, strata minute reviews, and other due diligence. With the possibly [sic] of yet another rate hike by the Bank of Canada this December, it has become even more important to secure financing as early in the process as possible."
Vancouver