Back in January, Bloomberg Tax reported that China Aoyuan Group reached an agreement to sell an 8.3-acre development site in Burnaby to Anthem Properties for $215M in what remains the most expensive land deal to take place in British Columbia this year.
---
The agreement was reached on January 26, with Anthem -- along with KingSett Capital as a partner -- officially announcing the completion of the transaction on March 29.
China Aoyuan originally planned to develop the sites, spanning 4500-4554 Dawson Street, 2223-2375 Alpha Avenue, and 2350-2430 Willingdon Avenue, into a mixed-use master-planned community delivered in four phases called The Grove. Anthem will be carrying on with the development plans, which call for six residential skyscrapers, multiple of which will be over 50 storeys, but have renamed the project South Yards.
At the time the deal closed, the rezoning application for The Grove was close to final approval. Final approval for the project was then given on May 30, according to City of Burnaby documents.
"Anthem and KingSett plan to develop the site into a four-phased master planned community that will include 2,100 market condominiums, 340 rental units, and 60,000 square feet of new retail and office space across five residential towers and two wood-frame mid-rise affordable rental buildings," Anthem said in a press release announcing the deal.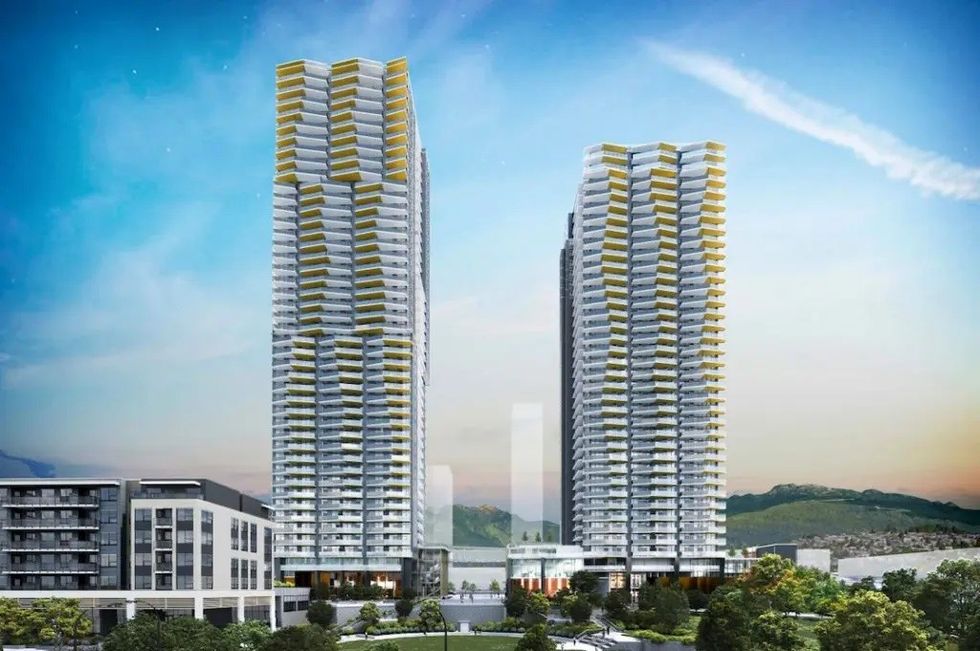 Phase One of South Yards. (Anthem Properties)
Phase One of South Yards will deliver a 36-storey and a 43-storey condominium building, sales for which launched earlier this fall.
"The site is viewed as a major green node, with the phases built around a one-acre park, and will serve as both a Town Centre destination and a key linkage between Brentwood Town Centre SkyTrain Station and the Urban Trail, connecting east to the future Woodlands Park and south towards BCIT," Anthem added.
The proposed development is notably one block south of Brentwood Town Centre -- now called The Amazing Brentwood after undergoing a large-scale redevelopment.
Anthem Properties in Burnaby
Anthem Properties' long history in Burnaby includes the 12-acre redevelopment of Station Square -- in the Metrotown area -- from a ground-level shopping square to a completely-transformed retail hub with five residential highrises, which fully completed this fall.
"With this acquisition, we are thrilled to be able to build upon Anthem's long history of developing large-scale mixed-use projects in the City of Burnaby," Anthem CEO Eric Carlson said at the time of the deal's closing. "In a supply-constrained region undergoing population growth, the project will create a significant amount of housing supply aiming to address the market's needs at multiple levels."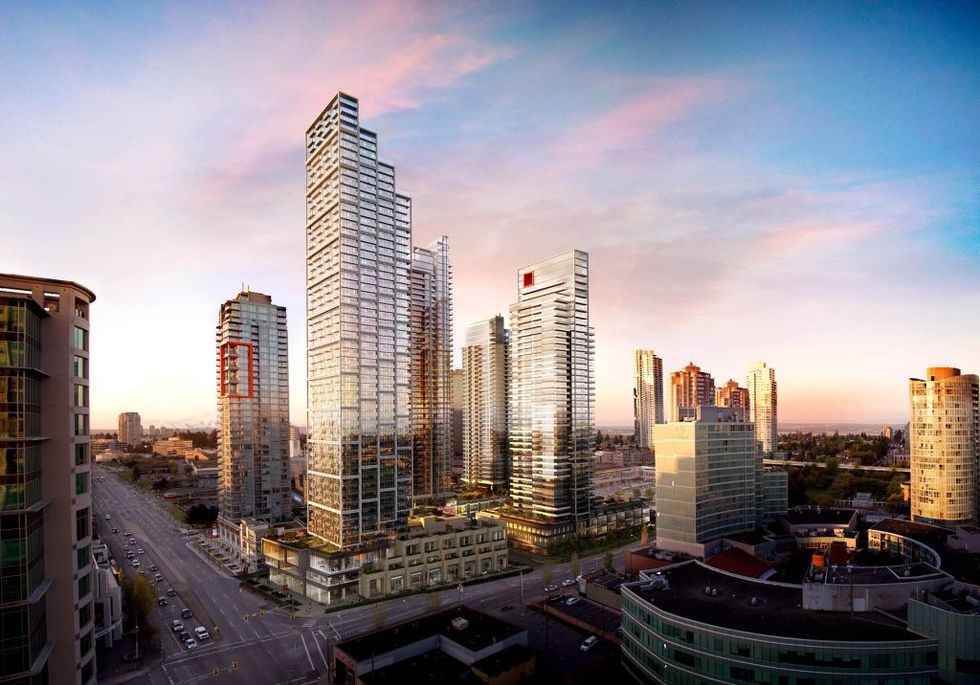 Station Square in the Metrotown area. (Anthem Properties)
READ: 50-Ft Douglas Coupland Art Installation Unveiled at Burnaby's Station Square
A few blocks west of Station Square, on 6075 Wilson Avenue, is the site of an upcoming 44-storey condo building, dubbed NUVO. And not too far from the South Yards site is Tandem, a three-building mixed-use complex that completed in the aughts.
The most notable project in the works, however, is one that has not received official approval: the 66-storey Metro King tower proposed for a site across the street from Station Square. It's set to be one of the tallest buildings in the province, with a representative from Anthem Properties telling STOREYS that Anthem is working towards rezoning approval in Q1 2023.
Multifamily