The City of Burnaby is home to no less than 10 master plan projects, and one of the next ones to get off the ground is Brentwood West, by Vancouver-based Bosa Development.
The towering master-planned community, slated for a 3.27-acre site at 4430-4488 Halifax Street and 1801 Willingdon Avenue, is set to include four buildings constructed across four phases.
---
The project is in a development hub, located directly across the street from The Amazing Brentwood and just one block east from the Buchanan West master plan community approved in April. It's also a convenient location, sitting one block away from the Lougheed Highway as well as the Millennium Line SkyTrain's Brentwood Town Centre Station.
The Brentwood West site extends down to the Lougheed Highway along Willingdon Avenue and also includes the properties that currently sit at 1925 and 1967 Willingdon Avenue as well as 4461 Lougheed Highway.
The entire site is currently occupied by a series of low-rise commercial buildings, one greenfield lot, and a gas station. According to BC Assessment, all of the existing buildings were constructed at least 30 years ago.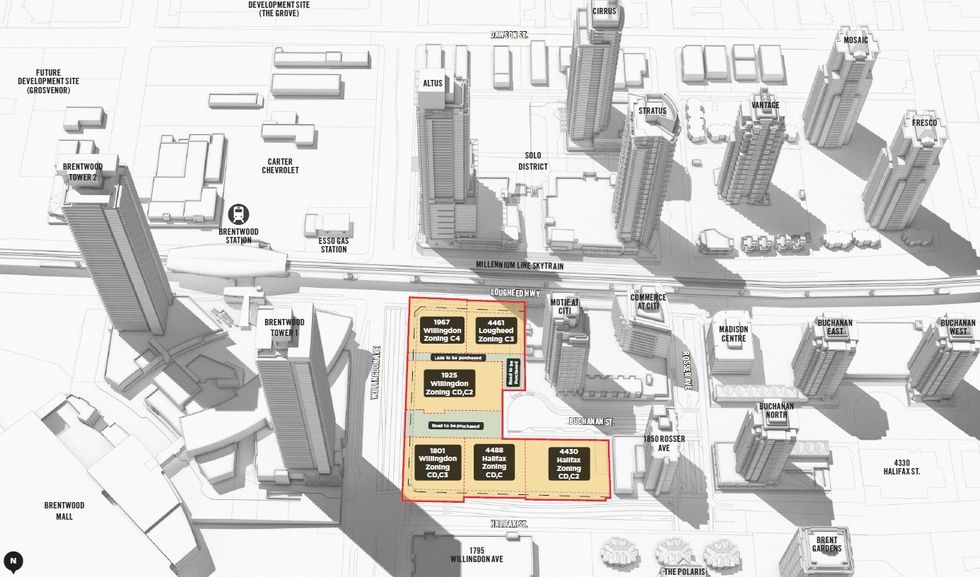 Site context for Brentwood West.(Chris Dikeakos Architects / Bosa Development)
Bosa Development first initiated their plans for the site in June 2019, with the master plan ultimately receiving final approval in July 2022.
The first two of the four phases are now progressing together and will make up the three properties along Halifax Street and consist of two high-rise residential towers.
Phase one will consist of a 60-storey tower with a nine-storey podium. The podium will house 77 non-market rental units — one studio, 42 one-bedrooms, 27 two-bedrooms, and seven three-bedrooms — while the tower above will house 472 strata condominiums, with a suite mix of 146 one-bedrooms, 267 two-bedrooms, and and 59 three-bedrooms.
A few of the strata units are expected to be townhouses facing onto Buchanan Street, and there is also expected to be commercial retail space fronting Halifax Street.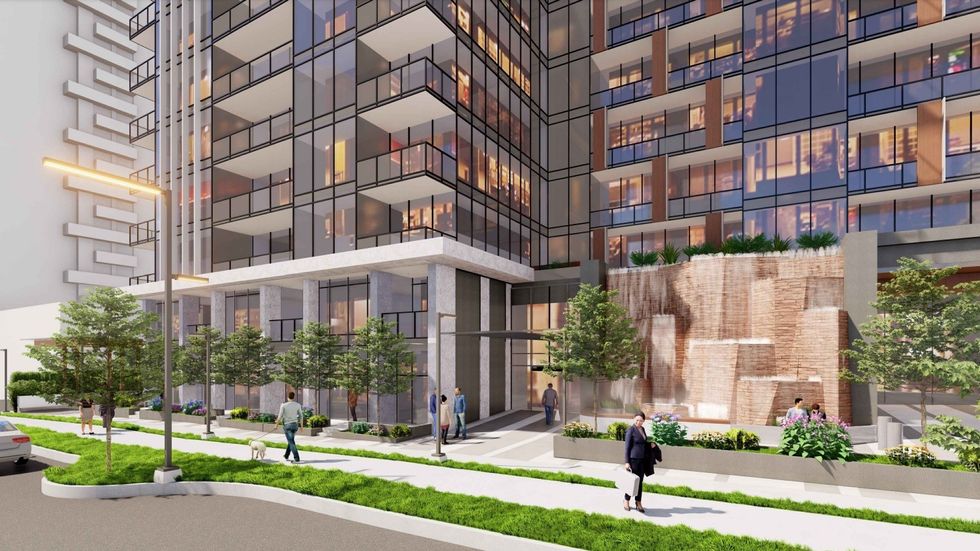 View from Buchanan Street.(Chris Dikeakos Architects / Bosa Development)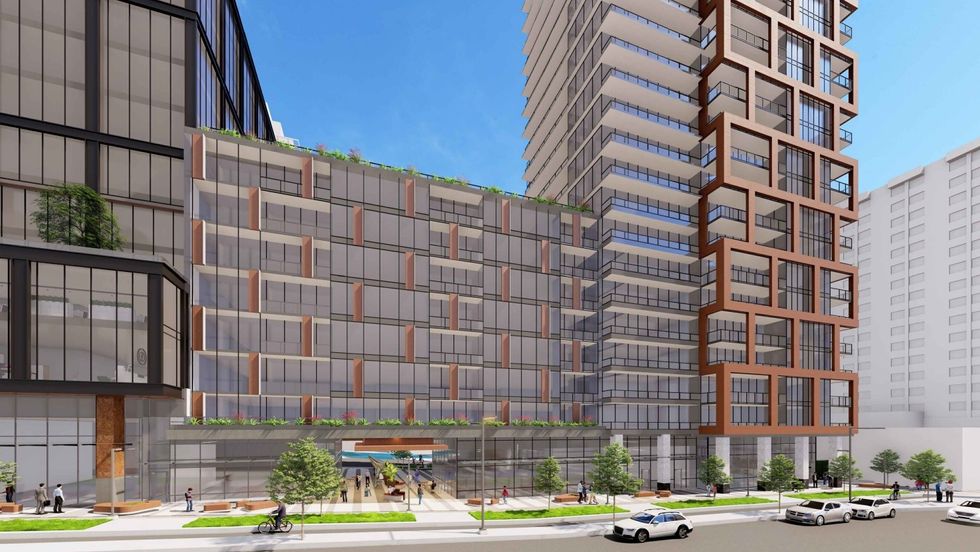 View from Halifax Street.(Chris Dikeakos Architects / Bosa Development)
Phase two will then consist of a 43-storey mixed-use tower at the intersection of Halifax Street and Willingdon Avenue. The tower will include more retail units on the ground floor, followed by 11 floors (209,692 sq. ft) of office space, and 266 market rental units above, including 132 one-bedrooms and 134 two-bedrooms.
The second phase will also see the closure of a portion of Buchanan Street, which will be ultimately be redeveloped into a privately-owned public square called Buchanan Square, featuring outdoor dining space and a central terrace.
Additionally, an outdoor cafe area along Halifax Street and a "protected breezeway connection" are expected for the space outside the 60-storey tower's podium, which will connect the two towers.
According to the City, the developer is providing a "generous amenity package" across both towers that will include a variety of meeting rooms, recreation rooms, fitness centres, and outdoor spaces.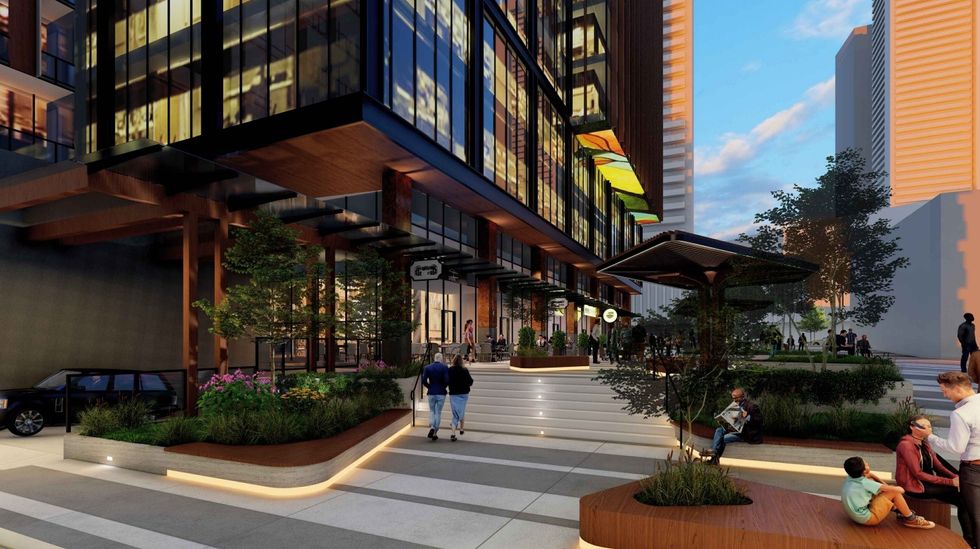 View of Buchanan Square.(Chris Dikeakos Architects / Bosa Development)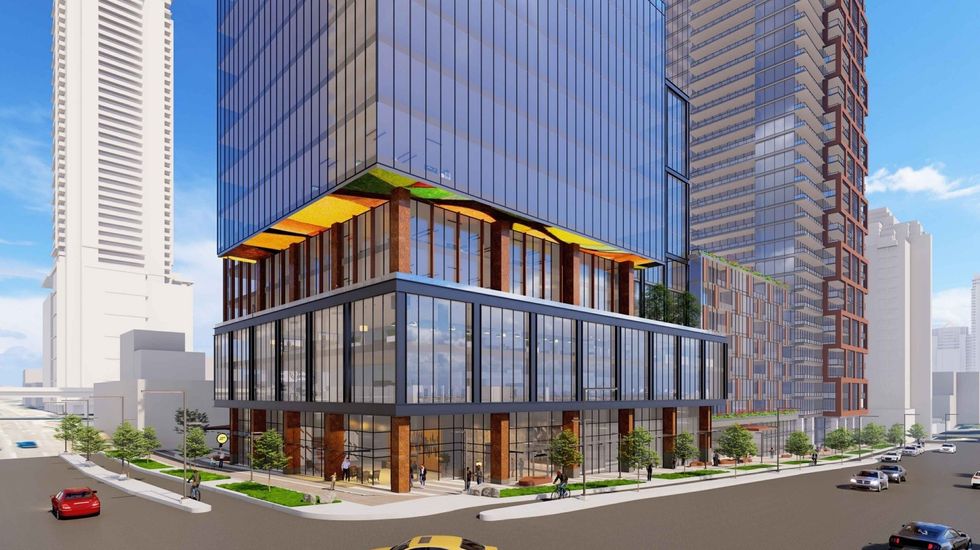 View from corner of Halifax and Willingdon.(Chris Dikeakos Architects / Bosa Development)
Across the two buildings, a total of 670 vehicle parking spaces and 1,794 bicycle parking spaces are being proposed, but the City notes that the quantities could potentially change after a further transportation assessment is conducted. All residential vehicle spaces will support Level 2 EV charging.
Parking will be provided across seven levels of underground parking for the 60-storey tower and six levels for the 43-storey tower.
Both phases are now progressing under a single rezoning application, which was introduced to Council in September and is now set for a public hearing on Tuesday, October 31.
As outlined in the master plan that was approved last year, the two towers were expected to be 54 storeys and 42 storeys, but have since both been increased. Future phases are also subject to revisions, but the master plan outlines a vision for phase three consisting of a 64-storey mixed-use tower along Lougheed Highway while phase four will consist of a 39-storey mixed-use tower located between the other phases.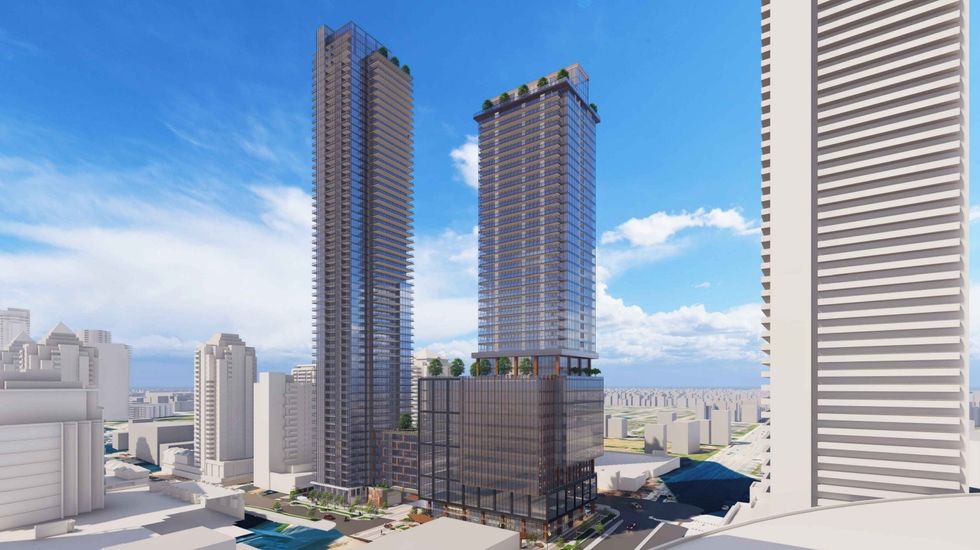 Tower One (left) and Tower Two (right) of Brentwood West.(Chris Dikeakos Architects / Bosa Development)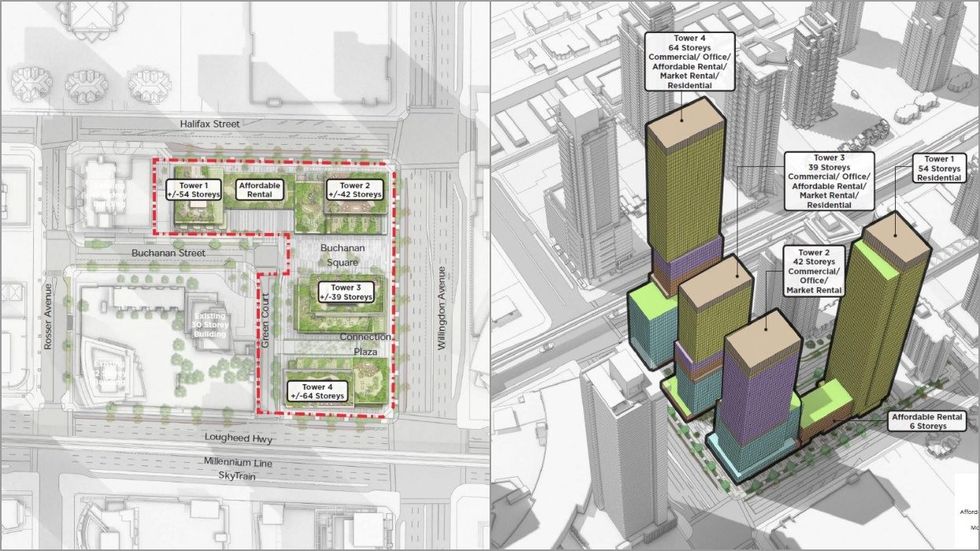 The master plan for Brentwood West.(Chris Dikeakos Architects / Bosa Development)
Future Developments