The large-scale redevelopment of the Lougheed area of Burnaby is continuing strong, with two more high-rise buildings from Montreal-based developer Canderel set to join the fray soon.
Canderel's latest project in British Columbia is planned for 3965 North Road, at the intersection of North Road and Austin Avenue, a stone's throw away from the City of Lougheed Shopping Centre (formerly Lougheed Town Centre) and Lougheed Town Centre Station.
---
The site — currently occupied by an Esso gas station and a small two-storey commercial building originally built in 1969, according to BC Assessment records — falls within the 72 acres of the Lougheed Core Area Master Plan initiated by Shape Properties, the owners of the City of Lougheed Shopping Centre.
However, Shape Properties does not own the entire site, having sold a portion to Pinnacle International, which is developing three towers next door to Canderel's site, including an 80-storey tower which would be one of the tallest in Western Canada.
Canderel announced that they acquired their site in May 2021, but did not name the seller.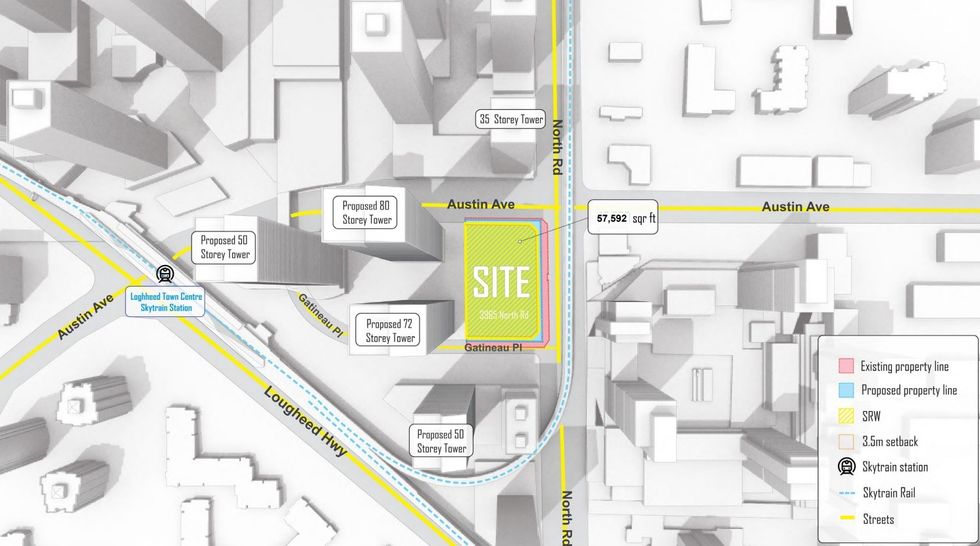 The 3965 North Road site and surrounding context.(Chris Dikeakos Architects / Canderel)
Under the original Lougheed Core Area Master Plan, the vision for 3965 North Road site was a single tower, but after the City of Burnaby adopted its Rental Use Zoning Policy in 2020, this site was required to include non-market rental units, and an additional tower is now deemed necessary.
"In order to accommodate the additional density associated with the non-market Inclusionary Rental requirement, as well as a proposed market rental component under Stream 3 – Voluntary Rental of the Policy, an additional residential tower is proposed as part of the development as an alteration to the original Master Plan," said the City in a Council report in September.

The City also notes that both the site and the design of the project supports the additional tower, with ample separation provided between the two towers, as well as between the towers and the aforementioned development being constructed by Pinnacle International. Residential balconies have also been designed to ensure some privacy, City staff say.
Tower One, along Gatineau Place, will be a 43-storey tower with 239 market rental units and 77 non-market rental units. Of the total 316 units, there will be 64 studios, 124 one-bedrooms, and 128 two-bedrooms.
Tower Two, along Austin Avenue, will be a 56-storey tower with 456 strata condominiums, with a suite mix consisting of 74 studios, 192 one-bedrooms, 183 two-bedrooms, and seven three-bedrooms.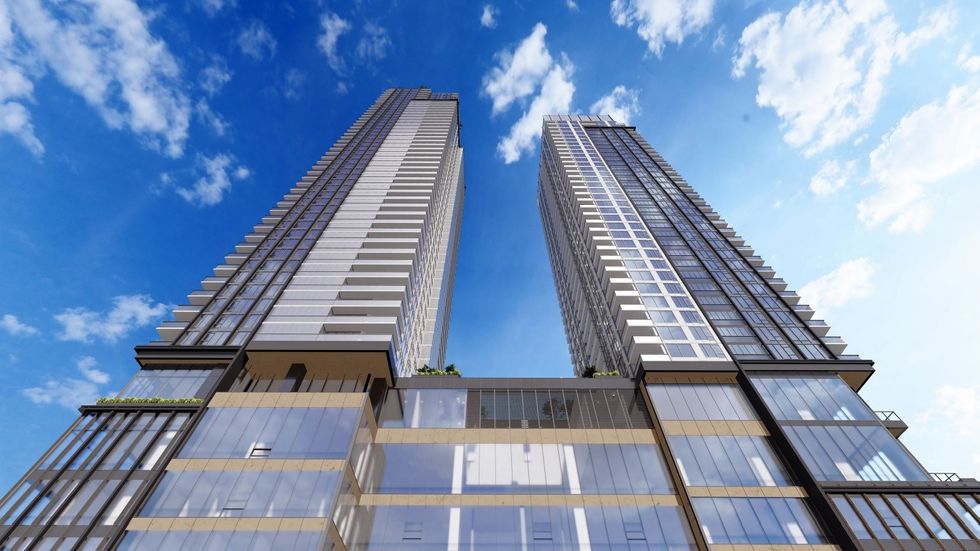 The 56-storey tower and 43-storey tower.(Chris Dikeakos Architects / Canderel)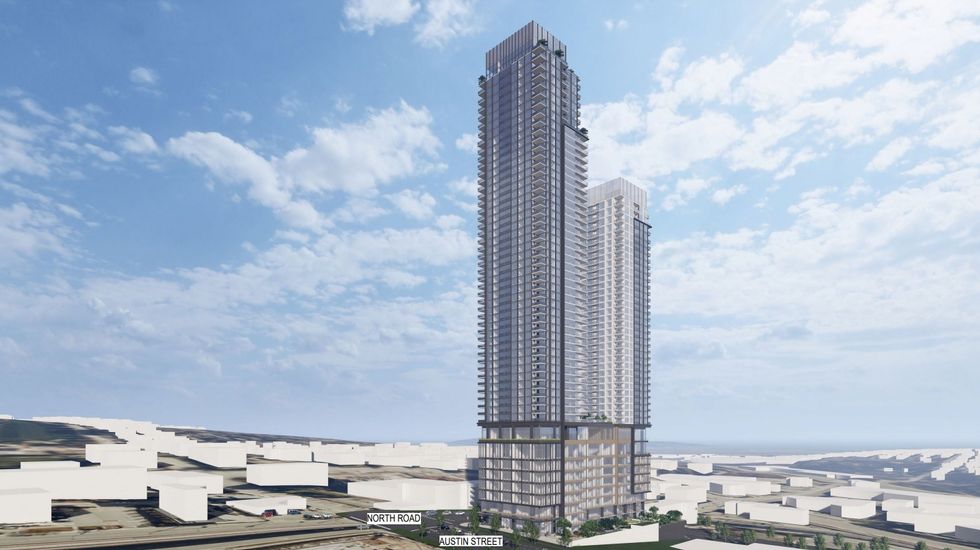 The 56-storey tower and 43-storey tower.(Chris Dikeakos Architects / Canderel)
The two towers will sit atop a shared 10-storey commercial podium with 164,232 sq. ft of office space across eight floors and 9,120 sq. ft of retail space on the lowest two levels. The project has a total proposed floor space ratio of 13.10.
Vancouver-based firm Chris Dikeakos Architects is serving as the architect of the project, who describes the commercial podium as a "progressive hi-tech commercial office podium."
"The podium form has been designed to activate all three street frontages with tower residential entries off Austin Road and Gatineau Place, and the commercial podium lobby off North Road," the architects say. Retail space will be along the corners of Austin Road and Gatineau Place, while a landscaped courtyard will also be provided along the western edge of the podium for both residents and office workers.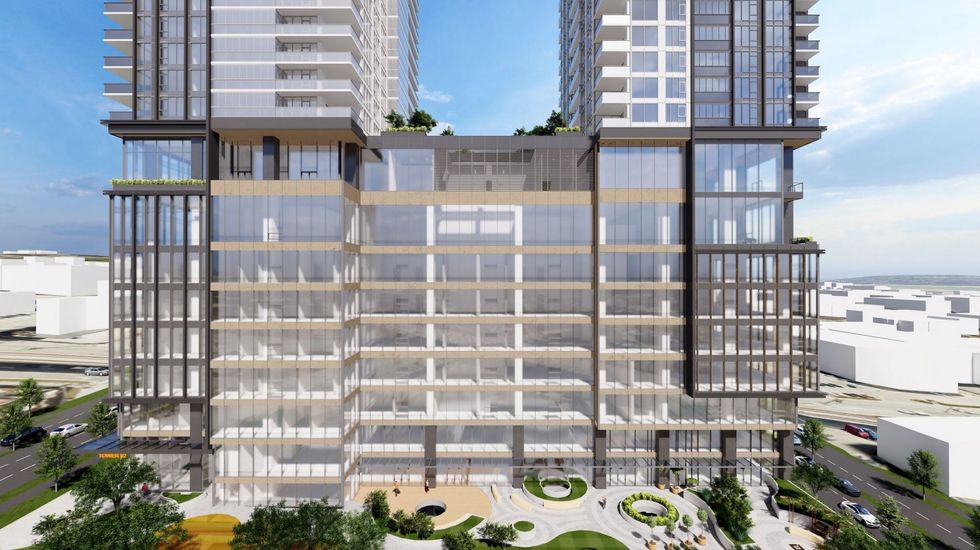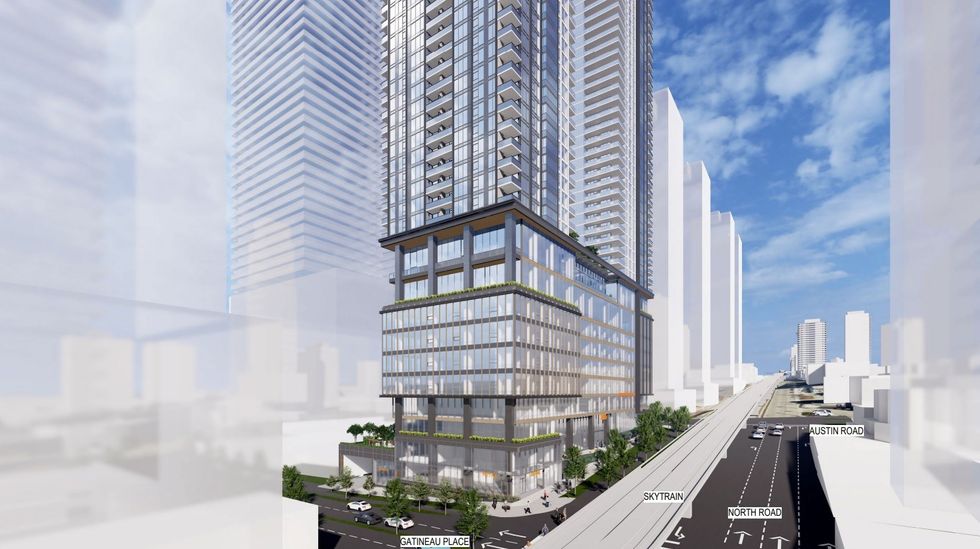 A grand total of 1,040 vehicle parking spaces and 1,901 bicycle parking spaces will be provided in an 11-level underground parkade. Canderel has also included a "transit hub" amenity space on the ground level of the building, accessible from both towers as well as the commercial podium. The transit hub would be a central location where e-bikes and e-scooters can be parked, where carshares can be accessed, where ride-hailing vehicles can arrive, and where deliveries can be made.
Underground parking, and specifically how much of it should be required, has been a hot topic in Burnaby this year after it became known that the aforementioned 80-storey tower by Pinnacle International would be required to provide 14 levels of underground parking, which many saw as particularly excessive considering the site's proximity to the Lougheed Station.
In a direct response to that, an Interim Transit-Oriented Development Parking Policy was proposed that would allow the existing 1.1 parking spots to condo unit ratio to be reduced to 0.6 with a cash-in-lieu payment of $40,000 per stall. Many developers spoke out against the proposed policy due to the significant costs that would be added to their projects and the policy was ultimately rejected by Burnaby City Council.
In September, a new TOD Parking and Transportation Demand Management Policy was then introduced that would reduce the parking requirement ratios depending on their proximity to SkyTrain stations, and the number of bedrooms per residential unit, with requirements for the provision of other transportation subsidies rather than cash-in-lieu payment. That policy was approved, but City staff noted that the policy would be difficult to implement on in-stream projects that have progressed past a second reading, as projects could potentially have to be redesigned and restart the approval process.
Canderel's proposal is scheduled for a public hearing on Tuesday, October 31, and, thus, has not progressed to the second reading stage. However, their proposal was submitted before the new policy was approved, and the 11 levels of underground parking was proposed to align with the old parking requirements. It remains to be seen whether Canderel will be revising its proposal, but the developer has said that it is hoping to eliminate five levels of underground parking.
Future Developments