There is perhaps no bigger issue in British Columbia than affordable housing, and the Ministry of Finance announced on Tuesday that it will invest an additional $4.2B, through Budget 2023, towards solving the housing woes that continue to ail BC.
---
That $4.2B is split between operating investments in existing programs and new capital investments in various programs and initiatives.
New investments include funding to support construction of thousand of new homes through Building BC and BC Housing programs, as well as funding to acquire land along major transit corridors to redevelop into affordable housing in the future. Also included are new investments in the Community Housing Fund and the Indigenous Housing Fund.
Spread over three years, approximately $268M will go to Building BC and BC Housing programs, $575M to post-secondary institutions to create more student housing, $732M to reduce homelessness, and $394M to acquire land along major transit corridors that can be redeveloped into affordable housing.
"BC is a great place to live, but people are facing real challenges -- not only from global inflation and the pandemic, but from ongoing and systemic challenges," said Minister of Finance Katrine Conroy. "This year's budget helps protect people who can't afford today's high prices and takes action on the issues people care about."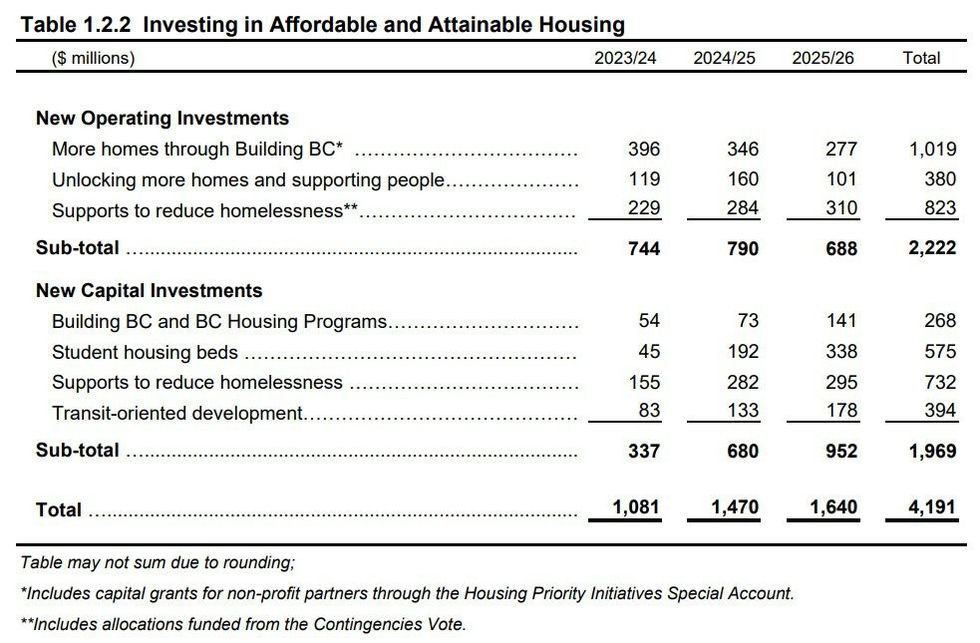 A breakdown of the $4.2B towards affordable housing. (Province of British Columbia)
With Budget 2023, the Province of BC is also introducing several new benefits and initiatives, as well as enhancing existing ones.
The Renter's Tax Credit
The Province introduced a new refundable tax credit for renters, backdated to January 1, 2023, for households (individuals over the age of 19) that rent for at least six months in a calendar year.
The renter's tax credit will be income-tested, with a $400 maximum for households with an adjusted net income up to $60,000. Those with an income above that threshold remain eligible but will see a reduced credit amount, with the cut-off point set at incomes over $80,000. Thresholds will be indexed to inflation each year.
The Province says that campsites, manufactured home sites, accommodations paid for by employers, homes under rent-to-own plans, and units rented out by family are not eligible.
The credit essentially makes good on the renter rebate the NDP government promised back in 2017, which never came to fruition and has been consistently raised to the government since then.
Property Transfer Tax Incentive
The Province is introducing a new tax incentive to encourage investment in purpose-built rental buildings -- seemingly an extension of the existing Municipal Revitalization Provincial Property Tax Exemption that the Province introduced with the 2018 budget.
Beginning January 1, 2024, purchases of purpose-built rental buildings at least 10 years old that include at least four residential units will be exempt from the 2% property transfer tax that is applied to transactions over $3M.
Homeowner Secondary Suite Incentive
With Budget 2023, the Province earmarked up to $91M across three years towards a new pilot program that will provide financial incentives to homeowners who add secondary rental suites to their primary residence.
No further details were provided about the incentive, but the Province says it anticipates the pilot program will facilitate thousands of additional housing opportunities across BC.
Regional Encampment Rapid Response Team
In response to the high-profile encampment that formed this summer in Vancouver's Downtown Eastside, the Province is providing $228M over three years to establish new "regional multi-disciplinary teams" that will provide rapid support to regions with encampments.
In addition, $44M will also go towards helping individuals living within those encampments, including providing more on-site support, enhancing fire protection, site management improvements, and assistance accessing temporary modular housing.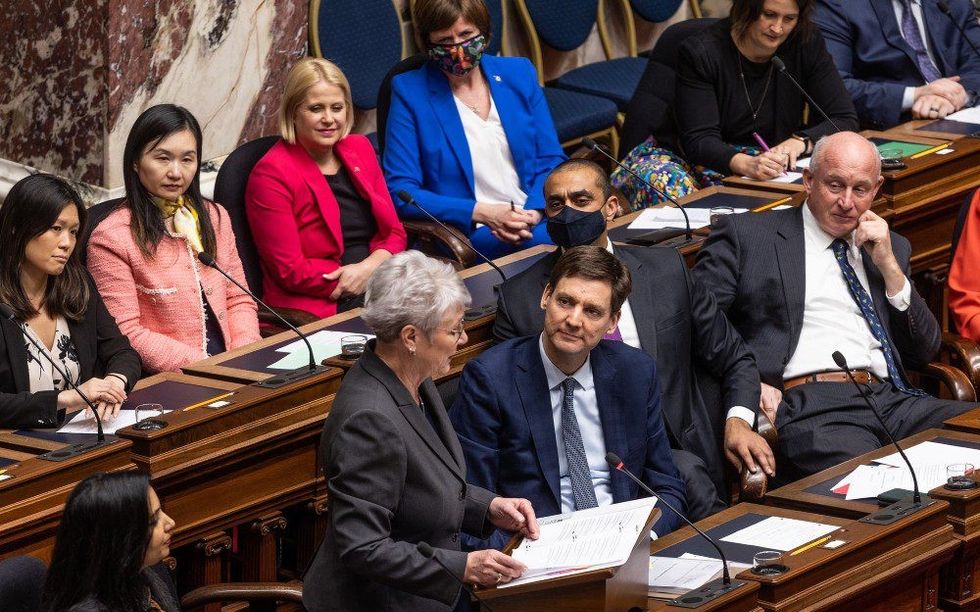 Left to right: Minister of Finance Katrine Conroy (speaking), Premier David Eby, Minister of Housing Ravi Kahlon. (Province of BC / Flickr)
The Province will further strengthen BC Housing by providing $230M in operating and capital funding over the next 10 years to help revitalize and expand BC Housing's aging rental stock. The Province is also increasing BC Housing's debt facility by $839M, bring the total debt facility to over $3.6B.
Budget 2023 also includes the increased $15.6M budget, spread over three years, for the Residential Tenancy Branch that was previously announced in December, as well as $500M for the Rental Protection Fund that was announced in January, and $7M towards the BC Rent Bank, which provides low-income renters with financial support.
RELATED: How Metro Vancouver's New Regional Growth Strategy Tackles Housing
The Province says it will build on the Homes for BC Plan introduced in 2018, with a refreshed housing plan that's scheduled to be released in Spring 2023, which will outline the next steps that are needed to ensure all British Columbians have attainable housing.
Affordable Housing