Almost immediately after the Government of British Columbia unveiled their budget for this year, they began working on Budget 2024. Every year, that process kicks off with a consultation period, during which the Province takes recommendations on the various aspects of BC that it is responsible for.
The group that runs those consultations, the Select Standing Committee on Finance and Government Services, then compiles all the recommendations, holds various public hearings across the province in June and deliberates their findings throughout July, before providing a set of formal recommendations to the Legislative Assembly.
---
This year, the Select Standing Committee on Finance and Government Services consisted of nine MLAs. It was chaired by Mike Starchuk (Surrey-Cloverdale), with Tom Shypitka (Kootenay East) as the Deputy Chair. Also. included were Bruce Banman (Abbotsford South), Susie Chant (North Vancouver-Seymour), George Chow (Vancouver-Fraserview), Ronna-Rae Leonard (Courtenay-Comox), Ben Stewart (Kelowna West), Adam Walker (Parksville-Qualicum), and Henry Yao (Richmond South Centre).
After hearing a grand total of 375 presentations and receiving 387 submissions from various parties, the committee has now whittled that down to 166 recommendations. There's no guarantee that the Province will follow those recommendations, but they provide a sense of what things the Province may at least be considering.
A full list of the recommendations and the parties who submitted recommendations can be found in the report published earlier this month, but on the housing front, here's what may find its way onto the agenda.
Housing Supply
"Several individuals and organizations raised the issue of housing affordability in their communities, with many noting that finding adequate affordable housing is a constant financial stress," the committee said.
This included CUPE Okanagan Mainline District Council noting that even working-class individuals are having difficulties buying into the housing market in rural and remote parts of BC. The Canadian Bankers Association stated that BC needs to build an additional 570,000 housing units above current trends in order to restore housing affordability by 2030, meanwhile, the Vancity Community Foundation said that non-profit groups can contribute to improving housing supply if early stage funding was more accessible. Housing Central called for $176M for the Aboriginal Housing Management Association.
The committee settled on two formal recommendations:
Increase the full spectrum of housing supply in partnership with municipal and federal governments by: a) implementing incentives to build housing, including non-market housing; b) partnering with community organizations and foundations; c) increasing investments in supportive housing; and d) providing funding to address rising costs;
Coordinate a housing policy across all levels of government to remove barriers to housing supply, including creating a housing development and affordability dashboard to measure availability and progress.
Rental Housing
CUPE Metro Vancouver District Council noted that the 2022 average asking rent for vacant units in Vancouver was 43% higher than the average rent for occupied units. Together Against Poverty Society noted that the rapid increase in rental prices has resulted in a rise in two-month eviction notices. The British Columbia Society for the Prevention of Cruelty to Animals noted that no-pet restrictions are putting further pressure on pet owners when looking for rental homes.
The committee settled on three recommendations:
Provide means-tested support to targeted renters, including persons with disabilities and low-income households;
Provide additional support for pet-friendly not-for-profit housing through BC Housing and engage with landlords and other stakeholders to find cooperative solutions to increase the availability and affordability of pet-friendly housing with appropriate protection and timely dispute resolution for landlords, strata, and cooperatives; and
Improve housing supports for seniors by providing more affordable housing options, increasing the Shelter Aid for Elderly Renters, and adjusting income thresholds for accessing means-tested affordable housing to ensure it is reflective of market conditions.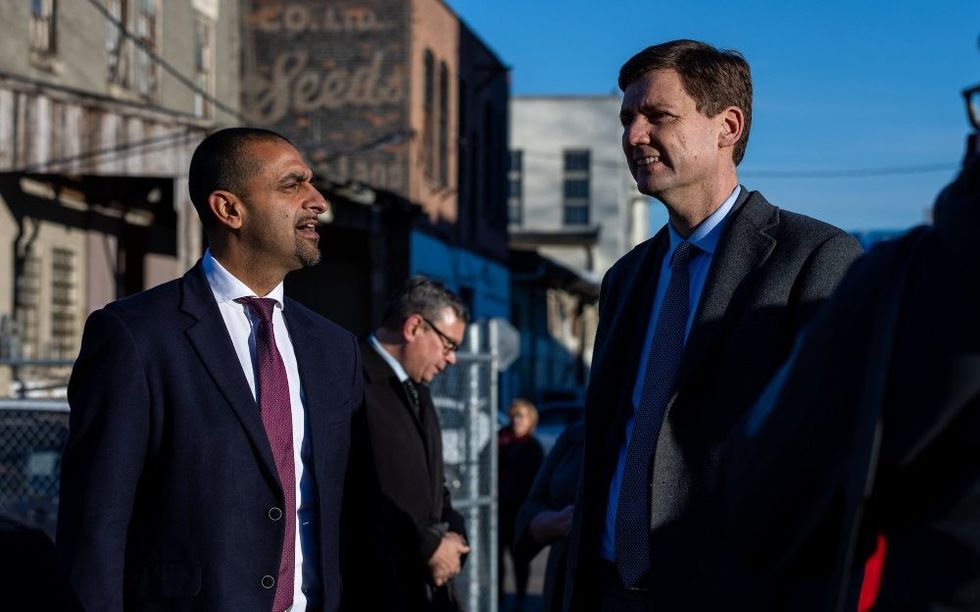 Minister of Housing Ravi Kahlon and Premier David Eby.(Province of British Columbia / Flickr)
Social and Supportive Housing
The City of Vancouver explained that Vancouver provides 75% of the shelter and supportive housing units in Metro Vancouver and called for a regional approach to the issue. YWCA Metro Vancouver voiced the need for multiple streams of funding for construction and insurance costs related to building social housing. The Comox Valley Regional District highlighted the fact that the number of people experiencing homelessness in the region has doubled since March 2020, and the City of Kelowna said that it has 273 shelter spaces while nearly 250 individuals continue to sleep on the street.
The committee's two recommendations were:
Support people experiencing homelessness by providing year-round funding for permanent shelter services that include appropriate, comprehensive supports to transition to permanent housing; and
Accelerate the delivery of complex care housing.
Home Ownership
For homeowners, one of the biggest recurring themes was the Property Transfer Tax (PTT), which was the focus of submissions from the Real Estate Board of Greater Vancouver (REBGV), The Centre for Israel and Jewish Affairs, and Housing Central. Another recurring theme was the impending Flipping Tax that Premier David Eby has said he would be introducing and potential pitfalls. In a previous interview with STOREYS, REBGV's Director of Economics and Data Analytics Andrew Lis discussed their submission to the Committee in detail, which took the position that the PTT needs to be reviewed, which hasn't happened since 1987.
The committee came away with one formal recommendation:
Improve and expand incentives for first-time home buyers including increasing the First Time Home Buyers program's property tax transfer exemption threshold and reviewing it on an annual basis to reflect changing market conditions.
Development and Data
On the development front, many of the submissions were focused on alleviating construction costs and the need for better data. The Victoria Residential Builders Association said the cost of development can be lowered by reducing municipal taxes and fees, the Appraisal Institute of Canada - British Columbia said that the Province's housing strategy will only be successful with more comprehensive data. The BC Real Estate Association noted that the increased density allowed from various municipal zoning changes could potentially create stress on local infrastructure and that there needs to be better coordination between government and industry stakeholders. Multiple groups also voiced the need for a permanent housing roundtable.
The committee came away with three recommendations:
Support smaller local governments and municipalities in updating and increasing the infrastructure and services needed to accommodate increased growth;
Ensure consistent, comprehensive, and up-to-date data and documents related to real estate, such as real estate transactions, property documents, and inspection reports, are readily available, including ensuring local government have the resources to provide digital access to documents;
Include details about tiny homes in the BC Building Code.
Under British Columbia's Budget Transparency and Accountability Act, the Minister of Finance must publish a budget consultation paper every year, by no later than September 15, that identifies key issues that will be addressed in the upcoming budget.
Budget 2023 was primarily the work of Selina Robinson, who is now the Minister of Post-Secondary Education and Future Skills after Premier Eby shuffled his cabinet in December. Budget 2024 will be undertaken by Katrine Conroy, who published her budget consultation paper earlier this summer (before the consultation period ended).
"BC is a great place to live, but people here, and around the world, are currently facing some big challenges," Conroy wrote. "BC's stronger future is built on a solid foundation. Before the pandemic hit, we were seeing the results of our commitments to working for people. These commitments continue today as we face ongoing challenges like inflation, a housing crisis, and workforce shortages."
Conroy says the Province is taking action "across the housing spectrum," including actions to help renters, homeowners, those experiencing homelessness, as well as builders.
The various initiatives that are already in the works include BC Builds, a pilot program to incentivize secondary and basement suites, and a renter's tax credit that can be claimed beginning 2024.
Real Estate News