GTA
Real Estate News
Average GTA Home Prices Slip in April as Sales Plunge 41%
It would appear recent rate hikes from the Bank of Canada are having their intended effect on the housing market — the latest numbers from the Toronto Regional Real Estate Board reveal both sales and prices are starting to soften, as buyers, wary of market volatility, take to the sidelines.
A total of 8,008 homes sold through the TRREB MLS system in April, down 41.2% year over year, and -27% compared to March. The board notes that the decline was steepest in markets outside of the City of Toronto core, with detached houses in the 905 regions particularly feeling the brunt.
READ: Early Data Shows GTA Housing Prices on "Rapid Decline" in April
The average price for a home in the GTA clocked in at $1,254,436 — still a 15% increase from last April, but indicative that price growth is starting to decelerate, costing $45,646 less than in March (-3.5%). The MLS Home Price Index Composite Benchmark remains 30.6% above last year's levels.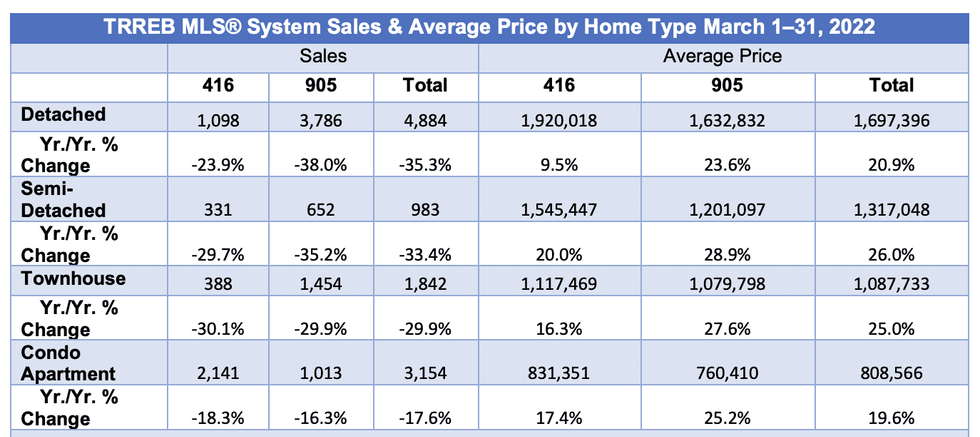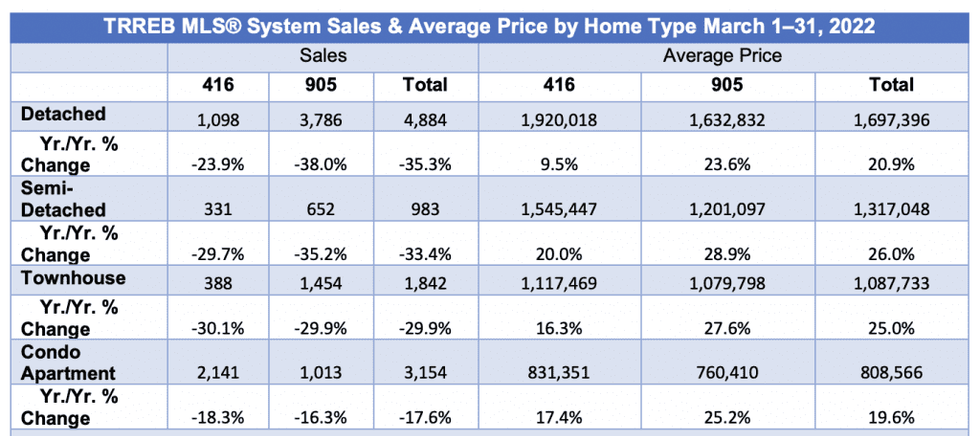 TRREB President Kevin Crigger says that, as has been the case with previous rate tightening cycles, buyers are taking a beat to reassess how higher borrowing costs will impact their affordability.
"Based on the trends observed in the April housing market, it certainly appears that the Bank of Canada is achieving its goal of slowing consumer spending as it fights high inflation. Negotiated mortgage rates rose sharply over the past four weeks, prompting some buyers to delay their purchase," he stated. "Moving forward, it will be interesting to see the balance the Bank of Canada strikes between combating inflation versus stunting economic growth and related government revenues as we continue to recover from and pay for pandemic-related programs."
Overall Inventory Continues to Recover
In what's good news for supply-starved buyers, inventory continues to improve from the record lows experienced at the beginning of the year; the month ended with a total of 13,098 active listings, up 12.3% year over year, and a whopping 28% from March.

However, the growing stock of homes for sale appears to be due to the decline in sales, rather than fresh listings coming to market; a total of 18,413 new listings were brought online, down -8.1% on a monthly basis and -11.7% year over year, suggesting that perhaps sellers are also hesitant to jump into today's uncertain buying environment.
As the decline in sales outpaced that of new listings, though, conditions are starting to become ever-so-slightly less intense for prospective buyers. The sales-to-new-listings ratio came in at 68%, down from the 70.5% posted in March — though that's still indicative of a strong sellers' market overall.
"Despite slower sales, market conditions remained tight enough to support higher selling prices compared to last year. However, in line with TRREB's forecast, there is evidence of buyers responding to increased choice in the marketplace, with the average and benchmark prices dipping month-over-month. It is anticipated that there will be enough competition between buyers to support continued price growth relative to 2022, but the annual pace of growth will moderate in the coming months," said TRREB Chief Market Analyst Jason Mercer.
As TRREB CEO John DiMichele points out, any current buyer hesitancy is likely to be short-lived, especially as immigration rebounds post-pandemic. A strike among skilled construction workers specializing in the low- and high-rise housing segments will also contribute to the region's supply-and-demand imbalance in the months to come.
"Policymakers should not assume that because home sales are off their record peak, we can ignore the lack of inventory in the market. Buyers who have moved to the sidelines will not remain there forever, and the population of our region will continue to grow on the back of immigration," he stated. "In the absence of new supply, we will build a significant amount of pent-up demand that will need to be satisfied in the not-too-distant future. The ability to increase and diversify our housing supply needs to be a key area of debate in our upcoming provincial and municipal elections."