Imagine this scenario: you are newly disabled and you've just been discharged from rehab. It's time to go home, but your home isn't accessible and no longer suits your needs. You need accessible housing and you need it fast.
Thankfully, Jeffrey Kerr, a broker at RE/MAX Unique Inc. Brokerage in Toronto specializes in barrier-free housing. He's had a connection to disability ever since childhood when he lived with his aunt who had MS and his mom, a retired physiotherapist at Toronto Rehab Institute.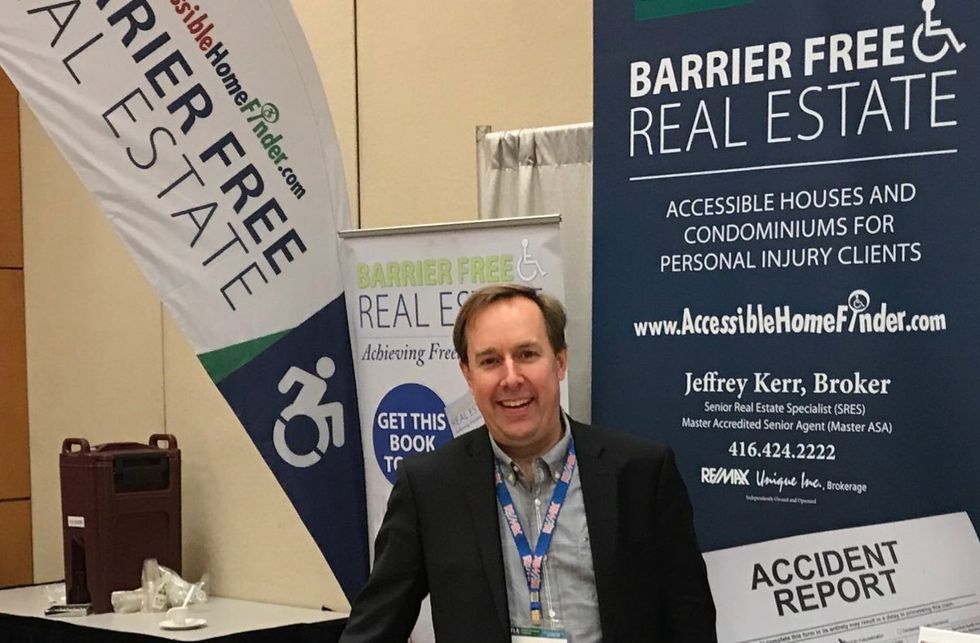 It wasn't until 2004 when he married that life experience with real estate. Kerr was with his aunt when she rolled through the front door of a pre-construction condo she'd purchased that was supposed to be wheelchair accessible but wasn't suitable for her to live independently.
"She handed me the keys right then and there and asked me to sell the condo," says Kerr.
It was through that sale that he realized no one in the GTA was helping people with disabilities find housing, so he has been doing it ever since. He has even written a book on the topic, so there's no better person to answer this week's question.
What are the best strategies for finding accessible housing in the GTA?
When I get a call from someone being discharged from Toronto Rehab, they're often looking for a rental.
One of the first questions I need to ask revolves around the bathroom: "What are their bathroom needs? The needle in the haystack is a roll-in shower. That's very difficult to find in a rental property. If the client is able to transfer onto a bath bench, then there are a lot more opportunities. It's just a question of finding a bathroom that's large enough either to have a turning radius for a wheelchair or to access whatever mobility device they're using. But, if a client needs a roll-in shower, that's a tough find. They do exist, but they are so rare that often times clients will have to have temporary accommodation in an accessible hotel room until they can modify a place for their needs. 
To find accessible homes, there are two approaches whether you're looking to buy or rent. On the rental side, it's making phone calls and literally pounding the pavement trying to find options for the client. These options don't always exist right inside the unit, but a lot of newer condo buildings have common area gyms or change rooms that have roll-in showers. It's not ideal, but it's an option to consider.
On the buy side, I'm often combing the MLS listings and looking at pictures. I've become very good at identifying properties that are suitable. When you're looking at a house, if you look at the exterior elevation of the house and the position of the front door, you can quickly determine if that entrance is a split-level entrance, where you have to go up three or four flights to the main floor and then down or if the front door opens right onto the main floor of the house. You can also tell the elevation change between where the ground is and where the front door is. That will help determine whether you can have a landscaped ramp up to the door or if you need a platform lift to get access.
When you're looking at bathrooms, particularly condominium bathrooms, you probably already know that the majority of condo bathrooms are very small and there's not a lot of space to maneuver in them, but bathrooms with corner tubs are ideal because you'll have enough space to replace the corner tub with a roll-in shower. This is why when I'm searching for bathrooms, I look for corner tubs in condominiums. Finding a corner tub pretty much guarantees there's enough space to make it accessible. You can take out a traditional tub and put in a roll-in shower, but it's a little cozy for a bath chair. You really need more space and a floor drain that's centrally located. The location of the toilet is also paramount. You can't move a toilet easily, so the location has to work for the client and it depends if they do a 90-degree transfer onto the toilet or do they do a side-to-side transfer. It's really client specific.
The majority of my clients can work with a traditional kitchen as long as there's a proper turning radius. Sometimes a galley kitchen works just as well where there's an entrance on either side. They can roll in at one end, turn around and come back. Open concept kitchens have improved accessibility in terms of space, but the limited counter space is problematic for most buyers. Plus, if you're preparing food from a seated position, you need a prep area that's at a lower level.
I also look at balcony access. If you're able to step out on the balcony great, but most condos have a fairly large threshold. It's next to impossible to get on a balcony using a wheelchair. You have to look at that threshold and see if it can be ramped and if there's enough space to even have a ramp without violating the building code?
Most of my clients, once they get into a space, stay because of these challenges. It's never a quick search for an accessible home, but I'd like to think I'm pretty efficient. Every client's needs are different, it's not just a question of accessibility, but budget and location. Plus, what's accessible for one person may not be accessible for another. Everyone has a wish list. Sometimes, I can match seller and buyer and that's ideally what I want to do. 
More often than not, buyers with disabilities will find themselves having to modify an existing home to make it accessible. There are only a handful of contractors in the GTA that specialize in accessible modification. They include Versatile Accessibility and Adaptable Design Group and I'm always pointing my clients in their direction.
March of Dimes provides funding for home modification, but it's income based. There are also some small tax breaks, but there aren't many funding options out there.
Keep in mind that buyers with disabilities are also competing for the same homes as traditional buyers in a very competitive market and funding for modifications can often be a question mark. If you're looking to modify a home, it's best to have all your ducks in a row. If the funding is coming from an insurance company, have that squared away before making an offer. Also, make sure the home inspector, contractor and rehab physiotherapist have all weighed in on the viability of your planned modifications because you may have to seize the moment very quickly.
My final advice is to be absolutely proactive and be positive. There are solutions out there and sometimes it takes being creative when it comes to finding a place and making it suitable to your needs.
---

Do you have a real estate question? Let us know on Twitter, Facebook or via email at info@storeys.com
Community