---
The City of Vancouver published a new rezoning application that would see two much-needed rental buildings added to the Broadway Corridor in Vancouver, in a partnership between two notable Vancouver-based developers: Reliance Properties and QuadReal Property Group.
The proposed development site sits at 130 West Broadway, the former location of Mountain Equipment Co-Operative's flagship store, which has been vacant for several years now after MEC relocated to Olympic Village in 2020.
Reliance and QuadReal are eyeing the site for a 29-storey East Tower and a 28-storey West Tower that would sit atop a shared single-story podium, which would also house commercial retail space, and a 37-space childcare facility.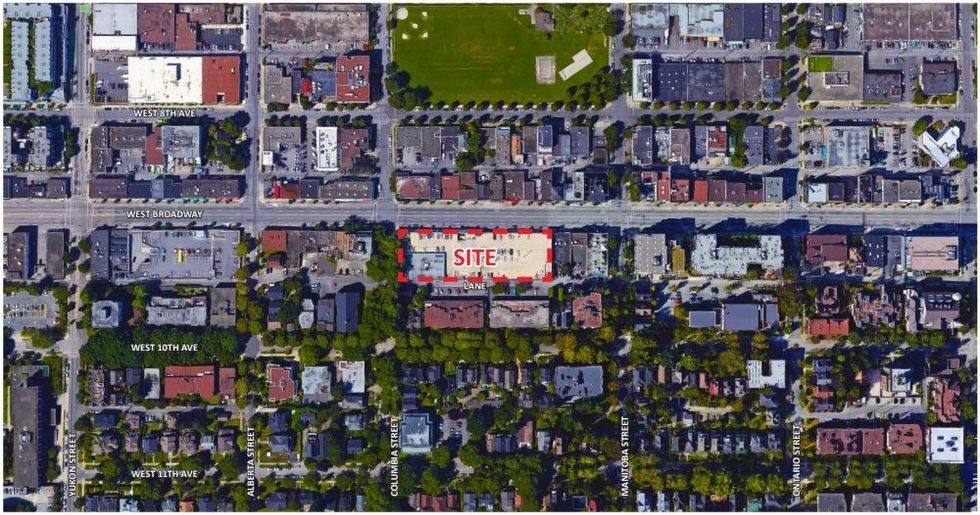 Site location context. (Reliance Properties)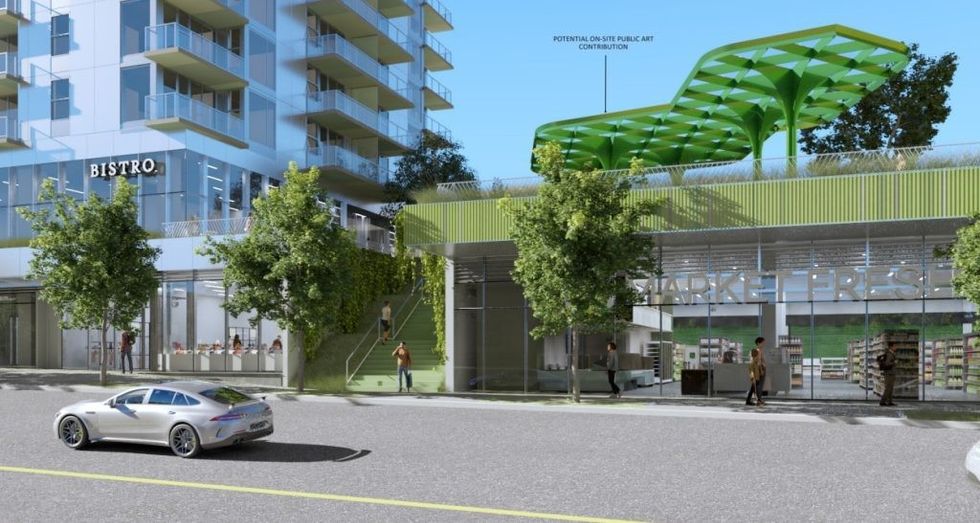 The East Tower is set to contain 287 units, consisting of 32 studios, 151 one-bedrooms, 76 two-bedrooms, and 28 three-bedrooms. The West Tower will have slightly fewer units at 237, comprised of one studio, 136 one-bedrooms, 74 two-bedrooms, and 26 three-bedrooms.
All 524 will be secured market rentals, and the development would come without a loss of any existing housing units since the site is formerly commercial space. The applicants are now seeking to rezone the site from Commercial to Comprehensive Development, planning for a floor-space-ration (FSR) of 8.46, just below the maximum 8.5 FSR allowed for rental buildings in this particular area of the Broadway Corridor.
The applicants note that their proposal makes use of larger-than-usual 7,200-sq.-ft floorplates, saying that "this larger floorplate is required to deliver exemplary livability for tenants, an integrated public realm, and the greatest number of transit-oriented purpose-built rental units possible."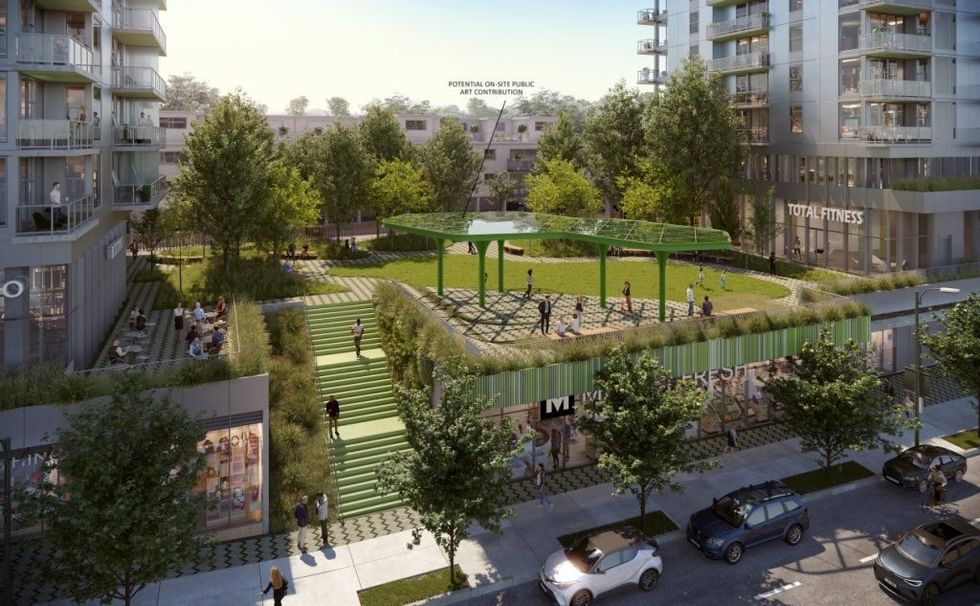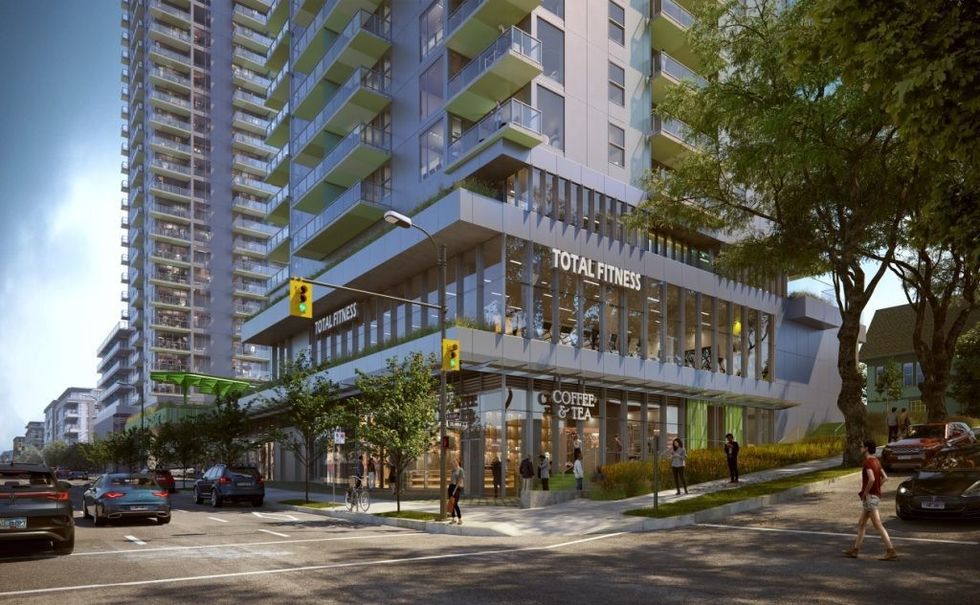 The shared podium and outdoor amenity space. (Reliance Properties / QuadReal Property Group)
Plans call for a slew of residential amenities including fitness centres, rooftop lounges and dining areas, children play areas, dog wash stations, and, on the roof of the podium between the two buildings, an outdoor amenity space. There will also be bicycle washing stations and a bicycle maintenance area. A total of 372 vehicle parking stalls and 1,151 bicycle parking stalls will be provided.
"With the site's convenient proximity to major bus and rapid transit routes, the proposed project would significantly benefit the surrounding area by providing housing and amenities (open space, daycare, retail), while also aligning with the growth targets approved for the Broadway Corridor," Reliance and QuadReal wrote to the City in their application.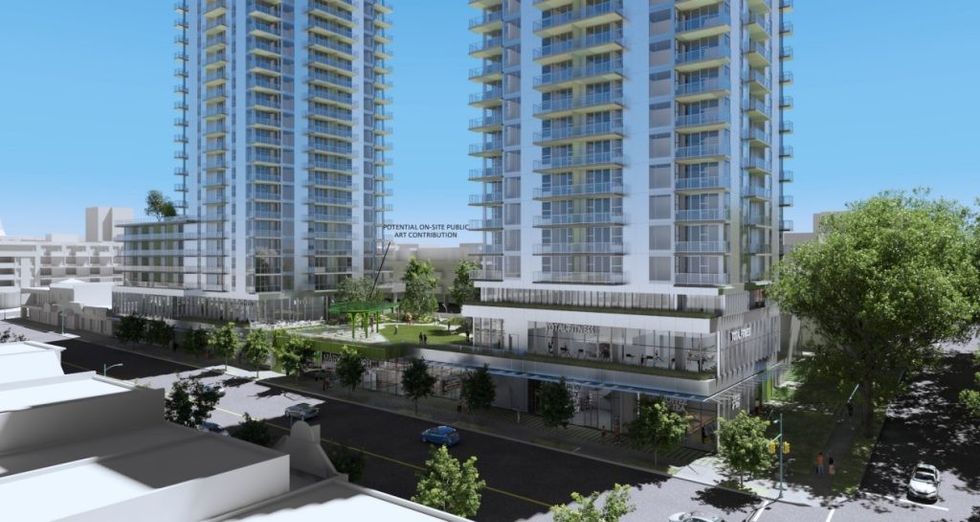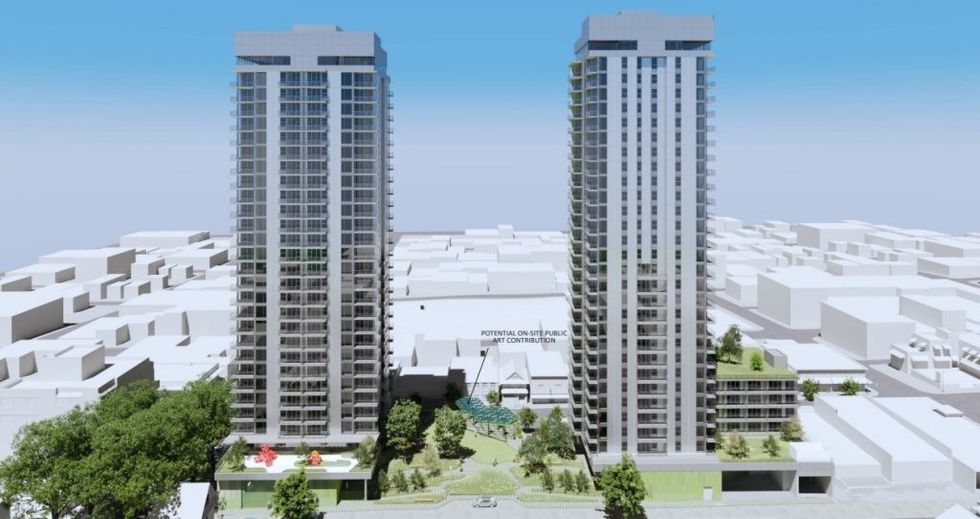 Renderings of the towers proposed for 130 West Broadway. (Reliance Properties / QuadReal Property Group)
The site is about a five-minute walk from the Canada Line SkyTrain's Broadway-City Hall Station, which will be connected to the Millennium Line as part of the Broadway Subway project currently under construction. Once complete, the two rental buildings will be between Broadway-City Hall station and Mount Pleasant Station.
The site is notably located about midway between Cambie Street and Main Street in Mount Pleasant, along the corridor that was the focus of the Broadway Plan, approved in July 2022.
READ: 40-Storey Mixed-Use Tower Above Future Broadway Subway Station Moves Forward
Toronto-based IBI Group and California-based Neil M. Denari Architects are serving as the architect for the project, who note that the two towers have been strategically placed on the podium, "not only [to] negotiate the view cone affecting the site, but to also have the greatest open space between so that pedestrian movement and sunlight can flow freely through."
"Downtown's core district of vertical urbanism is Vancouver's main contribution to North American planning," the architects added. "Dense yet walkable, tall yet not claustrophobic, Downtown Vancouver is a model that has latent potential for use outside this core. To think about the tower typology in that form for the Broadway Corridor, given the future subway, is a logical way forward in designing this mixed-use complex."
Although the project's rezoning application was not submitted to the City until late-2022, it was known to be forthcoming after Reliance and QuadReal sent out letters in October to neighbours in the area of Broadway, which Reliance Properties President and CEO Jon Stovell confirmed to STOREYS at the time.
The City of Vancouver is currently accepting public comment on the rezoning proposal, and will also be hosting a virtual open house for this project from Monday, March 13 to Sunday, April 2.
Future Developments